She's raising two daughters, running a production company, kicking out a line of cosmetics, cohosting a dating show, and starring of the 2017 Netflix series Santa Clarita Diet. So naturally Drew Barrymore is also making wine.

Well, actually it's Kris Kato, winemaker at Carmel Road Winery in Monterey, that's making Barrymore Wines, a new line of West Coast pinots, but Barrymore's fingerprints are all over the bottles—the Hollywood overachiever was very involved in the R&D of her signature Drew's Blend Pinot Noir, and works closely with Kato throughout the process. Now, Barrymore Rosé and Pinot Grigio are hitting store shelves just in time for the Bay Area's Indian Summer.
---
We caught up with Kato and Barrymore, who shared some candid thoughts on winemaking, collaboration, and the perfect pairing for human flesh.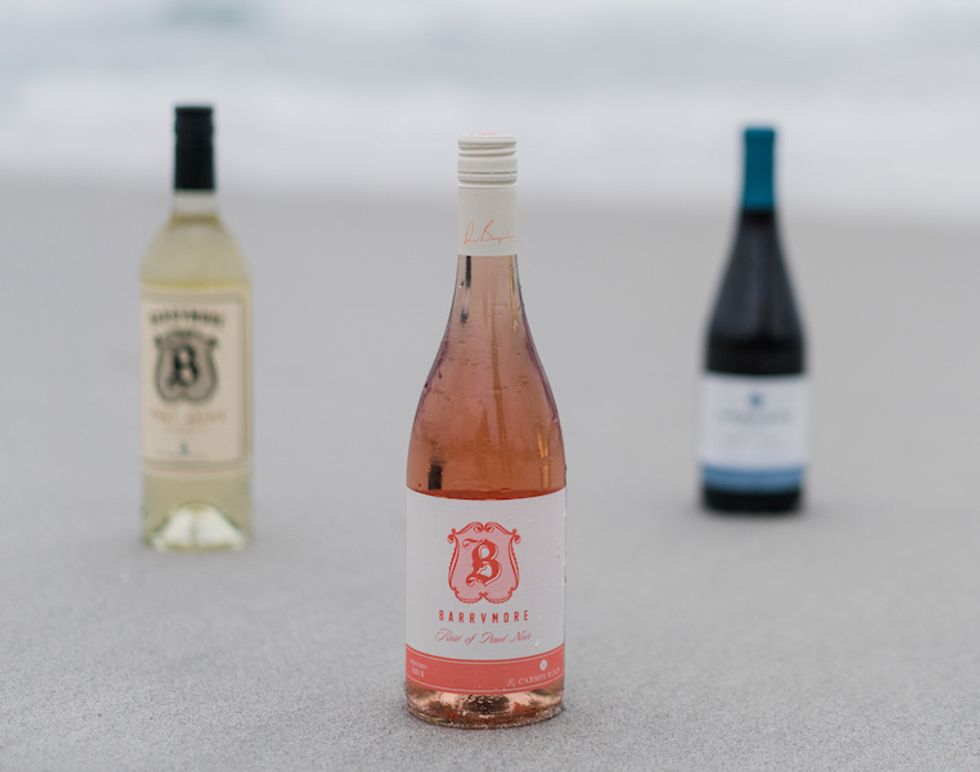 Carmel Road produces three wines in collaboration with Barrymore: a pinot grigio, a rosé of pinot noir, and the pinot noir known as Drew's blend.(Courtesy of Barrymore Wines)
7x7: What is it like to work with Drew?
Kato: When I came to Carmel Road, the Barrymore partnership hadn't really been solidified yet and I remember my boss telling me, "Ok, you're on the new Barrymore project," and I said, "I've never heard of it; tell me about it."' He said, "The movie star, you idiot," and I said "Are you kidding me?" As luck would have it, Drew and I have a really good relationship. She's really easygoing and genuine. Once you meet her you're like, "Oh my gosh, I feel like I've known you forever."
Barrymore: Yes, I'm his wine wife.
Tell us a about your collaborative process.
Barrymore: [Making the Drew's Blend] was a great adventure. I learned a lot about how one can push a pinot noir, a cool coastal climate grape, to make it have a dry and light profile.
Kato: Drew has an amazing vocabulary. She's tried wines from around the world, and that's a lot of our banter. She'll email me or shoot me a text and say, "I love this wine; I love this spice." So, she's in Italy and she'll send me a picture of a pinot niero or a beaujolais. It's really about finding cool things and trying to pull those into the pinot. There have been times when I'll fly to her with cases of samples and graduated cylinders and pipets and make blends in a hotel lobby. It's been a lot of trial and error.
Barrymore: We've made lots of notes on different hotel papers—I wish I'd made a book, looking back on it. We really work side by side.
How do you balance winemaking with all the other ventures you have going on in your life?
Barrymore: You just find a time to do it all. Sometimes it's compartmentalized—sometimes it's more wine-focused and sometimes it's focused on beauty or life or a film. Wherever Kris and I have to meet, or whatever we have to do to get it right, we're relentless.
Kato: When we first started, I didn't know what to expect from her. I was blown away at the involvement in every aspect—the label design, the packaging, the wine style.
How connected are you to this particular project?

Barrymore: I think if you're really invested, you're inspired in a different way. You have a genuine motivation and energy and you participate. You're not just showing up for something. I was a part of this from its incarnation and I've been there all the way.
How much does the wine change from year to year and vintage to vintage?
Barrymore: Kris tweaks the pinot grigio every year and it just gets better and better, whereas I'm like, "We need to carbon copy this!" I never want to deviate because I'm so in love with it, but then he does and he makes it even better. It continues to evolve and become more acidic and less oaky. I love tasting the evolution from year to year.
Why make wine in Northern California?
Barrymore: I had been learning [winemaking] in Italy and when I came back here, people were like, "You're such a California girl. Why are you trying to make wine in Italy?" And I was like, "You totally get me; I'm such a valley girl." I'm a California girl, a beach girl, a mountains girl. The landscape of this lush land felt like such a great business decision meets you-should-be-who-you-are.
What do you like to pair with your wines?
Barrymore: We like sushi for the pinot grigio and fish tacos on the beach for the rosé. I like the pinot noir in the summer with fish or meat. We also like really spicy foods—Thai or something with a kick. The inherent nature and delicacy of the wines goes really well with that. We love drinking the pinot noir chilled.

As someone who plays a zombie, what wine would you pair with human flesh?
Barrymore: Funny enough, we did a Santa Clarita wine. Normally it's called the Drew's Blend, but we made it a Sheila's Blend [for the release]. So, I'd say that one—our pinot noir.

What's it been like to play that character?

Barrymore: It's super fun and that's exactly what we need in the world. Playing Shelia has been a liberating experience. She gave me something I was lacking in my life.
Of all the things you could brand, why do wine?
Barrymore: Well, I make beauty products too, and I write books and do movies, so I guess I'm a little all over the place, but I think all women like makeup and wine. I know I do. My wines are made for the way I personally drink wine. For whatever lovely reason, Kris and I like high acid and big fruit, but a nice dry and light finish. To me, the finish in wine should always leave you wanting more.
Barrymore Wines ($22-$28) are available online at barrymorewines.com.