This time of year some of the Bay Area's most beautiful historic homes and hotels take on the tradition of afternoon tea.
These extravagant architectural beauties are worth a visit in any season, but crustless finger sandwiches, scones with Devonshire cream and lemon curd, and an eye-opening tea make the trip even better. After all, everyone deserves to indulge in a little tradition around the holidays.
---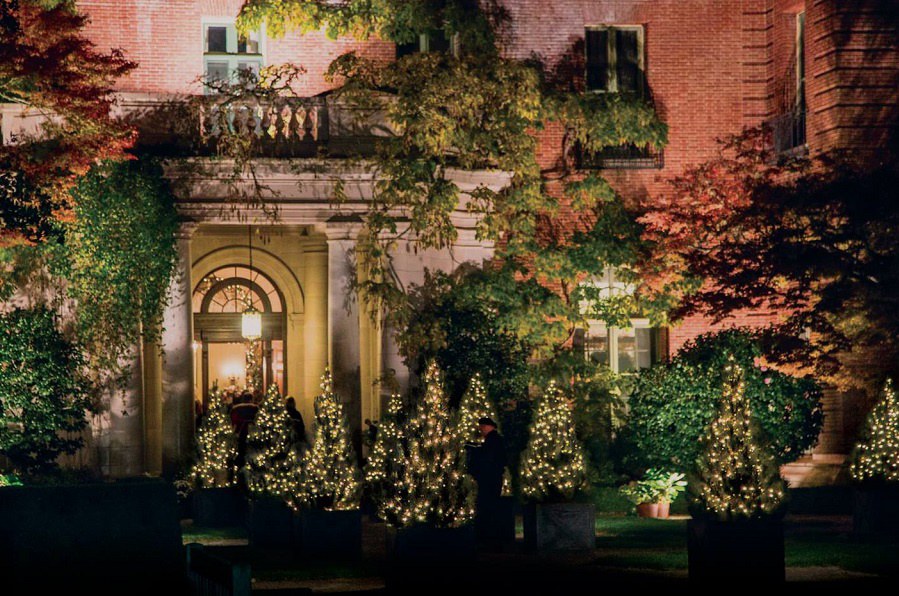 Filoli decked out for the holidays(Courtesy of Filoli via Facebook)
Filoli
Filoli, the 19th century English manor in Woodside, takes the holidays very seriously—musicians play special engagements, Santa makes a visit, and the property's manicured gardens magically light up. One of their best winter traditions, however, is a holiday high tea, a special version of their year-round tea service where they pull out all the stops. Alongside a special tea blend, guests are served delicate holiday treats alongside their scones and finger sandwiches. When the meal is finished, check out the house's Drawing Room where tea was traditionally presented to honored visitors. High tea is held every Tuesday and some Sundays from 11am and 1pm, between November 20th and December 18th. // 86 Cañada Rd. (Woodside), filoli.org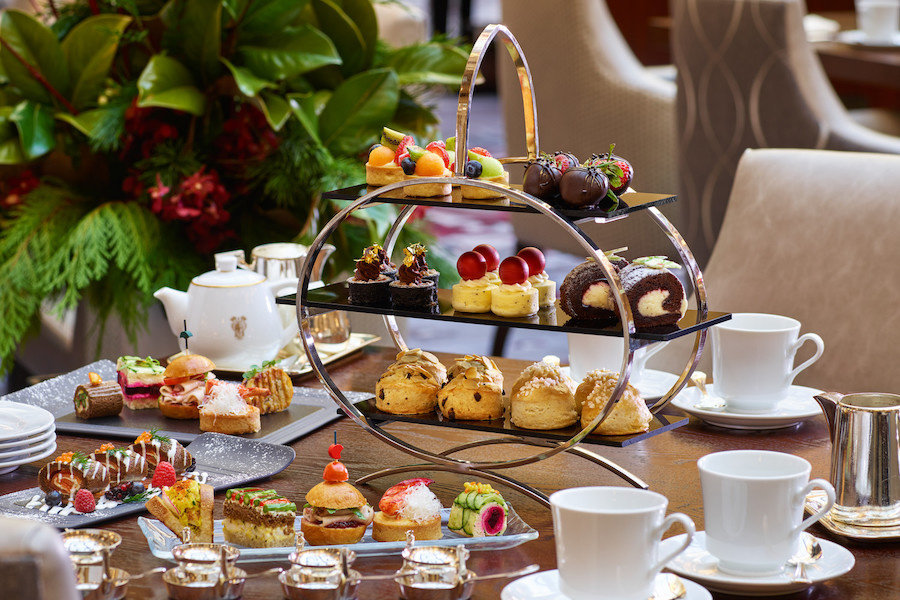 (Courtesy of the Palace Hotel)
Garden Court at the Palace Hotel
The Palace's sumptuous Garden Court, with its stained glass dome and Austrian crystal chandeliers, was the hotel's crowning jewel when it opened in 1909. Over the years it has hosted Presidents (Warren G. Harding died in a room upstairs) and starred in movies (1997's The Game). It has also been the site, for over a hundred years, of an elegant tea service. Presented on fine china and silver, holiday afternoon tea in the Garden Court ($90/adults, $60/kids) includes finger sandwiches, scones, Devonshire cream, lemon curd and rose petal jam. On Thursdays and on Christmas Eve, the Palace will also offer tea with Santa ($95/adults, $65/kids). For those who want a little bubbly along with their tea, try the sparkling wine tea ($75). // Tea is served between 2 and 4pm Monday through Saturday; reservations are preferred, 2 New Montgomery St. (SoMa), sfpalace.com.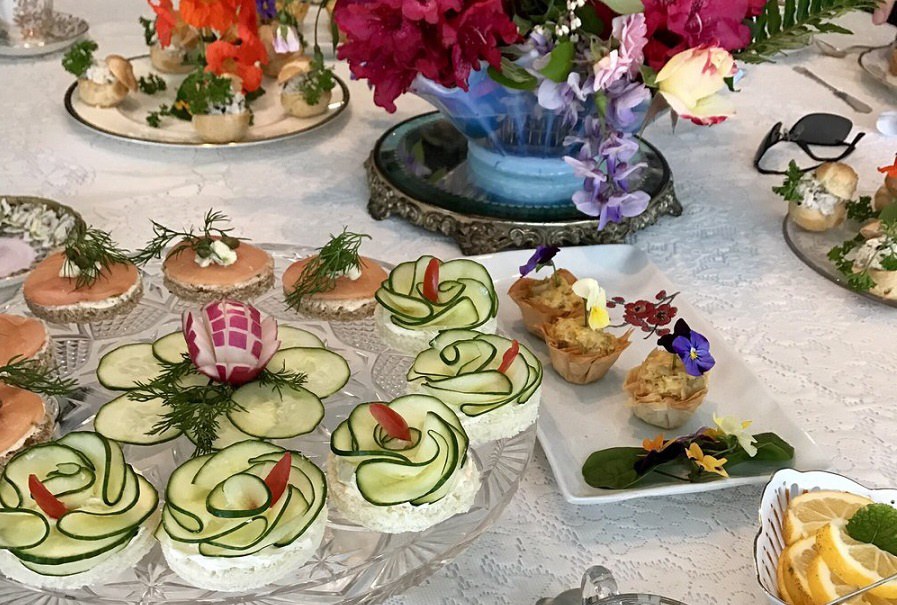 High tea at the Pardee Home Museum in OaklandC(ourtesy of Pardee Home Museum via Yelp)
Pardee Home Museum
This cream-colored Victorian built in 1869 in Oakland celebrates its roots with oh-so British high teas. Served either in the house's elegant dining room or its manicured garden, the Pardee Home pairs their brew with platters of sweet and savory treats for between six and twelve guests ($35 for high tea, $25 for dessert tea). When you've cleared your plate, take a tour of this beautifully decorated house museum. Teas are private and must be scheduled in advance. // 672 11th St. (Oakland), pardeehome.org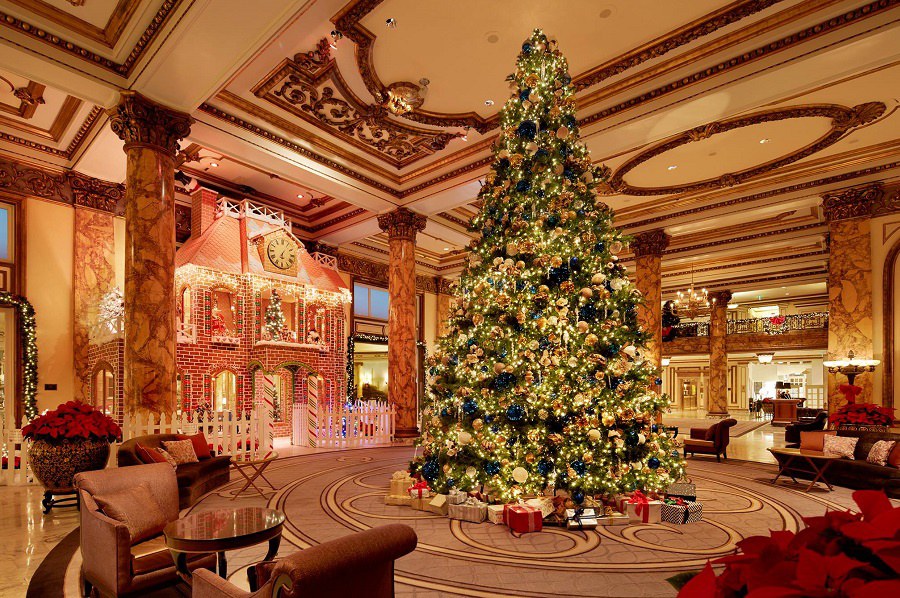 The Fairmont San Francisco does Christmas right(Courtesy of Fairmont San Francisco via Facebook)
Fairmont San Francisco
Afternoon tea has been served at the Fairmont San Francisco since 1907 so they've had the time to perfect their skills. Presented in the Laurel Court Restaurant and Bar, the centerpiece of the hotel's lobby opens again after waiting six decades to be restored. The Fairmont's tea includes scones, pastries and teas with locally sourced ingredients. Tea here is served on Saturday and Sunday afternoons year-round (between 1:30pm-3:30pm) but during the holidays, the lobby is extra festive—dressed to the nines in trains, trees and a massive gingerbread house. Get festive by drinking their signature Gingerbread Holiday Tea. // Reservations recommended, 950 Mason St. (Nob Hill), fairmont.com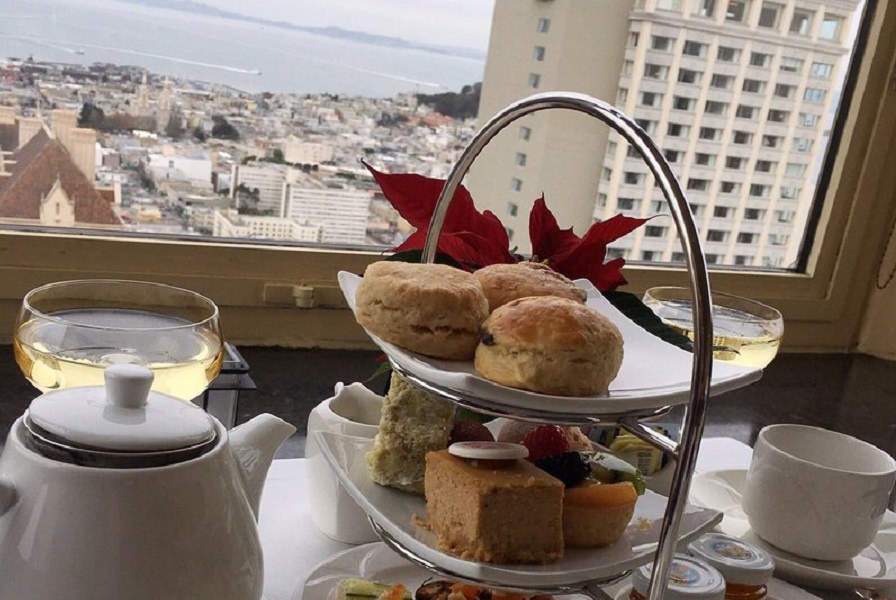 Holiday Tea at Top of the Mark(Courtesy of Top of the Mark via Yelp)
Top of the Mark
High above the city, perched on the penthouse level of the Intercontinental Mark Hopkins Hotel, Top of the Mark has been charming guests since 1939. During the holidays, this iconic San Francisco eatery serves two versions of afternoon tea—one for adults, another for kids. At the Children's Magical Tea ($80), finger sandwiches, scones and pastries are served buffet style in a delightful melee of face painting, cookie decorating and balloon animal making. There are two seatings—at 12pm and 12:30pm—Fridays and Saturdays between November 30th and December 22th. If you can't make these times, swing by on Thursday, December 20th or Wednesday, December 26th. For an extra holiday treat, be sure to schedule your tea-time around Santa himself: Santa Claus will be in the lobby on Saturdays December 1st-22nd between 12:30pm and 4:30pm. // Reservations required, 999 California St. (Nob Hill), holidaysatthemark.com