In the mood for boutique shopping, tasty restaurants, and interesting museums? Alameda, a 76,000-person island in the bay, and Piedmont Avenue in Oakland boast everything you can ask for in a a laidback, bohemian weekend.
---
Day 1
8:30 a.m. – Wake up in a stylishly decorated room at Waterfront Hotel, a Joie de Vivre property on the water in Oakland. This is a great jumping off point for Alameda and Piedmont Avenue—in the middle of both locations. Lace up some comfy shoes, pack a light jacket and slather yourself in sunscreen.
9:30 a.m. – Today will be dedicated to exploring all that Alameda has to offer. Drive onto the island and stop at 2300 Blanding Avenue. Park your car and walk into Little House Café, a tiny breakfast spot with excellent Mexican hot chocolate. Don't leave without trying a house-made donut and getting a helping of the cinnamon French toast and bananas. (You'll want to go back tomorrow.)
10:30 a.m. – One of the coolest things to do in Alameda is to visit the USS Hornet Museum. The USS Hornet was a Navy aircraft carrier that functioned during WWII and Apollo 11 (the country's first mission to the moon). It was decommissioned in the late 90s and now is a public museum on Alameda's west shore. Tickets will run you $20 for adults and $10 for kids ages 7-17.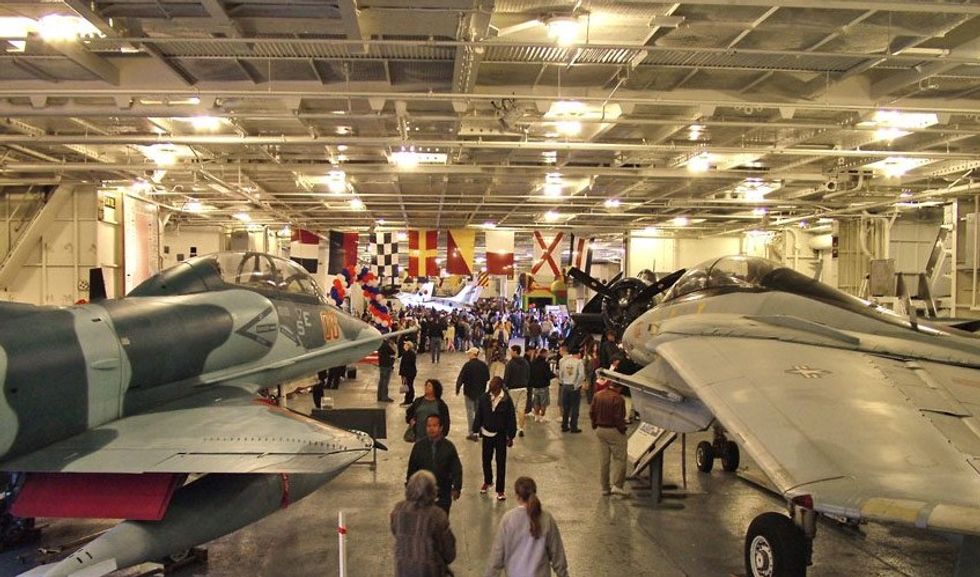 12:30 p.m. – Drive three miles east and stop in front of Mama Papa Lithuania, a wildly popular eatery, also dubbed the only Lithuanian restaurant on the West Coast. Order the green cabbage salad to start and then get the sweet cheese crepes or the stuffed chicken roll as your main course. (Better yet, order both. When in Rome!)
1:30 p.m. – Head back toward the USS Hornet, stop near the corner of Webster and Santa Clara streets and duck your head into the Pacific Pinball Museum. The pinball scene is actually huge in the Bay Area, and this place is worth a look. You will find vintage machines and have the opportunity to play more than 100 of them. Check online for hours (they are closed Mondays). Tickets cost $15 for adults and $7.50 for children under 16 years old. Bonus: machines are free to play with admission, so leave your quarters at home.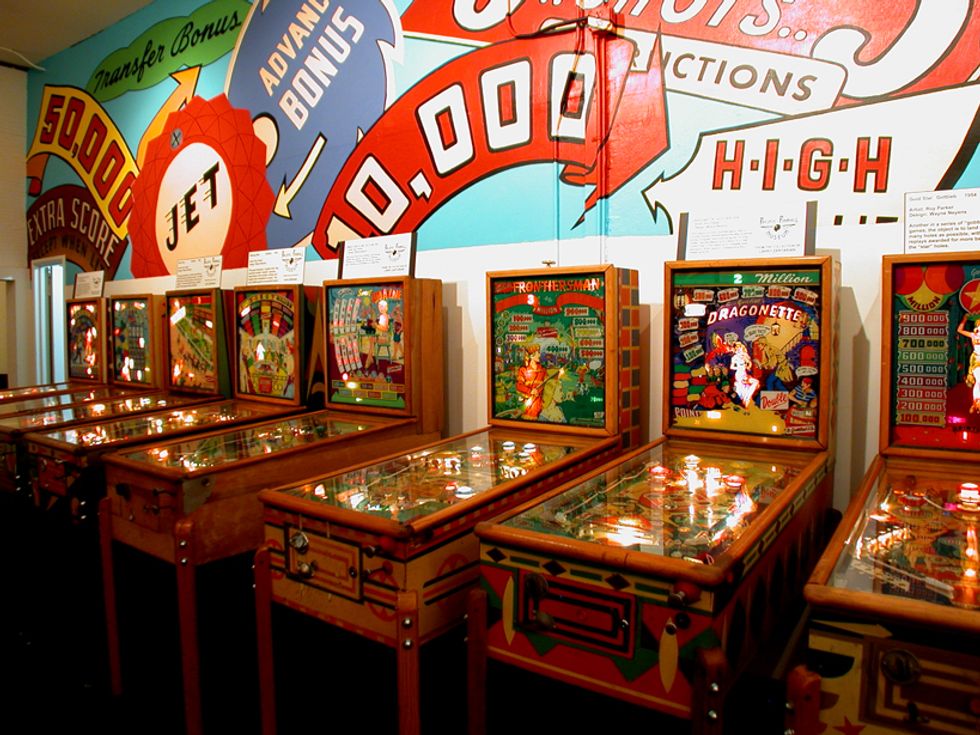 3:30 p.m. – After spending the day inside museums, you and your family will undoubtedly want some fresh air. Drive over to Crown Memorial State Beach and park near the corner of 8th Street and Otis Drive. Crown Memorial is the perfect place to play catch or have a picnic. Relax on the sand and enjoy the California sun (after you apply a new coat of sunscreen, of course).
5:00 p.m. – Ready for a treat? Drive over to Monarch Street and park out front of Rock Wall Wine Company, an absolute gem in Alameda. Owned by the Rosenblum family (known for their wines), Rock Wall is an awesome place to wind down after a day of sightseeing. Grab a glass of Sauvignon Blanc and sit out on the patio, overlooking the San Francisco skyline.
6:30 p.m. – Head back to Waterfront Hotel, shower, change into some casual evening clothes and then drive over to The Hobnob, a relaxed place with great food. Don't leave without trying the mac and cheese, the beet salad, and the oysters.
Day 2
9:00 a.m – Piedmont Avenue is incredibly charming, starting with its restaurants. Drive four miles north of Waterfront Hotel to Piedmont Café & Bakery, the place to try corned beef hash. If you aren't a meat person, opt for the eggs Florentine and a big cup of joe.
10:00 a.m. – Sufficiently full, it's time to do some walking. Piedmont Avenue is a really fun street that offers a variety of shops to bop into. Some of the better ones include Bella Ceramica (ceramics store) and Black Swan Books. Relax as you window shop, and maybe even grab another cup, to go, at Timeless Coffee Roasters, a neighborhood favorite.
12:00 p.m. – Serious retail therapy calls for serious eats. Walk over to 4070 Piedmont Avenue and belly up to a table at Baja, a joint that serves mouthwatering tacos and burritos. Try the prawn taco and ask a member of your family to order the steak and lobster burrito. Then, steal a bite when they're not looking—totally worth the mean looks you may later receive.
1:30 p.m. – Walk over to Glen Echo Creek Park, near the corner of Monte Vista and Piedmont avenues. This is a cute little park and a nice place to relax for an hour or so and let your food digest.
2:30 p.m. – Ready for more relaxation? Head to 4186 Piedmont Avenue and walk into the air conditioned Piedmont Theatre. This place shows today's feature films as well as independent movies. Tip: Go on a Saturday night to participate in raffles for CDs and gift certificates.
5:30 p.m. – Back at your hotel, shower and change into some fancier clothing for tonight's dinner. Drive over to Piedmont Avenue again and park near the corner of Rio Vista Avenue. Walk into Homestead (call ahead for a reservation), a fine dining American food restaurant. Take your time here and enjoy the rustic atmosphere, with quirky art on the walls and fresh ingredients laid out on the kitchen counter.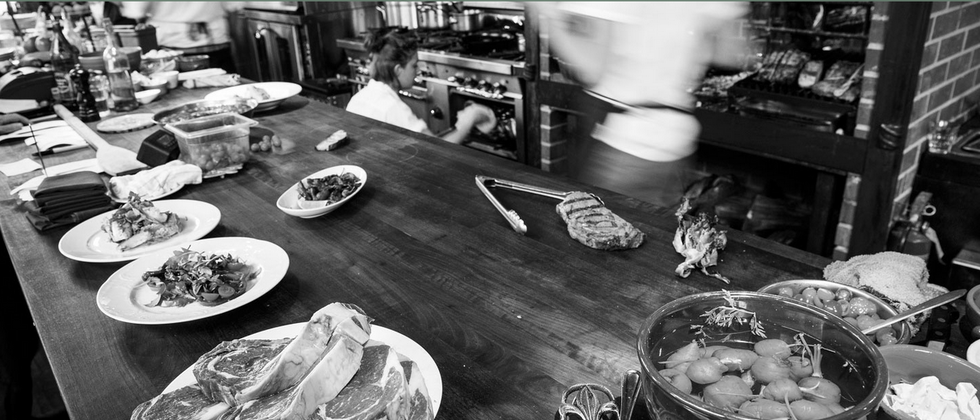 Day 3
10:00 a.m. – Sleep in and then check out of Waterfront Hotel. Drive back into Alameda and grab a table at Café Jolie, an adorable French-style breakfast spot with arguably the best brioche French toast this side of the Mississippi. After lunch, go to the Alameda Museum to learn about the history of the area. This is perfect way to cap off your getaway in Alameda and Piedmont Ave.
This article comes to us courtesy of the San Francisco Bay Area Super Bowl 50 Host Committee. Each week the San Francisco Bay Area Super Bowl 50 Host Committee features a #Perfect50 Hours series detailing how to spend 50 hours in a different San Francisco Bay Area city. See more here.