There's something vaguely Cobainian about San Francisco's latest prodigal punk son gone national, Ty Segall. Perhaps it's all on the surface — the stringy blond hair covering his face, his nihilistic, alyrical groan, his haphazard yet taut soloing. But there's a certain grunginess to his band's aesthetic, also a nuts 'n' bolts alignment of guitar, bass and drums. All of it begged a certain question: were we watching something special on Saturday night at The Independent? Was this what it was like to see Bleach-era Nirvana in a Seattle club in the mid-'90s, when all that mattered was the channeling of angst?
---
Ok, perhaps not. But these musical trends do happen in accelerating cycles. We could all be wearing flannel and shredded acid washed jeans very soon, and have no idea why. Grunge revival anyone?
The safe comparison to draw doubles as a NorCal/SoCal parallel universe situation. Segall tills the same terrain as San Diego garage phenomenon Wavves, but without the melodrama (Wavves frontman Nathan Williams has had multiple onstage meltdowns and press run-ins; Segall barely speaks onstage). On Saturday, Segall was a posterboy for the understated punk. He introduced only a handful of songs, in brevis, with curios like "this song's about a head blowing up over the walls," or "this song's about your bedroom floor." Less is more in Segall's case.
He started the set with the title song from his new album, the cheekily titled Goodbye Bread, a relatively restrained, lolligagging riff washed over a soliloquy about the hard-luck, starving-artist life. Things picked up. And quickly.
Thrashing two- and three-minute explosions of art punk siezed our attention for the rest of the night. Somehow, it's ample time for Segall to drain his thoughts and noodle skillfully and even thematically on the guitar. Drummer Emily Rose Epstein, a svelte but intimidating collection of bangs and a goth-lite look, kept a steady hand, taking cues from bassist Tim Hellman.
The crowd picked up on the band's rowdier numbers and worked up a modest pit at various points, or perhaps they were just taking out their anger over a group of drunks near the stage who were throwing beer everywhere and chanting one lyric from Elton John's "Saturday Night's Alright (for Fighting)" ad nauseum. We'll give you one guess what that lyric was.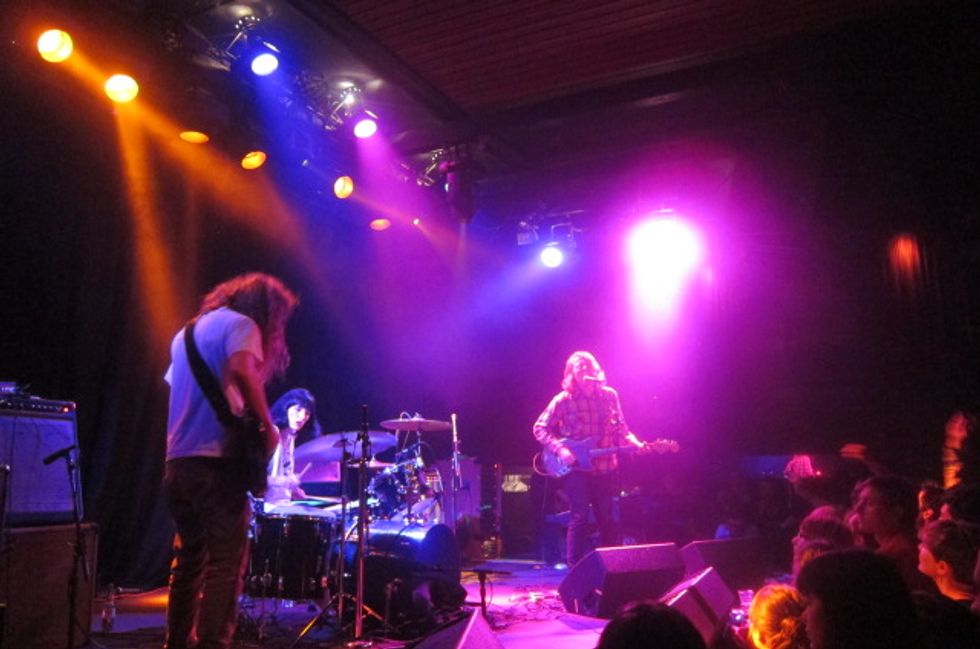 It became increasingly clear that Segall has little interest in excess or overstaying welcomes. Songs cut out abruptly and with little indulgence in outros or climaxes. That's been his conceit for some time now, and perhaps part of the reason why he's been so prolific at such a young age. Just 23 years old, his discography reads like a mid-career session player, having put out four solo albums and countless EPs, including work with a handful of other local bands such as Sic Alps and The Epsilons. Yet he still manages a sound that embraces a wide variety of garage aesthetics — from surf rock to rockabillly to darker, straighter punk fashioning — which is partly why he has won the adoration of critics, including the uber-influential Pitchfork seal of approval.

Segall may be approaching a watershed moment thanks to the growing buzz, and who knows, maybe we'll look back five years from now, when they're playing their MTV Classic Unplugged concert, and say, "we saw them way back when."