Tree huggers will feel right at home at the Forest Hill residence of Bay Area architect Ward Thomas, which was designed and constructed by Thomas in 1957 with a vision to erase the boundaries between indoor and outdoor living and to preserve to lot's existing trees, including some epic 100-year-old cypress.
Never on the market until now, the two-story house is a time capsule of midcentury modern style with exposed post and beam construction that will delight redwood lovers. The house was even featured once in the California Redwood Association's newsletter, which made special note of its saw-textured redwood interior and exterior walls.
---
Situated in a gated park-like landscape that wraps around the home beneath a canopy of eaves, the house was designed to bring in the outdoors with an open plan, vaulted ceilings, hardwood floors, and towering windows throughout.
The living room seamlessly flows onto a garden designed in the early '50s by landscape architect Robert Cornwall (to the tune of $25,000, excluding the actual greenery, even back then!), and the dining area and kitchen—outfitted with a large island and built-in barbecue—are set to entertain guests with a walk-out deck and views of Twin Peaks.
All the rooms here promise leafy vistas and cozy vibes for quiet reflection. The family room has built-in shelving to store books and games; the bedrooms, three in all, have patio access; and there's even a spacious workshop that could be used as a creative space, office, or gym.
With nearly 2,000 square feet of living space on a lushly planted 5,200-square-foot lot, this Ward Thomas house feels like a walk in the park.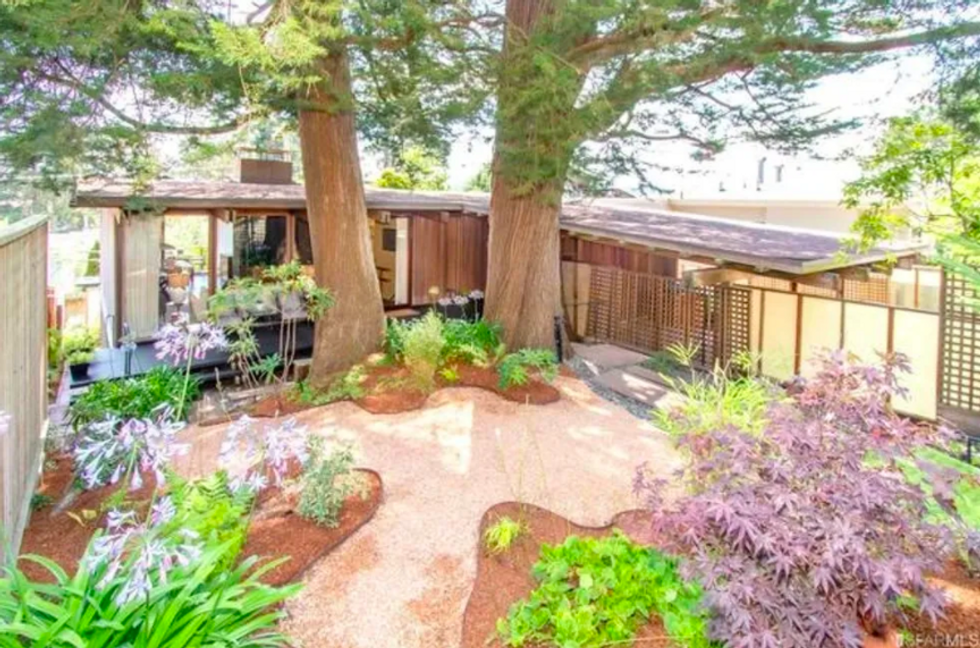 Location: 81 Santa Rita Ave. (Forest Hill)
Bedrooms: 3
Bathrooms: 2

Asking price: $1,750,000
// For more information, visit bhhsfranciscan.com.