Here's how to take your Tahoe badassery to the next level: Mountain biking. The whole area's a massive playground for it come summertime, offering miles and miles of both technical and free-wheeling trails to soak up all those postcard-worthy lake vistas. Below, a Tahoe mountain biking weekend sampler:
---
Get a crash course at Northstar, a mecca for the sport, whose terrain and biking program is only rivaled by Whistler's on the West Coast. Northstar's home to the most buzzed-about mountain biking events in the state — the Leadville 100 Qualifier took place there last month, and on August 27th-29th, it hosts the Pro-Gravity Tour, which beckons some of the top riders in the country. Get started by outfitting yourself with gear and bikes at Plaza Bikes Gear+Rentals in Northstar Village. And when we say outfitted, we're not just talking spandex and a pair a gloves. If you're skittish (or a beginner), it's advised to go full-blown Iron Man here: a Motorcycle-grade helmet, full body armor, chest protector and shin and elbow guards. You'll feel kinda stupid, yes, but also kinda ready to rock. 
But even in your superhero get-up, definitely take a lesson. Mountain biking is extremely technical and having an instructor guide you through switchbacks, single tracks and bumps will make all the difference in the world on your first go-around. Beginners can get in on Northstar's renowned Bike Academy's affordable Ride 101 class ($15), an hour and a half class that will provide an introduction for all the basic skills needed in the park. For those looking to take it to the next level, their Bumps & Bends class ($35) goes over all the video-worthy stuff — like getting air. It's $99 to rent a downhill bike (a couple thousand dollar piece of equipment) for the whole day ($79 for the afternoon) at Plaza Bikes. A package including a lesson, a bike and a helmet (Iron Man caliber gear is $15 extra) is $139 on weekends.  You can reserve all your lessons and equipment online. 
As for the trails? They're a rush. You take a lift from the Village to the top and then bomb on down. Livewire's the one everyone brags and raves about — a speedy devil that features over 1,000 feet of vertical drop, dozens of tabletop jumps and high-speed berms. It's the world's first irrigated mountain biking trail (their system ties into the resort's snowmaking water lines), which for all intents and purposes means that dust doesn't get in the way of your downhill dominance. For an idea of what's in store, here's a video of the ride.
Check out Northstar's interactive biking and trail map here to get the lay of the  mountain. 
Afterwards, you're gonna be sore. Luckily, the Ritz-Carlton Lake Tahoe's posh property is just a wobble away, where you can treat yourself to a massage in their spa, followed by a drink and dinner at Tracy de Jardins' Manzanita, one of Tahoe's finest dining options. Or if you're headed back to King's Beach, relax with a lakeside sunset meal at Wild Goose restaurant, another spot that won't disappoint.
The next day, head over to South Lake to Heavenly Sports to rent gear for the next course on your Tahoe mountain biking sampler: The Flume Trail. Start your ride at Spooner State Park, where some pre-ride stretching is recommended — this is no beginners' fare. You'll climb 1,000 feet in your first four miles — rigorous, yes, but the gorgeous ride through mountain streams and wildflower groves will take the burn away. The Flume Trails is 14 miles in total, and after your initial climb, the reward is pristine Marlette Lake (the perfect spot for a picnic on a rock) and ultimately, a sweeping view over the East Shore of Lake Tahoe. Those with a fear of heights be warned, some spots are just a single, dusty track at the edge of the mountain, with Big Blue glistening below in all her turquoise glory. A bit terrifying, but it's also some of the most picturesque mountain biking in the world.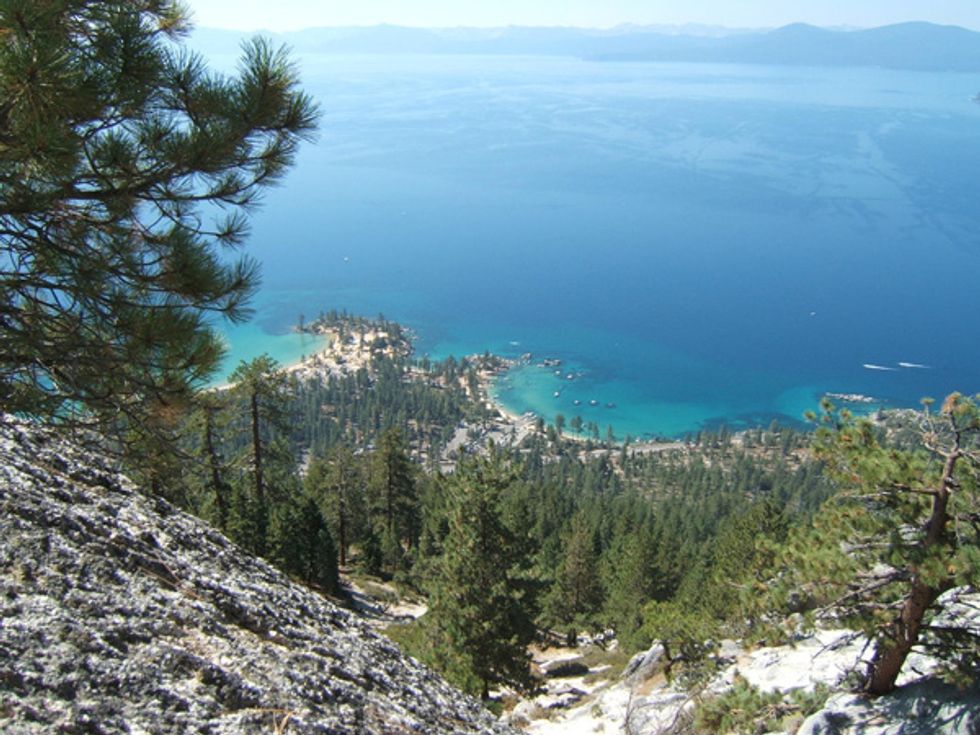 Depending on how fast you're moving, the ride should take you a couple of hours. You'll end your trip down at Tunnel Creek Station, where a shuttle van ($15) takes you back to your car at the Spooner Lake Trail head. Head back into South Lake and have a celebratory beer and meal at The Riva Bar and Grill, which overlooks the lake.
If you're feeling a comedown from your mountain biking rush on your way back to the Bay, comfort yourself with this: We've got Mt. Tam just a stones throw away, where mountain biking was arguably invented. Now you're ready to rock it.