Costa Rica–born but San Francisco–based entrepreneur Allan Graves loves the city, cars, and people—and he loves to talk—all ideal qualities in a vibrant tour guide.
But if you've ever hopped aboard his vividly painted classic Volkswagon bus for a San Francisco Love Tour, you know that Graves doesn't lead just any SF tour...especially at the holidays.
---
"I thought this is either going to be the most unique idea ever and everyone will love it, or it's going to be the worst," says Graves, remembering that time back in 2014 when—suddenly without a girlfriend (breakup), daughter (college), and dog (RIP) but with some extra cash on hand thanks to the recent sale of his fintech business—he had a crazy notion: to give locals and visitors an in-depth, off the beaten path view of the city "in a VW-hippie bus. I simply can't imagine a better way to experience going up and down the hills of San Francisco," he says.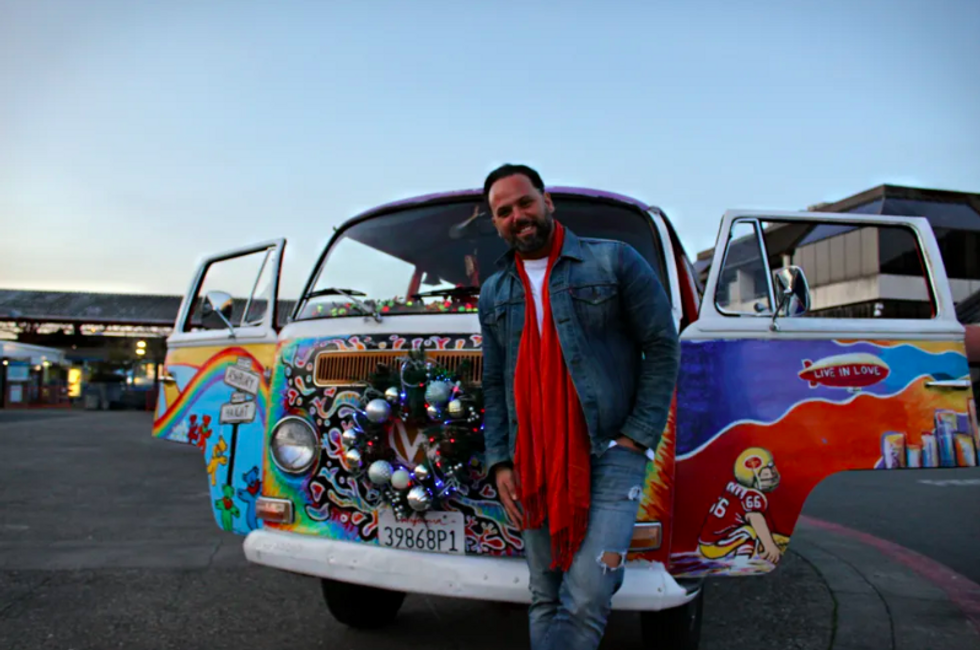 San Francisco Love Tours founder Allen Graves.(Megan Cheek)
He started shopping Craigslist for vintage VWs and was drawn to one down in Los Banos. He painted it with trippy murals and wheeled it out for its debut at his birthday party that year: Everyone wanted a ride.

Today, San Francisco Love Tours has a fleet of six vans and a lively team offering tours seven days a week in English, Spanish, and Portuguese. But come December, things get extra special with the Holiday Lights Tours.
Manned by Santa-hatted drivers, the vans, all decked out in garland and Christmas cheer, "crank the tunes" and take riders around to see the holiday lights and displays at such classic landmarks as The Embarcadero, Macy's, SF City Hall, the Bay Bridge, and Lombard Street.
"The lights are amazing, but my favorite part is when we're driving around and sharing Christmas stories in the van," Graves says. "It's something you don't forget."
// San Francisco Holiday Lights Tours run from 5pm to 7:30pm through Dec. 30, 2019. Tickets ($65/person) are available at sflovetours.com.