More laid back than Napa and Sonoma, the Santa Cruz Mountains wine region has become an under-the-radar favorite among Northern California wine lovers who like to hang with their dogs and hear live music and picnic on weekends.
Many of the best wineries here are located within a few miles of each another, in and around Los Gatos, making it easy to get a real fee; for the region in a single day. (Plus, morning fog and high elevation keep the vineyards cool during summer month.) Want to make a weekend of it? Head back to Los Gatos, where you'll find chic hotels and restaurants for days.

---
Where to Taste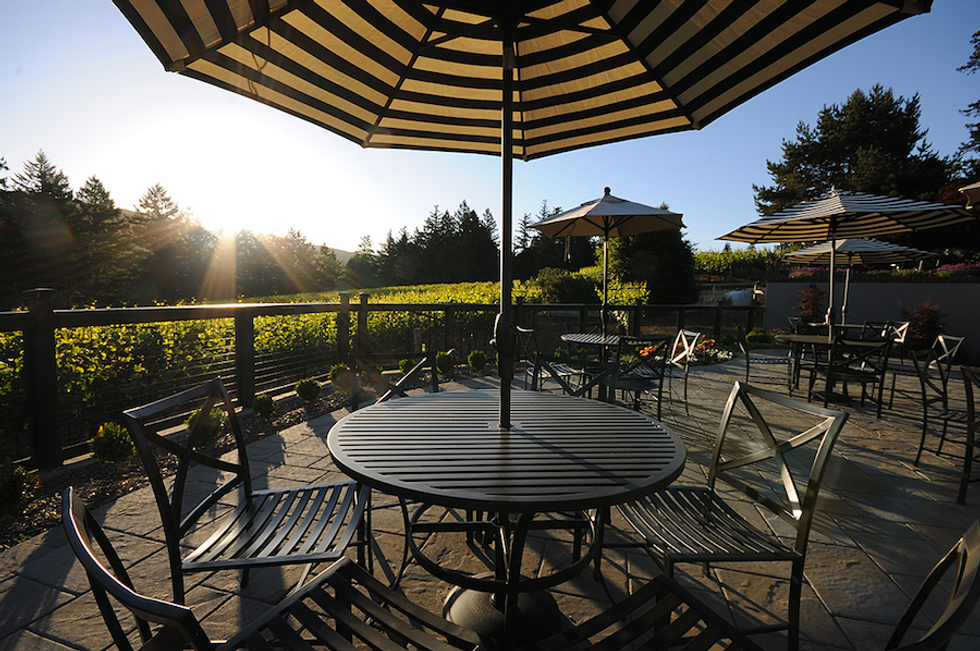 Fancy a glass on the terrace?
(Courtesy of Wright's Station)
Wrights Station Winery
Named for the small town of Wrights Station, once a waypoint on a railroad stretching between Santa Cruz and the Santa Clara Valley, this vineyard produces some of the region's oldest chardonnay. Enjoy a tasting in their elegantly remodeled 1947 farmhouse or on the large patio outside. // 24250 Loma Prieta Ave. (Los Gatos), wrightsstation.com
Burrell School Vineyards and Winery
In 1973, a 127-year-old institute of learning was converted into a winery, making tasting at Burrell the coolest thing we've done in school lately. The tasting room is set up inside the original Teacher's Carriage House, and wines also take a cue from the building's heritage: Grapes for the 2012 Honor Roll Merlot were lovingly grown on site. // 24060 Summit Rd. (Los Gatos), burrellschool.com
Loma Prieta Winery
Award-winning Loma Prieta is the largest producer of pinotage in North America, but a visit to the winery offers more than just delicious wine. On a clear day, you can see all the way to the Pacific Ocean from Loma Prieta's spacious patio, where you can also play of bocce or life-sized chess, and hope for an appearance by Bill the Oyster Man. Keep an eye out for their 2011 Karma Vineyard Pinotage, an award winner with aromas of plum jam, chocolate cake and roasted pecans. // 26985 Loma Prieta Way (Los Gatos), lomaprietawinery.com
MJA Vineyards
MJA'a founder, Marin John Artukovich, grows grapes both here and at his Napa Valley vineyard, and also produces Kona coffee at his Hawaiian estate. Stop by on Saturday afternoons for live music and a taste of the 2014 DaVine Zinfandel, with flavors of dried berries and spiced nougat. // 24900 Highland Way (Los Gatos), mjavineyards.com
Villa del Monte Winery
Open for tastings just one weekend per month, this small producer of cabernet and pinot noir hides out at the end of a private drive with no sign to point the way. Villa del Monte's 2013 Pinot Noir, with its fog-soaked flavors of plum and cranberry, are a loosely held secret. // 23076 Summit Rd. (Los Gatos), villadelmontewinery.com

Regale Winery and Vineyards
Regale's Tuscan-inspired villa puts a European spin on things. Explore the gardens or, on a foggy day, enjoy the warmth of the outdoor fireplace while sipping an estate-grown, cherry-tinged 2013 Pinot Noir. The Winery also produces olive oil from estate-grown olives. // 24040 Summit Rd. (Los Gatos), regalewine.com

Silver Mountain Vineyards
Two-thousand feet above Monterey Bay, Silver Mountain Vineyards is best known for its organically grown estate chardonnays—with light notes of vanilla and citrus peel—and their Bordeaux-style blend, Alloy, with notes of cherry, cassis and cocoa. Enjoy the view from the deck or bring a picnic to eat among the flower gardens at the open-air amphitheater. // 269 Silver Mountain Dr. (Los Gatos), silver-mountain.squarespace.com
Click for more on where to eat and stay in the area.