In 2016, we wooed, persuaded, and stalked the Bay Area's most talented chefs to convince them to share the recipes for their restaurants' signature dishes. Here are the 20 recipes our readers dug the most, compiled into an ultimate cookbook for your at-home culinary pleasure.
---
1601's Mulligatawny Soup Is the Perfect Warm Recipe for Today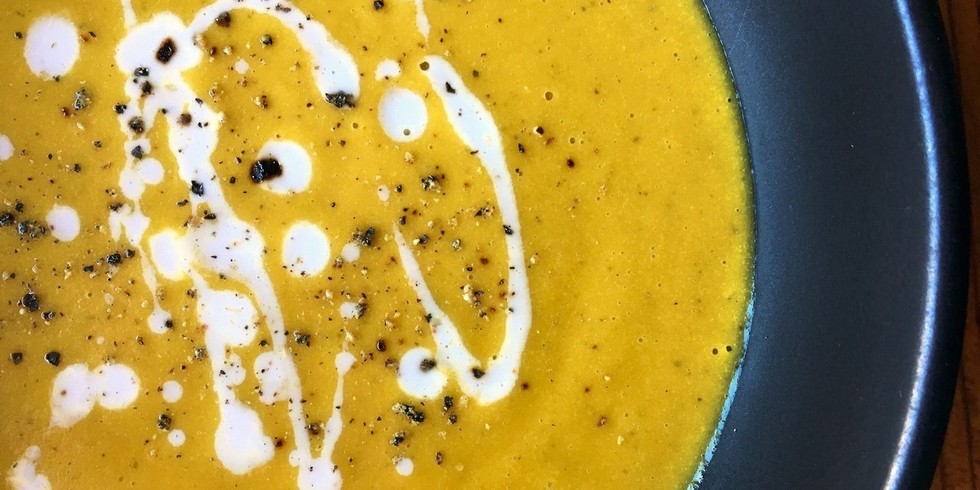 Courtesy of 1601
Chef Brian Fernando offers his twist on Sri Lankan cuisine at 1601 Bar & Kitchen, merging high technique with high quality produce. His take on mulligatawny soup (which translates to "pepper water") is just the right thing to warm you up during a cold San Francisco day like today. Check it out at 1601, or make it at home with the super simple recipe below.
Mulligatawny Soup

Yields 10-12 servings
Ingredients:

5 medium garlic cloves
2 large red onions
3-4 medium carrots, peeled
1 apple, peeled and cored
1 large Yukon Gold potato, peeled
1 fresh Serrano pepper, stem removed
1-inch knob fresh ginger
1-inch knob fresh turmeric
2 cups red lentils (Masoor dhal), washed/ rinsed
2 14 oz. cans of full-fat coconut milk
Curry spices (see below)
salt to taste

Curry Spices:
1 tsp. black peppercorns
1 tsp. mustard seeds
1 tsp. fennel seeds
1 tsp. cumin seeds
1 tsp. turmeric powder
1 tsp. cinnamon sticks
1 tsp. fresh curry leaves
1 tsp. cardamom whole pods


1. Dice the garlic, onions, carrots, apple, potato, pepper, ginger, and turmeric into ~ 2 cm cubes
2. Grind the peppercorns, mustard, fennel, and cumin seeds into powder in a spice grinder.
3. Coat the bottom of a stockpot with a thin slick of vegetable oil and heat over medium-high heat.
4. Add fresh curry leaves, cardamom pods and cinnamon sticks and cook for a 1-2 minutes, stirring.
5. Add all the remaining spices and the diced vegetables and stir again until the spices are evenly distributed among the vegetables. Cook for a few minutes, or until the vegetables begin to brown.
5. Add lentils and stir, then add water just to cover everything in the pot. Cover and cook until vegetables and lentils are tender.
6. Add coconut milk and bring back to a boil.
7. Let the soup cool, blend, strain, and serve.