By
You've been there: A spontaneous trip to Wine Country leaves you guessing which among roughly 3,000 wineries (that all sound the same) will offer a setting inspring enough to coax a "jelly" or two from your Instagram pals. We're here to help.
Our advice: Start with Sonoma's Wine Road, the region's primary winery association that spans properties throughout Russian River, Dry Creek, and Alexander valleys—aka some of the most gorgeous landscapes in California. Here are nine of our favorite stops along the stunning, vineyard-lined route.
Designed by San Francisco's Gould Evans, the stylish MacRostie Estate House raises the stakes for its tasting room peers. With interiors layered in warm wood, tan leather, and polished concrete, it feels more akin to the chic Wine Country abode of a well-to-do friend. Sip the region's famed pinot noir and chardonnay as you take in sweeping, hilltop views through floor-to-ceiling windows or from one of three outdoor patios.  //  MacRostie Winery & Vineyards, 4605 Westside Rd., Healdsburg, macrostiewinery.com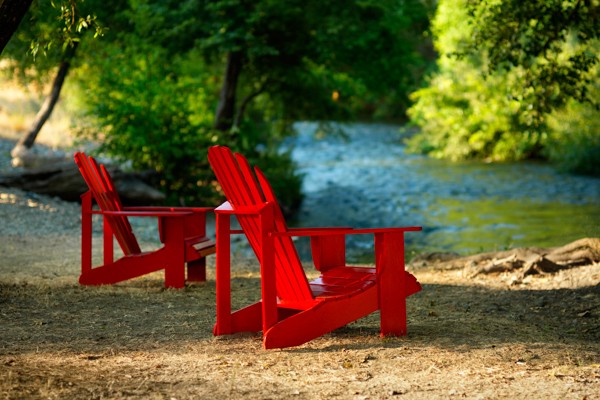 You'll find six types of zin and a welcoming staff inside the tasting room, but where you want to be is in an adirondack chair, watching the salmon spawn down at the creek. Truett Hurst's stunning grounds are a good hint as to why the winery has such a dedicated following. Biodynamic vineyards span 15 of their 27 acres while the rest are filled with lush vegetable gardens and leafy fruit trees that beg for a picnic.  //  Truett Hurst, 5610 Dry Creek Rd., Healdsburg, truetthurst.com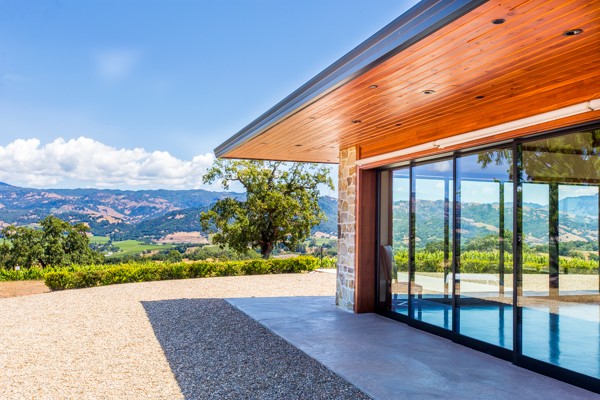 Jordan is the cure for the common winery tour. Understanding that few people enjoy standing patiently inside a chilly warehouse while a vintner rambles on about aldehydes, Jordan's Estate Tour takes guests throughout its pastoral 1,200 acre property in a luxury coach fit for Selina Meyer. You'll hop out at numerous scenic spots to sip estate wine and nibble composed plates from talented chef Todd Knoll. And trust us on this: Join the club, rack up the points, and do whatever you need to do to stay a night in their better-than-your-honeymoon suites and cottage.  //  Jordan Winery, 1474 Alexander Valley Rd., Healdsburg, jordanwinery.com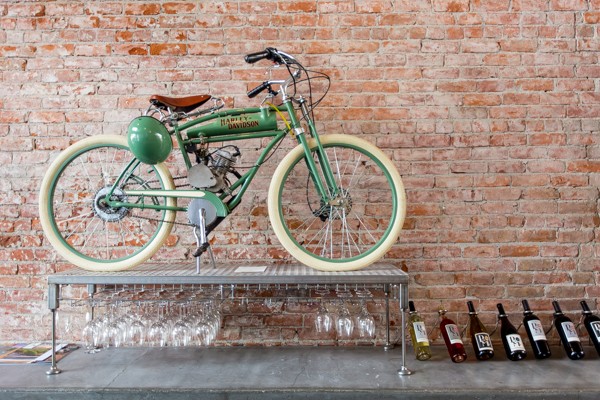 There are lots of reasons to make the trek to tiny Geyserville, all of which fit within its charming one-block main street. The Peche Merle tasting room is a stylish new addition with eclectic decor filling the exposed-brick interiors of a historic building. Grab a wood-fired pizza from nearby Diavola and pair it with their rosé or Laguna de Santa Rosa pinot on the gravel courtyard out back.  //  Peche Merle, 21001 Geyserville Ave., Geyserville, pechmerlewinery.com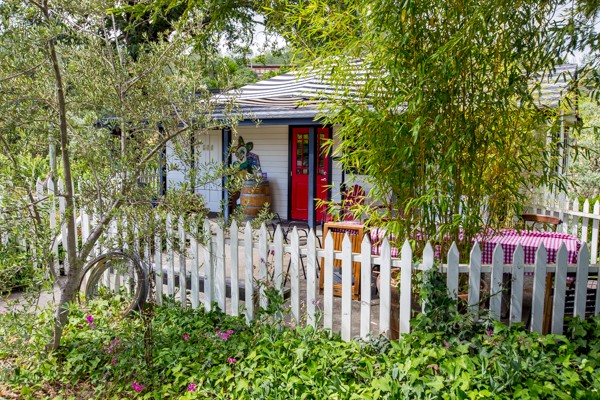 Squint and you'll swear you're deep in the French countryside at this secluded winery in the sloping highlands of Dry Creek Valley. Owner/winemaker Bill Frick's humble and soulful tasting room, housed in an old country cottage, is the antidote to Napa's excess. Inside, he pours less familiar Rhone varietals like a complex Counoise and delightful Grenache Blanc.  //  Frick Winery, 23072 Walling Rd., Geyserville, frickwinery.com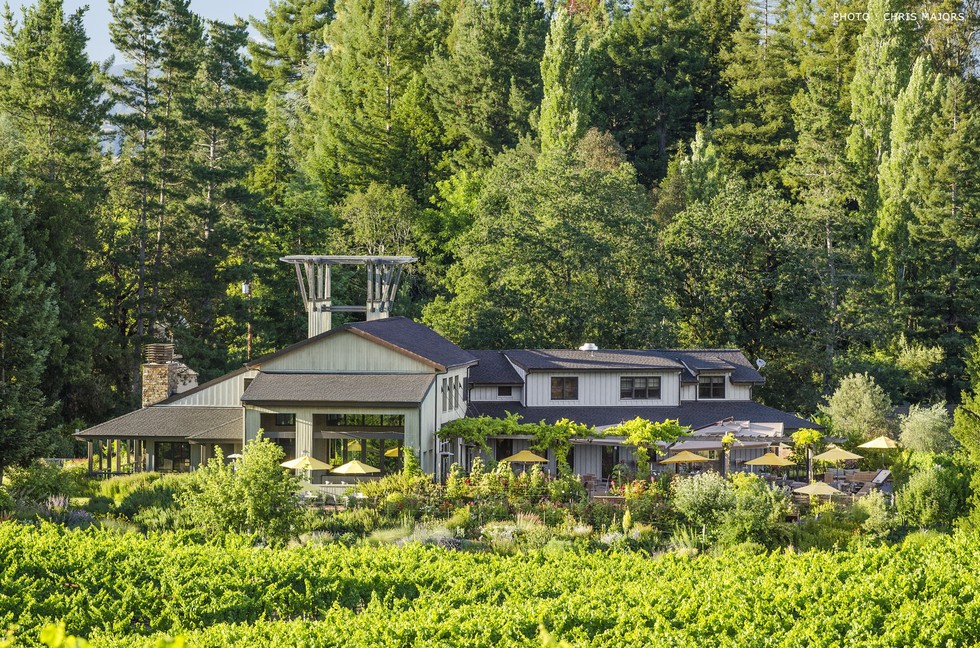 Seek out this upscale winery for exceptional hospitality and elegant, undistributed pinot noirs served amidst the lush surroundings of the Russian River Valley. Arrange for a multi-course lunch on a patio overlooking the vineyards and butterfly-filled gardens. You won't want to leave—and you don't have to if you shell out for a night in the aptly named Bliss House.  //  3909 Frei Rd., Sebastopol, lynmarestate.com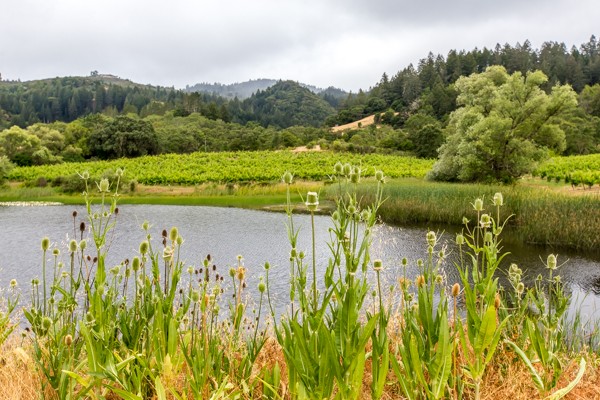 With a seemingly endless selection of high-quality wine, it's easy to settle into the charming hacienda courtyard or cozy tasting rooms tucked into this quiet corner of the Dry Creek Valley. But don't pass up a chance to tour the wildly scenic property in an open-aired coach, scooting past the lakes, vineyards and gnarled oak trees that make Sonoma County such an enchanting destination.  //  Michel-Schlumberger, 4155 Wine Creek Rd., Healdsburg, michelschlumberger.com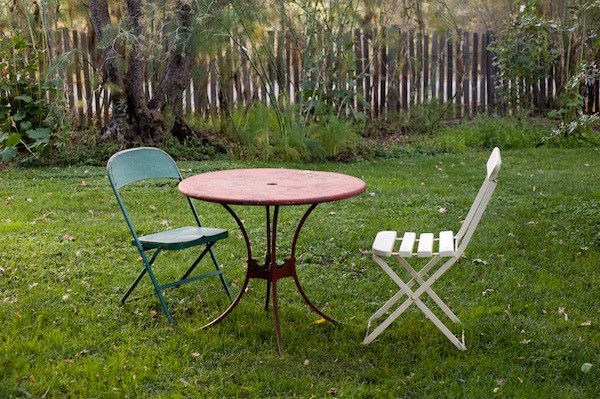 It's possible that somewhere along the slow, unpaved road that leads to Preston you enter a time warp that transports back you to a simpler time. The bucolic winery and farm yields down-home pleasures like freshly baked bread, homemade olive oil, bushels of seasonal fruits and veggies from their gardens, and refillable jugs of red table wine. Take your overfilled picnic basket to a sun-dappled area set with mix-and-match vintage furniture before strolling the organic gardens.  //  Preston, 9282 W Dry Creek Rd., Healdsburg, prestonvineyards.com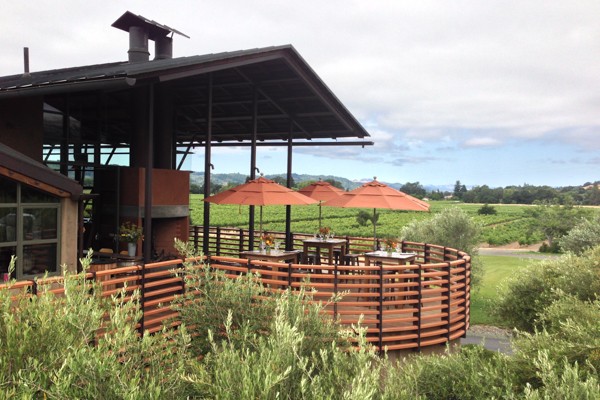 Inspired by the clean lines and natural elements of mid-century architecture, Stryker Sonoma's contemporary winery and tasting room blends into the terrain of the Alexander Valley. Nab a seat on the scenic patio and enjoy a tasting paired with a platter of cured meats, cheeses, and olives.  //  Stryker Sonoma, 5110 Hwy 128, Geyserville, strykersonoma.com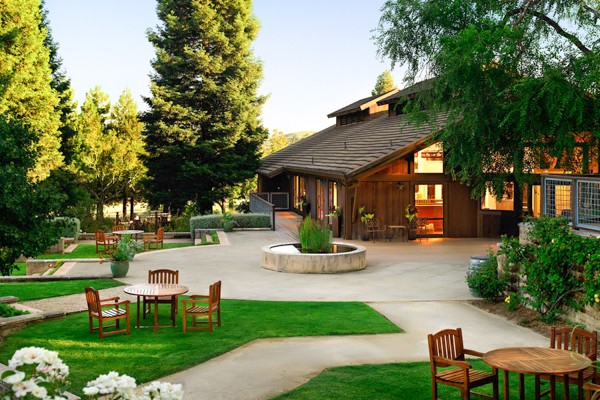 Named for winemaker Virginia Marie Lambrix, this fetching Russian River Valley winery features approachable, fruit-forward chardonnay and pinot noir and gorgeous grounds. Grab a glass and a wedge of Mt. Tam cheese and spread out alongside the redwood grove or tiered sensory garden.  //  VML, 4035 Westside Rd., Healdsburg, vmlwine.com
DON'T MISS A BAY AREA BEAT! SUBSCRIBE TO OUR NEWSLETTER.