By
With a new restaurant opening up every week in San Francisco, it's hard to pick our favorites from among the throngs. Still, we managed to wrangle the Bay Area's best dishes, whose flavor profiles set them apart from the crowd. Bon appetit!
Sustainable Restaurant: The Perennial SF
When one hears of the mission behind The Perennial—essentially to be The Most Sustainable Restaurant in the World—it's easy to write it off as the kind of startup hyperbole that's become so prevalent in San Francisco. But the folks at The Perennial seem to have the stuff to pull it off, beginning with the construction of their 2,000-square-foot aquaponic farm in West Oakland. But let's talk about food, because let's be honest, that's what's most important about a restaurant. We reccomend a dish of crisp and tender grains—steamed faro, barley, and millet—warmed up with a buttery sauce, mushroom stock, and a slightly funky comté cheese. It's all topped with grilled artichokes, sautéed black trumpet mushrooms, and toasted crispy buckwheat. Or opt for the pumpkin seed bisque: Made from cardamom-infused pumpkin milk, the soup is poured tableside over a bowl of sunchokes prepared three ways (fried, diced raw, and pureed), and is finished with a hint of lemon oil and thin slices of pear for brightness and sweetness. Not only is it a lovely start to the meal, it might be The Best Soup in the World. —Omar Mamoon // 59 9th St. (Mid-Market), theperennialsf.com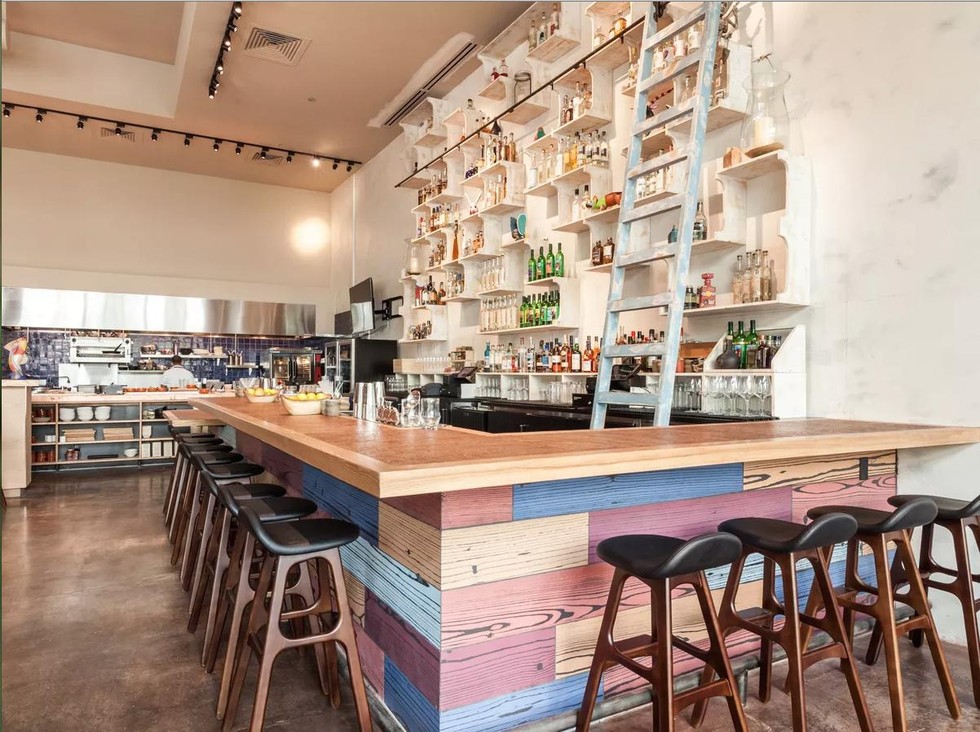 (Courtesy of Calavera)
Use of Mezcal: Calavera

A labor of love from partners Chris Pastena (Lungomare), Jessica Sackler (Coqueta), and Miguel Iglesias (also from Coqueta), Calavera whips up strictly Oaxacan fare in Uptown's new mixed-use center, The Hive. The family-style menu brings Mexico's bold and traditional cooking methods to the forefront, using a custom-designed wood-burning grill and plancha, but it's the gorgeous wooden bar, stocked with nearly 400 different kinds of tequila and mezcal, that's the true centerpiece. Start with the Salt Air (tequila and lime juice dolloped with a fluffy salt cloud) and then work your way down the menu. With almost 20 specialty cocktails to sample, you'd better get started.—Sarah Medina // 2337 Broadway (Oakland), calaveraoakland.com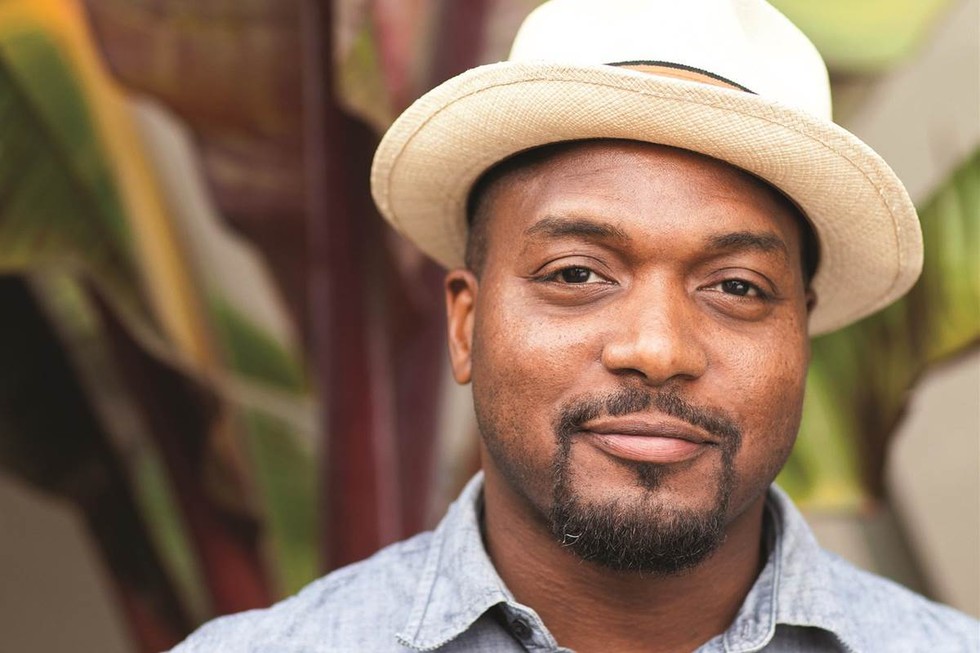 (Courtesy NBC News)
Power Pairing: Bryant Terry at MoAD
As the inaugural Chef-in-Residence at the Museum of the African Diaspora in San Francisco, Bryant Terry creates programming that celebrates the intersection of food, farming, health, activism, art, culture, and the African Diaspora. On November 15 he hosted Black Women, Food, and Power – a panel discussion with cookbook authors, scholars, and activists from around the country; on December 8 he curated a multi-course Diaspora Dinner in the lobby of the museum; and he is partnering with schools in San Francisco and Oakland to activate young people around food justice issues. We can't wait to see what 2016 will bring. —S.M. // 685 Mission St. (SoMa), moadsf.org
Happy Hour Alternative: MeloMelo Kava Bar
MeloMelo Kava Bar is the first booze and coffee-free bar to hit the Bay Area serving only kava—a murky gray, mood-altering beverage made from the 10-foot roots of the piper methysticum ("intoxicating pepper") plant native to the South Pacific. An alternative to the traditional bar scene, MeloMelo offers a trippy, tranquil vibe and calming soporific drinks that promise the opposite of caffeinated jitters or day-after hangovers, but is still open until 12 a.m. every night. —A.K. Carroll // 1701 University Ave. (Berkeley), melomelokavabar.com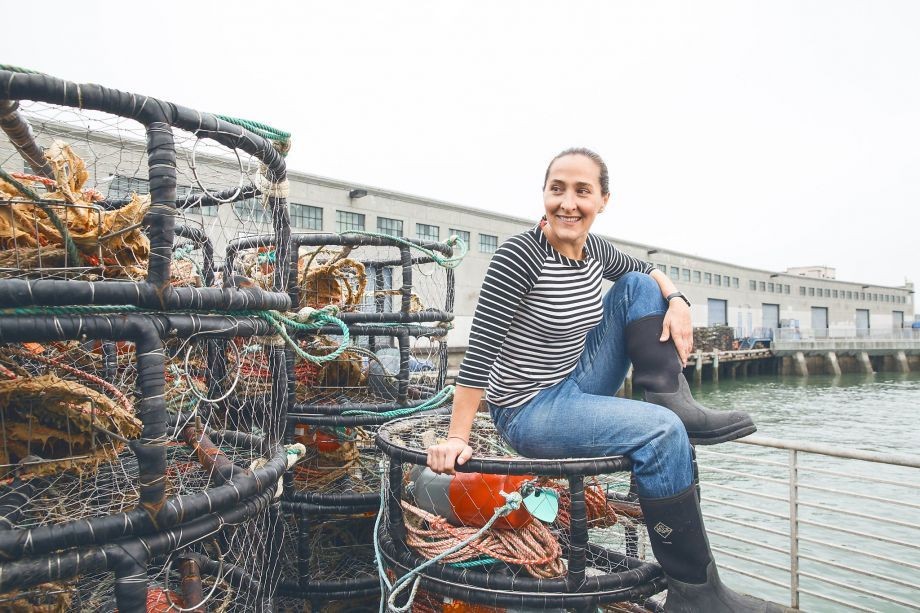 (Aubrie Pick)
Culinary Ambassador: Gabriela Camara
Gabriela Cámara, the chef-owner of Mexico City's most sought-after reservation, Contramar, is also its golden child, with endless charm and talent that has wooed the food world's biggest names (she counts Alice Waters and Tartine's Chad Robertson among her fans). And so, when Cámara moved to San Francisco last fall and decided to open her first stateside restaurant, the buzz was deafening, and the anticipation high. Cala—Spanish for cove, signaling the menu's celebration of seafood—debuted in Civic Center in September. Cámara has a thing for ingredients, as most chefs do, but coming to the region with fresh eyes has given her a perspective and appreciation not yet so jaded by northern California's ridiculous bounty. What's better, Cámara is as refreshing in her attitude towards ingredients as she is about staffing her restaurant, opting to work with programs like Delancey Street, which helps train individuals with a criminal record, to employ 70 percent of her restaurant. Perhaps an outsider's outlook is just what our food industry needs to tackle its most pressing problems. —Schuyler Bailey // 149 Fell St. (Hayes Valley), calarestaurant.com
International Import: Din Tai Fung Brings Dumplings to Santa Clara
Din Tai Fung, the Taiwanese-based dim sum chain with a cult following, has opened its first Bay Area location in the Westfield Valley Fair mall in Santa Clara. While the focus here is obviously the dumplings — especially the exemplary xiao long bao and an upgraded truffle version — the extensive menu includes a range of Taiwanese and Shanghainese specialties like shrimp and pork shao mai, Shanghai rice cakes, as well as more standard fare like fried rice and noodle soups. On the sweet side, you'll find desserts like boba tea, matcha smoothies, and red bean dumplings. Just be wary of the seemingly ever-present long lines at this walk-in only spot. —O.M. // 855 Stevens Creek Blvd. (Santa Clara), dintaifungusa.com/history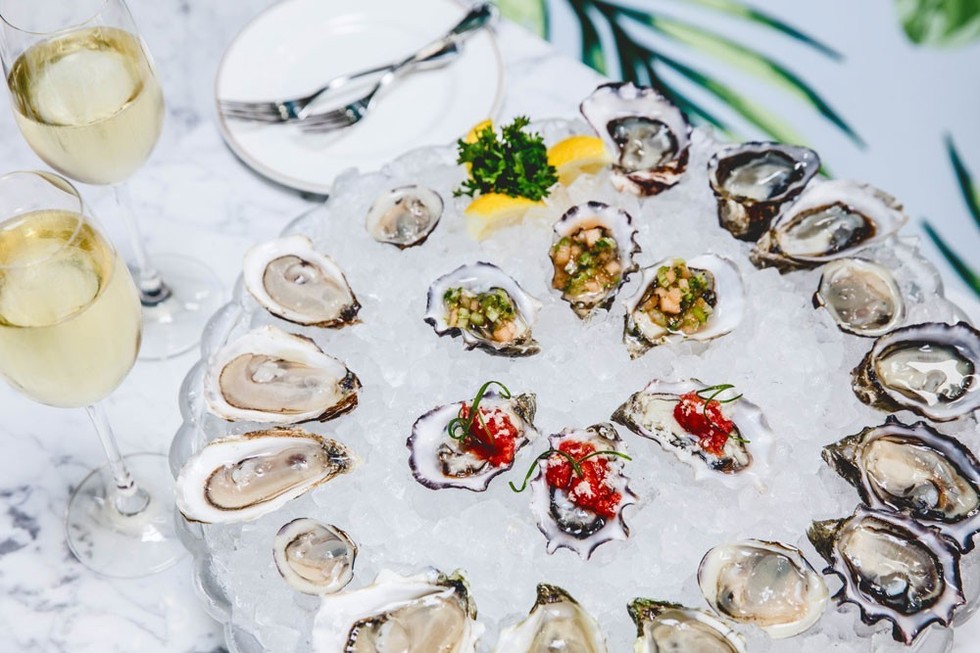 Spot to Sip Champagne + Slurp Oysters: Leo's Oyster Bar
The first thing one notices when entering Leo's Oyster Bar (besides the massive palm fronds that unfurl across the pastel tropical wallpaper covering the restaurant's soaring atrium) is the glow. Then, libations and food: There is a copious amount of Champagne to drink (including a lovely Ruinart Blanc de Blanc by the glass) as well as excellent cocktails (Don Draper might have enjoyed the Scotch- and amaro-based Office Supplies); indulgent little dollops of osetra caviar atop truffled beet blinis; and towers of raw delights and chilled seafood including immaculately shucked oysters (we love the briny St. Simones and the "Fancy" Hammerslys topped with pickled tomato and horseradish), king crab legs, and Maine lobster claws. Perhaps because it is tended with a love inspired by its namesake, Anna and James' cherubic son. Or perhaps it is just in the many carefully chosen details, such as the delicate, hand-picked vintage vessels that make Emily Lucchetti's desserts even sweeter. Whatever it is, one thing is certain: San Francisco has its new special occasion destination. —Chloe Hennen // 568 Sacramento St. (FiDi), leossf.com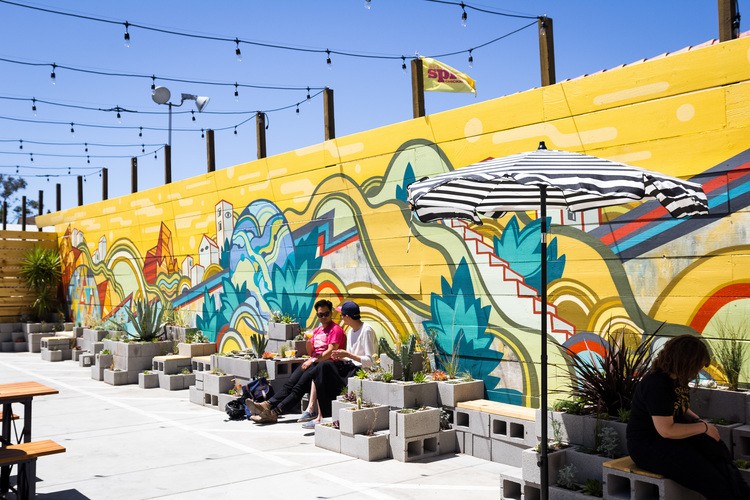 Sunny East Bay Patio: Temescal Brewery
After more than a year of preparation and fundraising, Temescal Brewing Company finally launched last month on Telegraph Avenue. This hipster paradise comes complete with pastel interiors, fuzzy emoji-like cut outs on the walls, and a neon sign that declares "No Jerks" across from the bar. Outside, the beer garden is bright and sunny with a colorful mural, picnic tables, a popcorn machine, and string lights. The best part: homemade brews are only $5-$6 and come with cheeky names such as Black Party Pale Ale and Works Like a Charm Saison.— S.M. // 4115 Telegraph Ave. (Oakland), temescalbrewing.com
Restaurant Revival: Alfred's Steakhouse
Perhaps we can credit the passing of Prop J in November, or maybe it's just Daniel Patterson's sense of nostalgia, but San Francisco institution Alfred's Steakhouse is the most recent recipient of historical preservation and a wanted refresh, and the city is all the more delicious for it. The menu continues the vintage expectations until further inspection, when unique twists on the classics reveal themselves as the Patterson-level apps and sides you'd hoped for: Grilled artichoke is a delicate exploration of the supple heart when served alongside buttery burrata, topped with briny and bright caper salsa verde, arugula, and saba—an Italian syrup made from grape must that's been heralded as the new balsamic. All are worthy to appear alongside the premium California dry-aged beef from San Rafael-based Flannery Beef, which is plucked from the glass-doored meat case and served in customary cuts (our 14-ounce ribeye being an ideal slice of tender meat with stripes of marbling that melted into heavenly oblivion). Full disclosure: I never had the pleasure of dining at the original, but I can say this new iteration of Alfred's is as much a celebration of the past as it is a delicious step ahead. —S.B. // 659 Merchant St. (FiDi), alfredssf.com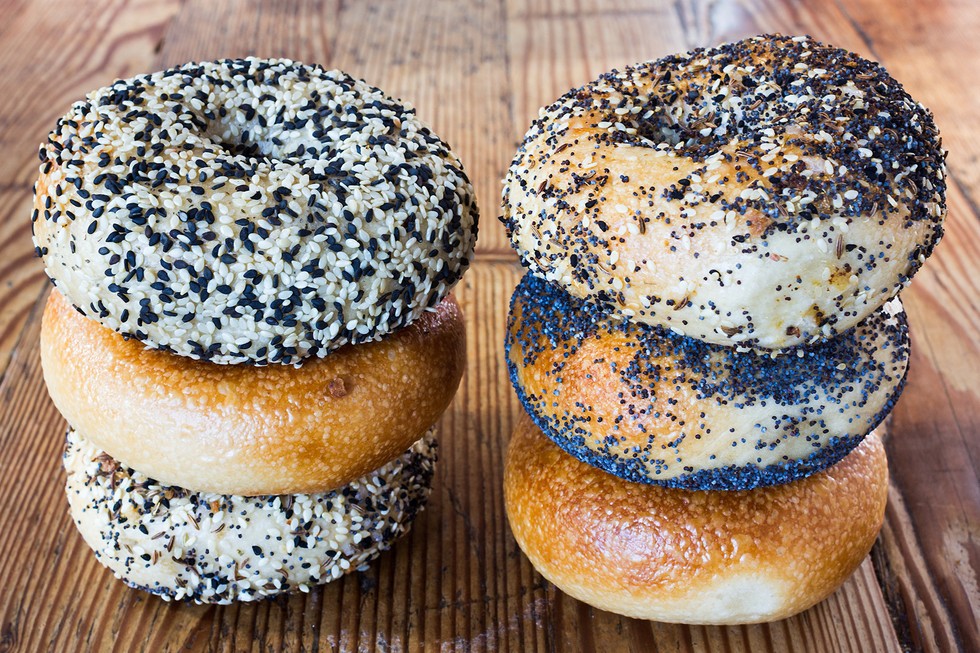 (via Caviar)
New Breakfast Option: Wise Sons Bakery
The long-awaited Wise Sons Bagel & Bakery has opened its doors on Fillmore Street, filling a much-complained about void in San Francisco's bagel scene. In addition to bagels (they make more than 5,000 every day!), patrons can purchase smoked salmon and pastrami by the pound as well as order from a new menu featuring tasty bagel sandwiches and salads—we recommend the egg and cheese bagel for breakfast followed by the smoked trout salad with butter lettuce and watermelon radish for lunch. Yum. —O.M. // 1520 Fillmore St. (NoPa), wisesonsdeli.com
Addition to the Neighborhood: Black Bark BBQ
It's been almost 15 years since the heady smell of barbecue permeated San Francisco's Fillmore District, and reviving the delicious tradition was no easy task. It took an entire neighborhood. After testing out a rib recipe at his flagship restaurant 1300 Fillmore (the dish sold out within minutes), Chef David Lawrence charged himself with the difficult task of bringing authentic 'cue back to Fillmore Street. Black Bark leans toward a Texas style, utilizing dry rubs and sides typical to the region, but Lawrence has also pulled in techniques from Carolina and Kansas City pit masters, creating what he calls a San Francisco-style of barbecue. A little bit of everything will get you: ribs, chicken, hot links, pulled pork, and brisket, while sides include bourbon mac n' cheese with cornbread crust, smothered greens, and sweet potato casserole. On the walls are stenciled the words: "Every Butt Loves a Rub." We couldn't have said it better ourselves. —S.M. // 1325 Fillmore St. (Western Addition), blackbarkbbq.com
Noodle Spot: Itani Ramen
It seems like it's been ages since we first heard that Hopscotch chef Kyle Itani was opening a ramen shop, and our taste buds have been salivating ever since. Hence why we were so exited when the Uptown Oakland brick-and-mortar finally opened in May! Belly up to the counter for a delicious assortment of ramen bowls (both cold and hot) as well as other Japanese snacks (crispy pig ear, anyone?) The in-restaurant vending machine also offers an assortment of desserts for purchase including Soy Ice, Pocky, It's-It Ice Cream, Baumkuchen roll cakes, and other delicious Japanese treats. —S.M. // 1736 Telegraph Ave. (Oakland), itaniramen.com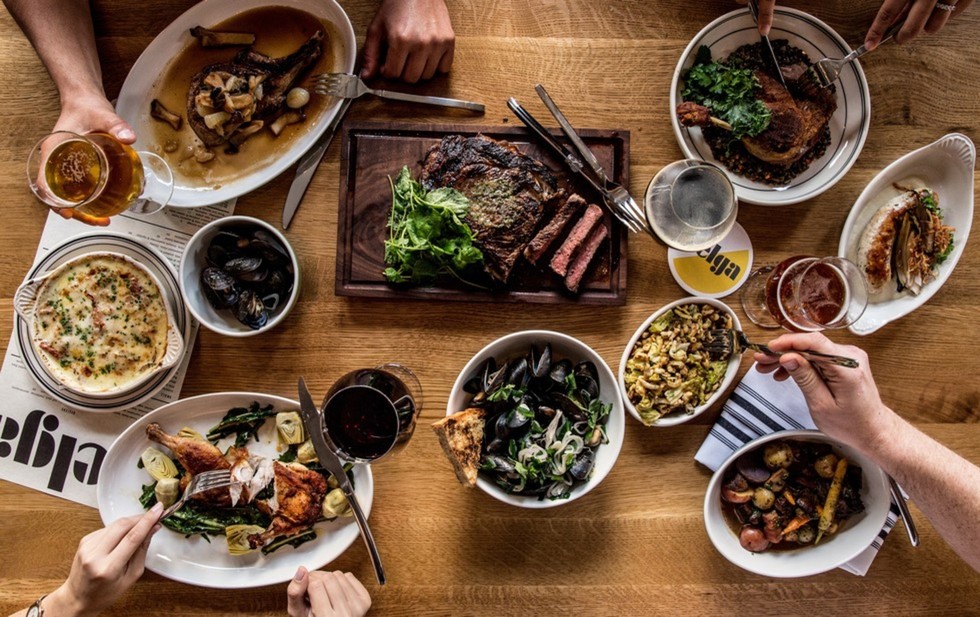 (Belga)
Unconventional Brunch: Belga
Belgian meets German meets Californian fare in this sleek, modern brasserie that does European comfort food right. We're talking brioche beignets with cinnamon sugar and whipped crème fraiche; Belgian waffles; pork schnitzel with braised cabbage, spätzle and sunny eggs. And yes, you can order beer for brunch. Afterall, the Germans do it. —Ana Kamin // 2000 Union St. (Cow Hollow) belgasf.com
Romantic Date Spot: Delarosa
You'll be sure to to impress your date with dinner and cocktails at the fabulous new downtown Delarosa. Start off with aperitivo cocktails, sharing meatballs in spicy maranga or broccolini bruschetta. As for entrees, you must order pizza. The pappardelle Napoletana and the spicy fennel sausage, scamorza and onion pizza are house favorites. To end, the Coppa Siciliana with vanilla gelato, lemon ricotta, cracked cannoli shell, chocolate sauce, and pistachio will satisfy and cleanse your palette at the same time. Now all you have to do is plan your second date. —Emily Martin // 37 Yerba Buena Ln. (SoMa), delarosasf.com
Bar for Sexy Lumberjacks: The Lodge
We're really into The Lodge, a hunting-themed cocktail bar on Piedmont Avenue. The menu leans meat-heavy with charcuterie, sausages, wings and more (though there is a vegetable sandwich and grilled cheese for non-meat eater) and a variety of meaty bar snacks such as chili-dusted chicken chicharrones and pork riblets with fried garlic are there for those without a lumberjack's appetite. Drinks focus on simple classic cocktails, local beers and Spanish & Italian wines, plus a fun piña colada slushie machine. The real show stopper here is the decor: There's plenty of taxidermy on the walls, a 30-foot redwood bar, walls made of redwood, alder and nutmeg, smoky glass lighting and a paint-by-numbers mural on the wall.—S.M. // 3758 Piedmont Ave. (Oakland), facebook.com/thelodgepiedmont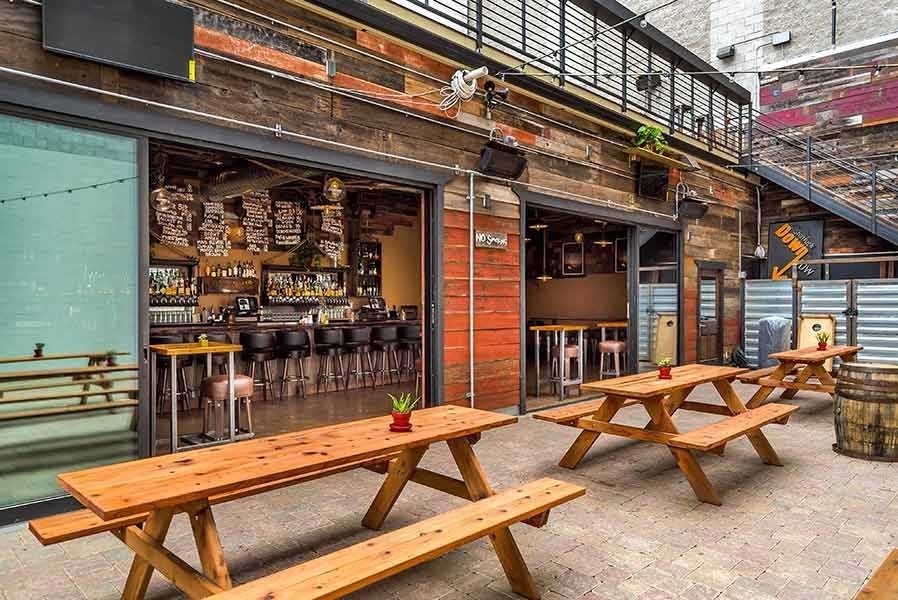 (Yelp)
Late-Night Kitchen: Mad Oak
For those looking for a late-night drink and dinner, you'll find a worthy new option in the form of Mad Oak Bar & Yard. Mad Oak is the latest project from brothers Benjamin and Daniel Cukierman (of Shattuck Down Low and Room 389), and is a revamp of the former Oasis nightclub on 12th Street (between Madison and Oak, fittingly, in downtown). The space boats a major outdoor patio and a roofdeck; they've got 40 beers on tap, a cocktail program showcasing fresh ingredients, rotating food trucks holding court in the yard, and a late night rotating pop-up kitchen that churns out everything from empanadas to garlic fries. —Lauren Sloss // 135 12th St. (Oakland), yelp.com
Ferry Building Competitor: Public Market

Emeryville's Public Market underwent a major revamp this year with tasty new vendors including Korean-Japanese fusion restaurant KoJa Kitchen, noodle emporium Shiba Ramen, outposts of We Sushi and Mayo and Mustard, and a new Peruvian concept from Carlos Altamirano (of La Coastanera). And they're not done yet! We'll likely see a Mexican concept, a brewpub, and a few dessert options opening up later this year . —A.K.C. // 5959 Shellmound St. (Emeryville), publicmarketemeryville.com

Small-Batch Brewery: Laughing Monk
As with any good pub, beer is the main reason to stop in at Laughing Monk, where brewmaster Jeff Moakler currently has four beers on draft: Midnight Coffee, a rich American stout made with cold brewed coffee from Artis Roasters; Laughing Monk Pale Ale, with stone fruit and floral aromas; Evening Vespers, a Belgian Dubbel with soft fruit notes of raisin and dates; and Golden Sunshine, brewed with locally grown Chamomile to give for a mild citrus flavor. The craft beer hot spot has capacity for 16 different taps, and we can't wait to see what Moakler comes up with next. —Scott Mansfield // 1439 Egbert Ave. (Bayview) laughingmonkbrewing.com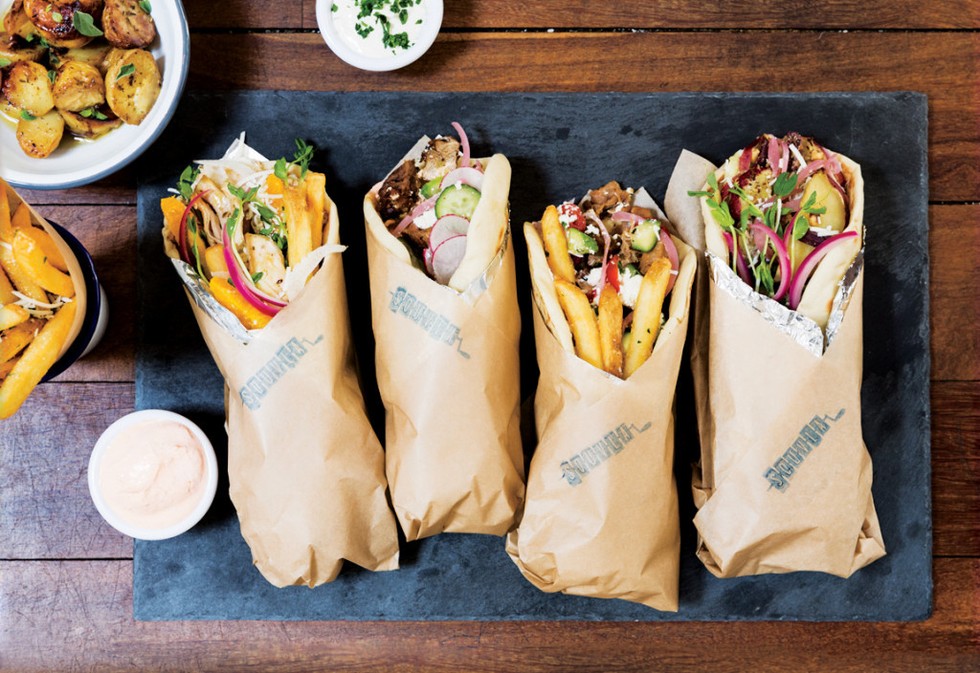 (Souvla)
Empire Expansion: Souvla on Divisadero
Our taste buds start tingling just thinking about the gorgeous salads, meaty gyros, and divine frozen Greek yogurt (#4 on The Big Eat 2016) served at Souvla—and now there's twice as much goodness to go around. The former Herbivore spot at 531 Divisadero St. reopened as the second Souvla location in June with plentiful indoor and outdoor seating for everyone. — O.M. // 531 Divisadero St. (NoPa), souvlasf.com
Cookbook of the Year: Home Cooked: Essential Recipes for a New Way to Cook
Belcampo Meat CEO Anya Fernald is a serious girl boss and her cookbook is the real deal for anyone who wants to learn to cook hearty basic meals around a busy schedule. Along with writer Jessica Battilana, Fernald offers over 100 recipes, divided into categories like Building Blocks (broths, cured fish, canned fruits and vegetables), Snacks, Starters and Drinks, Vegetables, Fish and Meats, and Dessert, and simple dishes such as beef and pork ragu, eggs poached in tomato sauce, and blistered green beans. Each dish relies on a handful of really, really good ingredients: think heirloom Early Girl tomatoes, toma cheese, California olive oil, and farm eggs. It's the best thing that will ever come out of your kitchen.—S.M. // $22, amazon.com/Home-Cooked-Essential-Recipes-Cook
Celebrity Pop-up: Ayesha Curry's International Smoke at Mina Test Kitchen

We should have seen this coming? A cookbook author and star of numerous cooking videos, Ayesha Curry is no stranger in the kitchen, and her friendship with Mina has been well documented (he was even at her and Steph's birthday party). Their new joint restaurant venture, International Smoke at Mina Test Kitchen, focuses on grilled and smoked meat from around the world in a four-course prix-fixe menu for $45. We're fans of the Thai-style barbecue shrimp chili, "Around the World" pork ribs cooked either Korean, al pastor or St. Louis-style, and the "Royal BBQ Platter" with char siu, pastrami, and Merguez sausage among other meats. Sides include a purple Peruvian potato salad, braised mustard greens, and double-dipped onion rings. Remember to wear your stretchy pants. — S.M. // 2120 Greenwich St. (Cow Hollow), minatestkitchen.com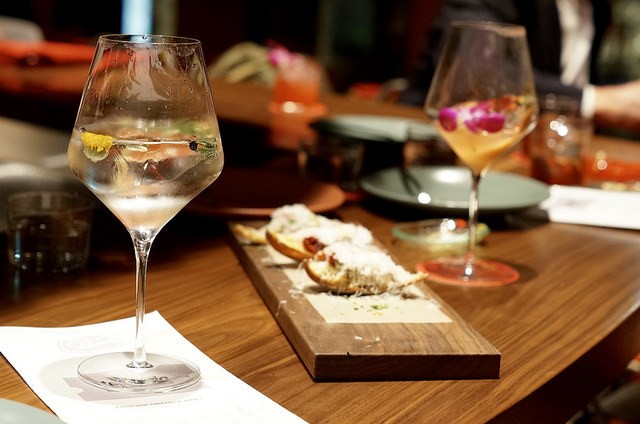 Reason to Cross the Caldecot Tunnel: Teleferic
Twenty-two years ago, chef/restaurateur Soledad Urabayen brought pinxtos (northern Spanish bar snacks) to the Barcelona region when she opened her first restaurant, in the Southern village of Sant Cugat. Now her son, Xavi Padrosa, is bringing his mom's recipes to California with the opening of Teleféric Barcelona's first U.S. location. While it's true that there are damn fine tapas to be had elsewhere in the Bay Area, Telefèric makes the case for a venture to Walnut Creek with modern, festive design by Arcsine (the same firm that outfitted Oakland's Duende) and truly authentic fare. Spanish specialties include a "secret" cut of Ibérico pork; a perfectly cooked egg in pisto; and, Padrosa's favorite, the pulpo trufado (grilled octopus served with decadent truffled potato cream). Factor in home made croquettes and street churros drenched in Valrhona chocolate, and you've got good reason to make a night of it. —A.K.C. // 1500 Mt Diablo Blvd. (Walnut Creek), telefericbarcelona.com
Post-Dinner Cocktails: Tupper and Reed
Continue your Bourbon & Branch-approved cocktail crawl in Berkeley at Tupper & Reed, the long-awaited East Bay debut from the Future Bars, the folks behind some of the most lauded bars in San Francisco (e.g., Devil's Acre, Tradition, Rickhouse, Swig) Tupper & Reed, located inside a designated historic landmark, features an upstairs space, which will be reservation-only, while the downstairs area boasts an extensive list of spirits, and a selection of classic cocktails (divided between citrus-driven, spirit-driven, and a punch offering that requires three drinkers, minimum). –Lauren Sloss // 2271 Shattuck Ave. (Berkeley), tupperandreed.com
Unqiue Cocktail: Dirty Water's Long Strange Trip
While developers fight an uphill battle to rebrand what we all know as The Twitter Building into "Market Square," know that the beautifully renovated Art Deco structure is also home to new design-savvy spots like Dirty Water. The handsome restaurant and lounge is dedicated to craft drinks, with 52 beers on tap (soon to include house-brewed beers), 100 wines by the glass, and a spirits list so lengthy it warrants its own iPad. Sink into cushy leather couches and get ready for a Long Strange Trip—the cocktail, that is. Pair the cocktail (candy cap mushrooms infused in James E. Pepper 1776 rye whiskey, with lemon, black pepper and Zucca amaro) with venison tartare with creamy smoked egg yolk for a flavor explosion in your mouth. — Garrick Ramirez // 1355 Market St. (Mid-Market), dirtywatersf.com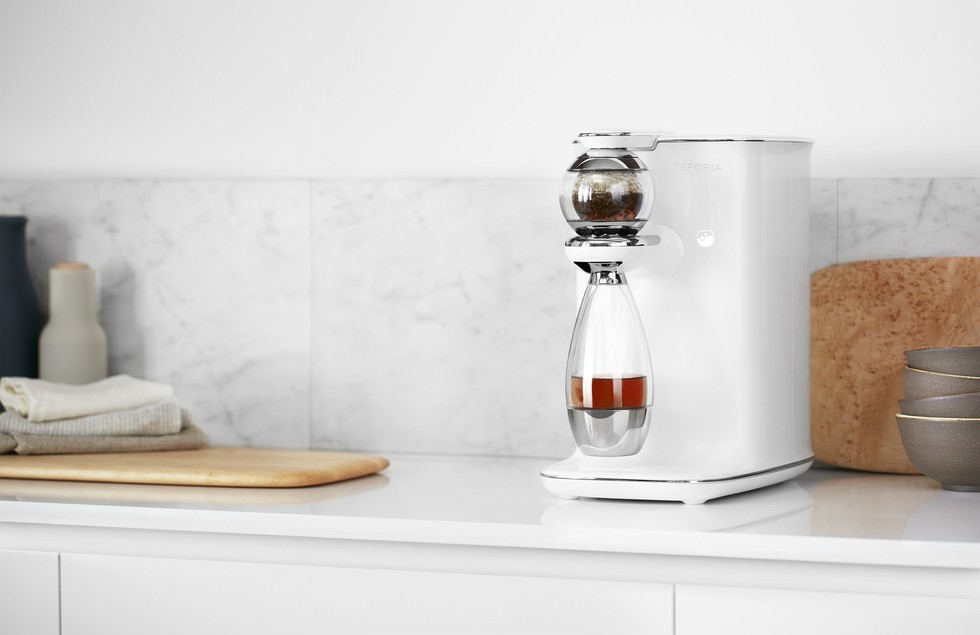 (Teforia)
Reason to Drink Less Coffee: Teforia
Get ready, cat ladies. Your evening cup of tea is about to become a work of art. Teforia's proprietary technology—they call it the Selective Infusion Profile System (SIPS)—claims to intuit what type of tea you put in its infuser so it can then determine exactly how to brew it. The company has teamed with tea masters to perfect recipes for different varietals of tea, down to the exact right temperature and brewing time, to guarantee the best possible cup no matter what you're making. A flawless cup of tea comes at a price ($749). But you're worth it, of course. — Kelly Anne Bonner // teforia.com

Dabble With Spirits: Ca'Momi Vodka
In Napa Valley wine grapes are used to make vodka. Ca' Momi, a family-owned winery, has just release its first bottle: Ca'Momi Vodka. A small-batch spirit made from premium wine grapes, triple distilled and lightly filtered to preserve the natural aromatics and richness of these noble varietals. Stefano Migotto, Ca' Momi co-founder, winemaker and master distiller, and his team, employ the same grapes they use for the wine, then they distill them and filter everything just once to keep the flavors of the wine. On the nose it is rich, and slightly spicy. On the palate it tastes like caramel, with hints of cinnamon and clove, with a long finish. Price $ 50 a 750-ml bottle. — Anna Volpicelli // 388 Devlin Rd. (Napa), camomiwinery.com

Brick-and-Mortar Turned Food Truck: A16
Making the less-traditional transition from brick-and-mortar to food truck, A16 is finally offering their Monday meatballs and five signature Neapolitan pizzas without the inconvenience of needing to book a table. Catch them on Fridays at Off the Grid at Fort Mason Center, slinging street pizza, meatballs, seasonal salads, and cannoli all night long. // a16pizza.com

Best Thing on Sliced Bread: Myriad Gastropub's Farm Toast
A tribute to stone fruit, the summer farm toast featured thick wedges of sage-roasted plums layered over generous waves of fromage blanc atop wedges of grill-seared baguette. The whole ensemble was sprinkled with toasted pistachios and drizzled with a balsamic reduction. As someone who lives for sharing, it was all I could do not to slide a slice to the table beside me. As it was, I shared the dish with a friend and still took a small portion home. – A.K.C. // 2491 Mission St. (Mission), myriadsf.com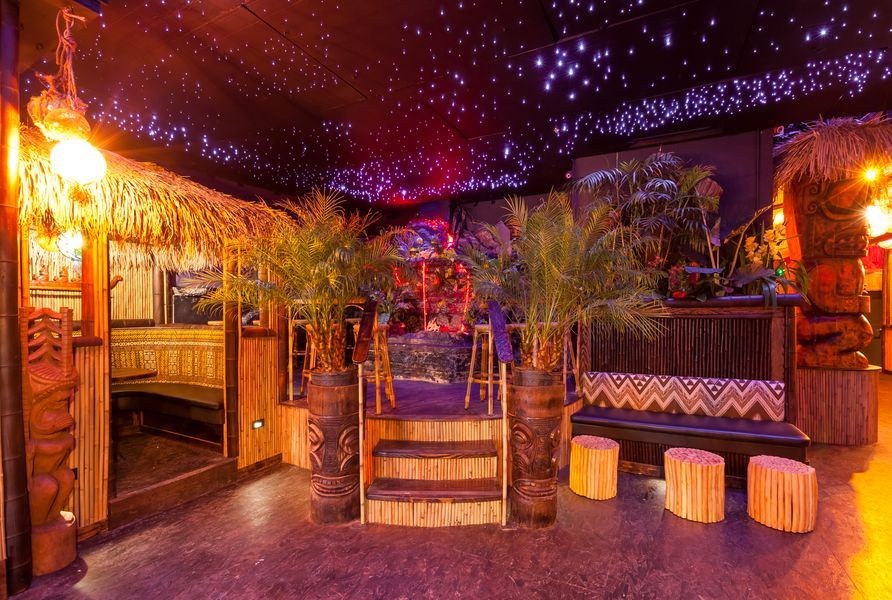 (Patricia Chang via Eater SF)
Tropical Destination: Pagan Idol
Your next tropical vacation is in the FiDi. The Future Bars team (see Tupper & Reed above) sneakily opened Pagan Idol earlier this year, combining epic decor with careful attention to drinks. Your island getaway starts in the cavernous hull of a sunken wooden ship, where the first bar mimics a ship's saloon. On your right, portholes line the wall, featuring looping videos of fish and sharks swimming by. Custom, glass-blown krakens take over as sconces, and mermaids wrap themselves around glowing glass globes. Take your classic Mai Tai in the "captain's quarters," which is perfect for getting cozy next to an exotic saltwater fish tank.—Anthony Rogers // 75 Bush St. (FiDi), paganidol.com
Chef Switch-Up: Huxley
In January 2016 Manfred Wrembel, who most recently helped bring a modern culinary sensibility to FiDi German classic, Schroeder's, took over the kitchen duties at Tenderloin darling Huxley. We're loving the new menu, which features steak tartare, chicken liver ravioli, and pickled vegetables. But if there's one new item you absolutely must try it's the massive new burger: the four-ounce dry-aged ground chuck comes with a pressed "bacon wafer," as well as fried onion, American cheese, frisee lettuce, MSG aioli and a housemade seeded onion bun. It's a dream come true.—S.M. // 846 Geary St. (Tenderloin), huxleysf.com
East Coast Transplant: Dunkin' Donuts Comes to the Bay Area
It's finally here! East Coast favorite Dunkin' Donuts has officially landed in the Bay Area with a new location in Walnut Creek. And this is just the beginning of a Dunkin' Donuts empire in the Bay Area; Over the next eight years, there are plans to open a dozen Dunkin' Donuts locations in Contra Costa County, with additional locations in San Ramon and Brentwood. — S.M. // 1250 Newell Ave. (Walnut Creek), dunkindonuts.com
DON'T MISS A BAY AREA BEAT! SUBSCRIBE TO OUR NEWSLETTER.