LED "LightRail" Installation Will Light up Market Street
By
2017 will mark the 50th anniversary of The Summer of Love. To celebrate, Illuminate founder and CEO Ben Davis wants to transform Market Street into a rainbow of multicolored lights from Embarcadero to Van Ness.
From the same non-profit that brought us the Bay Lights, the new LED project, Lightrail, will consist of a two-mile long stretch of luminous cables that will run 18 feet above the street, reflecting the real-time movement of BART and Muni trains in the subway tunnels below ground.
Strips of LEDs would extend from existing utility poles up the length of Market Street from the Embarcadero to the Castro, showing swiftly moving flashes of color each time a BART or Muni train exited a station underneath the street, with different colors indicating the different lines.
The installation has already been approved to last for four years, with a proposed budget of $12 million. Illuminate hopes to raise at least $10 million in private philanthropy, much the same way they raised funds, twice, to install and then re-install the Bay Lights.
"Once we've collected all the money, it would take six months to built the Lightrail" added Davis.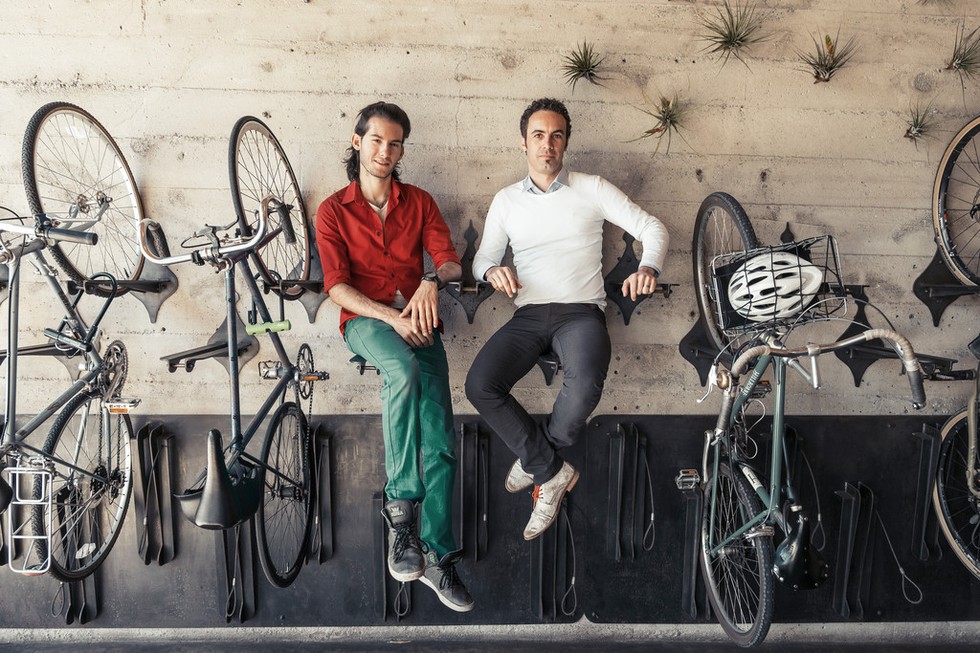 Georges Zisiadis and Stefano Corazza.(Courtesy of Christopher Michel)
Georges Zisiadis and Stefano Corazza are the local artists behind the installation. Davis met Zisiadis after a celebration for the Bay Lights and was amazed by the idea of LightRail.
"This is as important as Bay Lights or maybe more important," said Davis at an event last week. "We want this to be a provocation to people to continue down Market Street."

With Lightrail, Illuminate also plans to retrofit the historic Path of Gold streetlights, from the Ferry Building to the rainbow flag in the Castro, with new energy-efficient LED bulbs that will cut energy use by 80%. // To know more about Lightrail and ask for a private demo visit illuminate.org or lightrail.org
DON'T MISS A BAY AREA BEAT! SUBSCRIBE TO OUR NEWSLETTER.