By
Over the past few years, Nopa (North of the Panhandle) has become one of the hippest emerging districts in the city. Whether you're looking for a cool dive bar or the hottest new restaurant or a family wanting a family-friendly setting, you can find it in here.

SHOP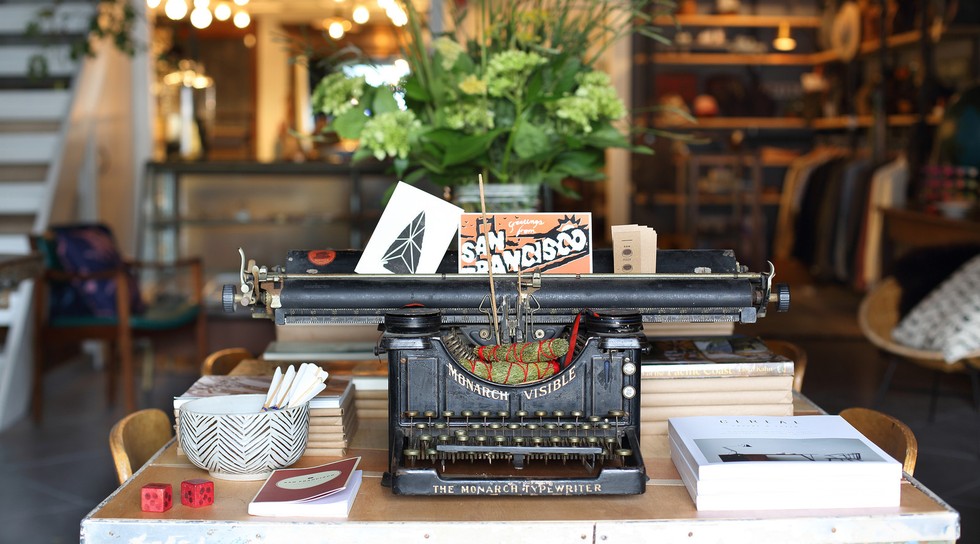 An assorment of unique gifts and other items found at The Perish Trust(Courtesy of The Perish Trust)
The Perish Trust
From proprietors Rod Hipskind, an art director, and Kelly Ishikawa, a commercial photographer, comes this eclectic shop—a modern take on a general store, if you will—known for its a highly curated inventory. From Warby Parker sunglasses to Native American rugs to wines from cult Sonoma winery, Scribe, there's no shortage of must-haves for the cultured hipster. // 728 Divisadero St. (Nopa), theperishtrust.com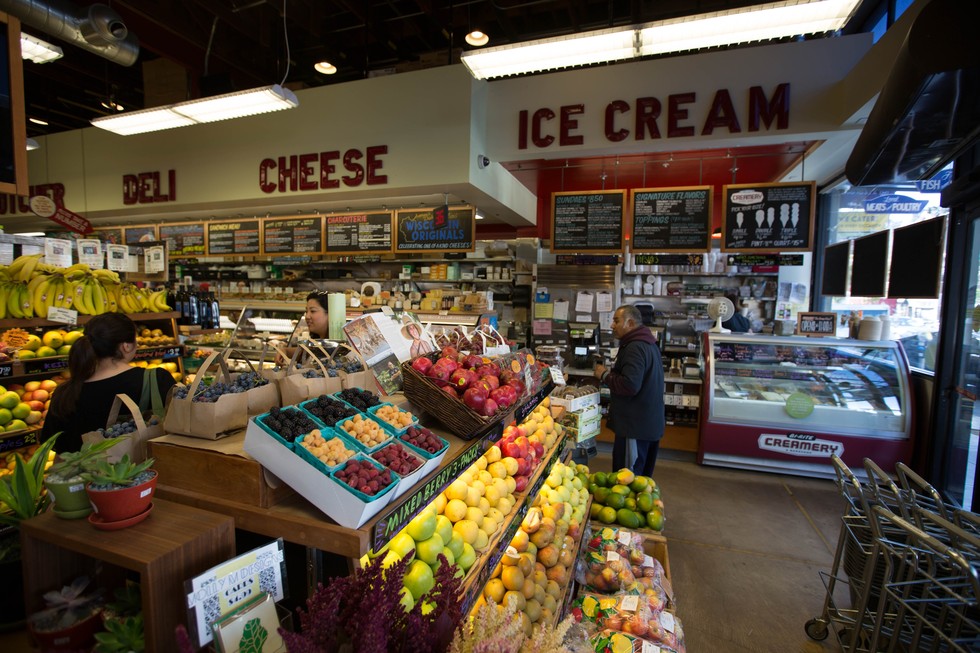 Bi-Rite interior(Courtesy of Waverley Aufmuth)
Bi Rite Market
This boutique market purchases directly from producers, artisans and farmers. Head there for the best apple selection in the business (you'll discover some lesser-known varieties such as the Pink Pearl), and to pick up some of their pre-made chickpea, arugula, or quinoa salads from the deli. On a nice day, join the league of Bi Rite fans queueing up for the famous homemade ice cream. Their salted caramel is a classic, or try the ricanelas, essentially a snickerdoodle in scoop form. // 550 Divisadero St. (Nopa), biritemarket.com

Tanner Goods San Francisco boutique interior with apparel, shoes, and other accessories. (Courtesy of Tanner Goods Leather)
Tanner Goods Leather

Handcrafted in Portland, TGL's products, built to last and age beautifully, include rugged rucksacks and handbags of waxed canvas, in addition to handsome leather wallets for Most-Interesting-Man-in-the-World wannabes. // 651 Divisadero St. (Nopa), tannergoods.com
Rare Device
This quintessentially SF shop offers local, organic, handmade, independent or recycled local products such as Hipp & Kirk tote bags, Suga jewelry, and prints by Likely Lexi. // 600 Divisadero St. (Nopa), raredevice.net
Cookin'
A favorite among chefs and home cooks for vintage cookery, this Divis institution is filled with with funky latte bowls, 1970s Time/Life cookbooks, vintage Le Creuset, and copper pots. // 339 Divisadero St. (Nopa)
Sunday Farmer's Market
The weekly neighborhood farmer's market is held on Sundays from 10 a.m. to 2 p.m. on Grove, between Divisadero and Broderick. Some of the local favorites include the Ravioli Lady and her butternut-squash ravioli—go early, she's known to sell out quickly. Another favorite is Juicey Lucy's, which serves fresh vegetable and fruit juices, smoothies and seasonal soup, all of which are 100% vegan and 100% organic. Be sure to try the classic date shake or the Ginger Rodgers. // Grove Street between Divisadero and Broderick
Gamescape
In the neighborhood since 1985, this is the spot for game lovers to find puzzles, party games, collectible card games, vintage boardgames, and everything in between. Needless to say, if you're a Dungeons & Dragons buff, look no further. // 333 Divisadero St. (Nopa), gamescapesf.com
Heart of Gold

In addition to vintage clothes, this boutique offers goods from local designers, personal-styling services and designer consignment sales—some recent finds have included a moto jacket by Helmut Lang, a Cartier vest, and a blazer from Oscar de la Renta. As a 501c3 non-profit, Heart of Gold customers can make tax-deductible clothing donations to the store. // 777 Divisadero St. (Nopa), heartofgoldsf.com
Comix Experience
Comic book lovers will find a huge assortment of new and used graphic novels and comic books here, such as Star Wars Vol 1: Skywalker Strikes, Wonder Woman: The True Amazon, and Bird Boy v2: Liminal Wood. A small selection of DVDs is also available, as well as T-shirts, figurines and other comic-related goods. // 305 Divisadero St. (Nopa), comixexperience.com

EAT + DRINK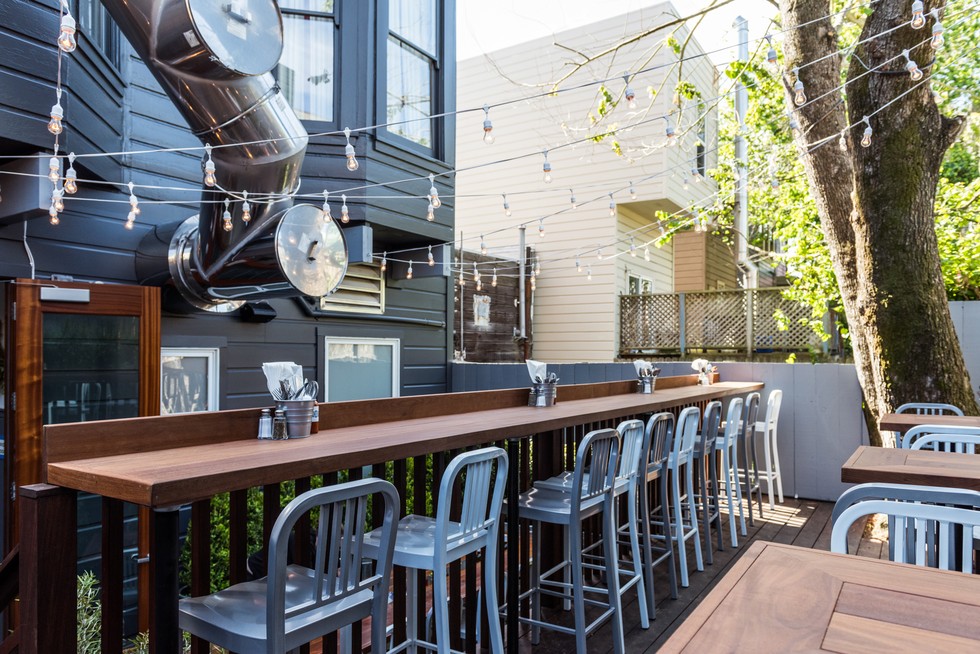 Souvla back patio with small table seating and a family style table great for groups. (Courtesy of Souvla by Kassie Borreson)
Souvla
Souvla's second location opened in Nopa last June, with a similar look and feel to their original location in Hayes Valley, but with a nice, new patio. The menu is pleasantly simple—we recommend the chicken salad with fennel, navel orange, pickled red onion, pea shoots, mizithra cheese and their famous granch dressing (which you can make at home using this recipe) and the 7x7 2016 Big Eat winner, baklava frozen yogurt (#4 on the list). // 531 Divisadero St. (Nopa), souvlasf.com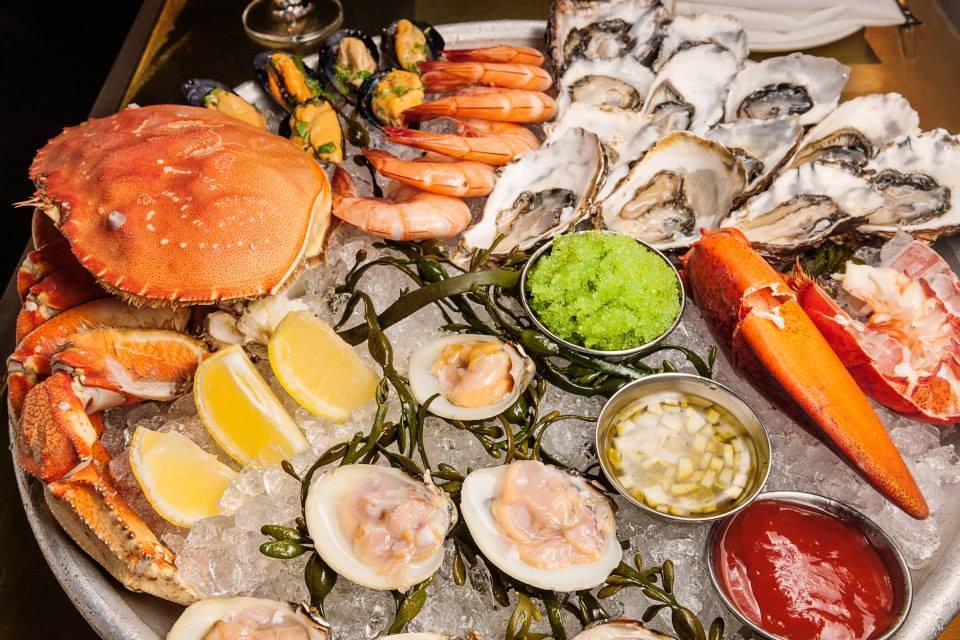 The incredile seafood platter which is so fresh and delicious it is hard to resist(Courtesy of Bar Crudo)
Bar Crudo
This charming restaurant is a favorite for those craving the simplest preparation of the freshest seafood. Don't miss their happy hour from 5:00 to 6:30 p.m., where oysters are $1. You'd be remiss if you didn't try their jalapeño-marinated mussels or seafood chowder. // 655 Divisadero St. (Nopa), barcrudo.com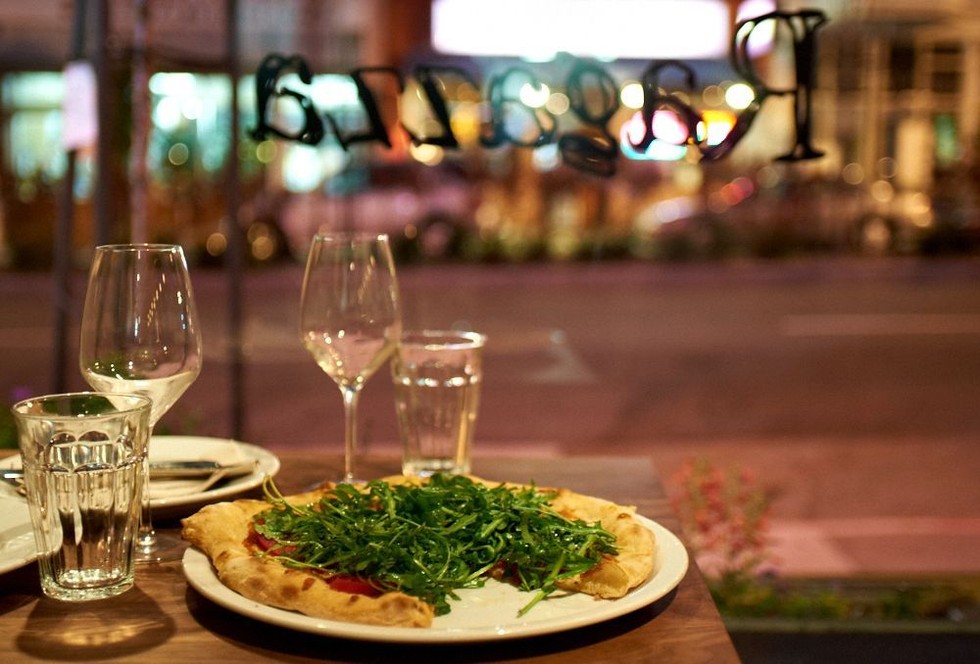 Ragazza pizza(Courtesy of Ragazza)
Ragazza
Enjoy incredible pizza and pasta on Ragazza's charming back patio. Try the Moto pizza with tomato, Calabrian chilies, portobello mushrooms, red onion, sweet Italian sausage and mozzarella. For more decadence, crown it with an egg with an oozy golden yolk. // 311 Divisadero St. (Nopa), ragazzasf.com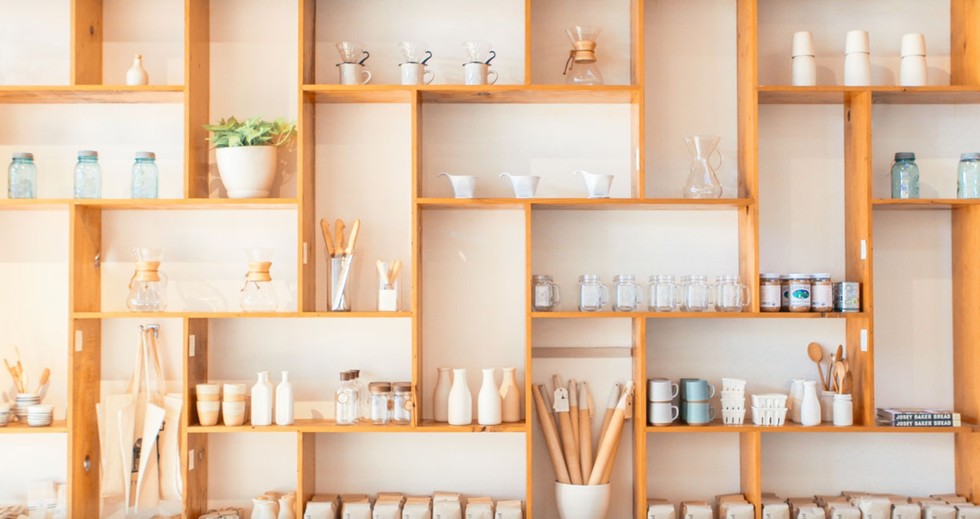 (Photo courtesy of The Mill)
The Mill
One of the coolest coffee shops in San Francisco has major steez (Boor Bridges designed its Scandinavian-inspired, loft-like architecture), serious sips (dark and rich Four Barrel Coffee), and fresh Josey Baker Bread (we like the whole-grain raisin and the black-pepper parmesan), which is the canvas for their awesome toast menu. Check out their Monday pizza nights from 6:00 to 9:00 p.m. // 736 Divisadero St. (Nopa), themillsf.com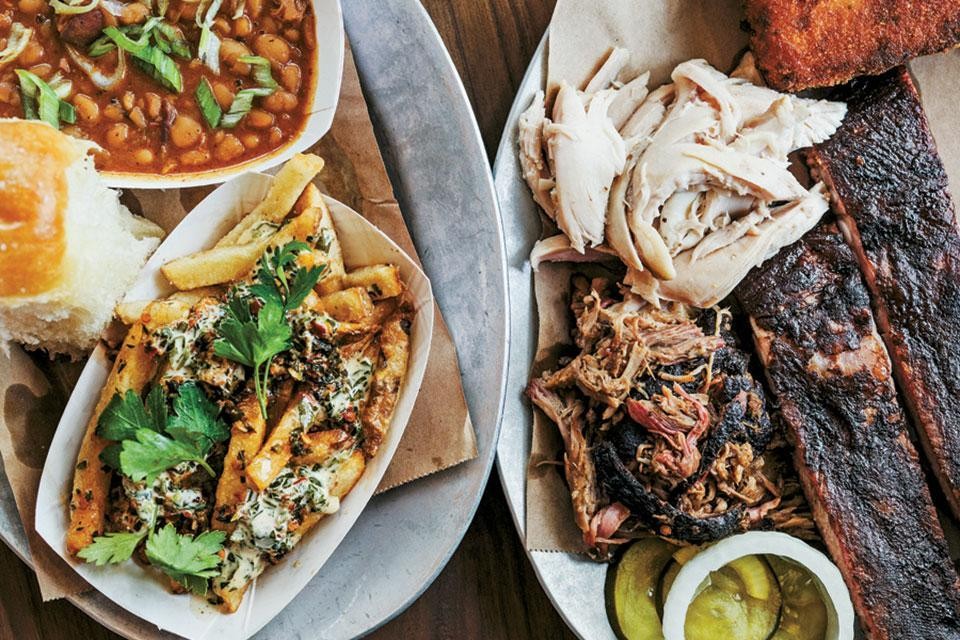 An assortment of ribs, chicken, pork, french fries & beans(Courtesy of 4505 Burgers & BBQ)
4505 Burgers & BBQ
Whether you're craving barbecue, a burger or even—gasp!—a salad, there is something at 4505 for everyone. Some classics include the Best Damn Cheeseburger, slow-roasted brisket, and smoked whole chickens. Great local beers and wines are on tap to help wash it all down. // 705 Divisadero St. (Nopa), 4505meats.com
Nopa
Nopa is known for their farm-fresh food, exquisite cocktails and unique wine list. Their menu focuses on organic wood-fired cuisine created with seasonal ingredients sourced from local purveyors. We highly recommend the delicious custard french toast for brunch (which you can make at home using this secret recipe) and for dinner, the wood-grilled hamburger for dinner served housemade brioche. // 560 Divisadero St. (Nopa), nopasf.com
Little Star Pizza
One of the few deep-dish spots in the city, Little Star Pizza is the perfect restaurant for a casual bite and relaxing night out. You can choose one of theirs (we like the deep-dish Little Star with spinach, ricotta, and mushrooms) or you can opt to build your own. Gluten free pizza is also available. // 846 Divisadero St. (Nopa), littlestarpizza.com
Ijji Sushi
This recently opened sushi restaurant focuses on nigiri—no rolls in sight. With only 17 seats in the house, be sure to call ahead for a reservation. They offer a 19-course, omakase experience for $135 per person. Some of the nigiri options you could end up with include sawara (Spanish mackerel), kamasu (barracuda), hotate (sea scallop) and uni (sea urchin). // 252 Divisadero St. (Nopa), ijjisf.com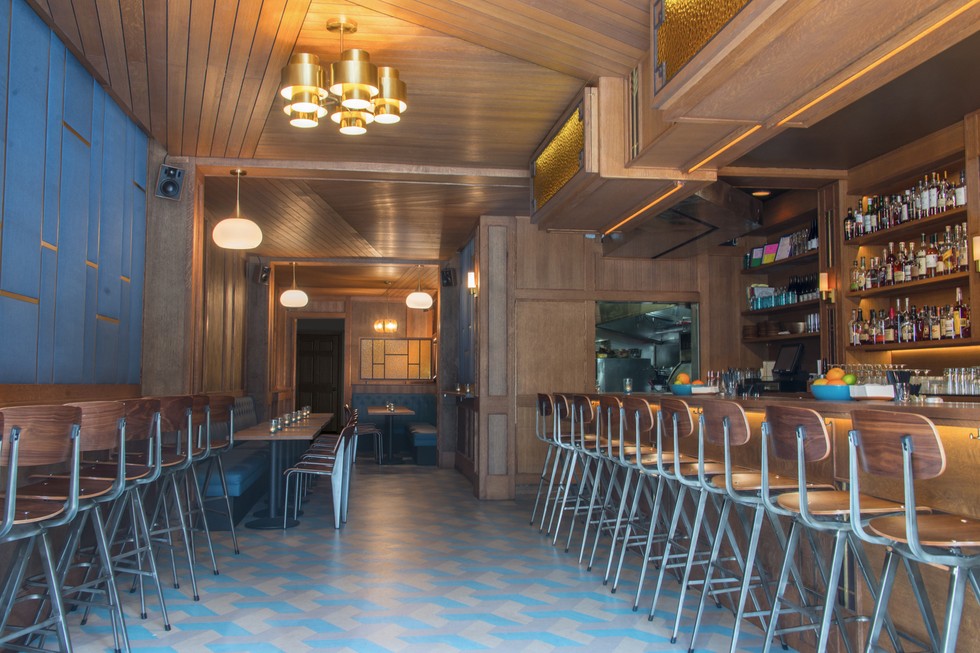 The cool Horsebeather Bar interior(Courtesy of Horsefeather Bar)
Horsefeather Bar
One of the newest additions to the Divis Corridor is Horsefeather Bar, known for its craft cocktails and delicious food. The bar is designed with a modern aesthetic and has a gorgeous front seating area within a greenhouse-like setting. If you come for cocktails, you might want to try the Thunderbird (beefeater gin, genepy, carpano bianco, pineapple, and orange bitters) or the Cool Breeze (lime, honey, tempus fugit crème de noyaux, herbs de provence, rosé, soda water and vodka). If you're tempted to try the food, a few of our favorites include the hummus and tomato salad and the fried chicken, served with sautéed Brussels sprouts, bagna cauda, sweet potato mash, and Sriracha honey. // 528 Divisadero St. (Nopa), horsefeatherbar.com
Wine Kitchen
Here, the extensive wine list is California-heavy and features nearly 20 by-the-glass selections and four local labels on tap, including a 2014 Albariño from Bokisch Vineyards in Lodi and a 2014 cabernet sauvignon from Harrington Wines. Pair the swigs with corn crêpes, tuna crudo, pork chops or foie gras terrine. We recommend hitting this spot on a Monday, when you'll be able to get half-price bottles. // 507 Divisadero St. (Nopa), winekitchensf.com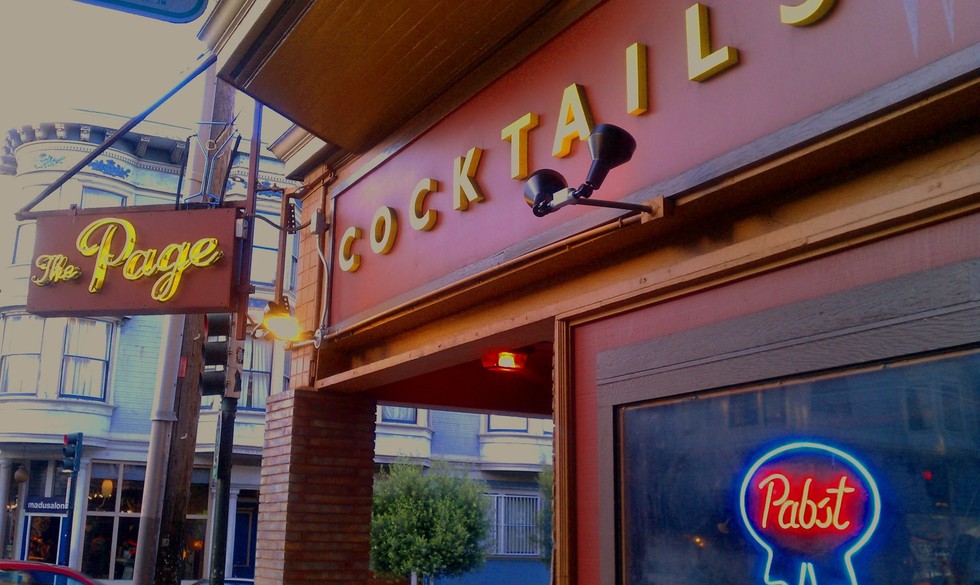 The Page Bar known for their casual dive bar setting and affordable drinks. (Courtesy of The Page Bar)
The Page Bar
If you're looking for a truly authentic dive bar, jackpot! The Page features an impressive 21 beers on tap including some local brews such as Duboce Park IPA from SF's Local Brewing Co. and a black lager from Oakland's Linden Street Brewery, plus wine and cocktails. Challenge someone to a pool or foosball game and be sure to bring some change for the jukebox. // 298 Divisadero St. (Nopa), thepagebar.com
Vinyl Coffee & Wine Bar
It is pretty hard not to love a bar that offers both coffee and wine. Vinyl Coffee & Wine Bar, open daily, serves Counter Culture drip coffee by day and a hand-picked assortment of boutique wines (such as local Argonaut sauvignon blanc from Northern California and Cru pinot noir from Monterrey County) and beers (Telegraph Brewing Co. in Santa Barbara and Green Flash Brewing Co. in San Diego) by night. // 359 Divisadero St. (Nopa), vinylsf.com
Fly Bar SF
Fly Bar has drinks at a great value and always a lively crowd. Their drink menu is largely focused on beer, featuring local labels such as Anchor Steam, Lagunitas, and Poppy Jasper Amber from El Toro Brewing Company. If you're in the mood for something a bit stronger than beer, go for their sake or their famous sangria. // 762 Divisadero St. (Nopa), flybarsf.com
La Urbana
For one of the best margaritas in the neighborhood, head to La Urbana. Stick around for the stellar costilla de res (braised short ribs), topped with tomatillo salsa and served with seared bone marrow and Jerusalem artichokes. // 661 Divisadero St. (Nopa), laurbanasf.com
Madrone Art Bar
Madrone Art Bar is best described as a "full-on art experience," with video, photography and paintings paired with live music, DJs and specialty cocktails. Notable local musicians who perform here include DJ El Kool Kyle, pianist and vocalist Suzanne Ramsey, and funk/soul group Atta Kid. Be sure to try the Herbie Hancock cocktail (Russian Standard, Watermelon, Lime, Sugar, Guava Juice) or the luchadore (Mezcal Vida, Tuaca, Lime, Jalapeno Agave). // 500 Divisadero St. (Nopa), madroneartbar.com
Mojo Bicycle Cafe
At Mojo Bicycle Cafe, which sells bicycles as well as food, breakfast dishes include quinoa with fruit and a veggie bagel with hummus, tomato, and avocado. At lunch, the neighborhood denizens look forward to the quinoa salad and the le croque mojo, an open-face sandwich with ham, melted swiss, bechamel, and thyme, flame-toasted on ciabatta. // 639-A Divisadero St. (Nopa), mojobicyclecafe.com
Kava Lounge
Kava sources most of its ingredients for their cocktails from local and sustainable distributors and they don't use any artificial sweeteners. They even juice many of the cocktail components on site daily, and when juicing is not an option, they use Santa Cruz organic juices as mixers. Some of their speciality cocktails include the seasonal Besito, their version of a mojito made with fresh basil, lime, and your pick of poison (either gin, vodka, or rum), and the Jade Kiss, with fresh cucumber, organic agave nectar, lime, and vodka. // 901 Divisadero St. (Nopa), kavalounge.com/dev2

TO-DO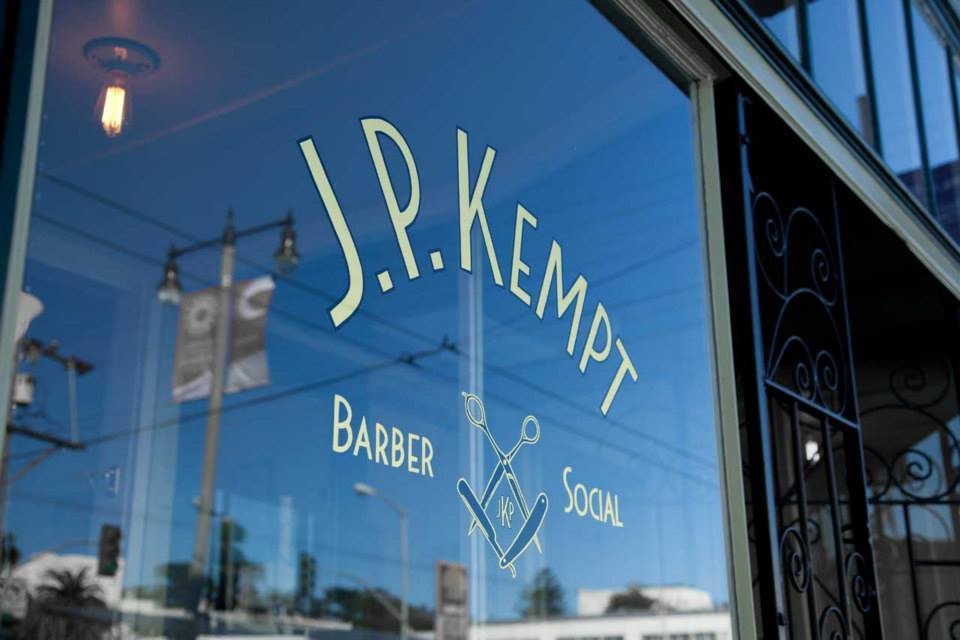 (Courtesy of J.P. Kempt Barber Social)
J.P. Kempt Barber Social
A cool, modern barbershop experience is exactly what J.P. Kempt founder Shorty Maniace set out to offer. In addition to fades and faux-hawks, the shop offers beard trims, straight-razor shaves and straight-razor shaving classes. // 351 Divisadero St. (Nopa), jpkempt.com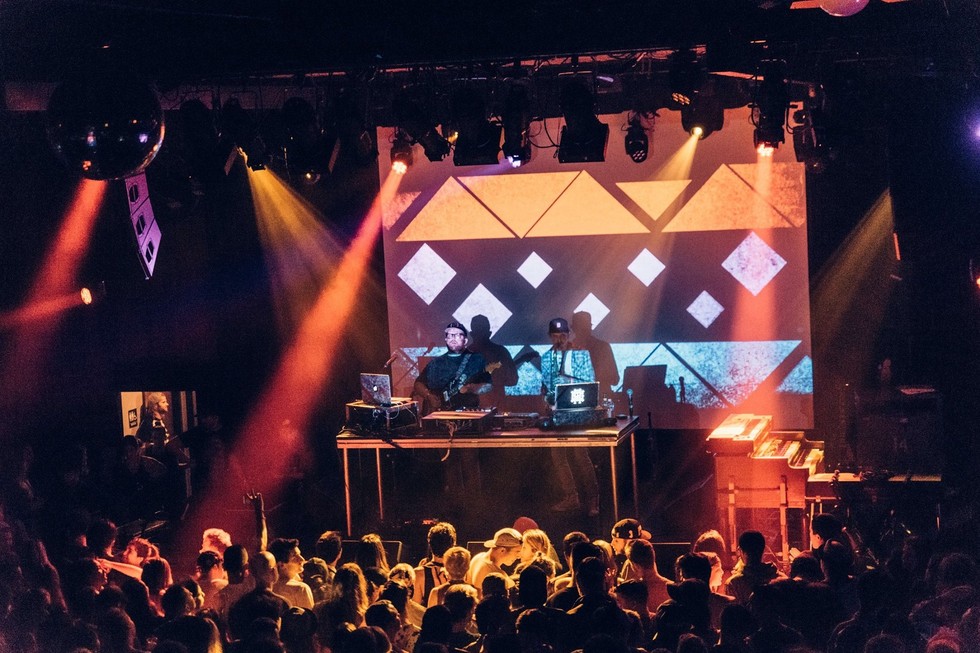 The Independent Theatre during a live performance(Courtesy of The Independent Theatre)
The Independent
For some of the best live music in the city, head to The Independent, a general-admission, standing-room-mostly venue with a few first-come, first-serve seats. Past headliners include Sleigh Bells, Hayden James, and Blitzen Trapper. Next up: Dragon Smoke (Dec. 1 and 2), Lord Huron (Jan. 6 and 7), and Foxygen (April 6 and 7). // 628 Divisadero St. (Nopa), theindependentsf.com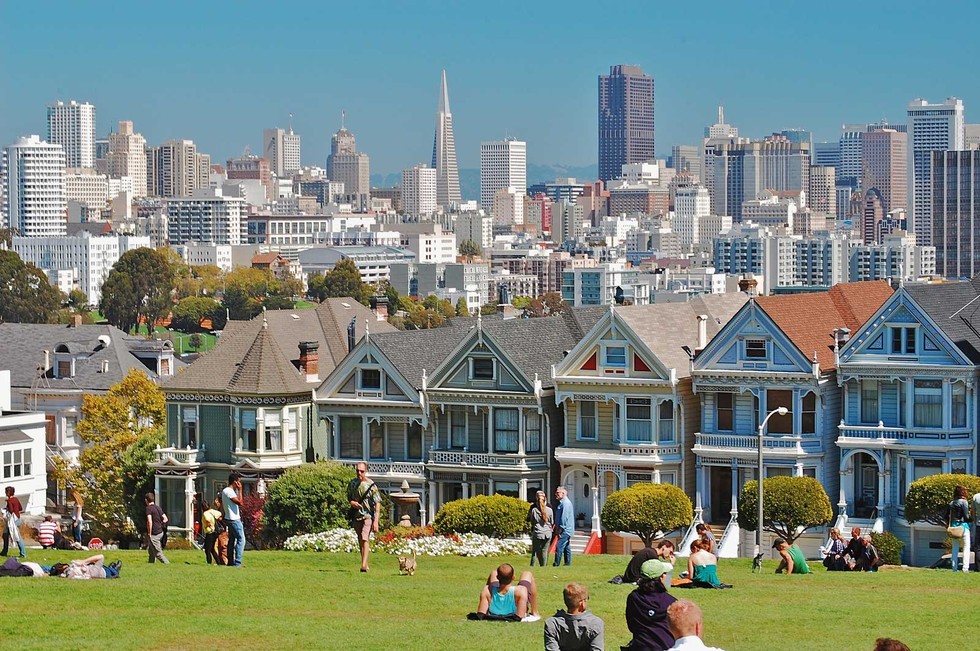 Views of the city skyline and the adored Pink Ladies at Alamo Square Park(Courtesy of SF Bay CA)
Alamo Square
Alamo Square is possibly the most recognizable park in San Francisco because of its neighbors, the iconic Pink Ladies. Tourists and locals alike re-enact the Full House opening here daily, that is, until the park closed for renovations in May. Don't worry, the green patch is scheduled to reopen early next spring, just in time for Bay to Breakers—the legendary costumed footrace passes the park en route to Ocean Beach. // Alamo Square (Nopa), sfrecpark.org/destination/alamo-square
DON'T MISS A BAY AREA BEAT! SUBSCRIBE TO OUR NEWSLETTER.