By
Come every sunny day in San Francisco, whether it's Saturday or Wednesday, SF shares the collective urge for cocktails on a patio. When the mythical summer day does arrive, you'll want to be ready. Here's where eat and drink outside in the city.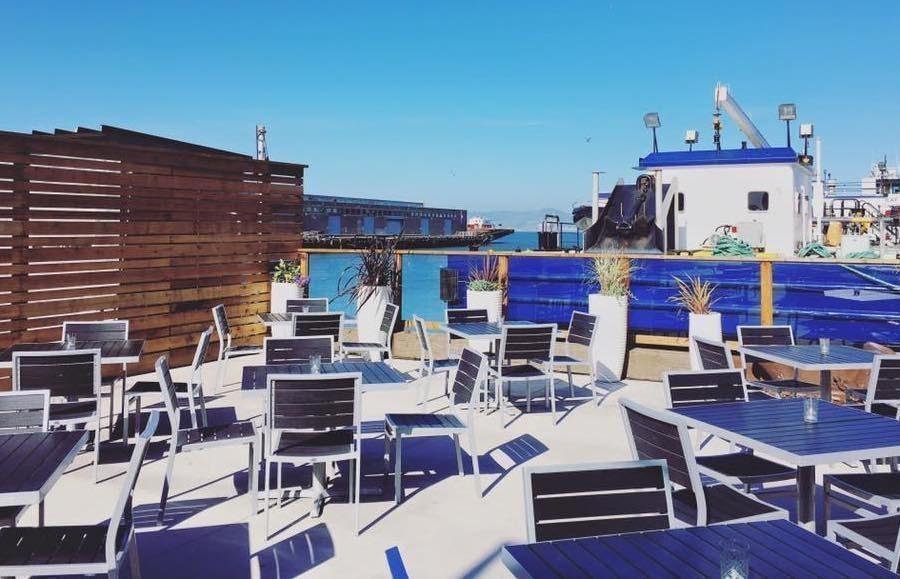 (Courtesy of Atwater Tavern)
Atwater Tavern
For waterfront views with your drinks and brunch, Atwater Tavern's patio is just steps from the water. Add to that Crabby Patty Benedicts and other seafood bites, as well as craft beers galore, and you'll be good to go. Naturally this is a perfect spot for drinks pre- and post-Giants games. Happy hour starts at 3pm. —Mikaela Luke // 295 Terry A. Francois Blvd. (Mission Bay), atwatertavern.com
(Courtesy of Anina)
Anina

Bright, open and airy, Anina is a lovely space for post-brunch drinks with the squad or a lax afternoon soaking up some long-overdue sunshine. Its patio is bedecked with eight beer garden tables and string lights and is definitely a sunny departure from SF's stock of darker, moodier bars. —Marie Salcido // 82 Hayes St. (Hayes Valley) aninasf.com
Zazie

A favorite among neighborhood pet owners, Zazie's patio is minimalistic, adorable, and totally dog-friendly. Go for the lemon ricotta pancakes and slip some bacon to your pooch without anyone judging. Keep in mind the tip is included. —Mikaela Luke // 941 Cole St. (Cole Valley), zaziesf.com
(Photo courtesy of SF Gate)
Palomino
A mecca for all things Italian, this upscale restaurant and bar is nestled right under the Bay Bridge. And, with a heated and shaded outside patio overlooking the bay, you'd be hard-pressed to find a better place to sip a blueberry smash under clear summer day. Oh, and your pooch can come, too. Happy hour: 3-10p.m. // 345 Spear St. (Embarcadero), palomino.com
Isa Restaurant
A gated garden area with seating that's tented in the colder months awaits at this cozy Marina spot. Don't pass-up their lobster broth—perfect for those chilly summer nights. // 3324 Steiner St. (Marina), isarestaurant.com
(Courtesy of Waterbar)
Waterbar
This two-story restaurant on the Embarcadero offers up more than just dollar-and-change oysters. With spellbinding views of the bay, you'll be here for another round, or three. The drink menu goes through multiple changes per day, so you can switch up your cocktails as the sun moves across the sky. // 399 The Embarcadero (Embarcadero), waterbarsf.co
Bistro Aix
Simmer down, sip wine, and relax. With a wine list the length of a religious scroll, Bistro Aix has got you covered...under a heated patio on Steiner Street. // 3340 Steiner St. (Marina), bistroaix.com
(Courtesy of thefoodbitchblog.com)
The Tipsy Pig
You had us at forty craft beers. Even better? There's a well-furnished open patio to savor all that The Tipsy Pig as to offer—which includes bacon, lots of bacon. Happy Hour: Monday to Thursday, 5-7 p.m. // 2231 Chestnut St. (Marina), thetipsypigsf.com
Coffee Bar
Are you someone who thinks in shots of espresso? With its made-from-scratch pastries and sustainably sourced beans, you can't go wrong with a mid-day pick me up on the patio at Coffee Bar. // 1890 Bryant St. (South Park), coffeebarsf.com

(Courtesy of parkchalet.com)
Park Chalet
On the western edge of Golden Gate Park, Park Chalet's in-house brewery churns out (or rather, ferments in sterilized steel drums) their own craft beers. Ask for their signature V.F.W. Golden Ale and take a seat in the sunny garden. Happy Hour: 3–6 p.m. // 100 Great Highway (Golden Gate Park), parkchalet.com
(Courtesy of bamco.com)
STEM Kitchen And Garden
This place is every minimalist's dream: squared-off patio chairs, perfectly aligned tables, and a garden that's mindfully put together with perfectly trimmed shrubs. Best of all, STEM Kitchen and Garden actually grows some of their ingredients around the cozy fire pits. Order a round of Apple in the Rye cocktails for the whole table! // 499 Illinois St.(Dogpatch), stemkitchensf.com
Sens Restaurant
Head to Sens Restaurant on the Embarcadero for its dreamy views of the bay (especially once the sun goes down), romantic ambience, awesome happy hour, and of course, the mouth-watering Mediterranean-inspired cuisine from veteran Chef Michel Adams. Combine all four elements, and you get the perfect spot for an excellent date night. Happy Hour: Monday to Friday, 4:30–8 p.m. and Saturday, 5 p.m.–close. // 4 Embarcadero Center (FiDi), sens-sf.com
(The Commissary; courtesy of sfchronicle.com)
The Commissary
A former military barrack's hall, The Commissary's offers refreshing blanco sangria and tasty, local octopus with squid ink vinaigrette, among other delectable bites on a small patio in the middle of the Presidio. // 101 Montgomery St. (Presidio), thecommissarysf.com
Presidio Social Club
From their Drunken Earl (Wild Turkey rye, Drambuie, and earl grey tea) to the Firecracker (Smirnoff vodka, ginger, bird's eye chili peppers, Szechwan pepper, lime), there's just too much to adventure at the Presidio Social Club. Be sure to indulge in their plump offerings during both their brunch and dinner services while you're relaxing in the back patio! // 563 Rudger Street (Presidio Heights), presidiosocialclub.com
(Dirty Habit; courtesy of sfeater.com)
Dirty Habit
Though the film-noir-inspired dining room at Dirty Habit is far from shabby, the outdoor lounge area, with long couches, a fire pit, and room for 50, is an outdoor oasis that feels worlds apart from the chaos of SoMa five floors below. // 12 4th Street (SoMa), dirtyhabitsf.com
Fable
This neighborhood restaurant owned by seafood master Jon Hearnsberger has a drink selection as fresh as their locally grown produce. The secluded back patio is covered in string lights and heat lamps, perfect for sipping reasonably priced wines by the glass while admiring the garden. Just know that their liquor license requires them to stop serving in the patio at 9 p.m. // 558 Castro St. (The Castro), fablesf.com
(Palm House; courtesy of blissandbourbon.com)
Palm House
Yearning for a tropical getaway, but can't exactly afford the airfare? Settle for Palm House's coastal vibes, courtesy of their Brazilian, Cuban, Hawaiian, Indonesian, and Caribbean influences and decidedly tropical cocktail menu. You'll surely hear the ocean breeze sipping your chipotle mango margarita on the outdoor patio. Happy Hour: Tuesday-Friday, 5-6:30 p.m. // 2032 Union St. (Cow Hollow), palmhousesf.com
El Rio

Neighborhood staple El Rio has been welcoming guests to its sunny patio for the past four decades. Sit back on the rustic patio chairs and enjoy some slow blues all while nursing a $1 Tecate. Happy Hour: Monday, 1 p.m.–close; Tuesday–Friday 1-8 p.m. and Saturday–Sunday until 5 p.m.) // 3158 Mission St. (Mission), elriosf.com
(Virgil's Sea Room; courtesy of onlyinyourstate.com)
Virgil's Sea Room

Right next door to El Rio sits this nautical bar with a huge back patio. Each of their signature cocktails is named after a different SF local hero. From our man of the 12 Galaxies, Frank Chu, to The City's musical philanthropist, Warren Hellman, to the pioneering transgender performer, Vicki Marlane. Get cozy and salute to San Francisco. // 3152 Mission St. (Mission), virgilssf.com
Wild Side West
Around since 1962, Wild Side West is an LGBT institution which welcomed Bob Dylan and Janis Joplin back in the day. With two lovely back patios open 365 days a year, you'll be making fond memories and sipping cocktails all year round! // 424 Cortland Ave. (Bernal Heights), wildsidewest.com
(Courtesy of catchsf.com)
Catch
Eat fresh local seafood in this comfortable, relaxed, and covered back patio setting, complete with a fire pit. For drinks, adventure into their menu of dessert cocktails, such as the Warm Blueberry Elixir (amaretto, grand marnier, earl grey tea, cinnamon), to sip by the fire. // 2362 Market St. (Castro), catchsf.com
Reverie
With sublime coffee offerings served in the morning and well-slung drink specials in the evening, Reverie is the perfect hangout for any time of day. Plus, their heated and covered patio will keep you toasty until the wee hours. // 848 Cole St. (Cole Valley)
(Broken Record; courtesy of Pinterest)
Broken Record
This spacious bar and heated patio boasts one of the best single-grain whiskey selections around—everything from Bulleit 10 year to Johnny Walker Blue 25. Pair your spirit of choice with any of their upscale bar snacks (think: Sweet Tater Tots with candied Hobb's Bacon aioli and Moroccan spiced pot pies) for a night you won't soon forget. // 1166 Geneva Ave (Outer Mission), brokenrecordbar.com
Americano Restaurant and Bar
What more can you ask for than a waterfront patio and a good glass of wine? Americano offers Italian classics such as Pizza Salsiccia and pork meatballs with a panoramic view of the Bay Bridge. // 8 Mission St. (SoMa), jdvhotels.com
Belden Taverna
Belden Place is a hidden gem in the Financial District where tourists, European ex-pats, and locals alike go for a European vibe and sidewalk seating. While the food at some of the restaurants may not be the best, the charming alley lined with tables and hung with lights make it a enjoyable experience none the less. Head to Belden Taverna, where beautifully executed veal meatballs and grilled swordfish call as loudly as any barker. // 52 Belden Pl. (FiDi), belden-place.com
Park Chow Food Bar
Finally, a place designed for the whole family. This rustic diner near Golden Gate Park has kids in mind, and most of the menu is kid-friendly offering mac n cheese, burgers, and organic chicken fingers. Let them roam outside on the patio while you sip a much-deserved cocktail. // 1240 9th Ave. (Inner Sunset), chowfoodbar.com
(Biergarten; courtesy of sfgate.com)
Biergarten
With a wide selection of niche beers to enjoy outside on their spacious patio, Beer Garden is a must-do on a blue-sky afternoon. There's also German food, communal picnic tables, hanging lights, and blankets for when it gets cold. // 424 Octavia St. (Hayes Valley), biergartensf.com
Cigar Bar and Grill
Cigarette and cigar smokers will find a rare haven at Cigar Bar and Grill, where anyone can light up (no matter how close you are to the building.) The bar hosts a wide range of premium and hand rolled cigars, while the large back patio provides live music lively conversation. // 850 Montgomery St. (FiDi), cigarbarandgrill.com
(Courtesy of pier23cafe.com)
Pier 23 Cafe
Nothing says a good time like placing a cool, sweating beer mug atop of a pier's railing. And, at Pier 23 Cafe, that's exactly what you'll get—seemingly endless lines of half-full glasses with happy patrons chatting up a storm. // Pier 23 (North Beach), pier23cafe.com
Thorough Bread and Pastry
You'd be hard-pressed not to find a pastry (or bread) you don't like at Thorough. Once you've swiped your card, step outside and enjoy the spacious, tree-filled back patio with a few tables and chairs to enjoy your treat. // 248 Church St. (Mission), thoroughbreadandpastry.com
(The Ramp; courtesy of keyword-search.com)
The Ramp
You're gonna want to stop by for brunch at this oceanside patio with gorgeous views of the bay. When it's clear, you can see all the way to Oakland. Happy Hour: 3:30-7 p.m. // 855 Terry A Francois Blvd. (Dogpatch), theramprestaurant.com
Marla Bakery
Opt for pastries and coffee (or Champagne!) at this gorgeous back garden designed by Paxton Gate. It's not always sunny in the Richmond, but this is where we head when it is. // 3619 Balboa St. (Outer Richmond), marlabakery.com
(Jones; courtesy of timeout.com)
Jones Restaurant
Jones is a go-to for signature cocktails and early-afternoon brunches. The ginormous rooftop dining room is perfect for casual drinks overlooking the Tenderloin. // 620 Jones St. (Tenderloin), 620-jones.com
Le Colonial
We've always been a sucker for a good alleyway bar. Open most of the year, Le Colonial's front patio looks kind of like a conservatory, with a glass roof and tons of hanging greenery.// 20 Cosmo Pl. (Tenderloin), lecolonialsf.com
Sparrow Bar and Kitchen
With fifteen rotating taps and tons of seating, feel free to get comfortable at this patio found beyond the kitchen. Stop by for happy hour bites or brunch—there's never too long of a wait. // 1640 Haight St. (Haight Ashbury), sparrowbarandkitchen.com
(Momo's; courtesy of ericroer.com)
MoMo's
MoMo's is a quaint American bistro serving-up simple yet refined dishes. Don't miss out on their umbrella patio sitting with a perfect view of AT&T Park. Happy hour: Monday–Friday, 3–7 p.m. // 760 2nd St. (South Park), sfmomos.com
Zeitgeist
You've heard of this place, right? I mean, it's packed 24/7. They have over forty beers on tap, but be sure to hunt down your patio seats first! // 199 Valencia St. (Mission), zeitgeistsf.com
(Courtesy of samovartea.com)

Samovar Tea Lounge
Artfully done architecture, perfuming oolong, and inspired snacking await at this garden oasis. Upper-level terrace seating affords awesome views of Yerba Buena Gardens below. // 730 Howard St. (SoMa), samovartea.com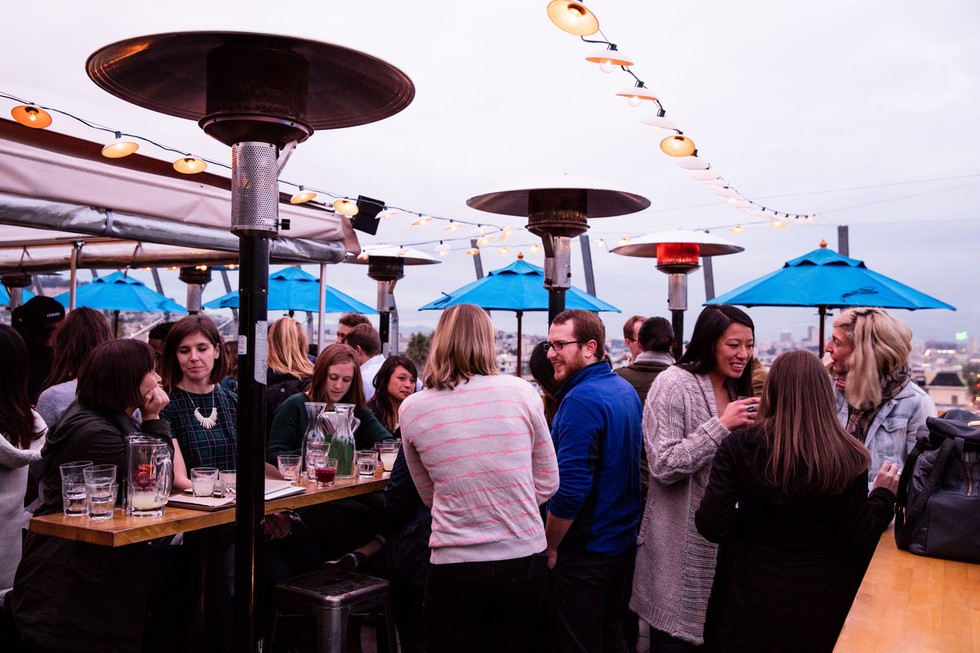 Rooftop Patio(Courtesy of El Techo)
El Techo
Located in the heart of the Mission district, El Techo serves Latin American street food and has a killer rooftop view of the city. Don't miss out on your chance to enjoy a comforting meal accompanied by a gorgeous view of the city. // 2516 Mission St. (Mission), eltechosf.com
Arlequin Cafe & Food-To-Go
This neighborhood cafe is known for its quick to grab foods including artisanal sandwiches, salads, beverages and desserts. Right next door is Arlequin Wine Merchant—a wine store with an exhaustive list of premium wines from all around the world. //384 Hayes St. (Hayes Valley), arlequincafe.com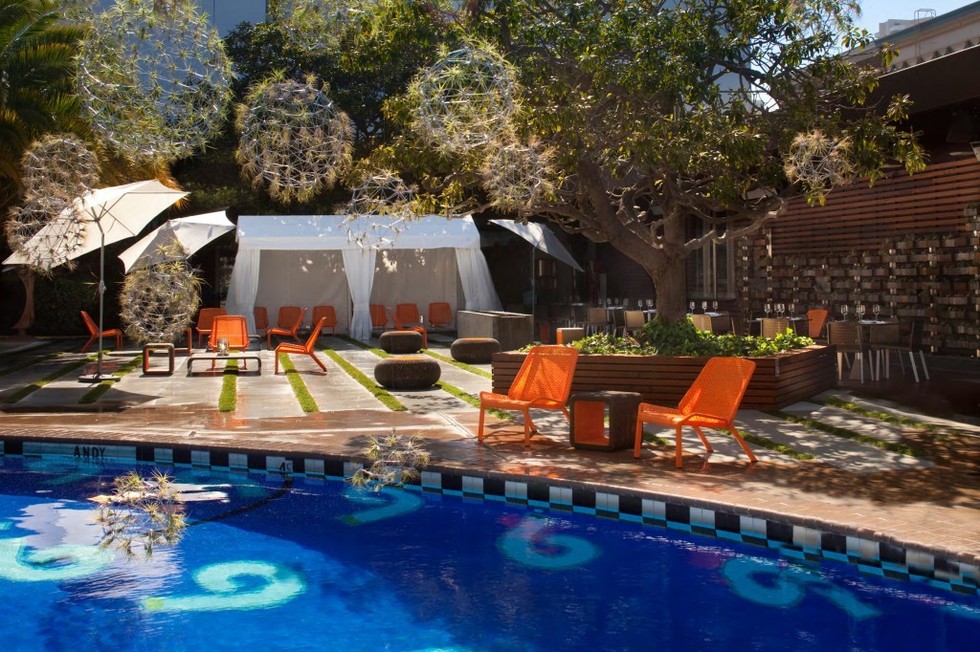 Courtesy of Chambers Eat & Drink)
Chambers Eat & Drink
With it's iconic "Be Amazing" sign located behind its bar, Chambers Eat & Drink also has an outdoor patio and pool making it a popular destination for relaxing poolside dining and drinking. // 601 Eddy St. (Tenderloin), chambers-sf.com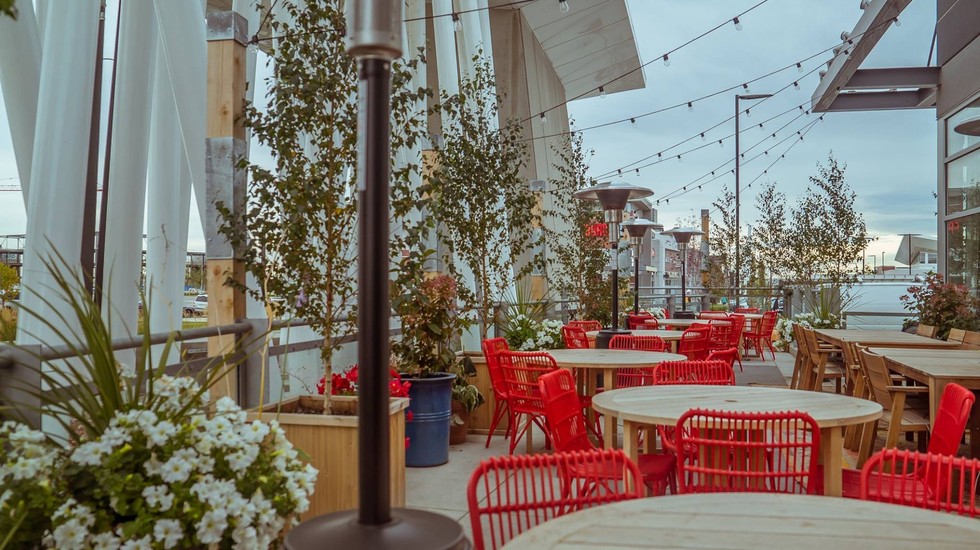 (Courtesy of Starbelly)
Starbelly
Walk into this friendly neighborhood restaurant and expect an easy-going environment completed with a cozy, year-round patio. Make sure to dine here during brunch, which is served seven days a week, to try some local California comfort food. // 3583 16th St. (Castro), starbellysf.com
Cafe La Flore
This small coffee shop features artworks from local artists displayed on its walls and takes pride in fostering a welcoming atmosphere and providing friendly customer service. Tables are set up outside the cafe forming a little outdoor patio for customers to catch a little sun. // 1032 Clement St. (Inner Richmond), cafelaflore.com
Mission Bowling Club
This boutique bowling alley in the Mission district is also a popular brunch spot on the weekends with an outdoor dog-friendly patio opened until 10 p.m. daily. This venue can be a celebration for all kinds of events with its six lanes for bowling, a nice bar, seasonally prepared brunch and dinner menus and of course an outdoor patio. // 3176 17th St. (Mission), missionbowlingclub.com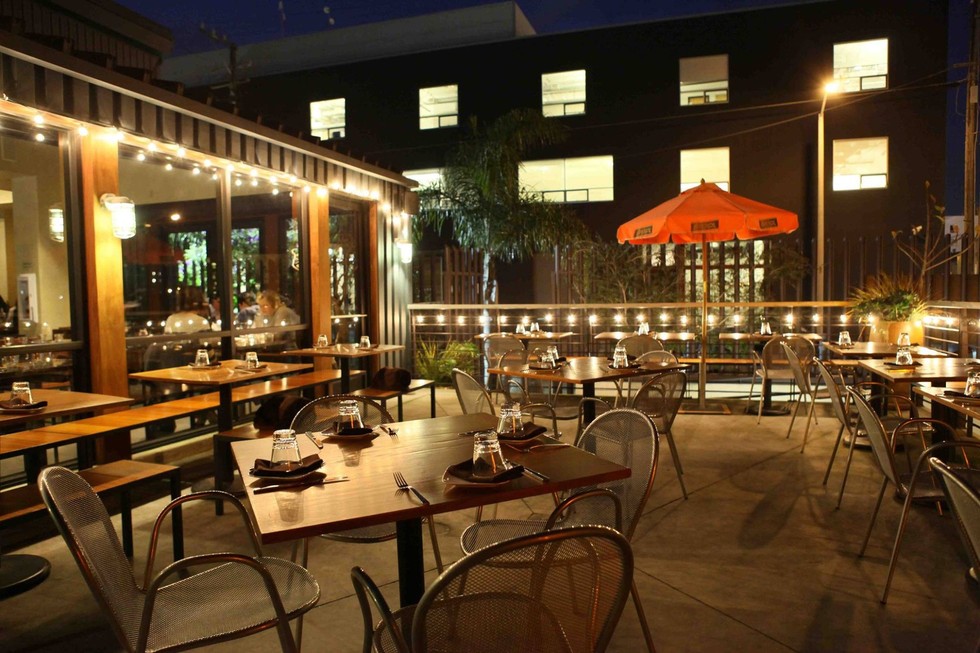 (Courtesy of Skool)
Skool

This seafood restaurant is known for preparing seafood with a Japanese flare. It also offers gluten-free and vegetarian menu options for brunch, lunch and dinner. Most exciting of all is its outdoor heated patio that can be reserved for private events and accommodate up to 40-50 guests. // 1725 Alameda St. (SoMa), skoolsf.com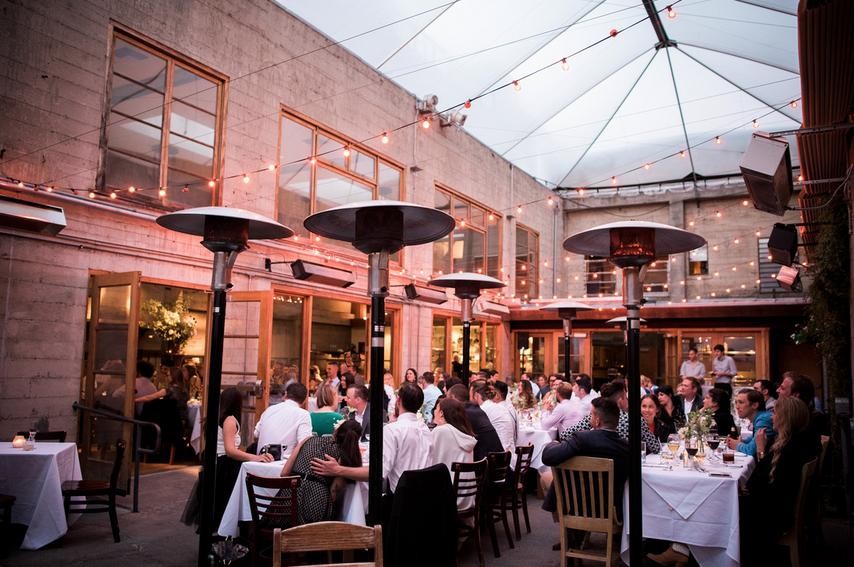 (Courtesy of Annie Hall)
Foreign Cinema
This venue offers a unique dining experience with its seasonal and fresh California-Mediterranean menu, nightly foreign film screenings, giant fireplace and beautiful outdoor patio. // 2534 Mission St. (Mission), foreigncinema.com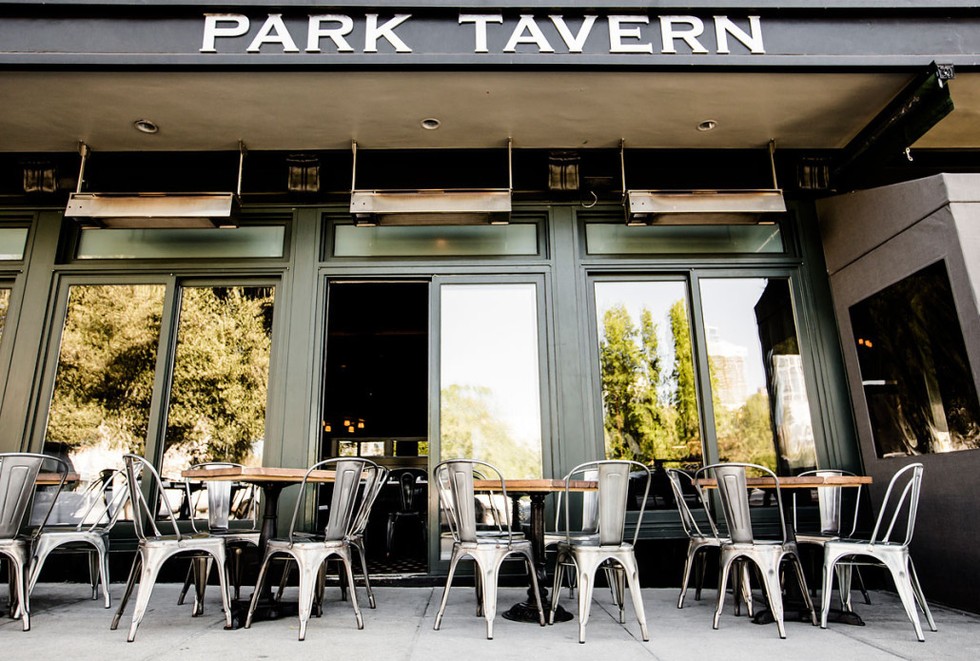 (Courtesy of Park Tavern)
Park Tavern
Park Tavern, located in the historic North Beach neighborhood and adjacent to Washington Square Park, is an upscale American tavern with a communal bar and an indoor/outdoor cafe that is a semi-private extension of the main dining room. Park Tavern's outdoor patio can be accessed through the Cafe, which overlook Washington Square Park through floor to ceiling windows. // 1652 Stockton St. (North Beach), parktavernsf.com
DON'T MISS A BAY AREA BEAT! SUBSCRIBE TO OUR NEWSLETTER.