By
In a city filled with tourists, it makes sense that some of San Francisco's hottest restaurants would reside inside hotels. Here are a few of our favorites that have everything but the turndown service. 
Located on the bottom floor of Union Square's Parc 55, this authentic Thai restaurant is a hidden gem in the sea of big-box stores, dives, and chain restaurants. When Coi's Daniel Patterson took the Vice Munchies crew to this Cyril Magnin Street eatery on his night out, the small restaurant earned some overdue notoreity. The vibe is young and casual, with the ambiance and service both sort of whatever; but menu, curated by Bangkok native proprietress Pim Techamuanvivit, bursts with style, originality, flavor, and heat. The braised beef cheek, in Massamam curry and coconut milk, is pretty much the best thing we've eaten ever.  //  Kin Khao, 55 Cyril Magnin St. (Union Square), kinkhao.com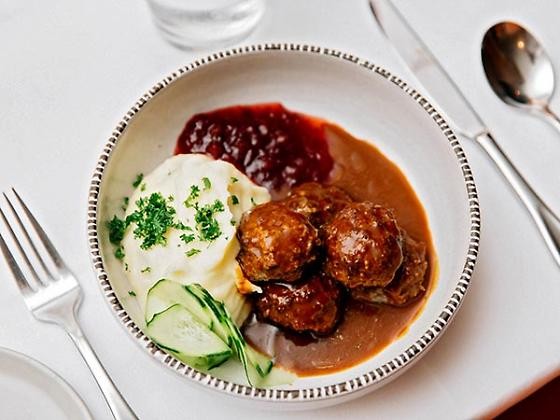 (Photo: Ashley Batz)
Chef/owner Roberth Sundell's Swedish meatballs are to 7x7 editors what bacon is to the hipster set—on our Big Eat 2015 list, we could eat those balls with everything. Plaj fuses California ingredients with traditional Scandinavian recipes for a menu that feels at once familiar and unusual. Other popular dishes might include herring, elk, and gravlax, but the menu changes daily based on seasonal ingredients at the local farmers market.  //  Plaj, 333 Fulton St, (Hayes Valley), plajrestaurant.com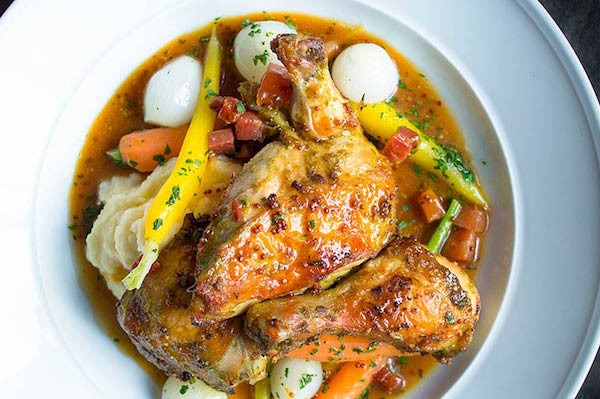 SF's serious foodies don't only know the names of restaurateurs Anna Weinberg, James Nicholas, and chef Jennifer Puccio—they keep them on speed dial. In 2013, the Big Night Restaurant Group, also behind the ever-popular Marlowe and Park Tavern, worked with design star Ken Fulk to put a posh Brit veneer on the restaurant inside the new Hotel Zetta. The Cavalier opened with three stars from Michael Bauer and has earned a James Beard nom for Best New Restaurant in America. The team that does it all literally does it all here—serving elevated London-style fare from breakfast to brunch to lunch to cocktails to dinner to room service. Don't miss the Scotch eggs, fish and chips, and a decadent shepherd's pie.  //  The Cavalier, 360 Jessie St. (SoMa), thecavaliersf.com
Jasper's Corner Tap & Kitchen at Serrano Hotel
Don't dismiss this gastropub just because of its proximity to Union Square. The hip lounge and sports bar saw a mix-up last year that brought more locals than tourists to the Serrano Hotel. With a great happy hour, oversized flat screens, and an eclectic menu from executive chef Adam Steudle, it's become an easy choice for shoppers and FiDi techies alike.  //  Jasper's, 401 Taylor St, (Tenderloin), jasperscornertap.com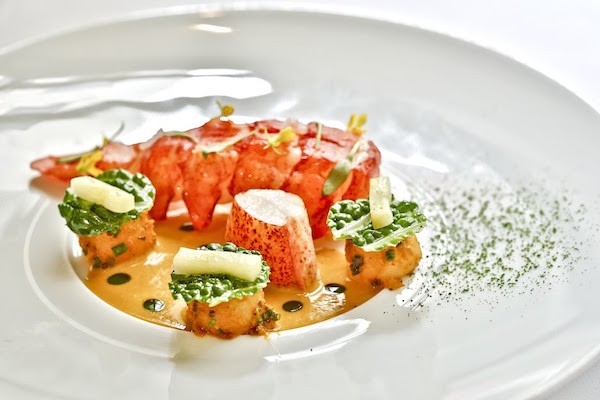 Campton Place at Campton Place Hotel
Absolutely beautiful food is on order at Campton Place, where a variety of kitchen visionaries have been steering it to success since the 1980s. Now under the toque of chef Srijith Gopinathan, Campton's exquisite California-Indian cuisine has garnered a Michelin star every year for the past six; this year, the restaurant celebrated a coveted second star. Indulge in the spice-poached lobster with coastal curry sauce, a spin on traditional Indian street food with a hint of San Francisco fog.  //  Campton Place, 340 Stockton St, (Union Square), camptonplacesf.com
Chambers Eat + Drink at Phoenix Hotel
Chambers Eat + Drink is the well known hot spot inside the storied Phoenix Hotel, famous for its pool parties and all manner of rock-and-roll bad behavior. We like Chambers for its swank design, interesting cocktails, and elevated bar food; everyone else likes it for the selfie opportunities provided by the lighted "Be Amazing" sign in the lounge. At brunch, you can't go wrong with a Hangover Hash with dry-aged short rib pastrami.  //  Chambers, 601 Eddy St, S (Tenderloin), chambers-sf.com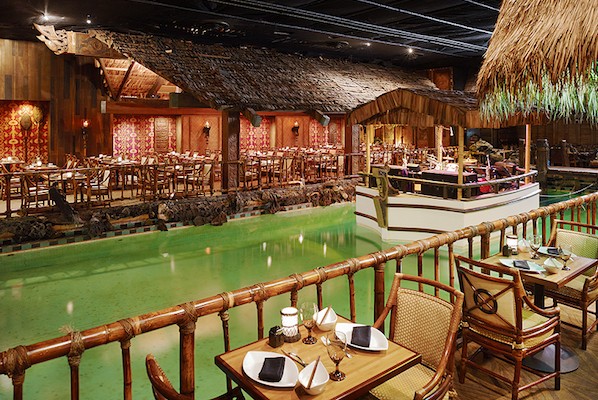 Tonga Room at Fairmont San Francisco
The kitschy Tonga Room & Hurricane Bar has been a local icon since it starting slinging tropical cocktails back in 1945, making the Fairmont a favorite destination for locals looking for a kooky party atmo. While the hotel itself just drips with formality, the Polynesian-inspired restaurant serves its claim-to-fame cocktail in a plastic coconut. Even Anthony Bourdain likes it: "Hotel whore that I am, I'm fond of the Fairmont Hotel on Nob Hill. Big. Old. Built in 1907, with lots of history and character. Most importantly, a tiki bar in the cellar."  //  Tonga Room, 950 Mason St. (Nob Hill), San Francisco, tongaroom.com
DON'T MISS A BAY AREA BEAT! SUBSCRIBE TO OUR NEWSLETTER.