The Fancy Food Show wrapped up Wednesday, capping off three days of specialty food sampling at the Moscone Center. More than 1,400 food and beverage makers showcased 80,000 newly available snacks and spices, desserts and drink mixes, health foods, and hedonistic indulgences from around the world.

As a cocktail writer, I was mostly interested in the booze-related products, so I put a call out to the show's vendors for innovative cocktail ingredients and recipes. I am now on a first-name basis with the FedEx lady, the UPS guy, and two USPS workers.
---
Some of the samples that arrived were self-explanatory. GuS Grown Up Soda; Q Drinks, which are clearly mixers; Owl's Brew bottled tea, which says "crafted for cocktails" right on the label; and the Spice Lab's Gin & Tonic Collection, a wooden box outfitted with 10 botanicals, a twisted bar spoon, and a beautifully designed set of cocktail recipe cards.
Some items seemed simple enough to incorporate into a cocktail, like organic maple syrups from Runamok Maple in Vermont and Crown Maple in New York; a selection of flavored, bottled coffees from Chameleon Cold Brew Coffee in Austin, Texas; and Tea Drops, which are organic, lightly sweetened tea bombs pressed into pretty shapes that dissolve in hot water. But other samples I received seemed like a bit of a stretch: What exactly was I to do with the GoodPop, an all-natural frozen popsicle, and the SmashMallow organic marshmallows, in flavors included Meyer lemon, chia seed, and root beer float.
Still other ingredients seemed just plain wrong. The thought of making a cocktail with Bonafide Provisions' turkey bone broth made my stomach turn, while the Moringa Green Energy shots and Pure Moringa Vegetable Powder (made from dried moringa, a spinach-like superfood) from Oakland-based Kuli Kuli Foods struck fear in my tastebuds. But, I womaned up to take one for the team, vowing to test as many recipes as I could without doing permanent damage to my liver. To help with the more challenging ingredients, I called on my friend Eric Nyeste, formerly a chef at Bergerac, who agreed to concoct drinks for a few friends with whatever ingredients I threw at him.
Experiment #1: Little Bird Fire Syrup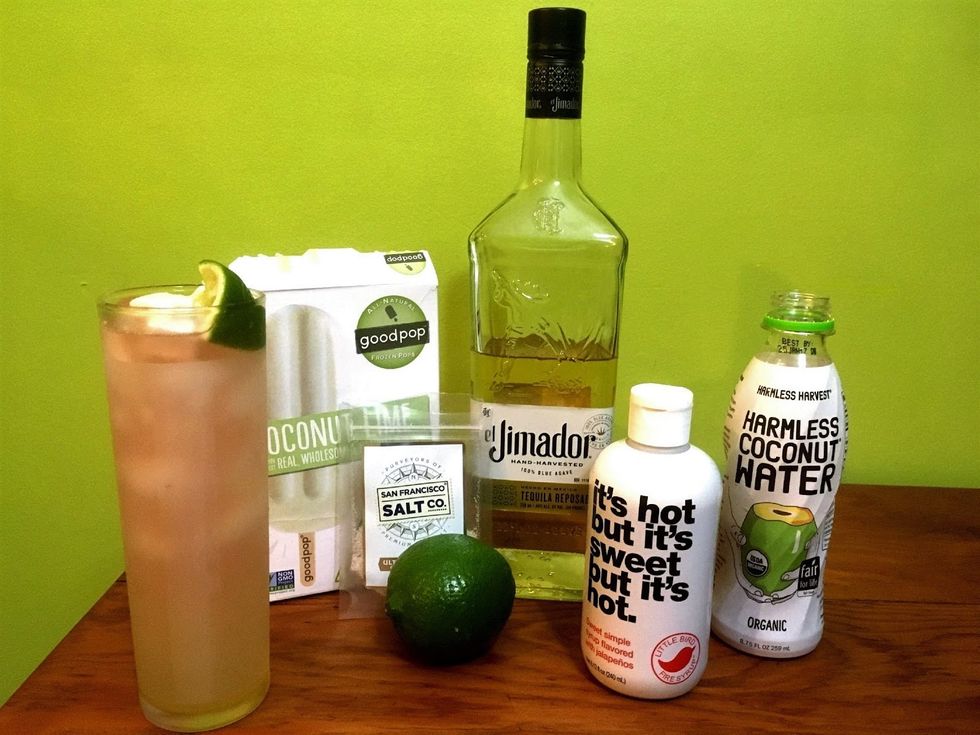 (Renee Alexander)
We were all intrigued by the bottle of Little Bird Fire Syrup, emblazoned with the words, "It's hot but it's sweet but it's hot." I'm a sucker for a spicy margarita, so we decided to stick with tequila and lime—flavors most often associated with piquant drinks. Because this jalapeño-infused syrup is sweetened ("like honey, but with a kick!), we were able to skip the agave nectar, which is what I normally use to make margaritas at home.
Mood Swing
1.5 oz El Jimador tequila
.5 oz Little Bird Fire Syrup
Juice of 1 lime
1. Shake with ice in cocktail shaker
2. Pour into Collins glass
3. Top with Harmless Harvest organic coconut water and two slices of GoodPop coconut lime frozen pop.
This drink is sweet and spicy, with a lingering, nutty aftertaste. The coconut-lime pop provided a creamy, cooling counterpoint to the fire syrup. We named it Mood Swing in honor of the distinct flavor contrasts.