For local, design-savvy getaways, San Franciscans usually look north to Napa and Sonoma. But 90 minutes south of the city, Santa Cruz has been quietly redefining a style once dictated by a scruffy mix of surfers, students and free-spirits. Today, the laid-back beach town exudes a creative new energy as exemplified by the following hip spots. 
---
SHOP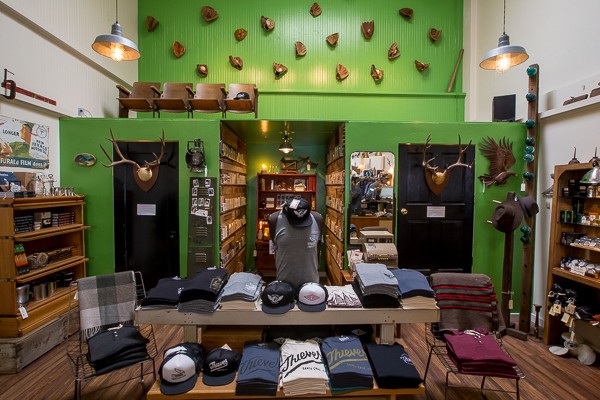 Tucked away on a downtown side street, this eclectic shop stocks a meticulous selection of fashionable clothing, gifts, stationery, and accessories. Just a few doors down, a tack-sharp men's shop sports a rugged general store meets haberdashery vibe. There's also a great collection of vintage goods thanks to the owners' tight relationships with local dealers. Don't miss their upcoming Christmas pop-up in the south county town of Aptos. 107 Wal­nut Ave., 117 Wal­nut Ave.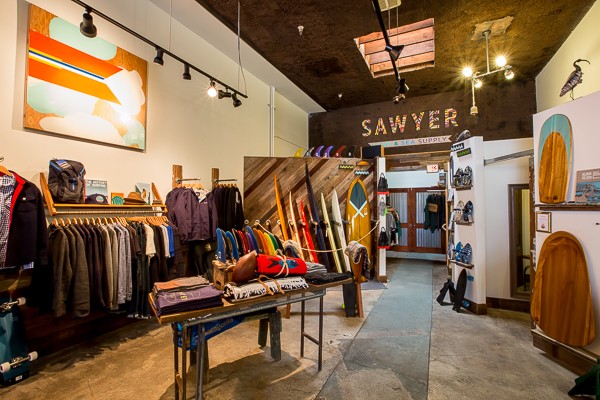 You'll head to Sawyer to outfit your modern surf safari down the California coast. The smart shop celebrates surf culture and Santa Cruz's inspiring sea-meets-forest landscape with hip graphic tees, contemporary outdoor apparel and camping gear, and luscious hand-shaped paipos (wooden Hawaiian belly boards) that could function as objets d'art. 402 Ingalls St.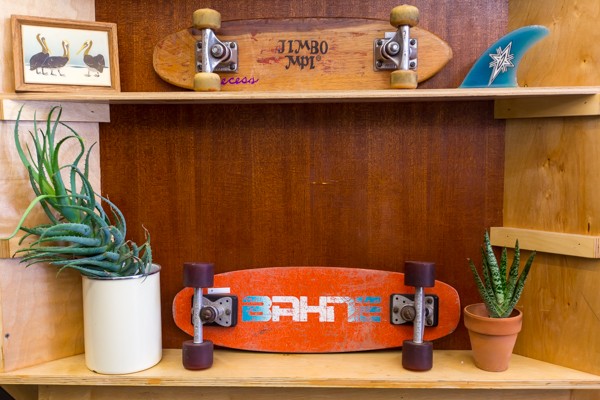 Style yourself like a local at this modish surf shop stocked with contemporary men's and women's apparel. No big name brands here. Instead, find local independent labels like Thieves, Uroko and Ventana that will take you from beach to brewery. // Berdel's, 1233 Pacific Ave., berdels.com.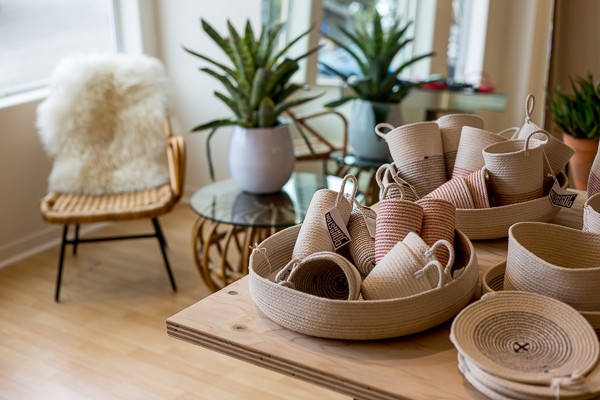 Australian designer Vanessa Ambrose settled in Santa Cruz before opening three impeccably curated boutiques with a sophisticated, boho feel. Her keen sense of style translates to exquisite home goods, jewelry, and women's apparel—much of it handmade and by independent designers. With a touch of Denmark, Japan, and Brooklyn, it manages to be perfectly at home in this breezy seaside town. 402 Ingalls St., #5, #7, #15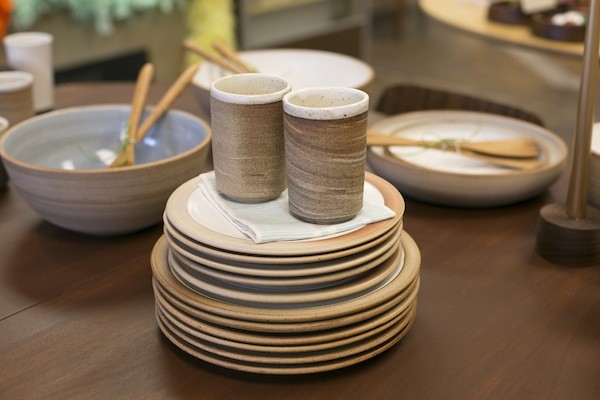 Photo by Shindig Photography
Peel away from touristed Pacific Avenue and seek out this colorful, modern boutique tucked on a downtown side street. Owner Sonia McMoran draws upon her background as tech and design journalist to assemble a covetable collection of home and office décor. Shop a playful mix of vintage finds and contemporary, handcrafted goods from designers like Honey & Bloom, Good Company, and Marlie & Alfie.  // Home/Work, 765 Cedar St. Ste. 103, shophomework.com.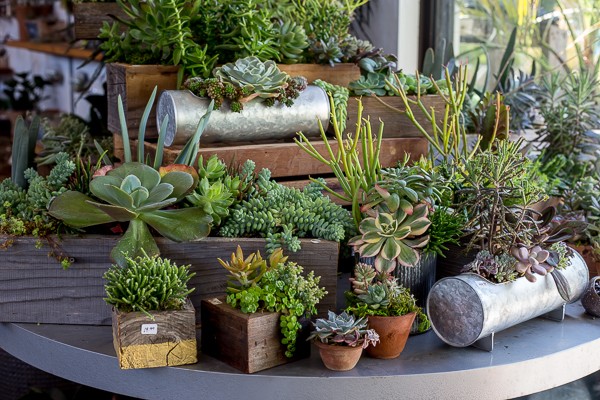 This expansive, modern nursery is a refuge of succulents, air plants, and pottery. Artful arrangements call to mind the vivid seascape of nearby Monterey Bay. Drop by for a class or ask one of the staff to help you shape your own terrarium at the dedicated workstation. You'll likely rub shoulders with proprietors of the other spots listed here, all of whom frequent the shop. 420 Water St.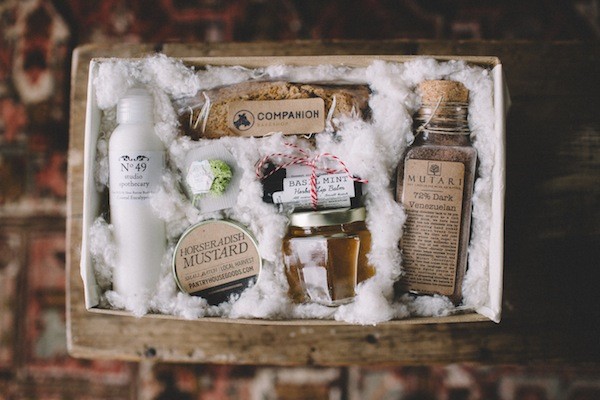 Photo courtesy of Sojourn Box
Sojourn Box is like a dream care package from your stylish best friend abroad. Joanna Misunas, a Santa Cruz native, encapsulates the region's best artisanal products in a smartly-designed box that arrives at your doorstep. Inside, discover tasty edibles like Mutari's Venezuelan Hot Chocolate, body care products from Urb Apothecary, local music downloads and a hip pocket guide to the area. There's also a Monterey box and a Silicon Valley and San Francisco edition to follow. // Sojourn Box, sojournbox.com.
DRINK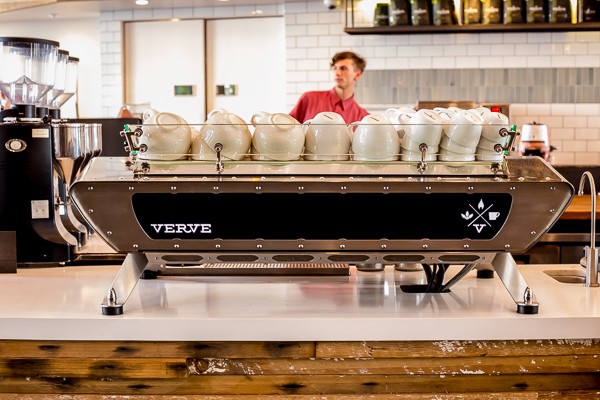 The town's popular third wave roaster boasts strong brew, competent baristas, and a counter full of confections from local bakeries. If you take it sweet, try their Bowl-of-Soul: tea steeped in soy milk and honey and topped with a soy froth. Bask in the flagship downtown space or hit the outpost in the surf-centric Pleasure Point. 1540 Pacific Ave.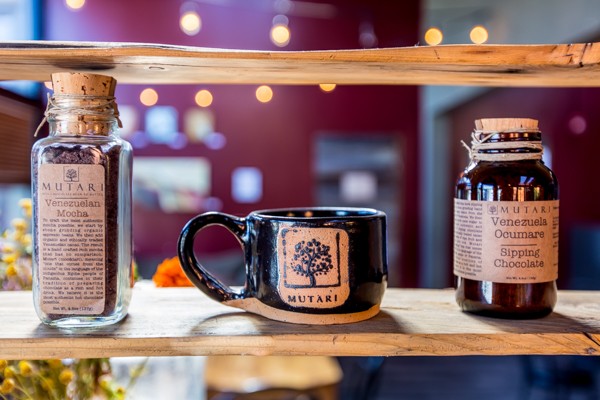 This exceptional chocolate producer is the only one taking hot chocolate from bean to cup. Sample single origin chocolates -- ethically sourced and rigorously made from scratch -- via richly fragrant cups of hot and European style sipping chocolates. They've got you covered on warm days too. Their Frozen Hot Chocolate is blended with ice to yield a luscious, milkshake like treat. // Mutari, 1001 Center St., mutarichocolate.com.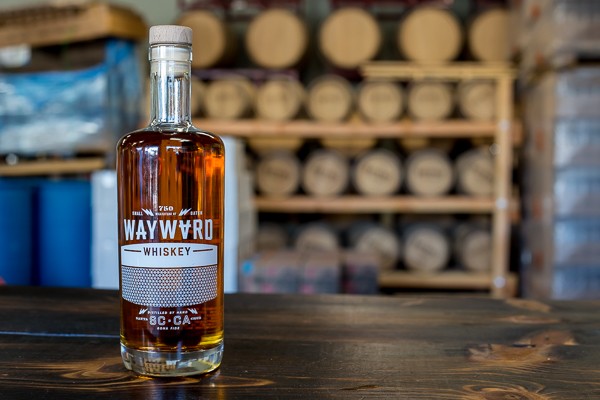 With a strong background in craft beer and organic food product development, Sean Venus will soon become a regular name in Bay Area cocktail bars. The former Gordon Biersch brewer is producing small batches of organic spirits in his shipshape Westside distillery. The first batch of gin is addictively floral, an unaged blue agave spirit (can't say tequila outside Tequila) drinks smooth and elegant, and an oaky single-malt whiskey is due in December. With packaging from SF's Chen Design and a forthcoming tasting room by Stripe, the brand is easy on the eyes too. Find bottles at most Santa Cruz restaurants and its better liquor stores. 427 A Swift St.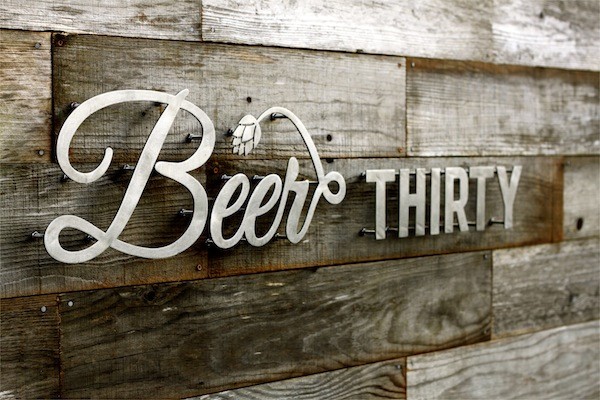 Beer Thirty Bottle Shop + Pour House
Santa Cruz is probably the most-underrated beer destination in California. Over the past two years, the area has boomed with breweries and tap houses serving high-caliber brew minus the scrum of popular SF beer locales. For a proper introduction, head to Beer Thirty with a namesake number of rotating taps that allow for the most extensive sampler in town. Enjoy 'em in the smart-looking interior or out on the dog and kid-friendly beer garden strung with lights. 2504 S Main St., Soquel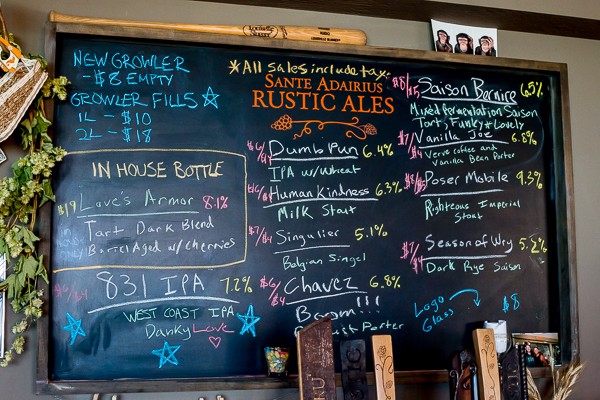 Some of Santa Cruz's best beer can be found at this brewery and rustic-chic tasting room in Capitola. Their richly-fragrant 831 IPA should end all discussion and the barrel-aged Saisons sip with all the structure and complexity of your favorite vino. Don't pass up the Verve-infused porter with the deep aroma of freshly-ground coffee. 103 Kennedy Dr., Capitola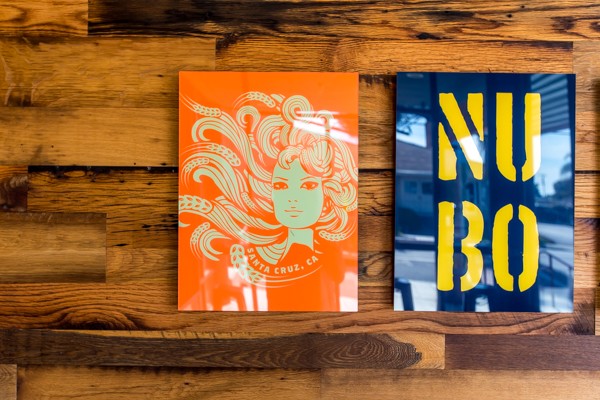 Bitter about the hegemony of IPAs? Swing by this fetching new Pleasure Point brewery for delicious old world lagers and hefeweizens. Brewmaster Dan Satterthwaite honed his craft at a century-old, family-owned brewery in Bavaria before working at Bay Area shops like Trumer Pils. The redwood-sheathed taproom has a small bites menu that offers a great sampling of local food purveyors like Companion Bakeshop and Friend in Cheeses Jam Company. // New Bohemia Brewing Company, 1030 41st Ave., nubobrew.com.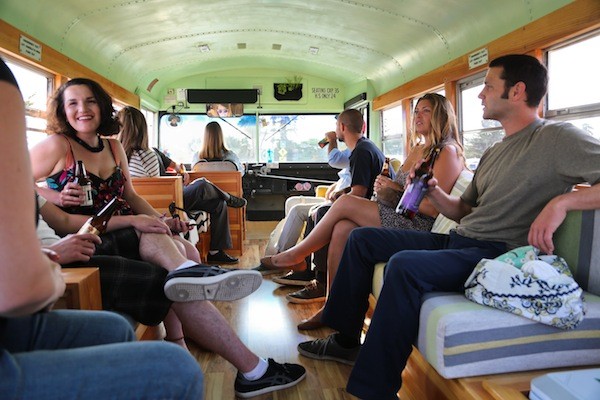 Photo courtesy of Brew Cruz
We can't think of a better way to sample Santa Cruz's thriving craft beer scene than with Brew Cruz. Former San Franciscan Annie Pautsch shuttles hop heads to breweries and taprooms along the coast in a tricked out 1989 school bus (that she picked up in SF's Tenderloin). The Brew Cruz site will soon host The Santa Cruz Beer Trail, an interactive map and passport program to help customize your ultimate brewery crawl. // Brew Cruz, scbrewcruz.com.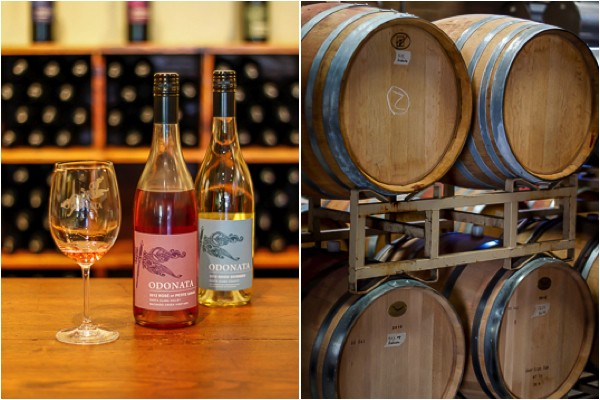 A collective of wineries in walkable proximity means you can ditch the car -- and single lane Santa Cruz mountain roads -- and stroll 10 tasting rooms pouring the region's famed pinot noir. Swing by Santa Cruz Mountain Vineyard for unique Spanish varietals and a noteworthy brandy. Swift St. & Ingalls St.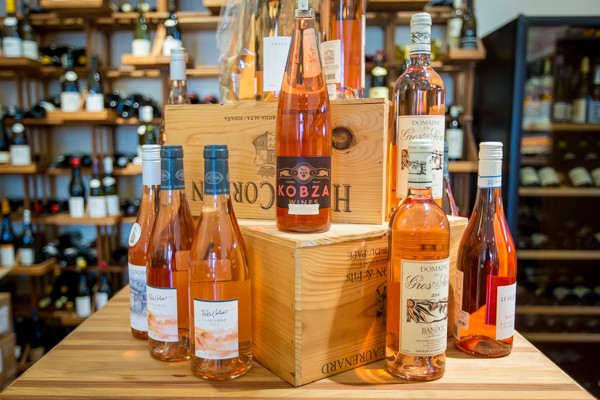 Soif has been Santa Cruz's urbane wine destination for some time, but a major expansion and remodel begs a second look. A reconfigured wine shop stocks local finds like Birichino's Malvasia Bianca while an expanded kitchen is able to crank out a wider array of refined small plates. Nab a seat at the new bar where an informed staff will pour tastes of less familiar wines like a where-have-you-been-all-my-life Hungarian Tokaji. // Soif, 105 Walnut Ave., soifwine.com.
Also: check out Discretion, an organic brewery and airy pub that pairs high-end comfort food with award-winning beers, and Lúpulo, a sleek downtown alehouse with 16 taps and beer-friendly Spanish and Mexican influenced small plates.
EAT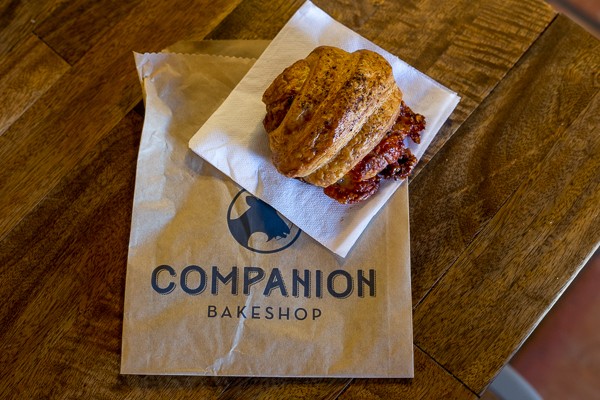 While you were in line at Tartine, you've been missing out on exceptional bakeries like Companion Bakeshop. Their hearty loaves—most with sourdough starter—gained a local following from CSAs and farmer's markets before a permanent location was established on the happening Westside. Come early for the morning line-up of pastries including buttery ham & gruyère croissants, rich tea cakes, and a proper pour of Blue Bottle Coffee. 2341 Mission St.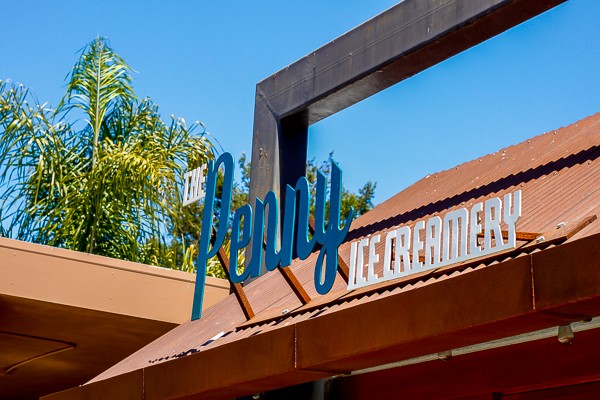 This popular-from-day-one institution produces one of California's only ice creams made completely from scratch. True-tasting flavors like a Honey Fig Ricotta and Blackberry Sorbet change with the season and feature the region's food producers. There's three locations, but we love the stylish bolt-hole in Pleasure Point, a neighborhood with a SoCal surf town vibe. 820 41st Ave.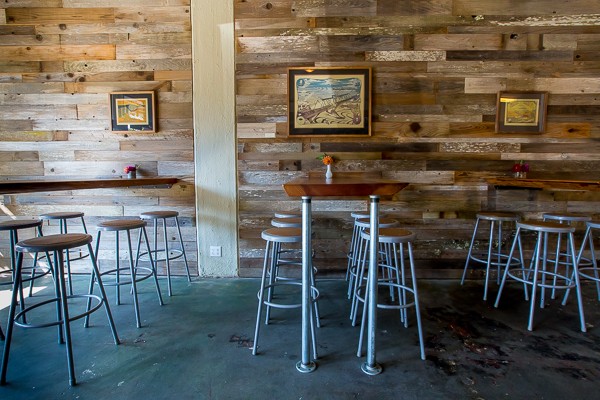 Newish Midtown Cafe is a low-key daytime spot with an comfortable recycled wood interior and abbreviated menu of breakfast dishes, salads, and sandwiches. Quality ingredients go a long way in dishes like Egg with Polenta, Kale & Chimichurri, or French Toast with fresh berries and whipped cream. Companion baked goods, a couple local beers on tap, and a pleasant backyard patio add to the charm. 1121 Soquel Ave.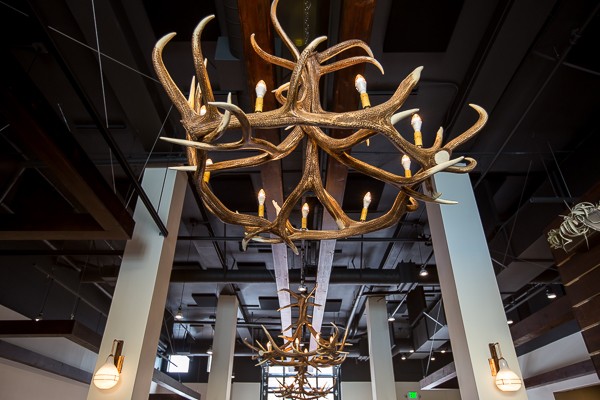 Co-owner Kendra Baker was the pastry chef at Manresa before she nabbed Carlo Espinas from the Comstock Saloon and opened up this much-needed downtown restaurant. The open dining room—with clean lines contrasted by dramatic antler chandeliers—opens up onto busy Pacific Street. Start with a killer cheese & charcuterie plate from the snacks menu before moving on to a seasonal salad and one of the better burgers in town. 1108 Pacific Ave.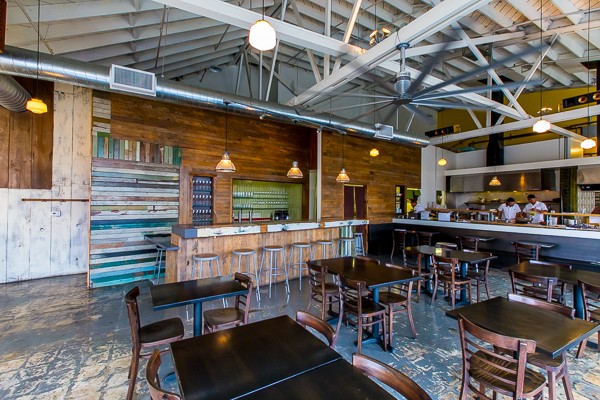 Chez Panisse alum fires up delicious Neapolitan pizza with a bubbled crust and a nice char. Salads and starters—like the Little Gems Caesar and better than it sounds Pig's Head Fritters—shouldn't be missed. The handsome, open space flaunts colorful recycled wood, vintage lamps, and old-school reggae grooving overhead. 1010 Fair Ave Suite J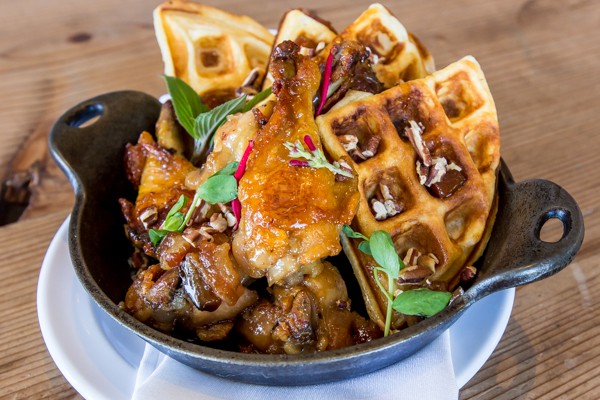 It's not just the award-winning, organic ales that should lure you to Discretion Brewing. Chef Santos Majano works magic from a 200 square foot kitchen, churning out beautiful, composed plates of farm-driven dishes that are spoiling local beer drinkers. Majano has worked in kitchens like Healdsburg's former two-Michelin-starred Cyrus and it shows. For his Chicken & Waffles, he confits chicken wings and lays them over buttermilk waffles, studded with bacon and pecans, and drizzled with spiced honey. // The Kitchen at Discretion, 2703 41st Ave. Ste. A, Soquel, discretionbrewing.com.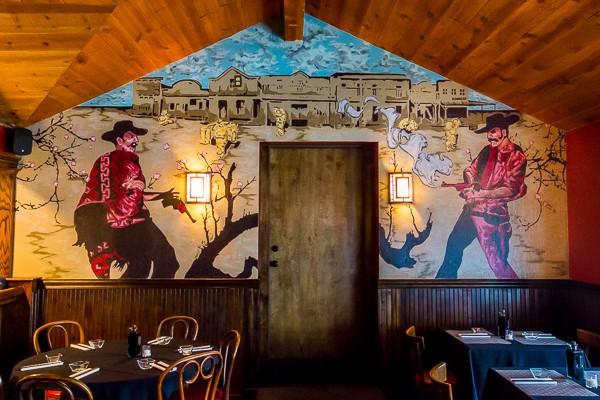 This hip izakaya and sushi joint exhibits a Japanese cowboy —get it? —theme. Nurse a Nikka Yoichi whisky in the retro cocktail lounge before sitting down to a dinner of decidedly California style yakitori, poke and sushi. 8017 Soquel Dr., Aptos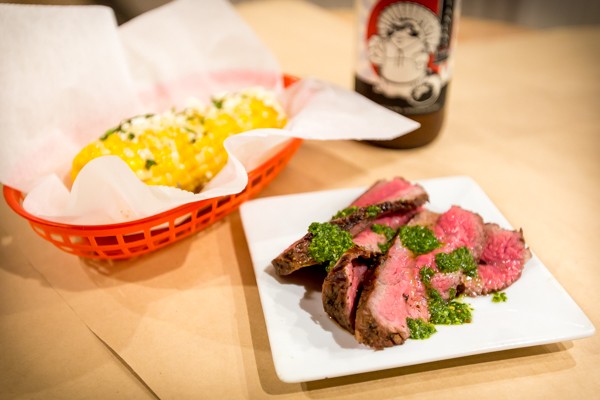 Clued-in diners gather in a garden patio strung with lights at this convivial pop-up venue. A weekly lineup of portable restaurants includes baos from Mortal Dumpling, destination-themed dishes from Lionfish Supperclub, and farm-to-table BBQ from Ty's Eatery. The bar, which pours only Santa Cruz wines and draft beers, is one of the few places you'll find Tanuki, a killer new bottle-conditioned cider made with apples from Fogline Farms.. // Food Lounge, 1001 Center St., scfoodlounge.com.
Also: swing by downtown's Oswald, a city-savvy restaurant with a great bar and localized version of California cuisine.
STAY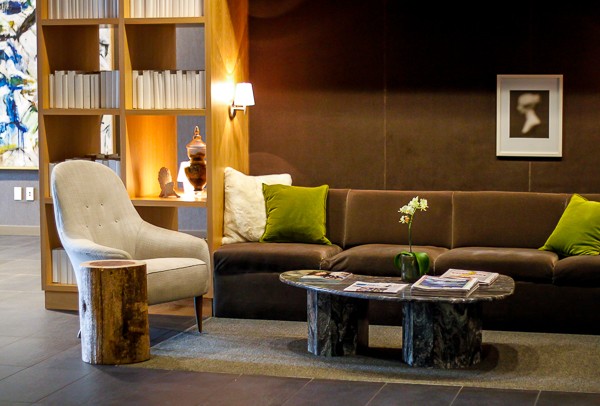 The Paradox is a surprisingly chic boutique hotel with a playful, forest-themed interior. SF's Orlando Diaz-Azcuy Design drew inspiration from redwood trees dotted about the property for features like a front desk made from a giant felled tree, a ceiling photo mural of a tree-branch cluttered sky and resin squirrels scampering about. Don't miss the sunny pool deck with private cabanas and food + cocktail service. 611 Ocean St.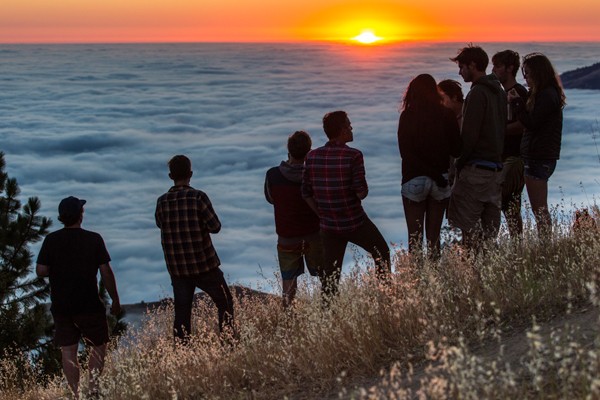 It's laptops and leisure at this new co-work and lodging property one block from the waves of the Monterey Bay. Whether you stay a night or a month, you'll find like-minded digital nomads and entrepreneurs enjoying a fully equipped office, living space and activities like yoga, surfing and coding classes. Don't miss their weekend networking events that trade conference rooms for campsites along the Big Sur coast. // Outsite, outsite.co.