Ridiculous views are just one perk of wine tasting atop Napa Valley's iconic mountain appellations. These wineries promise big, complex wines that benefit from volcanic and sedimentary soils, elevation, and extra vitamin D—and many of them get better with age. Just plan ahead, as all of these tastings are by appointment. (Hint: No crowds.)
---
Howell Mountain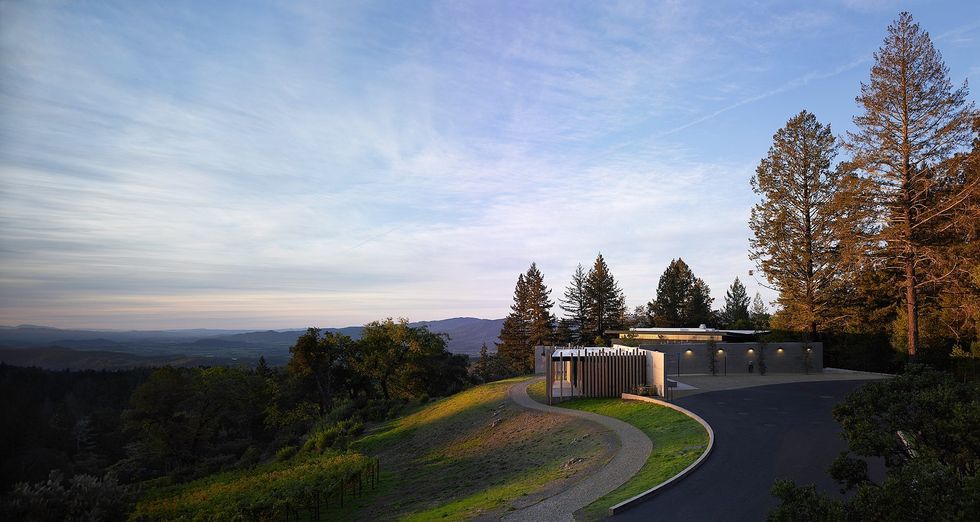 (Courtesy of CADE Estate)
High above the fog line, Howell Mountain looks right over the town of St. Helena, where fruit basks in high temperatures by day, before cooling off significantly at night, preventing the grapes from over baking. The varying temps, plus volcanic and iron-rich clay soils, result in structured red wines with complex aromas and beautiful, intense color.

Howell Mountain hillside vineyards are best explored in an open-air Jeep vineyard tour at Cimarossa (1185 Friesen Dr., Angwin), where, in addition to wine, you can sample Tuscan olive oil produced from the property's 1,200 olive trees.
The modern, minimalist, and sustainable estate at CADE (360 Howell Mountain S., Angwin) is sure to impress both architecture buffs and environmentalists. Wine flights come with a side of panoramic views from both the outside patio and the tasting room's picture window.
We've seen a lot of wine caves, but nothing quite like the massive underground winery at Arkenstone (335 West Ln., Angwin). While you won't find many estate whites at these mountain wineries, owner Susan Krausz will start you off with a serious sauvignon blanc that's complex, creamy, and aged Bordeaux-style.
Get an authentic, Old Napa experience at Summit Lake Vineyards (2000 Summit Lake Dr., Angwin) and sip wine inside the family home of the Brakesmans—who were among the earliest families to make wine here beginning in 1971—they have great stories to share around the kitchen table.
For a similar backyard Wine Country vibe, make an appointment at Red Cap Vineyards (891 Ponderosa Dr., Angwin), and spend an hour or two relaxing with owners Tom and Desiree Altemus (and their loveable dog Roscoe) on the house's large back deck.