There's a lot of hype that comes with a restaurant opening from a Michelin-stared chef, but in a foodie haven like Napa Valley, the pressure is on to make an impression.
The real test lies with the locals, and the verdict is out on the new Charlie Palmer Steak: It's a resounding yaaas.
---
Opened last November in the new Archer Hotel in downtown Napa, Charlie Palmer Steak is already the happy hour hot spot for Napa locals—thanks to killer deals like $4 beers and $7 cocktails, and small plates such as lobster corn dogs. Just walk through the hotel's doors around 6pm on a weekday and you'll see for yourself.
But it doesn't stop there. By 8pm on a Wednesday night—in the offseason, mind you—I looked up from my meal to find that the dining room was suddenly at full capacity. That's a tall order for most downtown Napa restaurants on a weekday.
Is it because the steak is that good? Yes, but it's also more, from the setting to the service to the starters.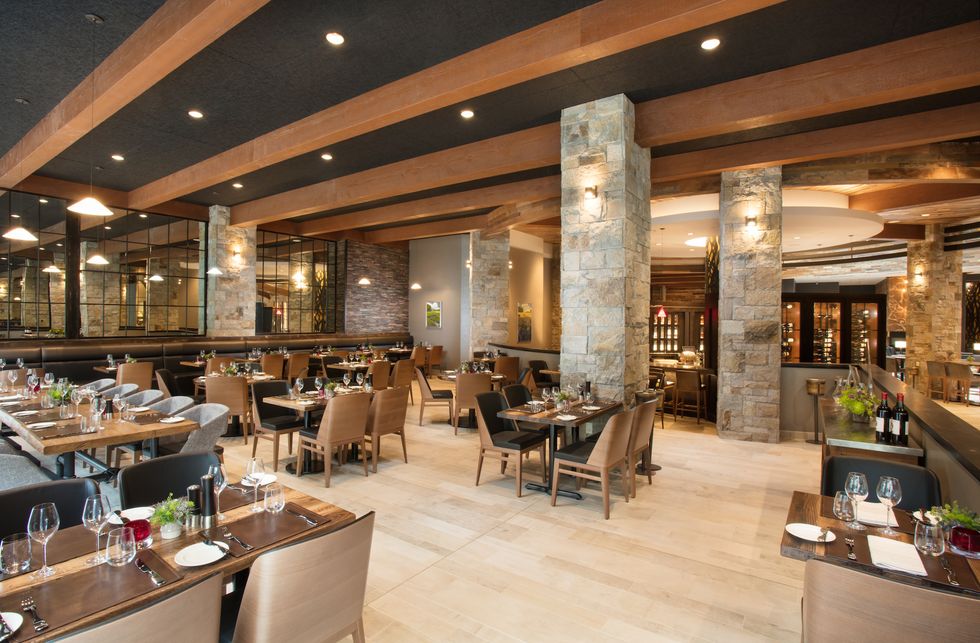 (Courtesy of Charlie Palmer Steak)
The Napa outlet of Charlie Palmer Steak—the chain's fifth location, but the first in California—doesn't look like your traditional, poorly lit steakhouse. The restaurant is simply an extension of the Archer Hotel's large, lively, and open-concept stone-walled lobby. A semi-private, doorless dining room is set behind the bar, just far enough away from the jangle to still feel like a fine dining experience.

Even for a Napa restaurant, the wine list is impressive, representing just about every grape variety imaginable. There are, of course, plenty of full-bodied Napa Valley reds to pair with your steak—four whole pages of them, in fact—but you can also choose to drink around the world, through France, Italy, Spain, and beyond. There's also a half-dozen cocktails including classics like an Old Fashioned and Pimm's Cup, plus a few originals like the Paper Plane (Maker's Mark, Amaro Nonino, Aperol, strawberry, green cardamom, coriander, and lemon).
For starters, there's a nice selection of hot and cold plates. I'm a sucker for foie gras—I order it any chance I get out of fear that the California ban will go back into effect—but although tasty with a unique citrus element, the other three starters that my husband and I tried diminished its usual spell. Falling off the bone as I went to take a bite, the Painted Hills Farm short rib pastrami was especially memorable; the shaved candied lemon on top balanced out the meat's expert smokiness with a touch of sweetness. Then the littleneck clams Casino dish, served with bacon, charred lemon, and garlic butter, was impeccably light and refreshing, a friendly segue into the incoming onslaught of meat.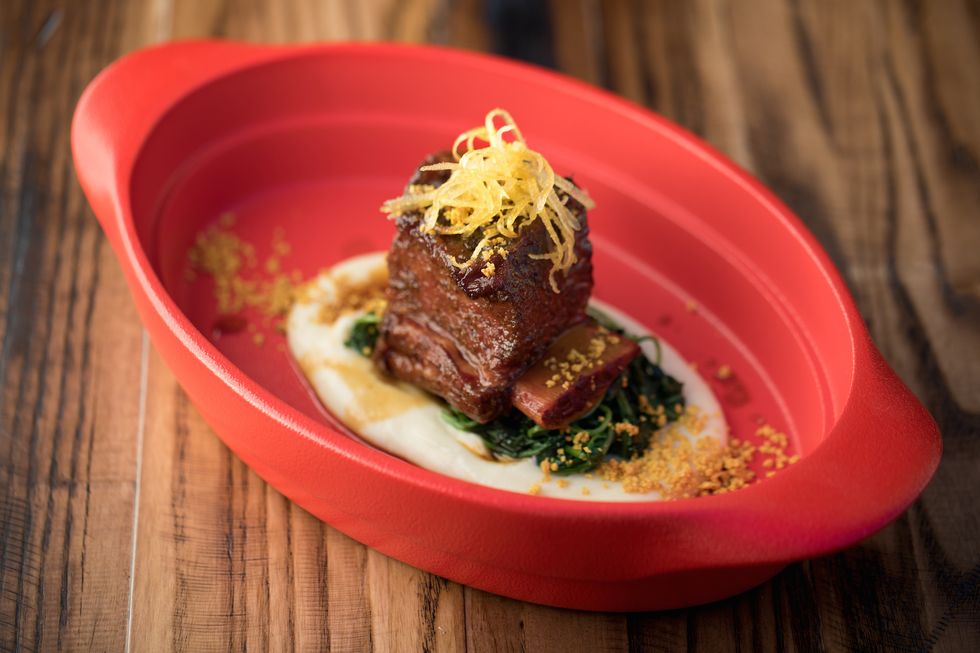 Short rib pastrami starter.(Courtesy of Charlie Palmer Steak)
Yet the star was truly an underdog: the crispy pig ear pad Thai, a signature Charlie Palmer dish. It's not something I would have ordered had our server not insisted, but I'm so glad he did. Don't let the pig ear part dissuade you. This is a gourmet twist on pad Thai, which my husband dubbed "fancy orange chicken."
Still, one must be careful of having too much filler before the main event. You probably can't go wrong with your beef selection here, but why not splurge for the best? That means going for the top-grade A5 Wagyu ($100/4oz.) or the 21-day dry aged bone-on tomahawk for two ($130). The restaurant cooks its meat to each customer's desired level of doneness based on a highly specific six-point scale that ranges from blue (very red, cold center) to well done (no pink, hot center). We opted for our usual medium rare and our tomahawk was cooked to perfection with a warm, red center.
Diners can also choose from four steak sauces: apple-horseradish cream, bearnaise, chimichurri, peppercorn cream, and red wine natural jus. We sampled them all (the bearnaise was my personal favorite). The steaks don't come with any sort of side (hello, upsell), so you may want to order one or two if you like a balanced meal. But again, don't expect your traditional steakhouse baked potato. At Charlie Palmer, it's twice-baked with truffle and bacon, and I'm not complaining.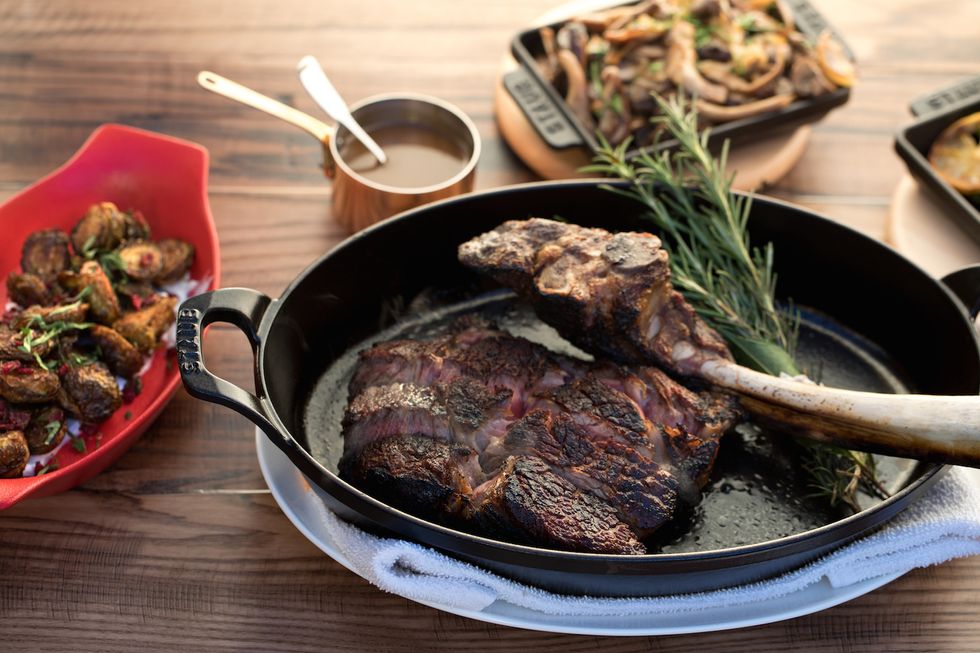 21-day, dry-aged Tomahawk.(Courtesy of Charlie Palmer Steak)
I seem to have an auxiliary dessert stomach, so we finished the meal with the chocolate chunk cheesecake. It arrived looking like a complex work of art, but I found that the blood orange sorbet clashed with the chocolate and it ultimately didn't keep pace with the rest of the meal.

It would be tough not to be Thanksgiving-level stuffed after dinner here, so plan ahead and you'll appreciate only having to waddle your way to your room at the Archer. This hotel is all about the little details. Clean, bright, and modern rooms come equipped with thoughtful delights, like his and her slippers (his with a mustache, hers with red lips) and wine country-themed rubber duckies for the soaking tub. Come April, the highly-anticipated rooftop is scheduled to open up, complete with a pool, bar, and full-service restaurant.
Make it a weekend and you'll have an excuse to return to Charlie Palmer on your way out of Wine Country. For $38 per person, their Sunday brunch includes bottomless mimosas or bloody Marys, plus a sugary doughnut wheel featuring nine donuts in three flavors with dipping sauces. // Charlie Palmer Steak, 1230 First St. (Napa), charliepalmersteak.com