January is supposed to be a slow month—just tell that to all the boldface names gracing us with their presence.
This week, catch Carol Burnett herself at the Castro Theatre as part of SF Sketchfest; Busy Phillips at Cobbs Comedy Club; and Schitt's Creek stars Catherine O'Hara and Eugene Levy onstage at The Masonic.
---
Plus, Toro y Moi at The Fillmore, Fnnch at TEDx SoMa, cooking and $5 dance classes; and more. Have a great week!
Monday, January 14th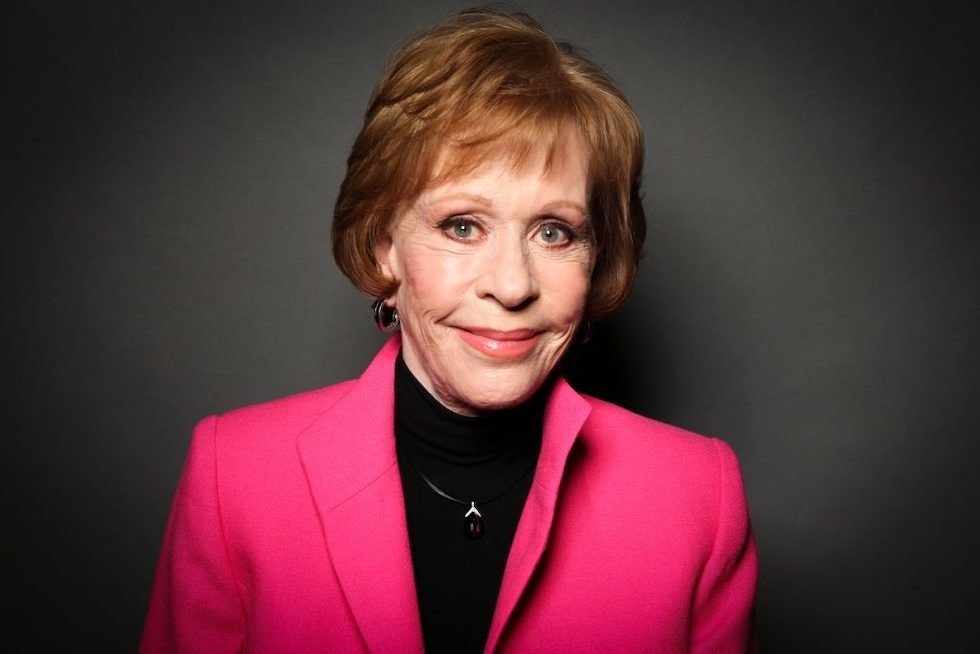 See original queen of comedy Carol Burnett live at the Castro Theatre tonight as part of SF Sketchfest.
(Courtesy of Sketchfest)
Sliver Pizzeria is back.
When: 10am to 10:30pm daily
Where: Sliver Pizzeria, 2468 Telegraph Ave (Oakland), sliverpizzeria.com
Fans of Berkeley's Cheese Board Pizza probably are in the know about Sliver Pizzeria, a 'za joint started by a few of their old staff members about six years ago. Following the one-year closure of Sliver's Berkeley spot, they team has opened a new restaurant on Telegraph, serving the same delicious pizza. Stop by for slices or get your delivery fix.
See it again: A League of Their Own

When: 6:30pm
Where: The Roxie Theater, 3117 16th St. (Mission)
Celebrate the life of the late Penny Marshall (RIP) by revisiting one of her most-beloved films, the '90s cult classic and true story of the pro women's baseball league during WWII starring Geena Davis, Tom Hanks, Madonna, and Lori Petty—they all look so young! // Tickets ($13) can be purchased at roxie.com.
Carol Burnett, a living legend
When: 8pm - 9:15pm
Where: The Castro Theatre, 429 Castro St. (Castro)
You just saw her on the Golden Globes where she received a lifetime achievement award newly minted in her name. Now see Carol Burnett live in person as part of SF Sketchfest, in conversation with actress Wendie Malick. Maybe during the Q&A you can convince her to bust out her Starlet" O'Hara. // Tickets range from $55-75 and are available at sfsketchfest2019.com.
Tuesday, January 15th
Magnolias in Bloom
When: 7:30am to 4pm, through March
Where: San Francisco Botanical Garden, 1199 9th Ave (Golden Gate Park), sfbotanicalgarden.org
Download a special mobile app and explore the annual winter magnolia bloom, climbing 80-foot heights, at the SF Botanical Gardens. // Tickets ($9) can be purchased at the entrance.
TEDxSoMa
When: 5:30pm to 9:30pm

Where: Yerba Buena Center for the Arts, 700 Howard St. (SoMa), ybca.org
Local street art star Fnnch headlines this year's TEDx SoMa, where the "Modern Campfires" theme encourages open conversation among a group of six speakers—among them professional cuddler Yoni Alkan and Colombian author Juliana Delgado—on topics ranging from masculinity and religion to language and facts vs. truth. // Tickets ($100) available at eventbrite.com; use the code FRIENDSANDFAMILY for 25 percent off.
Old Oakland Progressive Dinner
When: 7pm to 9pm
Where: Tamarindo, 468 8th St. (Oakland), tamarindoantojeria.com
Your only responsibility? Wear loose pants. As part of Oakland Restaurant Week, join local food guru Lauren Herpich (Local Food Adventures) on a progressive dinner through Oakland's OG downtown. Start at Tamarindo for apps, head over to Benchmark for the main course, and finish up at Cookiebar Creamery for some special ice cream flavors not available to the public. // Tickets ($95; $125 with wine and cocktail pairing) are available at eventbrite.com.
Kamaiyah's Return
When: 8:30pm
Where: The New Parish, 1743 San Pablo Ave (Oakland)
Oakland-born rapper and singer Kamaiyah returns to her old stomping grounds for a killer show. Get hyped for her new music coming soon. Catch her with fellow Bay Area natives JT the 4th and DJ William Stokes. // Tickets ($27) available at eventbrite.com.
Wednesday, January 16th
FOG Design + Art

When: Through Jan. 20
Where: Fort Mason Center for Arts and Culture, 2 Marina Blvd. #260 (Marina)
The celebrate art and design festival kicks off its fifth year today with a series of talks and events as well as pop-up food stands from local restaurants. // Tickets $25 in advance or $30 at the door; available at fortmason.org.
Learn to make fresh pasta.
When: 6:30pm to 9:30pm
Where: The Cooking School at Cavallo Point Lodge, 601 Murray Circle (Sausalito)
Ever wanted to unlock the Italian secrets behind making homemade noodles? You'll be cheffing it up in no time after this gourmet cooking class where you'll learn to master egg-and-flour flat noodles (think pappardelle and lasagne) as well as a few sauces on the side. You'll never eat Barilla again. // Tickets ($90) available at eventbrite.com.
Toro y Moi
When: 8pm
Where: The Fillmore, 1805 Geary Blvd. (Fillmore)
Get ready for Toro y Moi's newest album, Outer Peace—set to drop January 18th—at the Bay Area–based artist's Fillmore show tonight; he's bound to play the latest hits. // Tickets ($67) are available at concerts1.livenation.com.
Thursday, January 17th
Body + Mind Detox
When: 5:30pm to 7:30pm
Where: Credo Beauty, 2136 Fillmore St. (Pacific Heights)
Start the new year with a clean slate—and clean skin. Nimisha Gandhi of Moon Cycle Nutrition comes to Credo tonight to speak about how to detox your mind and body. There will also be drinks and goodies from Goldfaden MD, Holisticism, Innersense, Aether Beauty and The Beauty Chef. Take home a free mini Brightening Elixir + mini Pure Start Cleanser with purchases of $100 or more. // Tickets ($20) are available at eventbrite.com.
The Power of Live Storytelling
When: 6pm to 8pm
Where: Heath Newsstand, 2900 18th St. (Mission)
We're kind of obsessed with Pop-Up Magazine. The mixed-media, live storytelling event has caught on among intellectual types across the country. Learn how Pop-Up Mag came to be as founder/publisher Chas Edwards and executive editor Anita Badejor tell behind-the-scenes stories and give a preview of their Winter 2019 issue. Beer from Fort Point and snacks from Tartine Manufactory will also be on hand. // Tickets ($15) are available at eventbrite.com.
Busy Philipps, y'all
When: 8pm to 9:30pm

Where: Cobb's Comedy Club, 915 Columbus St. (Russian Hill)
Busy Philipps has been making big waves recently with her memoir, This Will Only Hurt a Little. And turns out she's a bit of a hypochondriac (aren't we all). Catch a live version of Philipps' and Steve Agee's podcast, "We're No Doctors," as they obsess over their health issues. You'll be star struck seeing Kim Kelly from Freaks and Geeks in the flesh. // Tickets ($25-$35) available at livenation.com.
Gourmet Cooking for Beginners
When: 6:30pm - 9:30pm
Where: First Class Cooking, 1 Bluxome St. (SoMa), emilydellas.com
Impress your friends by learning to fix a home cooked meal that's gourmet and healthy. Join chef Emily Dellas to make shaved fennel & cabbage salad, vegetable tian, crisp-skinned salmon, and chocolate almond torta caprese. You'll be treatin' yo self with these meals in no time! // Tickets ($79) available at squareup.com.
Friday, January 18th
Tiki Drinks From the Dead
When: 5pm to 2am Monday through Friday, 6pm to 2am Saturday
Where: Zombie Village, 441 Jones St. (Tenderloin), thezombievillage.com
Remember back when Tonga Room was the only tiki act in town? The Fairmont's legendary bar inspired a trend that has officially exploded, and now a night at a tiki bar is just another night at the bar. Fans of Pagan Idol will be pumped about this new tiki outpost from the same team. Reserve a tiki hut and get your post-work buzz on with a few fruity lava-flow beverages.
Women's March Poster Making Workshop

When: 1pm to 5pm
Where: Untitled Art Fair, Pier 35, (Embarcadero)
Swing by this pop-up installation of BAMPFA's Art Lab to get ready for Saturday's Women's March. Decorate your "Future is female" and "Women belong in the White House" signage with on-hand materials as well as help and inspiration from Bay Area artist Masako Miki, who will be on site till 3pm. // Free admission, no RSVP necessary; for more information, go to bampfa.org.
If Beale Street Could Talk

When: 6:45pm
Where: The Roxie Theater, 3117 16th St. (Mission)
ICYMI, you can catch Academy Award winner Barry Jenkins' most recent film at The Roxie. Set in the 1970s, this adaptation of James Baldwin's novel of the same name has attracted rave reviews from critics. Keep your eye out for Regina King in a supporting role—she just won a Golden Globe for her performance. // Tickets ($13) available at roxie.com.
Saturday, January 19th
Women's March 2019
When: 11:30am to 3pm in San Francisco
Where: Civic Center Plaza, 335 McAllister St. (Civic Center)
Truth to Power is the theme of this year's Women's March, the third annual parade in support of human rights. If you're in the East Bay, meet at Lake Merritt Amphitheater for the Oakland Women's March (10am to 3pm). In the South Bay, head to San Jose City Hall at 11am. Time to rally. // Free to attend, donate what you can to help cover our regional WM chapter (which runs solely on donations); for more information, go to womensmarchbayarea.org.
Zinfandel Experience
When: 11am to 5pm
Where: Pier 27 (Embarcadero)
Love your zinfandel? Head to a Grand Tasting event today to sip on pours from more than 110 wineries, and nibble on bites from winery chefs. // Tickets ($80 and up) are available on eventbrite.com.
Sunday, January 20th
Japanese Fusion Brunch

When: 10:30am to 3pm, Saturdays and Sundays
Where: Kaiyo, 1838 Union St. (Marina), kaiyosf.com
Newish Marina spot Kaiyo is now offering its Nikkei-style (read: Japanese-Peruvian fusion) cuisine for weekend brunch. Pop in for dishes like karaage chicken and waffles or passion fruit-soaked French toast, plus all new brunch cocktails. Peep the full menu here.
Schitt's Creek: Up Close and Personal

When: 8pm to 9:30pm
Where: The Masonic, 1111 California St. (Nob Hill)
Hello, Catherine O'Hara and Eugene Levy! if you love the TV comedy Schitt's Creek (and why wouldn't you?), you'll love seeing its stars IRL tonight as they dish behind the scenes deets and talk all about everyone's favorite disgraced wealthy fam. // Tickets ($160) available at stubhub.com.
All You Can Dance for Just $5
When: Noon to 5pm
Where: Alonzo King Lines Dance Center, 26 7th St. (SoMa)
Chron columnist Leah Garchik says it's "a blast." And after 10 years, it's time you got yourself to one of these afternoon classes if you haven't already. Join Lines Ballet's $5 dance class to learn everything from ballet to hip hop to jazz. Each class is 30 minutes and taught by experts. Don't be intimidated—beginners are welcome. // Tickets $5 at the door; register at eventbrite.com.