During harvest season, wine is literally in the air. Follow the scent to Napa and Sonoma, now through early October, to celebrate the season's bounty with grape stomps, parties, and as much juice as you can handle.
---
Work for Your Wine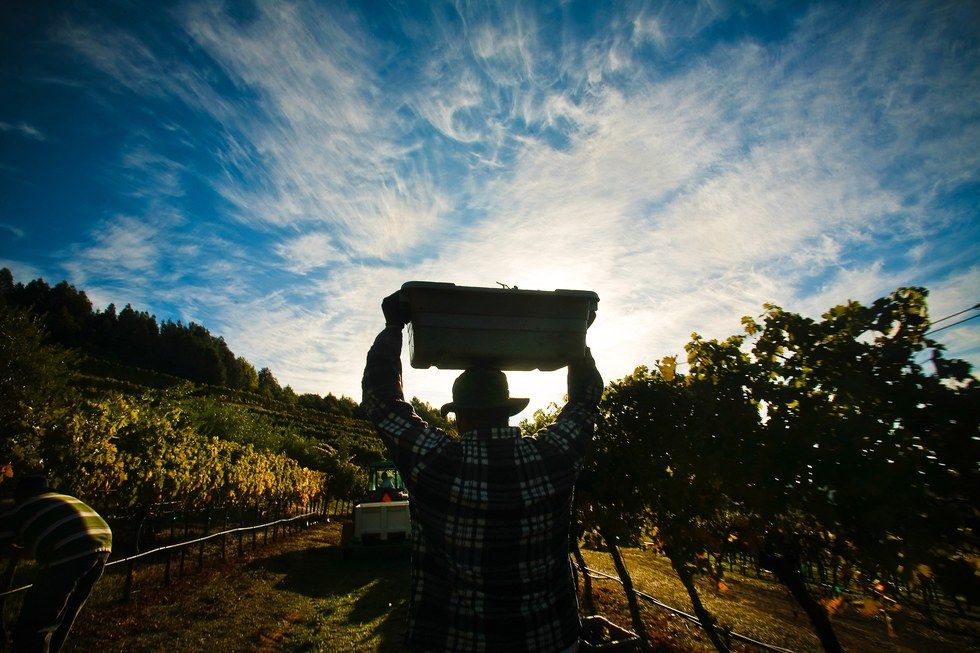 Sonoma Valley Crush.
(Courtesy of bestinsonoma.com)
Stomping grapes is fun and kitschy, but making wine is real work. Get a glimpse of what really goes on during harvest with one of these hands-on experiences.
Starting August 21st, you can book the Hands on Harvest experience ($95/person) at Round Pond (875 Rutherford Rd., Rutherford). For 90 minutes, you'll journey into the vineyard to test the brix (sugar levels) of the grapes, then to the crush pad where you'll get elbow deep in juice while sorting grapes. You might even head to the cellar where you can assist with stirring the lees. Your hard work will be rewarded with a wine-and-food pairing on the rooftop terrace. // If you're keen on roads less traveled, head to the annual Sonoma Valley Crush (at 12 boutique wineries throughout Sonoma Valley), a three-day, immersive harvest experience September 8th through 10th. You'll winery hop for grape sampling in the vineyards, crush pad tours, and tastings, of course. At $35 for a one-day pass or $50 for the whole weekend, this is easily one of the best harvest deals around. // Get an extensive education at Trefethen (1160 Oak Knoll Ave., Napa), where the annual Harvest Boot Camp ($160/person, September 30th) includes picking grapes in the vineyard, a trip to the crush pad, a tour of the historic 1886 winery, barrel tastings, and an al fresco lunch. // With a $150 ticket to Baldacci Family Vineyards' (6236 Silverado Tr., Napa) "A Day of Baldacci Cab," on October 7th, you'll spend a couple hours in the morning working harvest in the cellar. Then, collect wages in the form of sparkling wine and pastries in their iconic red barn. Take an afternoon nap, or hit up another winery, before rejoining the staff for a four-course dinner and cabernet pairings at Yountville restaurant Brix.
Click through for the season's best festivals and tasting events...