It was early evening and I was a bit peckish, so I popped out to a bar in Hayes Valley for a bite to eat. Or rather, I popped out to the bar at Jardinière, whose charms I had come to know only recently, or perhaps belatedly is a better word, as the restaurant was in the midst of celebrating its 20th anniversary.
I have lived in the city since 1991, and began hearing about Jardinière not long after it opened in 1997. That I've never been is somewhat perplexing, but whenever Jardinière, popular among the pre-symphony-opera-ballet crowd, came up in conversation, I usually found myself diverted into a meditation on the performing arts instead of wondering about the restaurant's culinary art.
---
But on this night, I ordered a burger, medium-rare, and a cocktail tongue-in-cheekily called Oaxacan the Forest, a blend of mezcal, Douglas fir eau de vie, lime and rosemary. The drink was lovely—smoky, dry, a sort of grown-up margarita with a hint of evergreen—and so was the bar, an elongated horseshoe hewn from black marble, softly lit at intervals by the little brass lamps with colored glass shades that have survived all the design updates made to the interior over the years. What a perfect hideaway, I thought—tranquil, understated, refreshingly un-hip—the sort of place where you can duck discreetly away from the world and spend some time quietly communing with your taste buds.
The burger arrived grilled to a T, ever-so-slightly bloody, and garnished with avocado, caramelized onion, Little Gem lettuce, and Dijon mayonnaise. As I ate, I gazed at a white neon likeness of a burger hovering above the bar, and reflected on a conversation I'd had earlier with Jardinière's founder, the James Beard Award-winning chef and local culinary icon, Traci Des Jardins.
San Francisco has changed a lot since 1997, from a dot-com boom gone bust, to a global financial crisis a decade later, to the present technology-fueled resurgence with all of its attendant social and economic ramifications. In a business so prone to fluctuations in the economy, and in taste, and in a culture so fixated on the hot new thing that food-focused websites have taken to teasing readers with architects' renderings of restaurants months away from opening, I was curious how Jardinière had managed not just to survive, but to thrive, for two decades.

"Interestingly enough," said Des Jardins, "Jardinière has never really been part of the boom-and-bust cycle. The primary clientele are destination foodies, or people who are coming for dinner before going to out to the symphony or the opera or the ballet. As a result of that, we haven't seen so many ebbs and flows."
"We don't necessarily capture diners who want a new experience," the chef continued, alluding to the matter of neophilia. "Being excellent is the best thing we can do from a marketing standpoint."
That said, Des Jardins has made one conspicuous move to reach out to a younger crowd: the Impossible Burger, a plant-based wonder whose uncanny pinkness and meat-like goodness was making for such an enjoyable outing at Jardinière's bar. Her strategy seemed to be working: I was surrounded on both sides by diners in their 20s and 30s, deeply enmeshed in Impossible Burgers of their own. After a return visit or two, they might just have a go at the dining room upstairs where I'd eaten with a friend a week or so before.
That evening had begun with a flute of Pol Roger Brut Réserve, a Champagne that's occupied a special place in my heart since I first made its acquaintance at Atelier Crenn in 2014. My friend, meanwhile, sipped a Lexington, a sophisticated mix of Buffalo Trace bourbon, Gran Classico, Cardamaro, and barrel-aged bitters.
Among the starters were cucumber and cantaloupe lightly seasoned with sesame and shiso (a type of mint indigenous to East Asia); pommes frites dusted with allium powder (imagine the most addictive ranch seasoning, only all-natural); a buttery-crisp Little Gem salad punctuated with peach slices and sunflower seeds, in a simple buttermilk dressing; and wonderfully substantial cuts of impeccably fresh raw halibut garnished with green almonds, avocado, shiso and tamari.
The mains, accompanied by a profoundly beautiful wine—a 2011 Boca, a blend of Nebbiolo and Vespolina from the northern Piedmontese winery Le Piane—were similarly and deliciously unfussy. While my friend had her way with a meltingly tender braised short rib with cabbage, baby carrots and onions and a wonderfully aromatic consommé, I dug into an equally succulent slab of Monterey king salmon, cooked sous vide and served on a bed of sweet corn, chanterelles and crème fraîche.
Dessert consisted of a blueberry galette with a wonderfully buttery-flaky crust, an oh-so-pretty strawberry panna cotta, and along with them, a mesmerizingly mellow Grappa Di Amarone from the Venetian distiller, Gianni Capovilla.
On leaving Jardinière that night, and again, after the evening at the bar, I might have felt some anxiety at having fallen under its spell so late in the game, and at the notion that there might not be much more time to enjoy this new discovery. Des Jardins, however, had set my mind completely at ease. Out of a mix of curiosity and self-interest, I'd asked the chef whether she imagined Jardinière would still be a part of San Francisco a decade from now.
"I have at lest 10 years left on my lease," she said without skipping a beat. "That's certainly my intention."
// Jardiniere, 300 Grove St. (Hayes Valley), jardiniere.com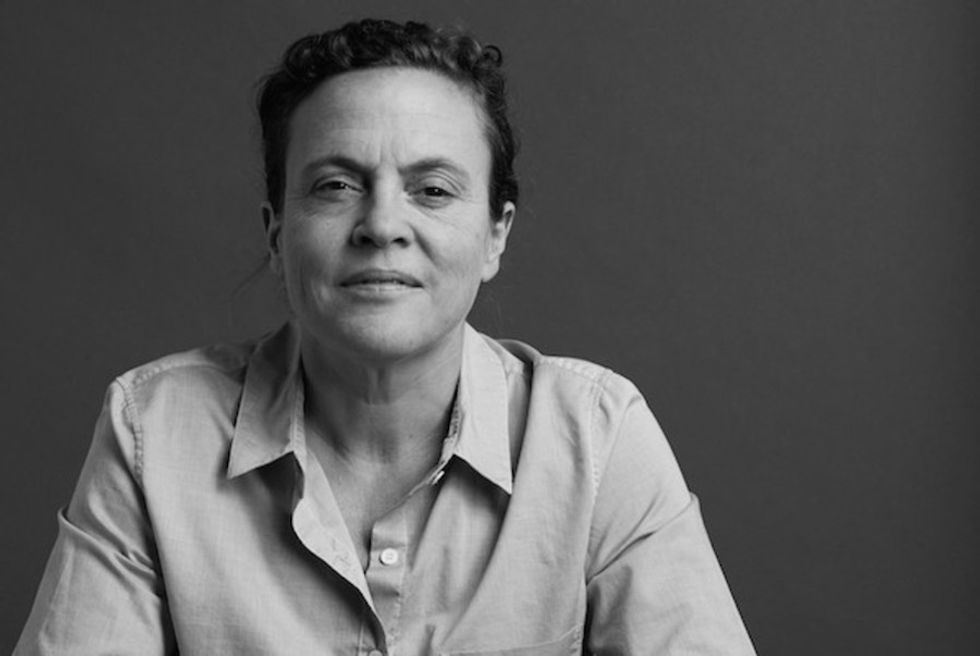 Chef/owner Traci Des Jardins, photographed for 7x7's December/January 2014 issue.