Tend to your tips and toes with our 2016 guide to the Bay Area's chicest and safest nail salons, best products, treatments and more. 
---
Bio-Sculpture Manicure @ Cosmo Spa Lounge
East Bay women testify to the miraculous powers of Cosmo's nail-saving bio-sculpture manicure, a semi-permanent gel restoration system that helps promote strong, healthy, natural nails. Plus, this is the best spot we've found for intricate nail art in the Bay Area. —Sarah Medina  //  Bio-Sculpture Manicure ($26) at Cosmo Spa Lounge, 259 12th St. (Oakland), cosmospalounge.com
Everyday Manicure @ All About Nails
While not exactly the most luxe manicure experience, All About Nails is the affordable go-to nail salon that every woman needs in her life. The family-owned salon on Oakland's Grand Avenue is staffed by friendly women who remember your name, listen to your woes, and will even order specific polish colors just for you—all while shaping your nails to perfection. —S.M.  //  Manicure ($25) at All About Nails, 3606 Grand Ave. (Oakland), yelp.com
Gel Mani @ Haight Street Nails
A community fave, we love this cute little nail salon on Haight Street. Stop in for an express mani or indulge in the full luxury treatment—owners Stacey and Kay will make you feel right at home. Their gel mani application is damn near perfect. —Anthony Rogers  //  Gel Mani ($50) at Haight Street Nails, 1795 Haight St. (Lower Haight), haightstnails.com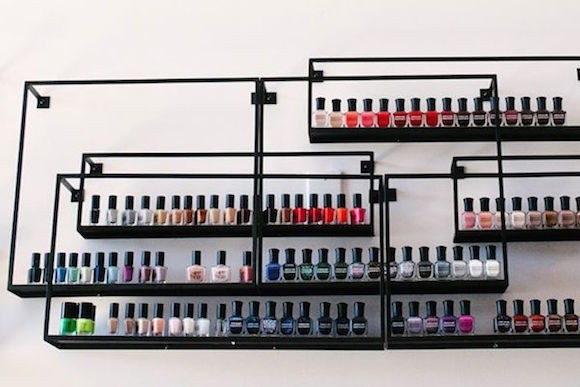 Best Polish Assortment @ LuxSF
The services at this cozy Hayes Valley salon are top-notch to be sure—those of us who love an outside-the-box mani will find plenty of glitter and sweet decals from which to choose. But LuxSF is positively unmatched for its selection of 3- and 5-free cult nail varnish brands (think Deborah Lippmann, RGB, Smith & Cult, and Treat Collections) in every shade imaginable. —Brock Keeling   //  Custom Manicure ($60) at LuxSF, 490 Hayes St. (Hayes Valley), luxsf.net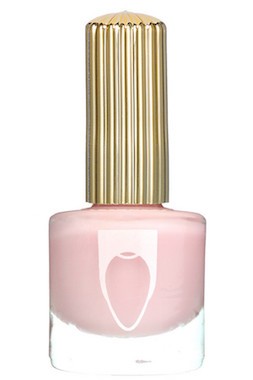 Baby Baby Nail Polish @ Floss Gloss
Oh baby oh baby, this gorg new 5-free hue from local vegan brand Floss Gloss has our knees knocking in all the right ways. In just the perfect shade of pink-y nude, this is a polish we'll purchase regularly. —A.R.  //  Baby Baby ($8) at Floss Gloss, flossgloss.com
Milk Soak Mani-Pedi @ Milk+
Known for its signature Milk Soak mani-pedi, Milk+ integrates the healing remedies of essential oils with soothing aromatherapy. Plus, the stylish spa offers complimentary tea and has an extensive collection of colors from OPI, Chanel, and Essie—all 5-free we might add.  //  Milk Soak Mani-Pedi ($25) at Milk +, 2500 Polk St. (Russian Hill), sfmilkplus.com
Hot Stone Manicure @ Mizu Spa
Sporting a modern atmosphere that literally turns heads from King Street, Mizu Spa is perfect spot to get pampered before an evening Giant's game. Add to the fun with circulation-boosting hot stones and hydrating oils. Pro tip: If your polish chips, head back in and get touched up for free. —A.R.  //  Hot Stone Manicure ($45) at Mizu Spa, 274 King St. (SoMa), mizuspasf.com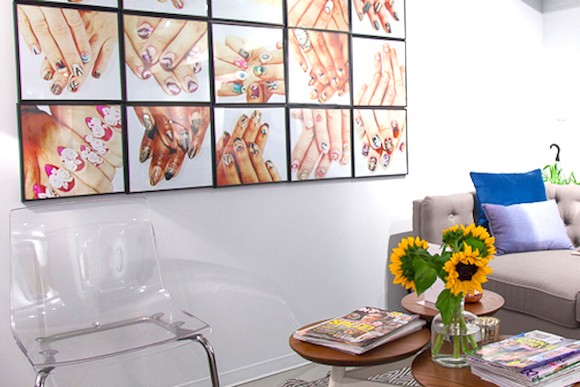 Nail Art @ Sparkle SF
At Sparkle, owner Mia Rubie and her team of experienced nail artists (and we mean artists) will take your nails on a hella magical journey. Whether you're down for Japanese 3D nails or a stylish French tip, let these ladies lead you down the rabbit hole. We're not sorry. —A.R.  //  Nail Art ($65 and up) at Sparkle SF, 1193A Valencia St. (Mission), sparklesanfrancisco.com
(New York Nail, photo via Yelp)
Safe services @ New York Nail
New York Nail owner Van Hoang is a recent poster child for the safe cosmetics movement—having advocated for the government regulation of personal products before Congress, she is also the the protagonist of the new documentary "Painted Nails," which looks at the effects of toxic chemicals in nail care produts. Hoang prides herself on carrying only 3-free varnishes, including the celeb-approved line Butter London. —A.R.  //  3483 Mission St. (Bernal Heights), 415-285-8679
ZaZa Signature Manicure @ ZaZa Nails
A hometown classic, ZaZa is our go-to for all things organic—the nail spa was recognized by the San Francisco Green Business Awards. Schedule the signature manicure and emerge the freshest girl on the block. We give it two painted thumbs up. —A.R.  //  Signature Manicure ($30) at ZaZa Nails, 543 2nd St. (SoMa), zazanailspa.com
Farm to Spa Nail Treatment @ Spa Hotel Healdsburg
Weekend R&R in Wine Country wouldn't be complete without a little chill time at the spa. Do yourself a solid and head to Spa Hotel Healdsburg, a small hideout tucked back by the private pool (ask for a day pass if you're not staying at HH). Go for the seasonal "farm to spa" nail treatment: This spring's Meyer lemon and sage mani/pedi comes with scrubs and potions made from locally sourced citrus, as well as a sublime hand and foot massage and perfect nail sculpting. This is one of the best nail treatments we've had yet. —Chloé Hennen  //  Meyer lemon and sage mani/pedi ($125 for 100 minutes), hotelhealdsburg.com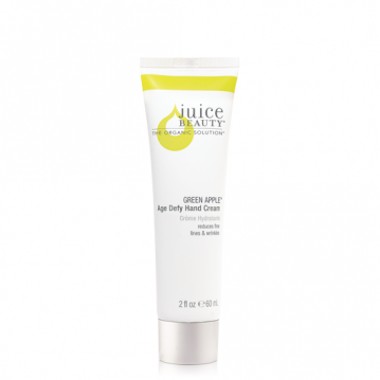 Age Defy Hand Cream @ Juice Beauty
You can have manicures till the cows come home, but if you don't take care of your hands on the daily, it's kind of moot point. Moisture is everything, but local brand Juice Beauty takes things further, infusing their hand cream with peptides, vitamin C, and malic acid from organic green apples, all with the aim of diminishing fine lines and sun spots. Come to think of it, sunscreen is the only missing ingredient here. Be sure to layer that on as well! —C.H.  //  Green Apple Age Defy Hand Cream ($12 for 2 fl. oz.) at Juice Beauty, juicebeauty.com
Stock up on our favorite local beauty products with this Guide to the Best Makeup, Cosmetics, Fragrances + More.