What could make sipping a delicious glass of wine in beautiful Napa County even better? Knowing that the wine isn't only good on your palate, but is also good for the Earth.
Luckily, that type of eco-friendly experience is easy to find in Napa, an area with a long history of treating the environment right. Fun fact: This May marks 50 years since the county became the nation's very first "agricultural preserve," which essentially paved the road (pun intended) for the area to remain as beautiful as it is today, rather than run over with development.
---
Thanks to that bold law, we still get to revel in our beloved Napa scenery, with its stunning rolling hills, picturesque meadows, and lush forests. Today, many of Napa's vintners remain not only committed to, but on the cutting-edge, of taking care of the land through sustainability initiatives. In fact, nearly one-quarter of the county's 500 wineries are now certified through Napa Green, an environmental certification program that recognizes vineyards for their environmentally savvy operations, from soil to bottle. To guide visitors wishing to support these sustainably minded wineries, the org has even compiled some sample wine tasting itineraries, each with three wineries and organized by region as well as theme (such as Art & Architecture and Bees & Bocce).
We've had the opportunity to explore several of Napa's greenest vineyards. Here are 10 of our favorites.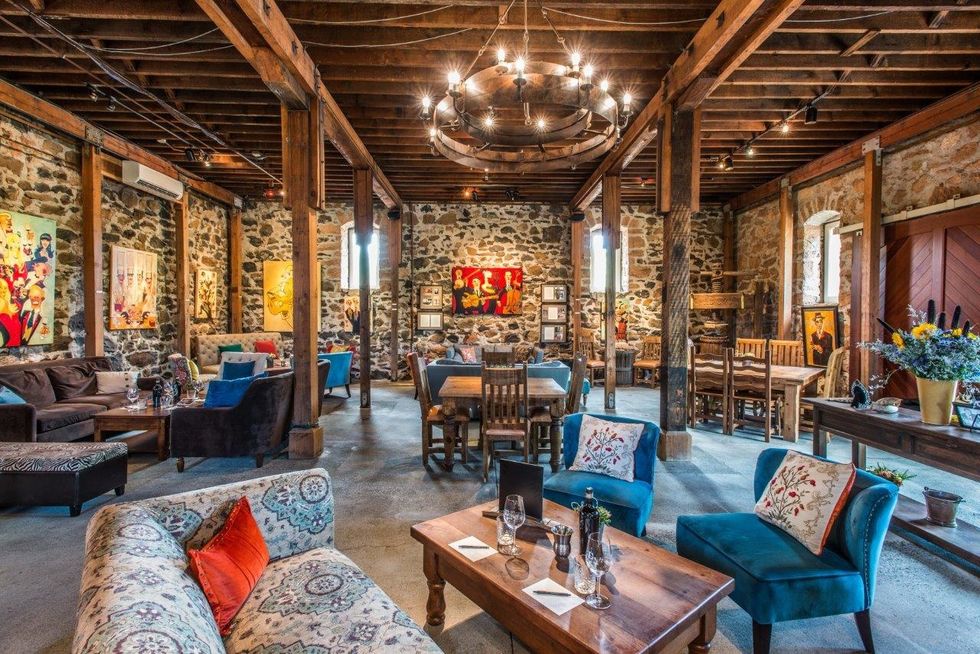 The stone barn winery, built in 1886. (Courtesy of Ehlers Estate)
Ehlers Estate
At this incredibly charming 42-acre vineyard in Saint Helena, sustainable and socially responsible practices permeate nearly every aspect of its operation. For starters, the vineyards are 100 percent organic—no small feat—and winemaker Kevin Morrisey is passionate about all of the work that goes into getting that certification throughout the estate, from the greenhouse to the chicken coops to the vines. He takes a holistic approach to farming according to the biodynamic teachings of Rudolf Steiner. As for the tasting experience, it's refreshingly chill for Napa, taking place inside an old stone barn built in 1886 and full of eclectic vintage furniture, a rotating art gallery, and a bocce court out back. Kick off a visit to Wine Country right by visiting this locale in the morning for the "Start Your Day" tasting, which includes a freshly baked Bouchon Bakery croissant and an intimate tour of the property for $50. // Tastings start at $35/person (appointments preferred); ehlersestate.com.
Cakebread Cellars
No doubt, Cakebread Cellars is a Napa institution, known for its delicious chardonnay, fantastic food and wine pairings, and, in general, providing excellent quality for your dollar. It's also a leader when it comes to sustainability, unafraid to take risks and new approaches. Conservation is so entrenched in the mindset here that the winery recently received a 2018 California Green Medal award in the business category for innovation and cost-saving sustainable methods. Employees here are even actively incentivized to come up with green ideas. Located between Oakville and Rutherford on Highway 29, Cakebread offers several tasting experiences, inside and out, as well lush gardens growing vegetables and herbs for use in the kitchen. // Tastings start at $25/person (appointments preferred); cakebread.com.
Phifer Pavitt Winery
Two words represent the gorgeous Phifer Pavitt winery: eco-chic. Located near the Silverado Trail just south of Calistoga, this winery is run by married couple Suzanne Phifer Pavitt and Shane Pavitt, who are committed to incorporating sustainability throughout the property from the ground up—literally. The tasting room is made from reclaimed materials including recycled blue jean insulation, and the vineyards are farmed using organic methods. The estate is known for its special "date night" wines—a play to the couple's history of making important life decisions, including purchasing the land for the winery in 1998, on their weekly date nights. Take one of their eco tours and/or tastings to better understand what makes this winery the 2017 winner of the Great Wine Capitals' Sustainable Wine Tourism award. // Tastings start at $50 per person, with a cheese pairing included (appointments preferred); phiferpavittwine.com.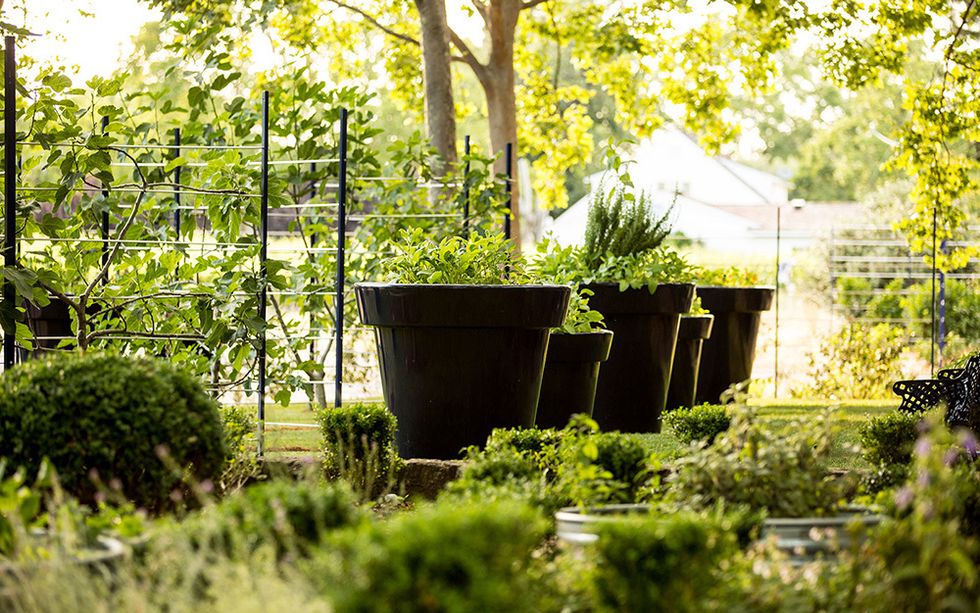 The culinary garden at St. Supery Estate.(Courtesy of St. Supery Estate)
St. Supéry Estate Vineyards & Winery

The first thing you'll notice when you arrive at the gorgeous St. Supéry Estate in Rutherford is the bountiful garden sprawling on the front lawn, used for demonstration purposes and interactive tasting experiences. It's a lovely first impression indicative of the winery's mission: growing wine, fruit, veggies, and more in a sustainable way. In recent years, St. Supéry has transitioned to using 100 percent reclaimed water and now secures about 80 percent of its power from solar energy. It's also managed to preserve two-thirds of its acreage to promote biodiversity. Known for its sauvignon blanc and cabernet sauvignon, the wines produced here are 100 percent estate grown—meaning they have total control over what goes into each bottle. We recommend booking the "veggies + vino" tasting, where you'll get to try a wine pairing with snacks crafted with ingredients from the culinary garden by estate chef Britney Maureze. // Tastings starting at $35/person/person (appointments preferred); stsupery.com.
Spottswoode Estate
This woman-run winery, located in the western section of St. Helena, was one of the first in the area to adapt organic practices way back in 1985 (later certified in 1992). Established pre-prohibition in 1882, Mary Weber Novak bought the 40-acre property in 1972, becoming one of the first women to run a major winemaking estate in Napa. Today, the vineyards are run by her two daughters—Beth Novak Milliken and Lindy Novak—who work with specialists to use biodynamic practices like composting, planting cover crops to enrich the valuable "alluvial"clay soil in this district, and incorporating the lunar calendar. Tastings are an intimate experience that give you an overview of their wines (Spottswoode is best known for its cabernet sauvignon), and you're likely to be welcomed by the property's "chief greeter," Peter the black lab. Oh, and if you happen to drive a Tesla, never fear: You can power up here. // Tastings starting at $75/person (appointments required); spottswoode.com.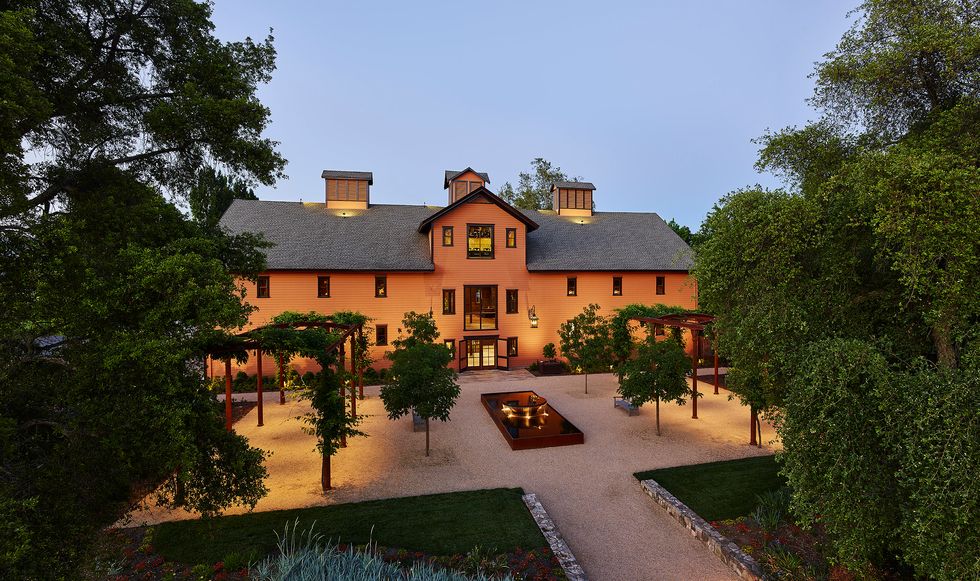 The three-story wooden winery at Trefethen, built in 1886.(Courtesy of Visit Napa Valley)
Trefethen Family Vineyards
History, conservation, and incredibly delicious wine all converge at Trefethen Family Vineyards, giving you a sense of both old-world Napa and modern farming techniques. The three-story wooden winery is a historic landmark, originally built in 1886—the building and surrounding land was purchased by the Trefethen family in the 1960s. Since that time, the wine has been 100 percent estate grown—meaning not a single grape has ever been purchased from another site. Today, the family's next generation, Loren and Hailey Trefethen, run the show, continuing their mission of being responsible stewards of the land. Methods include bringing in barn owl and bat boxes to provide natural pest control, using recycled wastewater to irrigate, and employing their vineyard workers year-round with comprehensive benefits. Oh, and they're fully solar powered. // Tastings starting at $25/person (appointments suggested); trefethen.com.
Cliff Lede Vineyards
Merging his love of art, winemaking, music and architecture, founder Cliff Lede created a truly unique addition to Napa with his namesake vineyards. Opened in 2002, the property—designed by Howard Backen (also responsible for the look of Pottery Barn and Restoration Hardware)—is set in a bucolic swath of the Stag's Leap district. The winery features various tasting areas, including a lush outdoor patio as well as a "backstage" tasting room that highlights Lede's affinity for rock n' roll, with a rotating music art exhibit and artifacts. The environment is another one of his passions—the winemaking philosophy here focuses on minimal intervention and sustainable approaches such as using organic fertilizer, recycling water for irrigation, and incorporating cave networks that store wine to reduce energy for cooling purposes. // Tastings start at $35/person (walk-ins welcome at the bar, reservations required for other experiences); cliffledevineyards.com.
Saintsbury
A hidden gem in Carneros just down the street from the Boon Fly Cafe, Saintsbury opened in the 1970s by co-founders Dick Ward and Dave Graves, who met at UC Davis. Visiting the winery is always a relaxing affair—sip chardonnay or pinot noir on the patio surrounded by flowers and incredible views. Plus, you'll likely get to toss a ball for one of the winery dogs or see bluebirds flocking into the boxes built specifically to encourage their presence for natural pest management. Also onsite: a 7,000 square foot solar array providing the majority of the property's energy. In addition to using using recycled water for vineyard irrigation and recycled materials for packaging, Saintsbury is also in the process of installing electric vehicle charging stations and incorporating BioFiltro, an innovative wastewater filtration system that repurpose waste streams into usable water. // Tastings start at $35/person (appointments required); saintsbury.com.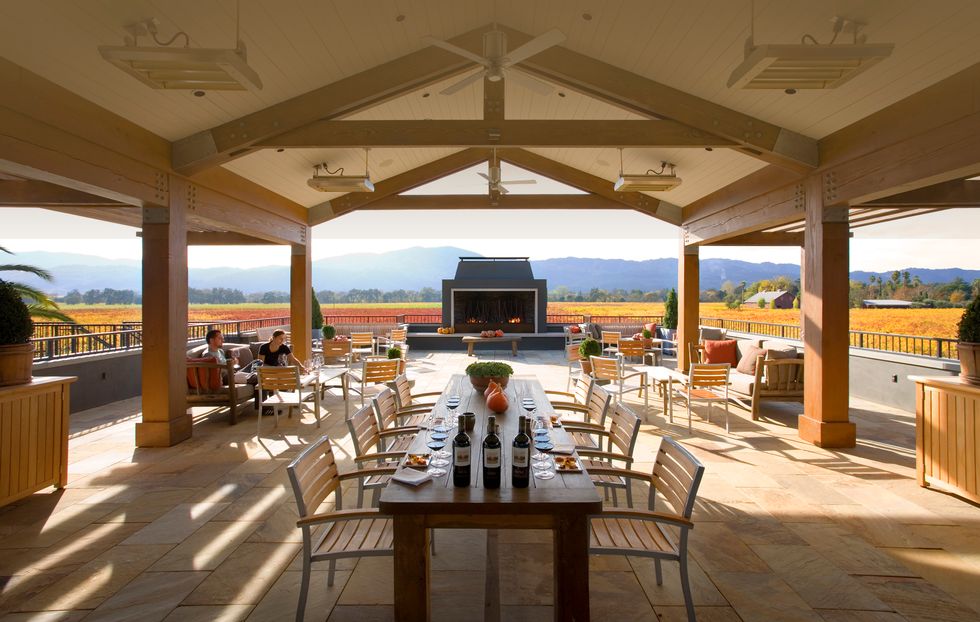 The patio at Round Pond Estate.(Courtesy of Visit Napa Valley)
Round Pond Estate
The entrance to this Rutherford winery, lined with towering palm trees, is as bold and beautiful as the rest of the estate. Round Pond's not only known for its cabernet sauvignon and sauvignon blanc, but its impressive culinary efforts—the estate crafts olive oils, vinegars, and citrus syrups from more than five acres of organic gardens and 12 acres of olive orchards (you can even visit their olive mills!). Farm-to-table and sustainable farming is a way of life here, recently catching the attention of Food & Wine, which named it one of the best winery restaurants in America. Book a lunch on the pretty garden patio surrounded by vines, or check out the weekly chef-led brunch, tasting, and tour held on Sundays (both splurges at $175). // Tastings start at $40/person (appointments suggested); roundpond.com.
Cade Estate Winery
As the first LEED Gold-certified winery in California, Cade Estate Winery was designed with eco-friendly approaches at its very core: The place was built with 98 percent recycled materials—concrete and steel, as well as blue-jean scraps for insulation—and employs modern, simplistic designs and earth colors to blend seamlessly into its surroundings, 1,800 feet up in the middle of the Oakville district. Fully solar-powered and farmed organically, Cade always imparts a bit of education about the winery's sustainability approaches during visits. Tastings are offered in a modern lounge, outdoor courtyard patio, winery terrace or inside the custom built cave. // Tastings are $80/person (appointments required); cadewinery.com.