Your guide to the tastiest foodie happenings going down this week. Bon appetit!
---
The Morris Opens

Seasoned sommelier Paul Einbund (Coi, Frances) and chef Gavin Schmidt (Fifth Floor, Coi) are opening The Morris next Monday, October 3rd, in the old Slow Club location. The restaurant will focus on California produce with a commitment to whole animal cooking; menu highlights include fried pork cracklins with honey and Aleppo, rout crudo with plum and radishes, and smoked Muscovy duck with pomme rosti. Yum. // Open daily, 2501 Mariposa St. (Mission), themorris-sf.com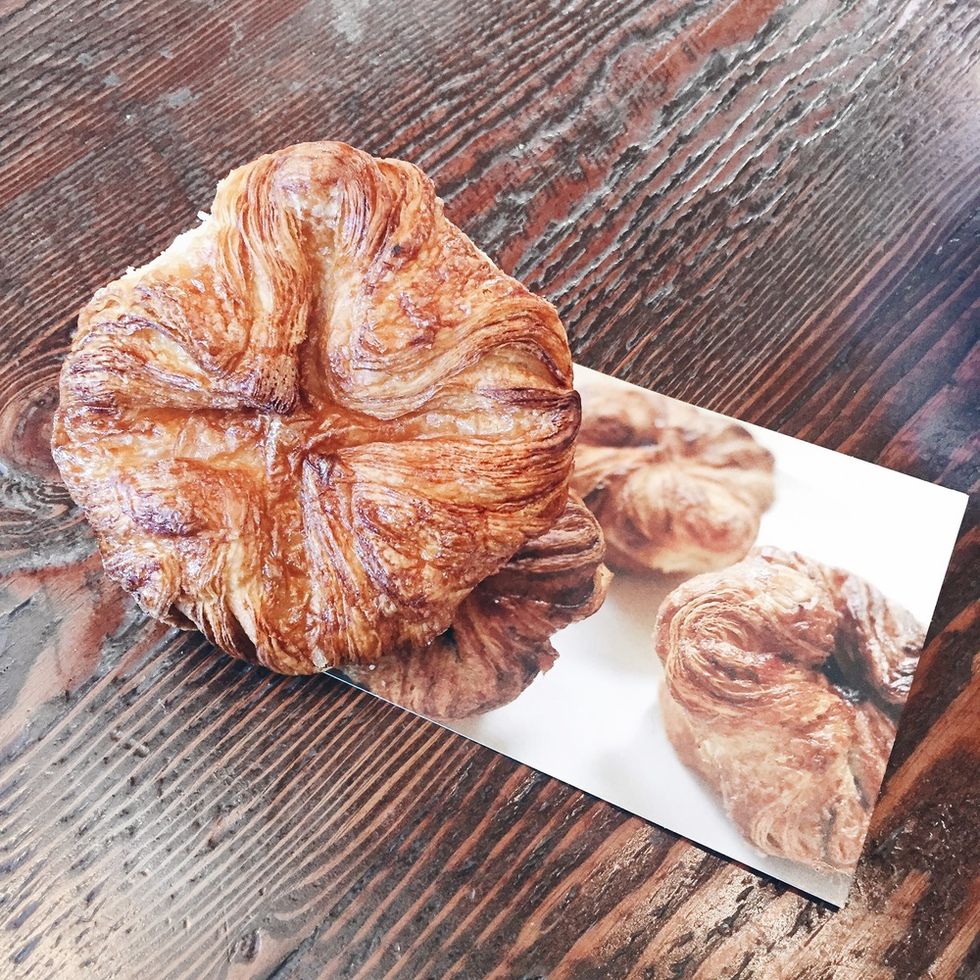 Kouig Amann at Le Marais Bakery.
Le Marais' to Open a Third Location in the Castro
The sweet empire is expanding with a third location in the former Samovar Tea Lounge space in the Castro set to open later this month. Fans of the French bakery can expect the traditional cafe fare such as croque monsieur and madams, boudin blanc, shakshouka, salads, sandwiches and more as well as a brunch menu and the full bakery line. New to the Castro location, though, is ice cream and more dinner-oriented dishes. In the meantime, you can satisfy your sweet tooth with the new fall line of pastries (we love the goat cheese + fig tart!) at the bakery's Marina and Ghirardelli Square locations. // 498 Sanchez St. (Castro), lemaraisbakery.com

Automat Pop-up at Woods Island Club

On Saturday, Woods Island Club welcomes chef Matt Kirk (former sous chef at Lazy Bear) and the Automat pop-up to Treasure Island for an Octoberfest-inspired menu. Think bagel-spiced ribs, fried Brussels "kraut" and grilled potato salad with bread and butter pickle dressing. // Saturday, Oct. 1, 12:30pm-6pm, 422 Clipper Cove Way (Treasure Island), theautomatrestaurant.com
EatGordaEat Puerto Rican Pop-up
First generation Puerto Rican and classically trained pastry chef Illyanna Maisonet is hosting a four-course pop-up every Sunday in October. The menu will include codfish fritters, empanadas with ground meat and olives, braised pork in tomato sauce, and more. // Sundays in October, 5pm-9pm, 4826 Mission St. (Mission), Get tickets here.
SQIRL X CAMINO

Chef Jessica Koslow of SQIRL in Los Angeles will be cooking dinner at Camino in Oakland in celebration of her upcoming book Everything I Want To Eat: Sqirl and The New California Cooking. Koslow has successfully made grain bowls a thing at her Silverlake hotspot, and now you can nosh on her Instagrammable dishes without leaving the Bay Area. She'll be signing books, followed by a family-style dinner cooked in the Camino fireplace. // $100, Thursday Oct. 6, 6pm-10pm, 3917 Grand Ave (Oakland), Get tickets here.