Only accessible by water, tube or bridge, the island of Alameda has managed to keep a quiet existence. In the 20 years since the shuttering of the defining Alameda Naval Air Station, the area has retained its small-town mystique while hosting a community of longtime denizens and young families, all of whom have carefully watched from across the water as surrounding locales boomed.
But now, Alameda's time warp elements—think vintage arcades and a World War II-era aircraft carrier museum—are being paired with more modern spots: a number of art galleries, craft breweries, and waterfront cafes dreamt up by islanders looking to help Alameda grow without selling the soul of the city. The area is also becoming a food-and-drink destination thanks to downtown restaurants serving authentic fare from as far away as Lithuania and Ethiopia, plus the solidified reputation of Spirits Alley, a popular stretch of former Navy hangars-turned-urban tasting rooms.
---
And with the long-awaited $500 million redevelopment project underway at the Navy base site, now known as Alameda Point (plus hotshot companies such as VF Outdoor and Google's Makani Power having settled in town), Alameda is continuing on its inevitable path to revitalization.

EAT
Trabocco Kitchen and Cocktails
After running a trattoria in his native Italy and establishing himself stateside with a 19-year career at Il Fornaio, chef Giuseppe Naccarelli set out to bring authentic Italian dining to his new coastal home of Alameda. Although tucked into a shopping center, Trabocco is transporting, with decor that evokes images of the Italian seaside while maintaining an urban flare thanks to the subway-tiled open kitchen, copper fireplace, and twinkling fishnet-inspired ceiling sculptures. The menu similarly reflects Naccarelli's background, offering wood-fired pizzas; stuzzichini (small plates); Abruzzo-style gnocchi; and a loaded seafood spaghetti. At the bar are 10 house cocktails featuring Alameda-made spirits, plus Trabocco-exclusive wine blends from Rock Wall Wine Company. // 2213 South Shore Center (Alameda), trabocco.com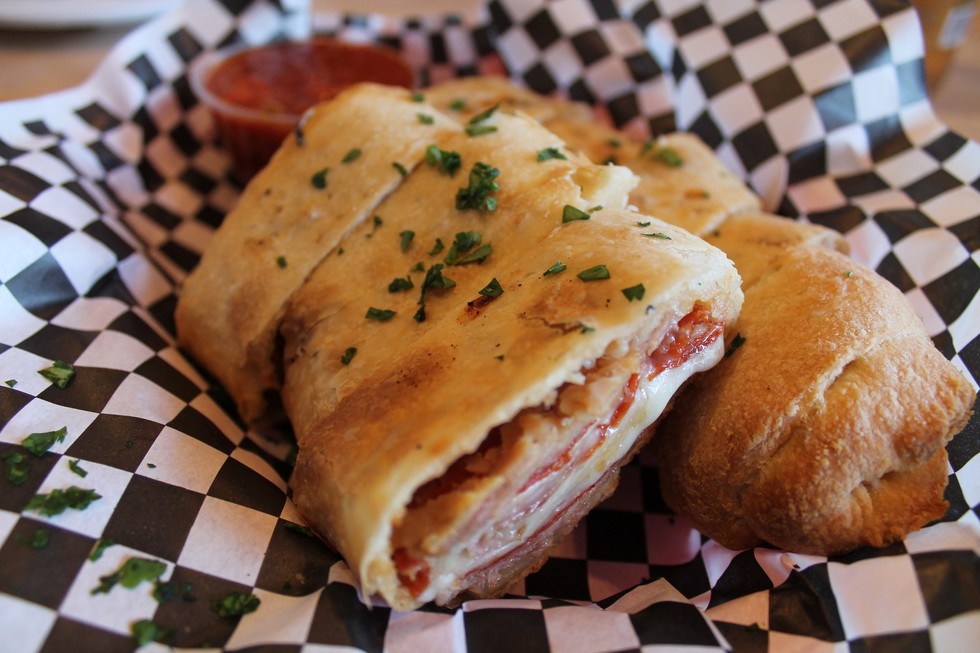 Courtesy of seasoningandsalt.net
Scolari's
Scolari's has become somewhat of an Alameda institution, thanks to its famously stacked cheeseburgers, loaded sandwiches, and rotating selection of inventive pizzas. Since opening their tiny but lively Park Street location in 2010 (where patrons can get their meals delivered to the Lucky 13 bar next door), owners Dan Nichols and Michael Boyd have continually expanded the eatery, adding Scolari's at the Point with Rock Wall and a traveling Airstream food truck. And now, the duo is shaking up the Park Street menu by introducing another satisfying comfort food: barbecue. Choose from pulled pork, brisket, and pork belly, each coupled with an andouille link. Or, pig out with the smorgasbord—a heaping pile of all four meats presented with two sides and cornbread. // 1303 Park St. and 2301 Monarch St. (Alameda), scolarisgoodeats.com
Yume Sushi
Dining at Yume is an experience—one that isn't easy to come by. This hidden eight-seater sushi bar is the toughest table in town, with only two daily seatings (at 5 and 7 p.m.) for a maximum of 16 guests per day. Sushi lovers have been known to show up around noon to snag a spot. But once you're in, you'll be treated to an intimate omakase-style meal of at least a dozen pieces of nigiri chosen by the chef and delicately prepared right in front of you. The exclusive sushi bar may be considered strict (there is a no-photography policy and a no-nonsense list of sushi etiquette rules posted at the door), but you can expect an authentic evening of incredibly fresh fish. // 1428 Park St. (Alameda), yelp.com
Injera
Expect colorful plates of meat and vegetable dishes such as doro wat (chicken stew) and tikil gomen (cabbage and potatoes) at this authentic Ethiopian eatery. Eritrean-born Alamedan Aron Haile runs the kitchen and named his restaurant after Ethiopia's national dish, a spongy, sourdough-risen flatbread. // 1305 Park St. (Alameda), injeraalameda.com
Burma Superstar
This Bay Area favorite is one of the smallest yet most popular restaurants on the island—put your name in early to snag a table for dinner. Fans live and die by the tea leaf and rainbow salads. // 1345 Park St. (Alameda), burmasuperstar.com/1345-park-st-alameda
Abigail's Moroccan Cuisine

The waterfront Abigail's is unassuming, set in an office complex with signage advertising the locale as a cafe and deli. This rings true for lunch when sandwiches are served, but come 6 p.m. on Fridays and Saturdays, the family-run venue transforms with the introduction of glitzy belly dancing performances and multi-course dinners. Try the Moroccan mint tea, but also go ahead and bring a bottle of whatever you're in the mood for—Abigail's has a sweet BYOB policy with no corkage fees. // 1132 Ballena Blvd. (Alameda), abigailsalameda.com
Pacific Lighthouse

The island's newest Cantonese restaurant serves up traditional dim sum, roasted pork belly, and a number of seafood dishes in a sweeping chandeliered dining room overlooking the docked vessels of Marina Village. // 1051 Pacific Marina (Alameda), pacificlighthouse88.com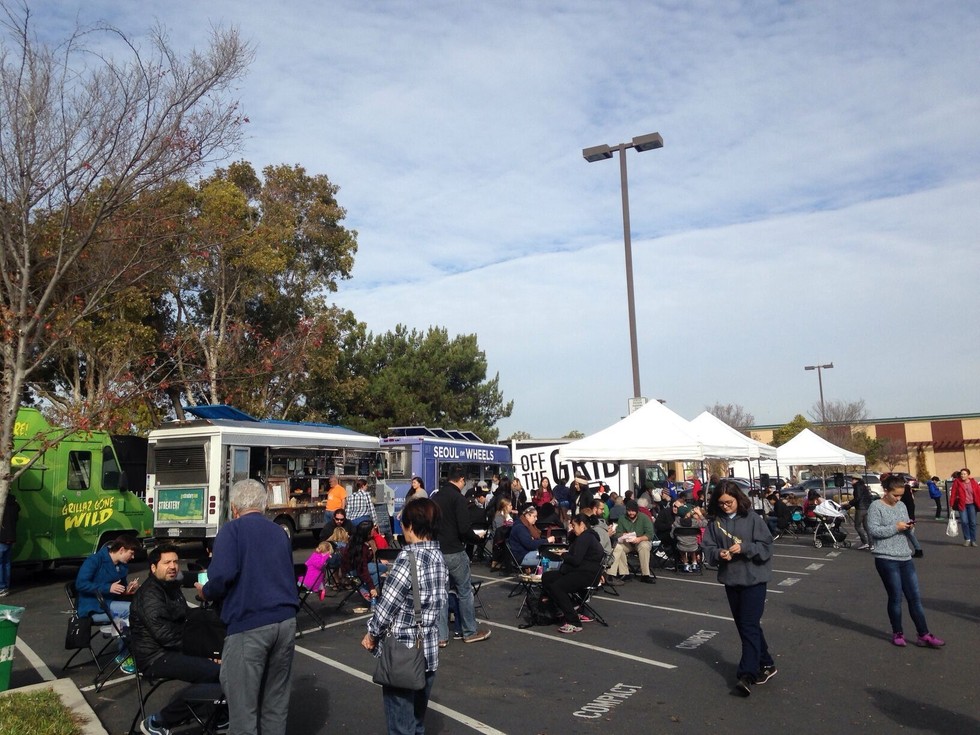 Off the Grid
You've got options at Off the Grid, where a fleet of rotating food trucks pulls up on Saturdays from 11a.m. to 3 p.m. Regulars such as Señor Sisig, Bombzies BBQ, and the Lobsta Truck are accompanied by live music, fold-up chairs, and plenty of parking. Bonus: The beach is only steps away. // 2310 South Shore Center (Alameda), offthegrid.com
Alameda Marketplace
The Alameda Marketplace draws foodies with its 10 specialty vendors offering everything from quality cuts at Baron's Meat & Poultry to made-from-scratch bread, cookies, and pastries at Feel Good Bakery. Stop in the corner brick building for dinner at East End (known for its wood-fired pizza and local oysters), or pick up the makings of a dinner party at Alameda Natural Grocery and Farmstead Cheeses and Wines. // 1650 Park St. (Alameda), alamedamarketplace.com
Poke Koma
The popularity of Hawaiian poke found its way to Park Street in October when this spot began serving customizable poke bowls with ahi tuna, octopus, and shrimp, plus a number of savory toppings. Also on the menu are the crowd-pleasing spam musubi and shaved ice. // 1354 Park St. (Alameda), poke-koma.com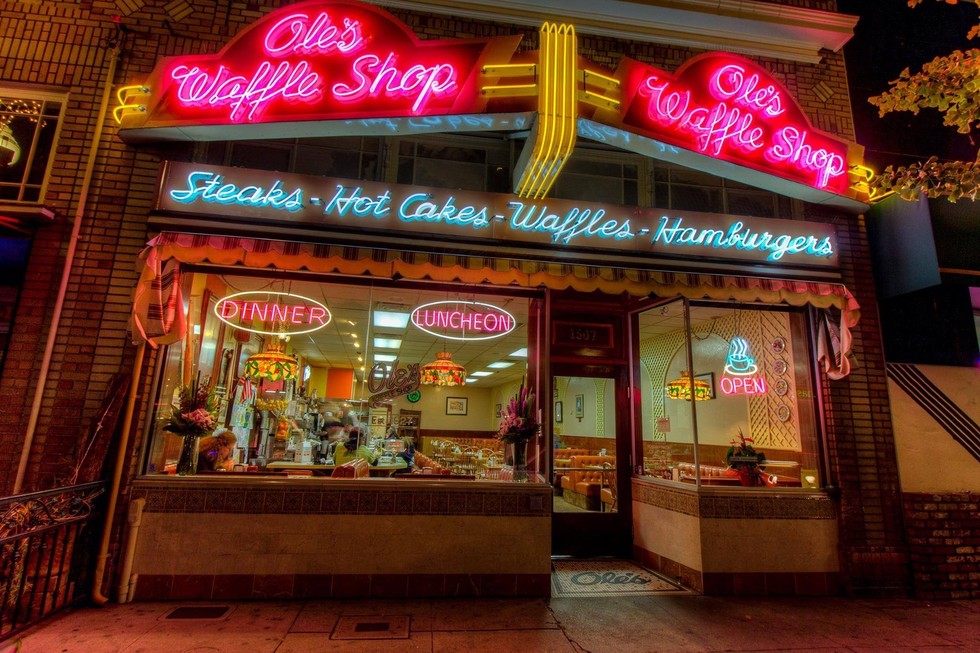 (Courtesy of Ole's Waffle Shop via Facebook)
Ole's Waffle Shop
A Park Street mainstay since 1927, Ole's draws patrons with its authentic retro feel and friendly wait staff. Grab a seat with the regulars at the bar to order a home-style breakfast or the signature waffles (you can also buy the mix at Dan's Fresh Produce around the corner). For date night, check out the diner's counterpart next door: Wine and Waffles. // 1507 Park St. (Alameda), facebook.com/oleswaffleshop
Hang Ten Boiler
Grab a bib—you're going to need it at Hang Ten Boiler, where Cajun, Asian, and Hawaiian flavors collide. Feast on Dungeness crab and crawfish, or go for Hawaiian barbecue with sides of lumpia and Cajun fries. For some spice, try the signature "Steph" curry sauce. // 2306A Encinal Ave. (Alameda), hangtenboiler.com
Mama Papa Lithuania Restaurant and Bakery
This rustic restaurant pairs Medieval-style tables, wrought-iron chandeliers, and a beer garden with authentic Old World dishes such as the electric pink summer borscht (a cold beet soup). For dessert, try the seven-layer honey cake—if you fall in love, you can buy a whole sheet at the bakery next door. // 1241 Park St. (Alameda), mamapapalithuania.com
American Oak
A destination for whiskey lovers, this upscale, saloon-style gastropub pairs a sophisticated menu of comfort food (think flat iron steak accompanied by grits and gravy) with an impressive selection of over 200 malt, rye, bourbon, and scotch labels from 150 distilleries. // 2319 Santa Clara Ave. (Alameda), americanoakalameda.com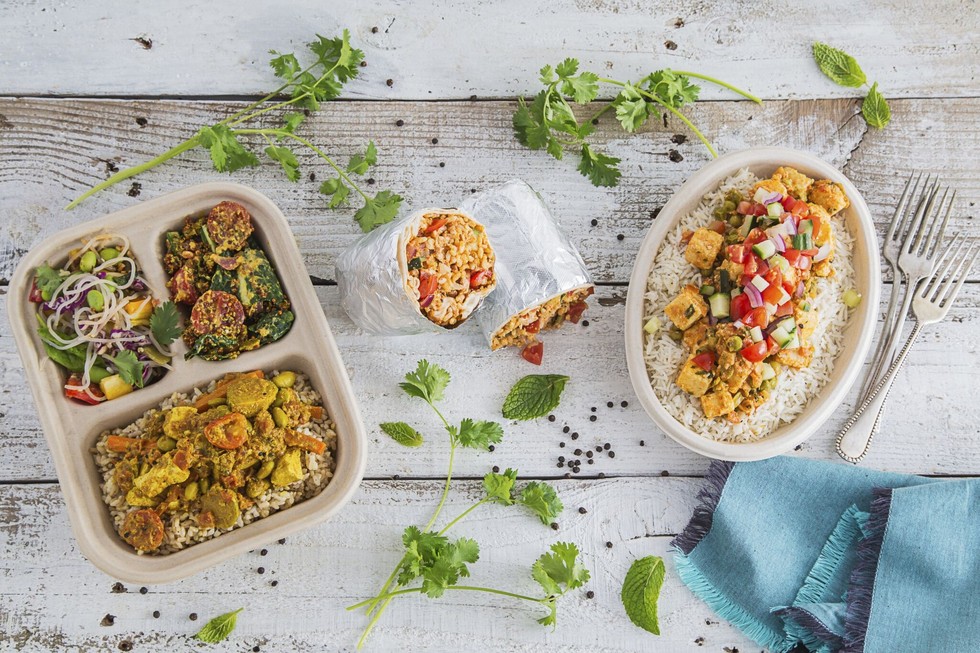 (Courtesy of Tava Kitchen)
Tava Kitchen
After finding success in SoMA and Palo Alto, Tava Kitchen's founders targeted the East Bay next, bringing South Asian fare to Alameda Landing in October. Customize your "burroti," plate or bowl with ingredients such as stir-fried noodles, Basmati rice, yellow curry chicken, Singapore shrimp, and spicy rendang beef. // 2640 5th St. (Alameda), tavakitchen.com
Q's Halal Chicken

Kabob lovers rave about the budget prices and big flavors at this unassuming Middle Eastern spot across the street from the Alameda Theatre. Favorites include the gyro salad, saucy halal wings, and heaping falafel plates. // 2306 Central Ave. (Alameda), qhalal.com
Cafe Jolie
This French eatery is frequented for its breakfast menu, sidewalk seating, and charming live jazz sessions. If you have trouble choosing between the 10 omelet options, go ahead and customize your own. // 1500 Webster St. (Alameda), cafejolies.com
Bowl'd BBQ
South Shore Center is the latest setting for the bibimbap rice bowls and Korean fried chicken from Bowl'd BBQ. Dine at a long bar in this large modern space, or opt for the patio. // 2201 South Shore Center (Alameda), bowldbbq.com/alameda
Pappo
This upscale bistro sets the mood with an intimate brick-and-wood interior, plus al fresco dining across the street from the Alameda Theater. Try the crostini and truffled burrata cheese plate to start, and choose from entrees such as the locally sourced pan-seared halibut or zucchini spaghetti. // 2320 Central Ave. (Alameda), papporestaurant.com
Dragon Rouge
Set on the Oakland Estuary, this spot draws both Alamedans and Oaklanders with outdoor patio views of the Park Street Bridge and Vietnamese staples. // 2337 Blanding Ave. (Alameda), dragonrougerestaurant.com
Cookiebar Creamery
It turns out Alameda is big enough for two wildly popular ice cream parlors—while 75-year-old Tucker's is an East End classic, Cookiebar dominates the West End with its ice cream cookie sandwiches. Standout flavors include purple ube and the 1606 (peppermint, cookies 'n cream chunks, and oreos), plus the new, Marshawn Lynch-approved Beastmode wild berry skittles flavor. // 1606 Webster St. (Alameda), cookiebarcreamery.com
West End Crepe
Pop into this creperie for a breakfast wrap on the back patio, or grab some freshly squeezed juice to go. Later in the day, favorites include the chicken pesto crepe and the dessert churro crepe. Check out the owner's Wescafe coffee shop down the street, also with a large patio. // 1536 Webster St. (Alameda), facebook.com/westendcrepe
DRINK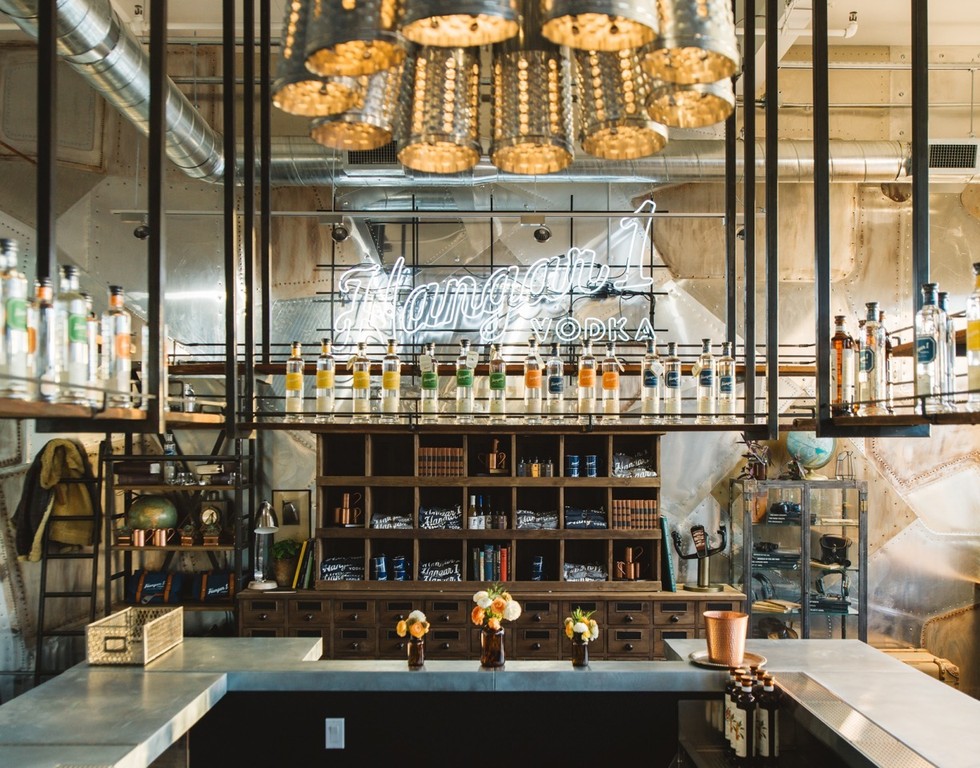 Hangar 1 Vodka
Hangar 1 grabbed headlines in May with its limited-edition Fog Point vodka, made with Karl the Fog himself, and now the distillery is drawing more attention thanks to its new tasting room and visitors' center. Discover all that goes into distilling on a tour of the 60,000-square-foot facility, then head to a vintage-inspired, foliage-filled tasting room to sample six vodkas, including Buddha's hand citron and perhaps one of the small-batch exclusives crafted by head distiller Caley Shoemaker in her workshop. Light streams in through the giant hangar windows of the new space, which pays homage to Alameda's history as a naval air station with aviation-themed details and a giant blue model propeller plane. // 2505 Monarch St. (Alameda), hangarone.com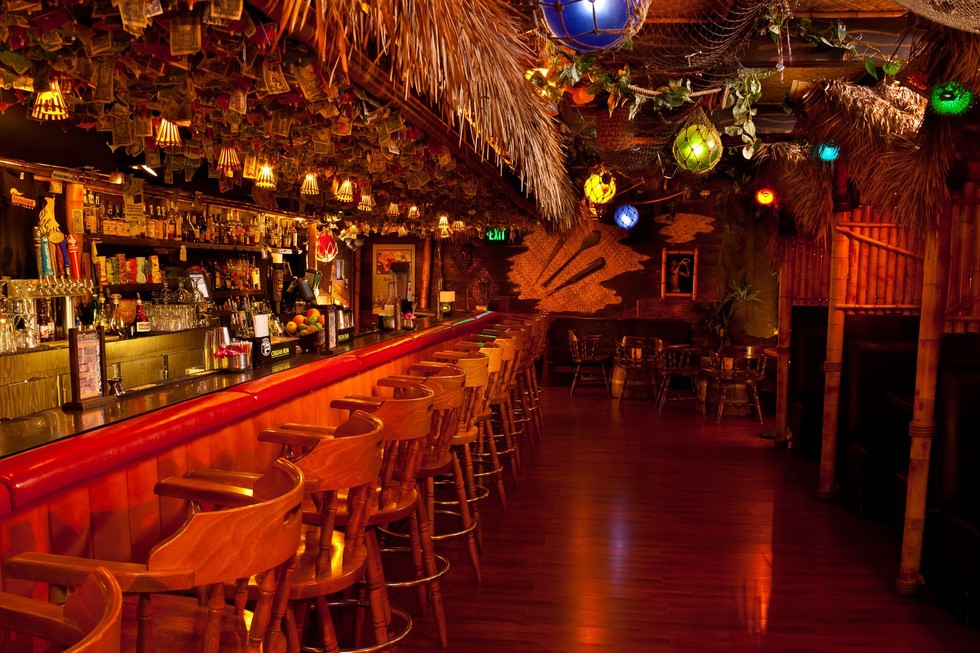 Forbidden Island
You'll find what may be the liveliest Friday night out in town at Forbidden Island. This tiki bar is the real deal—top-notch tropical cocktails made with fresh-squeezed juice, some 150 rums, and veteran ownership in brothers Michael and Mano Thanos. Sidle up to the bar to order a mai tai beneath the thatched, dollar bill-covered ceiling, or opt for the dog-friendly patio, where rum lovers join huge carved tiki gods. The jukebox plays vintage surf songs while the menu features flaming bowls of rum and spices, the vodka-infused macadamia nut chi chi, and the signature grog, served in a take-home tiki mug. Afterall, Alameda is an island. //1304 Lincoln Ave. (Alameda), forbiddenislandalameda.com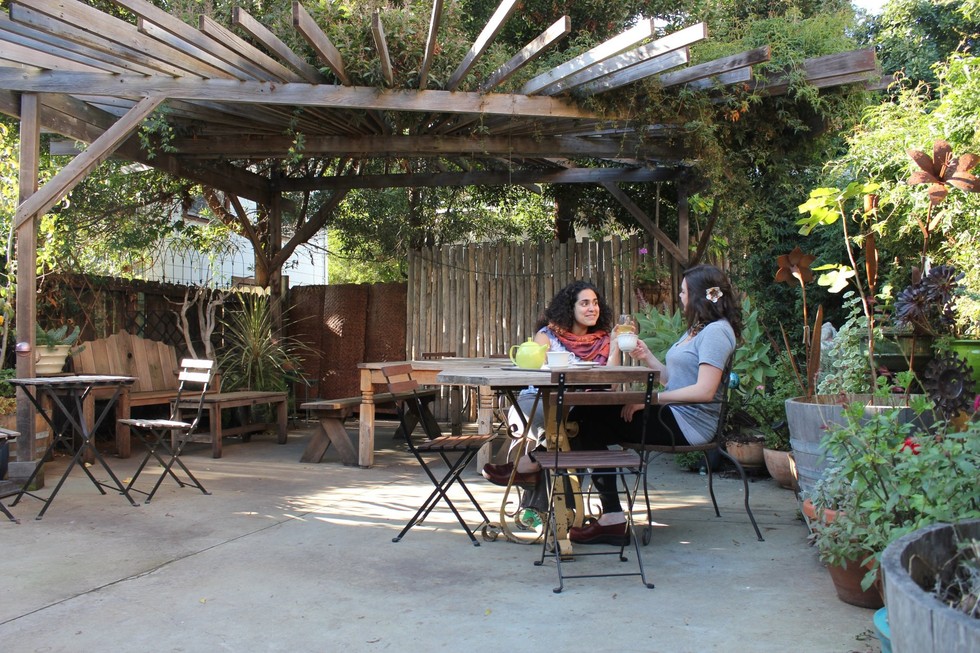 Julie's Coffee and Tea Garden
An East End favorite, Julie's is known for its organic coffee, loose-leaf tea, and iced herbal drinks, all served either indoors among rotating local art or out back in the garden, where wooden tables are surrounded by foliage and patio accents available for purchase. Owners Julie and Joel Baron reaffirmed the cafe's focus on community late last year when they implemented WiFi- and laptop-free hours (weekends from 8 a.m. to 2 p.m.) in an effort to get patrons to take time away from technology and talk to one another over their lattes. Now, they're planting a new seed in Oakland—look out for a Temescal location with a new menu in early 2017. // 1223 Park St. (Alameda), juliestea.com
Faction Brewing
"Come for the beer, stay for the view." Faction's slogan rings true, with 20+ original brews to choose from and a spacious front patio where crowds often spill out to see the stellar San Francisco skyline. Gather a group for a day at this repurposed airplane hangar, where wacky murals dominate the interior and the tasting room stays busy serving pints and flights (locals love the island-exclusive A-Town pale ale). // 2501 Monarch St. (Alameda), factionbrewing.com
Mosley's Cafe
Hard to find on foot but impossible to miss by water, this one-of-a-kind dockside cafe opened in 2015 as a welcome addition to the Grand Marina, serving Oakland's Bicycle coffee and house-made pastries. The six-seater waterfront bar faces Coast Guard Island across the way—snag a stool and watch the boats glide by. // 2099 Grand St. (Alameda), mosleyscafe.com
Rock Wall Wine Company
Father-daughter duo Kent and Shauna Rosenblum are heavy hitters in the Bay Area winemaking scene, with Shauna having grown up alongside Rosenblum Cellars, the winery Kent ran until 2008. Today, the two operate Rock Wall in a converted airplane hangar with Shauna as head winemaker. Stop in for samples in the tasting room or a glass on the back deck, where views stretch across the bay to the city. // 2301 Monarch St. (Alameda), rockwallwines.com
St. George Spirits
Long before Monarch Street was christened Spirits Alley, St. George stood alone as the sole liquor producer at Alameda Point—the distillery has been crafting whiskey, gin, brandy, and the like in Alameda since 2002. Tour the sprawling industrial space to get a behind-the-scenes look at the old-timey copper pot stills, or book time at the tasting room to sample six St. George classics, such as the California citrus vodka and absinthe verde. St. George celebrates its 35th anniversary in 2017. // 2601 Monarch St. (Alameda), stgeorgespirits.com
Alameda Island Brewing Company
With brews like Island City IPA and the Doolittle in the tasting room and all over town, Alameda Island Brewing Company is the epitome of a local establishment. Brewer Matthew Fox opened AIBC in 2015 after being stationed in town with the Coast Guard, and the site has since grown to include the new Monkey King at the Brewery, a food counter that opens out onto the patio and serves nine kinds of chicken wings. // 1716 Park St. (Alameda), alamedaislandbrewingcompany.com
Building 43 Winery
Husband-and-wife team Tod Hickman and Meredith Coghlan create carefully crafted varietals using California grapes and offer $10 tastings, karaoke nights, and live music at their dog-friendly urban winery. // 2440 Monarch St. (Alameda), building43winery.com
Lucky 13
The East Bay counterpart to the historic Lucky 13 across the bay, this corner bar ensures the same no-frills experience. The cash-only dive prides itself on its beer selection and jukebox choices, while patrons also appreciate the pool table, Skee ball table, and pinball machines. You can order a pint at the bar or on the patio, and if you're feeling bold after a few rounds, Lucky 13 Tattoos is upstairs (and open until 9 p.m.). // 1301 Park St. (Alameda), lucky13alameda.com
Speisekammer
Say prost at this German bar and restaurant, where specialty beers from historic German breweries dominate the drink menu and cuckoo clocks accompany Bavarian flags on the walls. Live music often adds to the jovial atmosphere, but come fall, revelers crowd into the front beer garden for one of the Bay Area's most festive Oktoberfest celebrations. // 2424 Lincoln Ave. (Alameda), speisekammer.com
Swell Bar
Local spirits, dart tournaments, and weekend rockabilly DJs are on the bill at this nautical-themed midtown dive. // 1539 Lincoln Ave. (Alameda), swellbaralameda.wordpress.com
The Hobnob
Pull up a stool at The Hobnob, where owner Amy Voisenat draws on her experience as chef at San Francisco's Catch to produce American small plates, craft cocktails, and a mean brunch. By day, you can nosh on truffle fries over a Connect Four battle, and on Thursday nights, it's best to grab a drink before stepping up for karaoke. // 1313 Park St. (Alameda), thehobnobalameda.com
Fireside Lounge
Gather your buds for a night at this welcoming West End watering hole, originally opened in 1942 and equipped with a cozy fireplace (of course). Here, entertainment comes in the form of local performers and open mic nights, while happy hour means $1 off all drafts and half off all Alameda-made liquor. // 1453 Webster St. (Alameda), thefiresidelounge.com
Alameda Wine Co.
Swing into this jazz-themed wine bar to sample a number of varietals, an experience easily coupled with a movie at the Alameda Theatre next door. In addition to cheese plates and select specialty beers, the shop stocks some 250 wine bottles—buy one to bring home or crack it open at the bar. // 2315 Central Ave. (Alameda), alamedawineco.com
Teazzert
Expect freshly brewed Barefoot coffee, an array of teas, and trendy desserts such as shaved snow and macaron ice cream sandwiches at this Park Street cafe, popular among students who cluster under the massive mountain mural for late-night treats. // 1342 Park St. (Alameda), teazzert.com


PLAY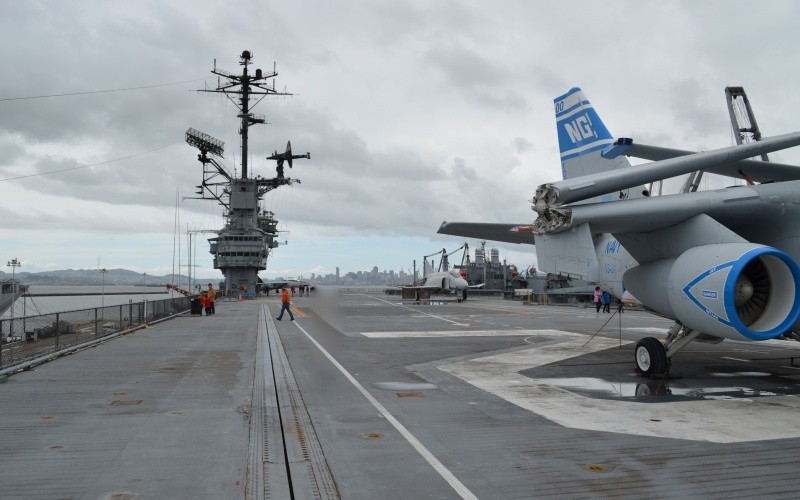 USS Hornet Museum
Before docking for good as a floating museum, the USS Hornet aircraft carrier saw a lot of action—in addition to serving in World War II and the Korean and Vietnam wars, the ship recovered the astronauts from the United States' first two lunar landings after their splashdowns back to earth in 1969. Step aboard this national historic landmark to wander exhibits covering everything from the moon missions to the sailors' bunks. On the hangar and flight decks, you'll find a number of retired aircraft from the 1940s through the '80s, including the U.S. Navy's first supersonic jet fighter, a World War II torpedo bomber, and an SH-3 Sea King, the amphibious helicopter used in anti-submarine warfare. // 707 W. Hornet Ave. (Alameda), uss-hornet.org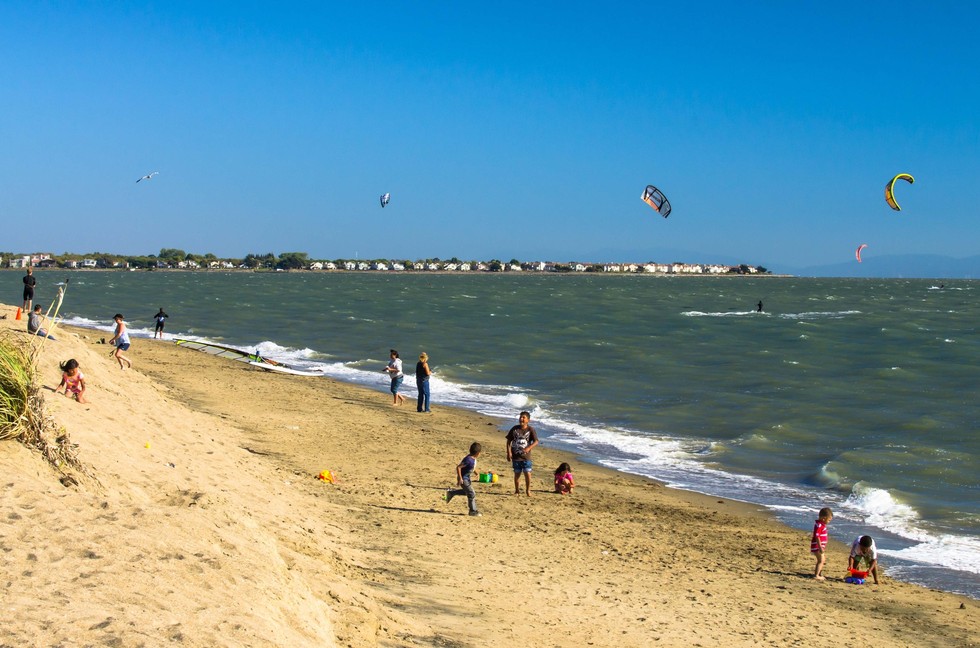 Crown Memorial State Beach
While you've been freezing at Ocean Beach, East Bayers spend their sunny days laid out at Crown Beach, a 2.5-mile stretch of sand on Alameda. Once known as the Coney Island of West for its now-long-gone Neptune Beach amusement park, the protected area now draws visitors with its relatively warm waters, shoreline bike trail, and the family friendly Crab Cove Visitors Center, where kids can explore interactive exhibits and an aquarium. The waterfront is also a hot spot for windsurfers and kiteboarders—you can get in on the action with lessons or rentals at the Boardsports shack. // Eighth Street and Otis Drive (Alameda), ebparks.org/parks/crown_beach
Pacific Pinball Museum
To the delight of pinheads everywhere, the Pacific Pinball Museum features upwards of 100 fully restored machines all set for free play; find your favorite, whether it's the 1992 Addams Family game, the display-only parlor bagatelle from 1871, or the hulking 1979 Atari Hercules with its eight-foot-long playfield. The interactive museum also goes beyond the fun and games by blending history, science, and art with tours and classes open to budding pinball wizards, plus three art galleries. While the nonprofit owns an additional 1,300 machines that simply don't fit in the small space, plans are in place to restore the city's 1902 Carnegie Library as the PPM's new home. // 1510 Webster St. (Alameda), pacificpinball.org
Alameda Theatre & Cineplex
Adding to the Bay Area's list of restored movie palaces, this 1932 Art Deco theater reopened in 2008, nearly 30 years after the curtains last closed. Today the cineplex draws moviegoers with its historic neon facade, ornate lobby, and unique dining options—fill up at the Cinema Grill next door, order beer and wine at the snack bar, or have preordered food delivered to your reserved theater seats. // 2317 Central Ave. (Alameda), alamedatheatres.com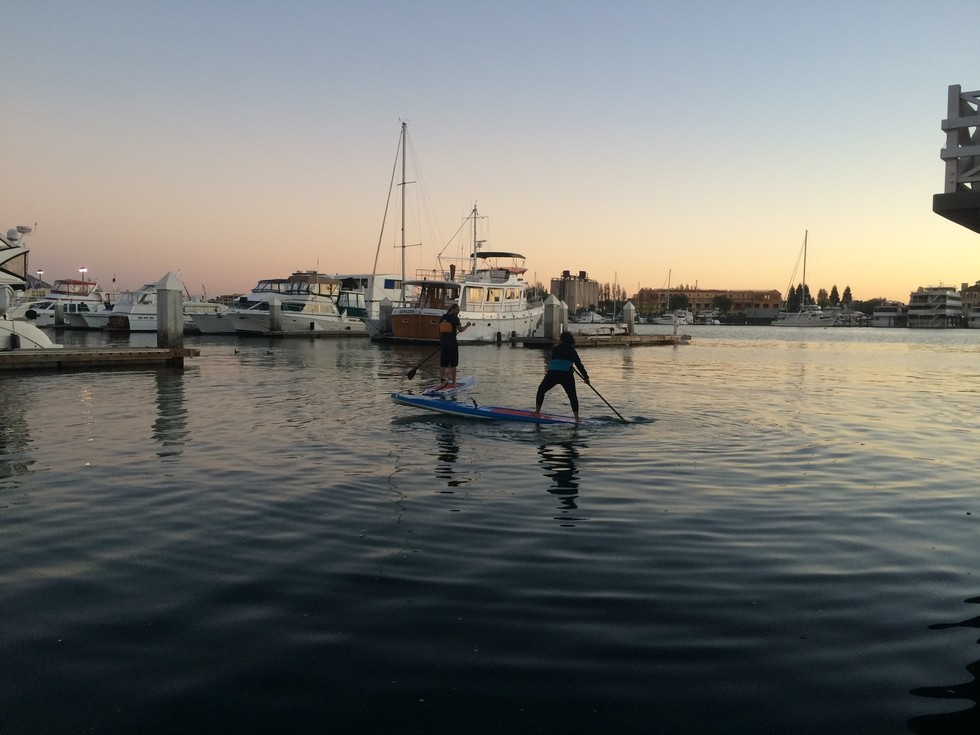 Courtesy of Mike's Paddle
Mike's Paddle
See the San Francisco skyline from a new point of view on a standup paddle boarding session with Mike Wang, who teaches beginner lessons, offers SUP yoga, and hosts monthly paddles around the Ballena Isle Marina and out to spots such as Rock Wall Wine Company, Mosley's Cafe, and even Treasure Island. // 1150 Ballena Blvd. #121, (Alameda), mikespaddle.com
Alameda Farmers' Market
This small market runs year-round on Tuesdays and Thursdays from 9 a.m. to 1 p.m. In addition to produce from around the Bay Area and Central Valley, you'll find baked goods, local honey, fresh flowers, and even buskers. Window shop on Webster Street once you've grabbed your goods. // 700 Haight Ave. (Alameda), facebook.com/alamedafarmersmarket
Chuck Corica Golf Complex
Thanks to recent renovations, this complex is becoming a major player among East Bay courses. Bordering Oakland International Airport on Bay Farm Island, the facility features three PGA courses, a remodeled practice range, and a satellite location of Jim's Coffee Shop, the Park Street classic. Come fall 2017, the 18-hole Jack Clark South Course will reopen following a redesign by noted golf architect Rees Jones. // 1 Clubhouse Memorial Rd. (Alameda), alamedagolf.com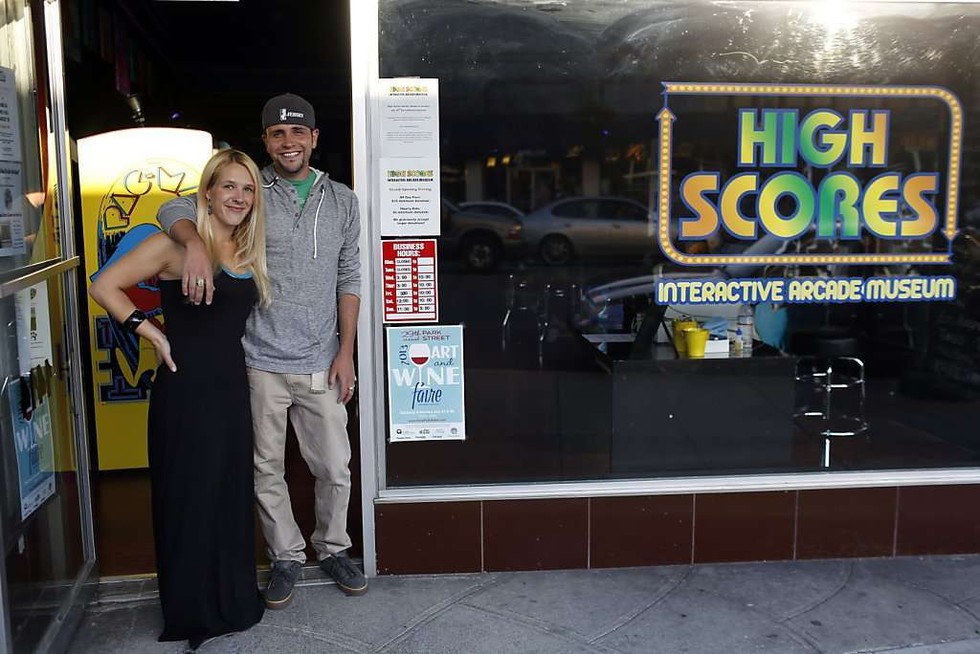 High Scores Arcade
Level up at High Scores, where $5 gets you an hour of free play on dozens of classic arcade games, Donkey Kong and Galaga included. The shoebox-sized space is all about play—no bar, no TVs, no WiFi—just the likes of Pac-Man and a jukebox. Should anyone need further proof that vintage video games are still popular, husband-and-wife team Shawn and Meg Livernoche just opened a second location in Hayward. // 1414 Park St. (Alameda), highscoresarcade.com
Rhythmix Cultural Works
Occupying a converted brick warehouse near the Park Street Bridge, this artist-run nonprofit hosts theater, dance, and musical performances, while running workshops covering Cuban salsa, Taiko drumming, and improv. // 2513 Blanding Ave. (Alameda), rhythmix.org
Subpar Miniature Golf
Should you wish to golf your way around the bay, this is your spot. Take on the 18-hole indoor course, sending your ball on a tour of NorCal, through the Port of Oakland, down Lombard Street, and even over the Golden Gate up to Napa. Subpar also presents a slot car track and weekend glow-in-the-dark golf. // 1511 Park St. (Alameda), subparminigolf.com
2nd Friday Art Walk

For this monthly art walk, nearly two dozen creative spaces on either side of the Park Street Bridge unite to showcase artistry in Alameda and Oakland's Jingletown. Make your way down Park Street between 6 and 9 p.m. to catch open studios at Autobody Fine Art, Starbaby Studio, Artistic Home Studio, and Studio 23. // Various galleries and studios (Alameda and Oakland), fridayartwalk.com
Kayaking with Stacked Adventures
Getting out on the water is the best way to remind yourself that Alameda is, in fact, an island. Stacked Adventures leads kayaking excursions, workshops, and family tours around the bay, and on Dec. 3, you can join an estuary kayaking session to get a front-row seat to the famous Oakland-Alameda Lighted Yacht Parade. // 190 Central Ave. (Alameda), stackedadventures.com
SHOP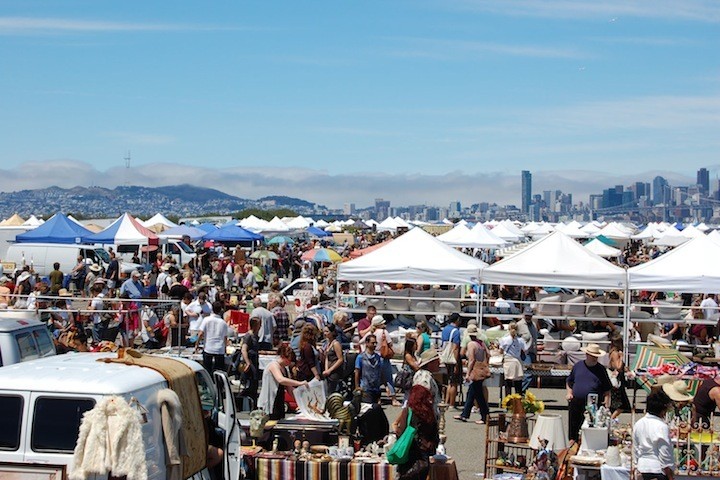 Courtesy of Alameda Point Antiques Faire
Alameda Point Antiques Faire
When it comes to antiquing in the Bay Area, the Alameda Point Antiques Faire is a utopia of 800 booths selling vintage wares— you may just find the Holy Grail while you're here. The massive event is frequently included in roundups of the country's best flea markets, and some 10,000 shoppers from around Northern California reinforce its status every first Sunday by arriving bright and early to get first dibs. From Persian rugs and 1910-era buckled trunks to rows of vintage door knobs, every item for sale is at least 20 years old, ensuring the authenticity of your bragging rights. // 2900 Navy Way (Alameda), alamedapointantiquesfaire.com
Rocket Reuse
Though mostly devoted to used books, this cozy thrift shop also makes room for vinyl records, DVDs, CDs, and even VHS tapes sold for pennies on the dollar. Items in the red rocket display are deeply discounted, and you can try on vintage threads in the phone-booth-turned-dressing-room. For newer reads, cross the street to Books Inc. // 1355 Park St. (Alameda), yelp.com
Therapy
The Alameda outpost of this Bay Area chain stocks an eclectic mix of funky furniture, hipster home goods, and quirky gifts that range from coffee tables to flasks and kitchen tools with snarky messaging. And if you're ever in the market for a pillow emblazoned with an image of a cat, Therapy is your store. // 1428 Park St. (Alameda), shopattherapy.com
Pippa & Co.
This is the party store of your Instagram dreams—think technicolor decorations, whimsy favors, and paper goods. Make your way past the pastel party hats and cake slice piñatas to the balloon bar, where drawers are stuffed with metallic silver stars, emoji faces, and jumbo 36-inch balloons in a rainbow of colors, all ready to be blown up. The party continues with kids' photo sessions and calligraphy workshops. // 2544 Santa Clara Ave. (Alameda), pippaco.com
Modern Mouse
Modern Mouse exclusively carries handmade home goods and gifts made by independent artists and small-scale crafters from around the Bay Area and beyond. // 2223 South Shore Center (Alameda), modernmousegifts.com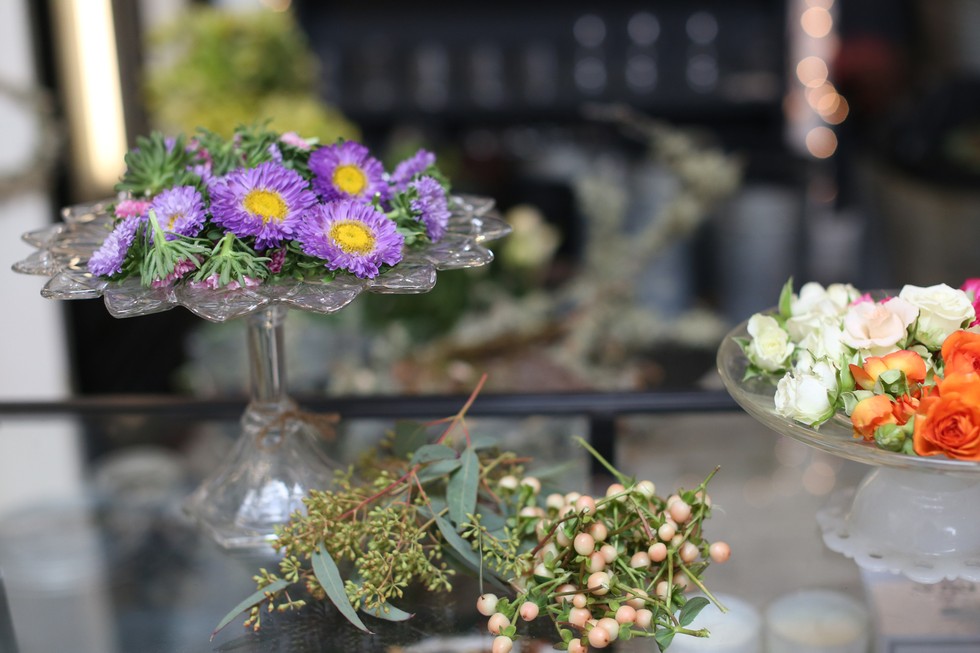 Courtesy of Dandelion Flowers and Gifts
Dandelion Flowers and Gifts
Tucked away in the Park Street Plaza, Dandelion beckons passersby with a sidewalk tin bin of $5 mini bouquets. Further inside, the full-service flower boutique sells vibrant arrangements of seasonal blooms from Half Moon Bay and Petaluma. You'll also find handpicked baubles and trinkets, plus a tiny bowl of free poems. // 1419 Park St. (Alameda), dandelionflowershop.com
PRSTG
With hundreds of collectible kicks, PRSTG is a must-see for any sneakerhead looking to buy, sell, or trade. Floor-to-ceiling shelves are lined with rare pairs of Nikes, Air Jordans, and Adidas. // 1201 Lincoln Ave. (Alameda), prstgshop.com
Juniper Tree Vintage
Treasure hunters love Juniper Tree for its carefully curated stock of retro threads from as far back as the 1930s. Gems at this chandeliered thrift shop have included Pendleton flannels and rockabilly sweaters, plus an array of 1950s swing dresses and swimsuits. // 1506 Webster St. (Alameda) facebook.com/junipertreevintage
Alameda Sports Cards & Comics
Scour the well-stocked shelves at this neighborhood shop, open since 1986, for trading cards, action figures, vintage superhero comics, and new graphic novels. // 1515 Webster St. (Alameda), yelp.com
Tot Tank
A one-stop shop for all things kids, family-owned Tot Tank has been a Park Street staple for moms and dads since 2009. Personal shoppers and free car seat installations are among the extra touches that give this storefront an edge. // 1413 Park St. (Alameda), tottank.com
Daisy's on Park
In tribute to The Great Gatsby's Daisy Buchanan, owner Barbara Mooney stocks her gift shop with a mix of pretty little things for the kitchen, bedroom, and bathroom. Don't miss the rows of greeting cards, ribbon spools, and washi tape on the crafting wall. // 1347 Park St. (Alameda), daisysmercantile.com
Vintiq
Set in an historic building outfitted with a vintage neon facade advertising the site as a flower shop, Vintiq presents a hodgepodge of nostalgia-inducing cameras, typewriters, vinyl records, and midcentury modern furniture. You won't find flowers, but the assortment of goods spills out into the former greenhouse next door. // 2305 Santa Clara Ave. (Alameda), vintiqstore.com