By
Resident style mavens are pretty proud of the thoughtful indie and organic offerings produced here, beyond designer boutiques, ego tees, and fancy hair products. Here we present the best of what came to the sartorial surface this year.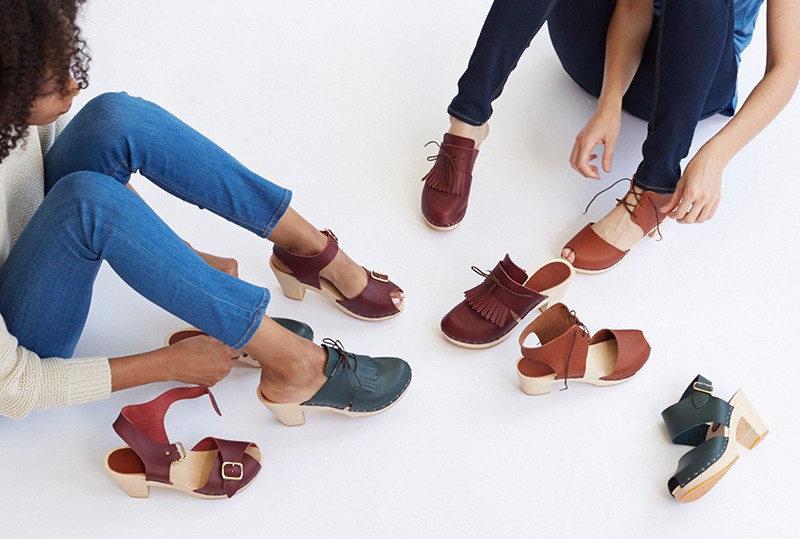 (Courtesy of Bryr)
Design Your Own Clogs: Bryr
Let your inner cobbler loose at Bryr Studio. The cool indie label and Shoe Girl fave welcomes shoppers to its Dogpatch studio on Fridays from noon to 6:30 p.m. How does it work? Choose your sandal, bootie or clog style, select your wooden base (mid or high), made-in-America leather shade (OMG, so many colors, including metallic!), toe type (peep, Spanish, etc.), and voila! Your perfect pair is handmade right there in designer Isobel Schofield's workshop. Note: Orders take up to 30 days and can be picked up or shipped to you. // Bryr Studio: 2331 Third St.(Dogpatch), bryrstudio.com
Instant Help for Hungover Skin: Tatcha Deep Hydration Lifting Mask
Yeah, yeah, we know: Hair of the dog is an excellent hangover remedy. But we prefer the instant gratification of Tatcha's Deep Hydration Lifting Mask. Inspired by the luxurious masks used by geishas, this ultra-concentrated treatment, with hydrating Red Algae and other essential botanicals, leaves skin refreshed, firm and radiant in 15 minutes flat—the time it takes to pick up a sandwich for lunch. The single-use masks can be purchased individually or in four-packs. Available online and at Barneys New York. // Barneys New York: 77 O'Farrell St. (Union Square), tatcha.com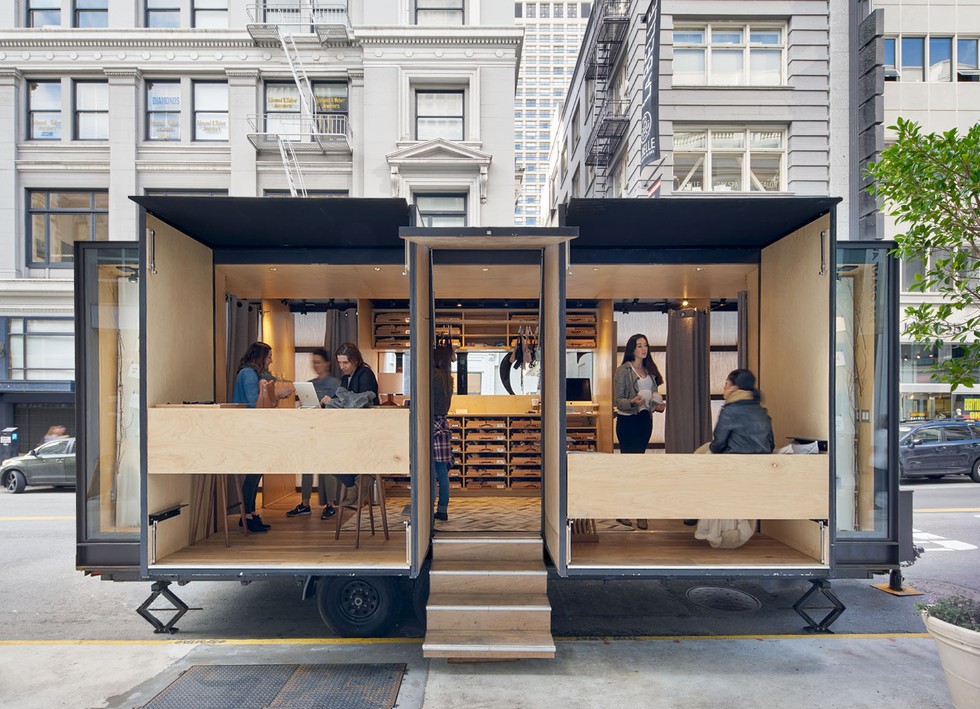 (Bruce Damonte, via WWD)
Fun Bra Shopping: True&Co Try-On Truck
For several weeks in January and February, SF-based True&Co has brought custom bras to the masses. Housed in a tricked-out truck, the lingerie shop on wheels makes stops in the city, Marin, and Palo Alto. After taking a quick Fit Quiz, shoppers are adjusted by experts and encouraged to try, try and try on. "We wanted to create an experience that's not only more personal but leaves women feeling positive and empowered," said founder and CEO Michelle Lam. While the truck's parked at the moment, the bras can still be yours—just head on over to the e-store. // trueandco.com
Style Gear for Giants Fans: Levi's X MLB Collection
We know exactly what the cool kids will be wearing while chowing down on garlic fries and cheering on Buster and Bumgarner: Pieces from the limited-edition Levi's X MLB Baseball Collection. The Giants are one of just four teams getting the sartorial treatment. (The Dodgers, Red Sox and Yankees are the others, FYI.) Styles for men and women include an iconic denim trucker jacket, a vintage-inspired club coat, and a classic crewneck sweatshirt. Ideal for those chilly night games at AT&T Park, dontcha think? // Levi's: 815 Markets St. (Mid-Market), levi.com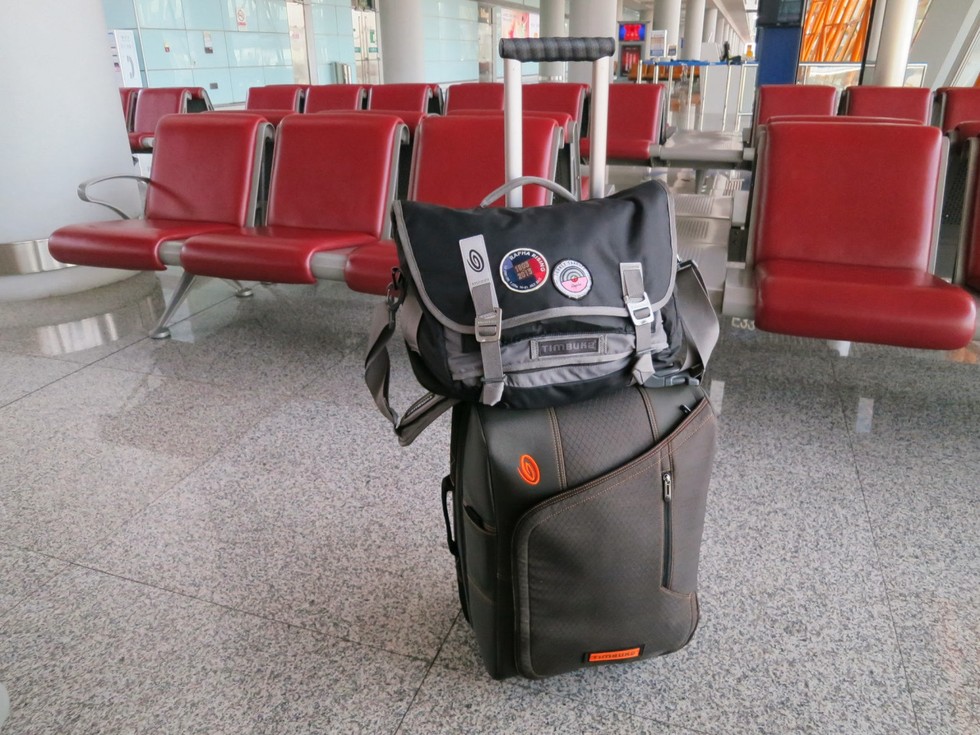 (Timbuk2 Fans)
Smartest Travel Companion: Timbuk2 Copilot Roller
Bike or no bike, nothing beats a Timbuk2 messenger bag for commuting. But our current obsession is the brand's Copilot Luggage Roller, now in fresh spring shades. Ultra light and super sleek, this functional clamshell suitcase with bike-inspired roller handles, has all the clever features you'd expect, namely a shoe pocket and mesh divider for easy organization. But the best part? Skateboard wheels make for the smoothest roll around. Available in three sizes, two of which are carry-on-ready. // 506 Hayes St. (Hayes Valley) and 587 Shotwell St. (Mission), timbuk2.com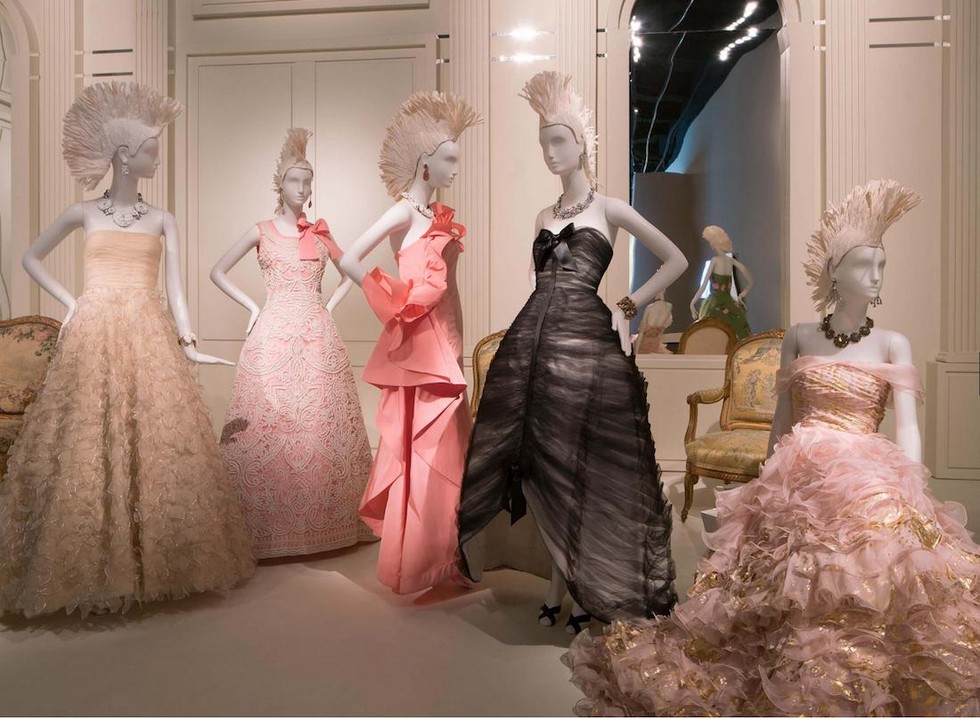 (Anthony Rogers)
High-Fashion Exhibit: De Young's Oscar de la Renta Retrospective
A stroll through the de Young' museum's glorious Oscar de la Renta tribute, which ended its 10-week run on May 30, was like time-traveling through the Dominican-born designer's legendary 50-year career. Guest-curated by longtime de la Renta friend and former Vogue editor-at-large Andre Leon Talley, the meticulously staged lovefest featured one impeccable look after the next: Russian-inspired, fur-trimmed, brocade gowns, fiery flamenco skirts, Marie Antoinette-like pastel confections, and glam red-carpet stunners. Just like the elegant man who inspired it, this exhibition won't soon be forgotten. // 50 Hagiwara Tea Garden Dr. (Golden Gate Park), deyoung.famsf.org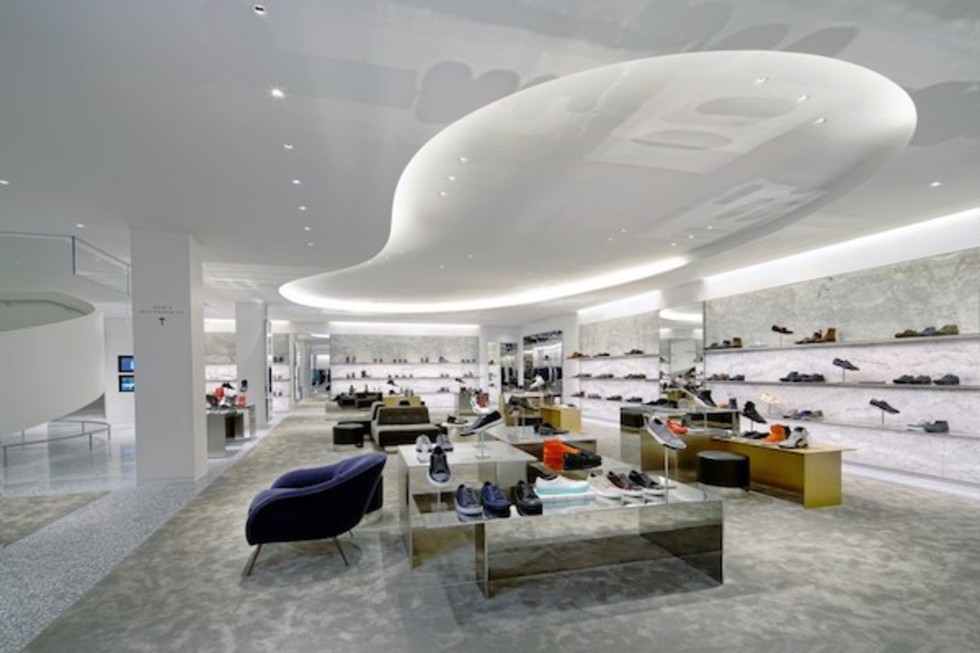 (Courtesy Barneys New York)
Luxury Department Store: Barneys New York Men
Since mid-February, guys with a champagne taste for designer goods have been loving the shopping life at the Barneys New York menswear flagship. The renovated 19,000-square-foot space features an expanded footwear area, a personal shopping suite, and a made-to-measure lounge, as well as a slew of Barneys Exclusively Ours (XO) collections from the likes of Tim Coppens, Public School, Hood by Air, and more. If, perchance, you want your SO to look just as good as you do, the store links to the women's department via the lower level. // 2 Stockton St. (Union Square), barneys.com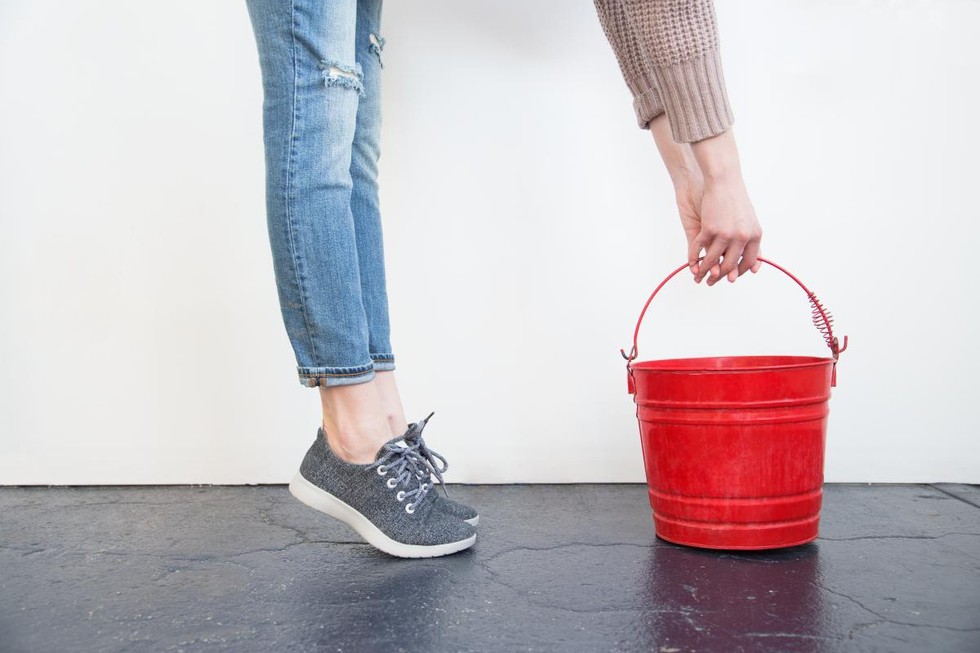 (Courtesy Allbirds)
The Softest Shoe: Allbirds Wool Runners
Who wants to walk around in fluffy pillows all day? Pretty much, everybody. This is precisely why Allbirds supersoft Wool Runners are winning the hearts and feet of women and men everywhere. Launched in SF in March, the mega-comfy kicks are available in one minimalist silhouette and five shades, plus they're crafted of a proprietary New Zealand "miracle" wool that took more than two years to develop. What else you need to know: Every washable pair costs $95, comes with removable insoles and a 30-day guarantee, and ships for zero, zilch, free. Available online only. // allbirds.com
Eyewear Named For Marin Spots: Zenni North Coast Collection
Skip the logo sweatshirt. The freshest way to show your hometown love is through your eyewear. The North Coast California Collection from online retailer Zenni Optical (aka the Warby Parker of Novato) has a dozen affordable styles inspired by the natural beauty north of the Golden Gate. We're into the geek-chic Bodega, retro-inspired Tiburon, and the classic-cool Sausalito. All frames can be made into sunglasses. It's time to give those windows to the soul a taste of the Marin life. // zennioptical.com
Organic Beauty: Juice Beauty and Gwyneth Paltrow
Earlier this year, Gwyneth Paltrow and Marin-based Juice Beauty and Gwyneth Paltrow debuted their conscious coupling: a clean makeup line called Phyto-Pigments. It features 78 antioxidant-rich items—we're talking primers and foundations, mascaras, cheek colors and all manner of lippies—made with certified organic ingredients. The luxurious makeup comes in lovely packaging and the priciest product is just shy of $50. True fact: this lipstick-addicted editor tried all 27 shades of the Liquid Lip, Luminous Lip Crayon, Sheer Lip Color, and Satin Lip Cream. The verdict: Ms. Paltrow is, indeed, an excellent kisser. (Top of the list: Lip Crayon in Venice.) // juicebeauty.com
French-Girl Style: Isabel Marant Boutique
The patron saint of modern boho style Isabel Marant has opened the doors to her 2,300-square-foot boutique-gallery in Jackson Square. The French label's third U.S. brick-and-mortar inhabits the onetime home of a whiskey warehouse. Shoppers flock for the chic and effortless collection, as well as the lower-priced Etoile line. Local gypsets can't seem to get enough. // 455 Jackson St., isabelmarant.com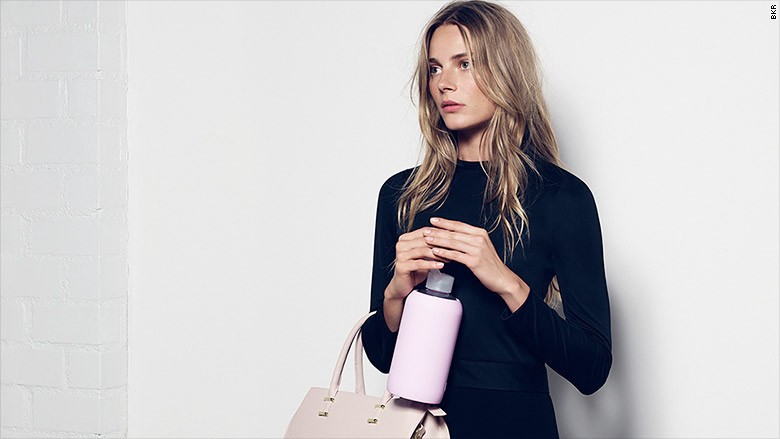 (Courtesy of BKR)
Cutest Water Bottle: BKR Teeny
You've probably ogled BKR's signature colorful water bottles on Muni or in yoga class. But sometimes the standard 500-ml bottle is more than one needs, which is why we have mad love for the brand's new Teeny Collection, a shrunken (250 ml) version of the original BPA-free, phthalate-free soda-lime glass bottles that come in a range of scrumptious shades. Serious guzzlers, please note: BKR also makes an extra-large one-liter container. Available at Neiman Marcus and Nordstom in SF. // mybkr.com
Homegrown Boutique: Anaïse
The light and bright newcomer Anaïse sits at the corner of 20th and Guerrero Streets. The funny thing is, the beautiful women's boutique feels more SoHo than Mission, owing to owner Renee Friedrich's sharp eye and roster of emerging and hard-to-find-in-SF labels such as Carven, Vanessa Bruno, No.6, and MM6 Maison Martin Margiela. The overall vibe of the frocks, it-bags you never heard of, and whimsical jewelry? Self-proclaimed "uassuming elegance, subtle femininity and modern bohème." Former New Yorkers, this one's for you. // 3686 20th St. (Mission), shopanaise.com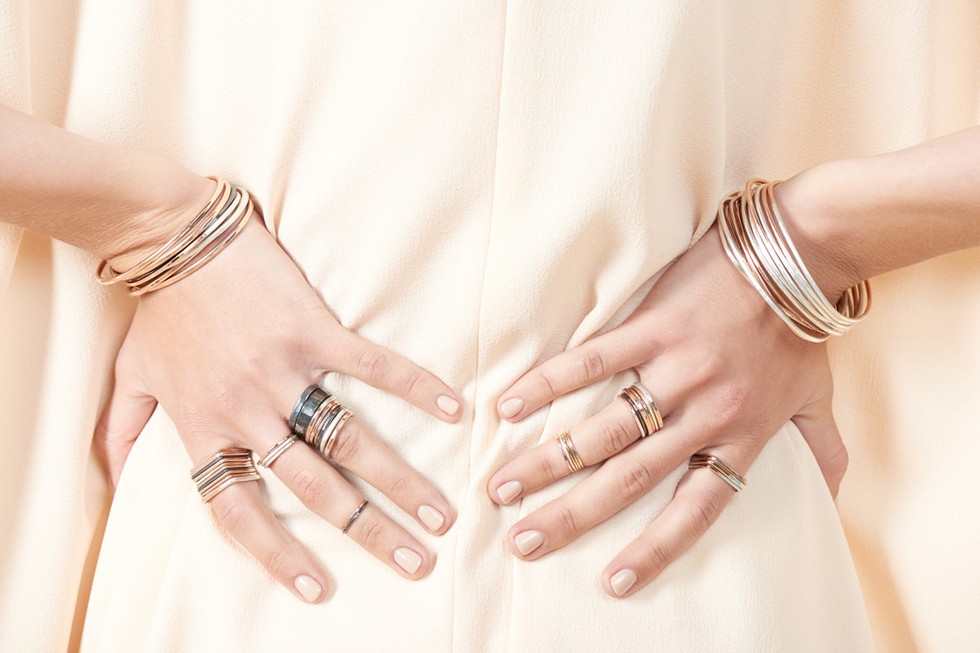 (Courtesy Colleen Mauer Designs)
Stacks We Love: Colleen Mauer Designs
Although local jewelry designer Colleen Mauer has been in the biz for 10 years, her Mission studio-shop is still new on the scene. A clean geometric aesthetic characterizes the bracelets, pendants and earrings, which are handcrafted in silver, oxidized silver, gold, or rose gold. As for the signature stackable rings, they're available in oh-so-many options—round and square, thick and thin, smooth and textured. Choose from prefab piles or better yet, head to the studio's Ring Bar and create your own bundles. // 1406-B Valencia St. (Mission), colleenmauerdesigns.com
Hipster Haven: Ernest Alexander
The bright red doors of this Hayes Street men's shop hint at the smart utilitarian wares inside. From leather goods (i.e., the brand's signature waxed-canvas Hudson Messenger) to shirts made in the USA, everything is functional and timeless with an emphasis on quality craftsmanship. Just the way hipsters like it—and why it didn't take long for stylish dudes to discover the first West Coast outpost of this standout NY label. // 327 Hayes St. (Hayes Valley), ernestalexander.com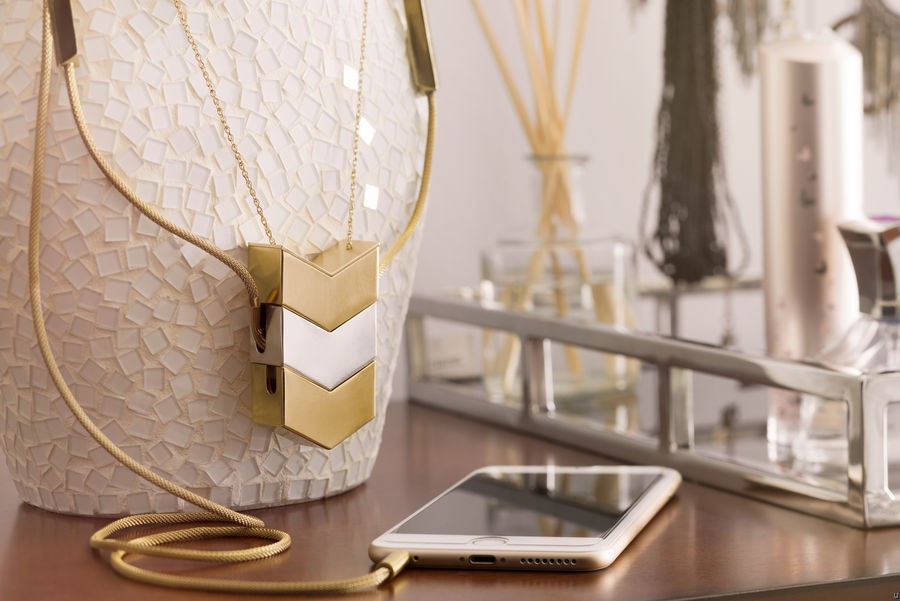 (Courtesy of Tinsel)
Headphones in Disguise: Tinsel The Dipper
Talk about double-duty style: The Dipper is a necklace and headphones in one. The brilliant idea from SF-based Tinsel was a creative solve for CEO Aniyia Williams' real-life annoyance—constantly tangled, worn-out or lost headphones. The Dipper looks like a bold layered necklace, but hidden inside are earbuds with great sound quality. No Bluetooth necessary, no batteries to charge—just plug in and go. Thanks to a successful Indiegogo campaign in November, the Dipper will be shipping soon. Order online. // tinsel.me.

Best Artisanal Collab: Heath x Etta + Billie
What do you get when Heath Ceramics and Etta + Billie make a mind meld? An exclusive, small-batch organic soap. The Grapefruit Sage Sea Salt Soap came to E+B's founder Alana Rivera instantly, as it evokes the scents of Northern California. The tray from Heath's Bathroom Essential Set, part of its Summer Collection, makes the perfect home for the sudsy slab. Available in Heath's Mission store and online. // 2900 18th St. (Mission), heathceramics.com
Americana Shopping Destination: Shinola + Filson
With the opening of Shinola + Filson, Jackson Square continues to prove it is the emerging hood of choice for hip retailers. The Detroit-and-Seattle-based brands, respectively, share a gorgeous and unique home in Jackson Square's landmark Belli Building (originally built during Gold Rush days). Shinola claims the bulk of the space, where it sells made-in-America leather goods, signature watches, bikes, journals and more. The front of the house belongs to Filson, a heritage explorer brand famous for its Tin Cloth and Cruiser jackets, hunting and fishing gear, luggage and more. // 722 Montgomery St. (FiDi), shinola.com, filson.com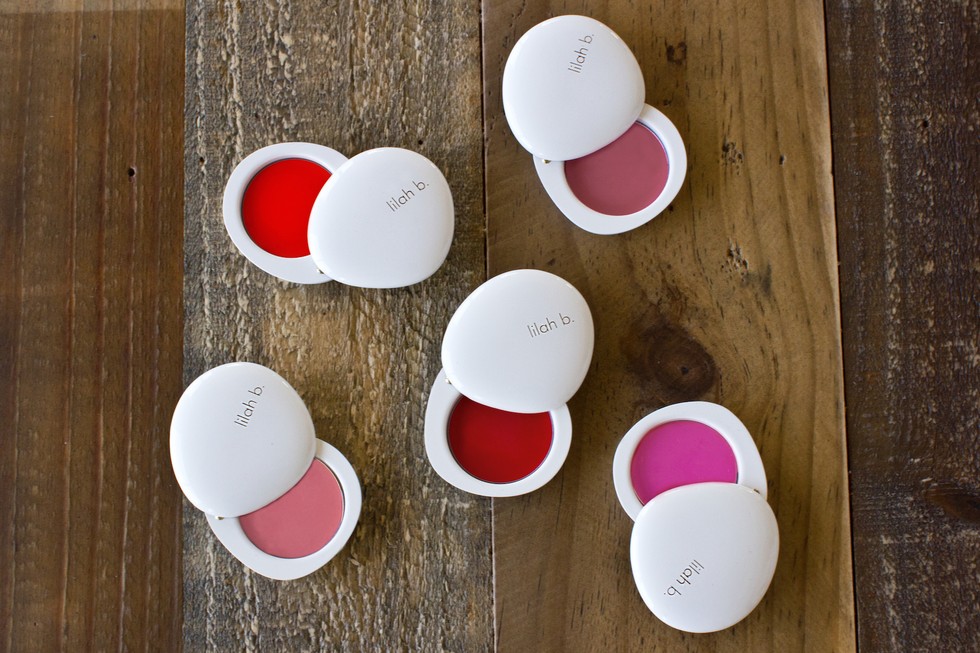 (Courtesy lilah b.)
Lip Color in Zen Packaging: lilah b. Divine Duos
Along with all things lip color, this writer's obsession extends to lipstick packaging. The best of both collide in Sausalito-based lilah b.'s Divine Duos. The lip and cheek colors are made with natural, good-for-you ingredients; they're creamy, hydrating, and available in eight shades. Once you touch the smooth, pebble-like vessels they come in, you'll be a Cover Girl defector. Founder Cheryl Yannotti Foland's signature cases have an unexpectedly appealing weightiness. "The organic shape fits perfectly in your hand, and women can't seem to put them down," she says. // lilahbeauty.com
Best Beauty Makeover: Sephora Union Square
No one who wears makeup was happy with the many-months-long renovation and closure of Sephora Powell Street. It turns out the inconvenience was worth the wait. The sleek and sparkling palace of beauty now has a total of 13,000 products and 12 new brands (think Burberry Beauty and Chosungah 22). Another fun fact: The SF flagship was the first to debut the brand's new store concept, which is all about hands-on service, technology, and experimentation. The beauty makeover includes such bells and whistles as interactive displays and complimentary beauty classes. // 33 Powell St. (Union Square), sephora.com
Made-in-America Hoodie: The North Face
The North Face's Backyard Project has evolved in its second year—no longer does it comprise one all-cotton hoodie designed, cut, and sewn within 150 miles of the company's Alameda HQ. The new, expanded collection, including pullover hoodies and tees, is made with cotton that's 100 percent "grown and sewn in the USA," and the bulk of production has moved to L.A. But here's the bottom line: the classic zip-up hoodie still rocks! Available in men's and women's sizes, it's super soft and comfortable, and comes in eight shades. Did we mention the price ($90) is $35 cheaper than the original? // 180 Post St. (Union Square), thenorthface.com
Project Runway Designer Swag: JAKE
Local designer Jake Wall chose to leave last season of Project Runway early to take care of his dying pooch. We'll never know how far he may have gone in the competition, but with the recent opening of JAKE, none of that seems to matter. Wall and partner Nathan Johnson serve up classic-with-a-twist men's and women's clothing in their new Jackson Square boutique. Designs tend toward tailored shirting, suiting, and chic separates. Ready-to-wear lives on one side, custom options on the other. The ultra-cool space—with a wine bar and, surprise, a Ms. Pacman game—makes for fun shopping. Clearly, the designer heeded Tim Gunn's advice and made it work. // 619 Sansome St. (FiDi), jake.clothing
Luxurious Lather: True Nature Botanicals Shampoo/Conditioner
Mill Valley-based beauty company True Nature Botanicals is about superior results and no toxins, ever. We're vouching for the fragrant (ylang ylang or sweet violet, anyone?) shampoo and conditioner, made with antioxidants and nutritive oils for healthy hair and scalp. After just one use, our luxurious tresses could never go back to Pantene. Bonus points for the chic and recyclable, aluminum bottles. // truebotanicals.com, goop.com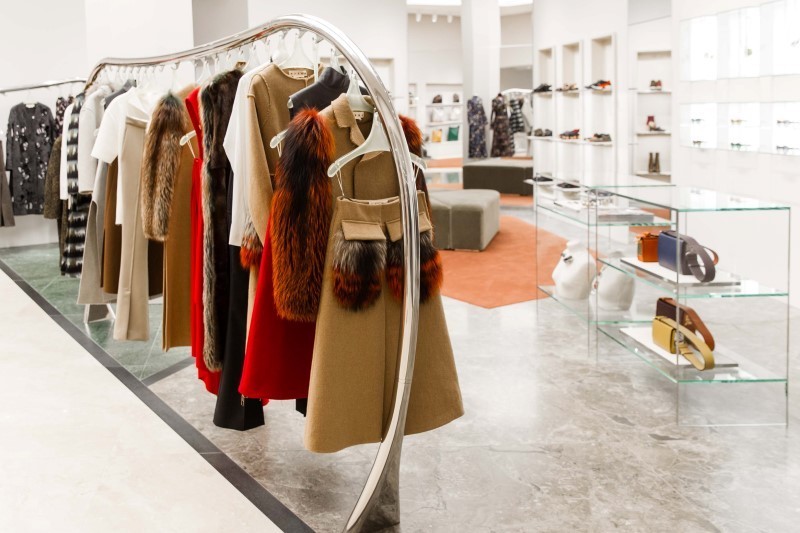 (Courtesy SF Luxe)
Most Anticipated Maiden Lane Resident: Marni
The city's swankiest pedestrian lane was thrilled to welcome Marni to the exclusive club late last summer. The airy 3,500-square-foot boutique showcases Italian fashion house's signature colorful and quirky women's clothes, gorgeous handbags, traffic-stopping shoes, and funky jewels. The menswear collection, on the lower level, is almost as colorful and just as charming. // 77 Maiden Lane, marni.com
Designer Facelift: Dior
With the recent re-opening of its Union Square flagship, Francophiles, art lovers and, naturally, worshippers of the iconic Parisian fashion house have been awed by grand, glass-enclosed, marble-floored space. Fine works of art mingle with women's-only designer treasures (sorry, fellas): Handbags, jewelry, and women's accessories occupy the first floor, while ready-to-wear and shoes can be found on the second level. In a word: Magnifique! // 185 Post St. (Union Square), dior.com
On-Demand Laundry: Rinse
Don't have time, patience, or a washing machine? Sign up with the local on-demand laundry startup Rinse. The popular service/app is easy to use, whether you need door-to-door dry cleaning, wash-and-fold, or hand-wash. On the Rinse app or website, choose your services and schedule by 5 p.m. for pickup that evening. In three days (you can get it faster with a $5 rush fee), your meticulously laundered clothing will arrive back at your door. Goodbye, rolls of quarters! // rinse.com
Do-Good Shopping: Sefte Living Throws
Who can resist shopping for a cause? No one (says everyone). Sustainable textile and bedding company Sefte Living is banking on this fact: In support of Every Mother Counts (founded by Walnut Creek's own born-and-bred supermodel, Christy Turlington Burns, and devoted to making pregnancy and childbirth safe for all), Sefte is donating the net profits from its three best-selling throws (the Kimsa, Paya and Seda), handcrafted by women artisans in Peru and Vietnam, to EMC. Guilt-free shopping, here we come. Available online. // sefteliving.com, everymothercounts.org
DON'T MISS A BAY AREA BEAT! SUBSCRIBE TO OUR NEWSLETTER.