The Bay Area Rallies, Vigils, Demonstrations + Political Gatherings You Need to Know
By
Calling all professional protesters and amateurs alike.
Bay Area progressives have dusted off their marching boots in renewed droves and headed bravely into the fray to stand up for love, equality, human decency, and justice in the aftermath of this year's presidential election. Many of you have asked us how you can stay in the know about the various rallies, peaceful demonstrations, candlelight vigils, and gatherings, so we've put together this calendar of ongoing Bay Area events around the causes we know you care about—equal rights, immigration, the environment and, you know, everything else that fits in the category of basic human decency.
Please consider this list only the start—we will update it as we learn of new happenings and let the old ones roll off. We also really hope you'll contribute your suggestions. If you have a hot tip, please email edit at 7x7 dot com with the subject line DEMOCRACY.
Hands Around The Mosque, Santa Clara

Sun. March 19, 4pm to 6:30pm
People from all faiths and all walks of life are invited to this inter-faith, inter-community gathering sponsored by American Muslim Voice and the Muslim Community Association of Santa Clara. Religious and community leaders will offer brief remarks as those in attendance join hands and "stand in solidarity with our Muslim sisters and brothers." This is a family event, and tea and snacks will be provided. // Muslim Community Association, 3003 Scott Blvd. (Santa Clara), multifaithpeace.org, eventbrite.com
Writing Well As Resistance Workshop, San Jose

Wed. March 22, 6:30pm to 7:30pm
Silicon Valley De-Bug, a community media and organizing non-profit, is hosting a workshop on editing, sourcing, and compelling writing as a form of resistance. The event will be hosted by Marcos Jimenez, a novelist, critic, and literary scholar, local to San José. This event is part of SV De-Bug "The People's 100 Days," a proactive response from San José and the South Bay to the first 100 days of Donald Trump's presidency in order to demonstrate unity against his hateful agenda. The workshop is completely free, but a $5 donation is recommended at the door. // Silicon Valley De-Bug, 701 Lenzen Avenue (San Jose), facebook.com
Women And Resistance: From The Panthers, to Yippies, to Comix, San Francisco

Thurs. March 23, 6pm
"Join the California Historical Society for a panel discussion about the roles women played in resistance and social protest movements in the Bay Area during the 1960s and 1970s." The discussion will be moderated by San Francisco Chronicle columnist Leah Garchik, with a panel including Trina Robbins, a founding mother of "Wimmen's Comix;" Judy Gumbo, an original Yippie, and Judy Juanita, a member of the Black Panthers Party who just debuted her novel on a young black woman who joins the BPP. // California Historical Society, 678 Mission St. (Mission), my.californiahistoricalsociety.org
Walk for Equality, Palo Alto

Sun. March 26, 8:30am to 1pm
National organization Feminist Majority is hosting "Walk for Equality Northern California," a rally and walk for women's equality and an Equal Rights Amendment. "Without the ERA, women and girls are left to fight for their rights on a state-by-state and law-by-law basis ... We are fighting back against the attacks on women's rights and pushing forward to put women and girls in the constitution." // Rinconada Park, 777 Embarcadero Rd. (Palo Alto), facebook.com
(Image: Reuters/Brendan McDermid/Shutterstock/Salon)
Tax March, Nationwide
Sat. April 15, 10am to 10pm
While everything about this is still TBD, you may want to go ahead and mark your calendars for Tax Day 2017, when mass protests to demand Donald Trump's returns are expected to take place in SF, Oakland, and various other American cities. Stay tuned for updates. // trumptaxmarch2017.com, facebook.com/events
Not Funny! Sad! Cartoonists Respond to Trump, San Francisco

Tues. April 18, 6pm to 8 pm
"Times are dark indeed, but it's incumbent on the creative class to stand tall and contribute. Words matter. Even if our President proudly refuses to read them." LitQuake started its "Shadow and Light" series after a hosting a hit event where Bay Area writers spoke to the nation's "fear, anger, and even optimism" in January. On April 18, award-winning cartoonists from The New Yorker, SF Gate, and the Time Magazine will be coming together in this admission-free event of cartoonists responding to Trump. // SF Public Library Main Branch, 100 Larkin St. (Civic Center), litquake.org
Earth Day Restoration & Cleanup, Statewide

Sat. April 22, 9am to 12:30pm
At various sites across California, thousands of volunteers will come together to assist with different park and nature restoration projects for the better of the community and the planet. Bay Area state park locations include: Candlestick State Park, China Camp State Park Mount Diablo State Park, Angel Island State Park, Half Moon Bay State Park, Castle Rock State Park, Portola Redwoods State Park, other parks. //calparks.org
March for Science, Nationwide
Sat. April 22
"It is time for scientists, science enthusiasts, and concerned citizens to come together to protest of the policies of the United States Congress and President Donald Trump. Recent policy changes have caused heightened worry among scientists, and this is a chance for people who support scientific research and evidence-based policies to take a public stand. The politicization of science, which has given policymakers permission to reject overwhelming evidence, is a critical and urgent matter."
San Francisco: marchforsciencesf.com

Oakland: facebook.com
San Jose: 11am-3pm, facebook.com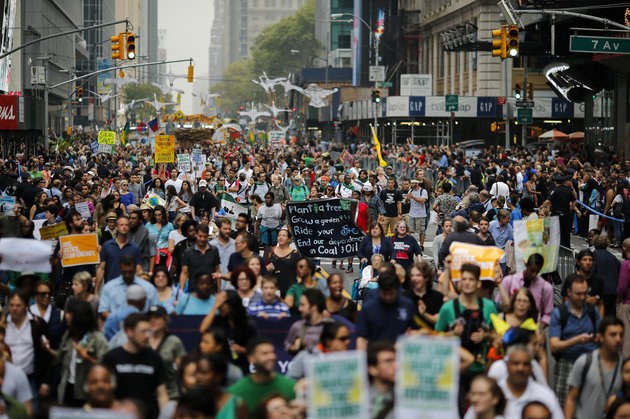 A snapshot of the People's Climate March in NYC in Sept. 2014.(EDUARDO MUNOZ/REUTERS)
People's Climate March, Washington D.C.

Sat. April 29, 2017
Sponsored in part by the Sierra Club, the People's Climate March is a reboot of a 400,000-person rally that occurred in New York City on the eve of the UN Climate Summit in Sept. 2014. This march, to be held in the nation's capital, is an opportunity to speak out against the Trump administration's attack on "the hard-won protections of our climate, health, and communities, and the rights of people... If the policies he proposed on the campaign trail are implemented, they will destroy our climate, decimate our jobs and livelihoods, and undermine the civil rights and liberties won in many hard fought battles." // Details are TBA, but you can sign up for updates at peoplesclimate.org.
People's Climate Movement Sister March, San Jose

Sat. April 29, 10am to 1pm
"Just before the 100th day of the new administration, on Saturday, April 29th, the People's Climate Movement is coming together for one massive march to bring our demands to the streets, for climate, jobs and justice." Join the People's Climate Movement across the country by marching in San Jose; the march will start from the San Jose City Hall and end at Cesar Chavez Plaza, where participants can join in a small rally. // San Jose City Hall, 200 E. Santa Clara St. (San Jose), actionnetwork.org
Mobilization for People-Planet-Peace-Justice-Jobs, Oakland
Sat. April 29, 10am to 3pm
"On April 29th the Bay Area will mark 100 days of resistance to the Trump administration and stand for the planet, people, peace, jobs and justice. BAM (Bay Area Mobilization) is a group of organizations and individuals planning a huge day of action on this day." // Lake Merritt Blvd (Oakland), transitionsonomavalley.org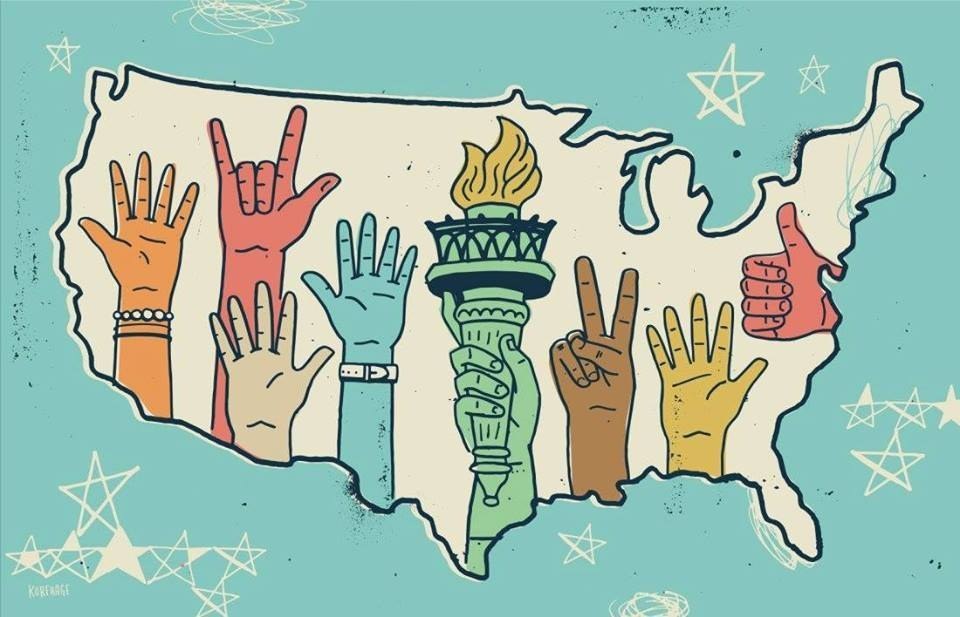 The Immigrants' March, Washington, D.C.
Sat. May 6, 10am to 5pm
We are a city, a state, a nation of immigrants. "As attacks on immigrants and refugees continue to come under the Trump administration, it's important that we unite together and show the President that we will not be intimidated and we demand respect and fairness. On May 6th, let's come together in Washington and show the world we will not be intimidated by the attacks on immigrants in our country and those seeking opportunity in the United States." // The National Mall (Washington D.C.), facebook.com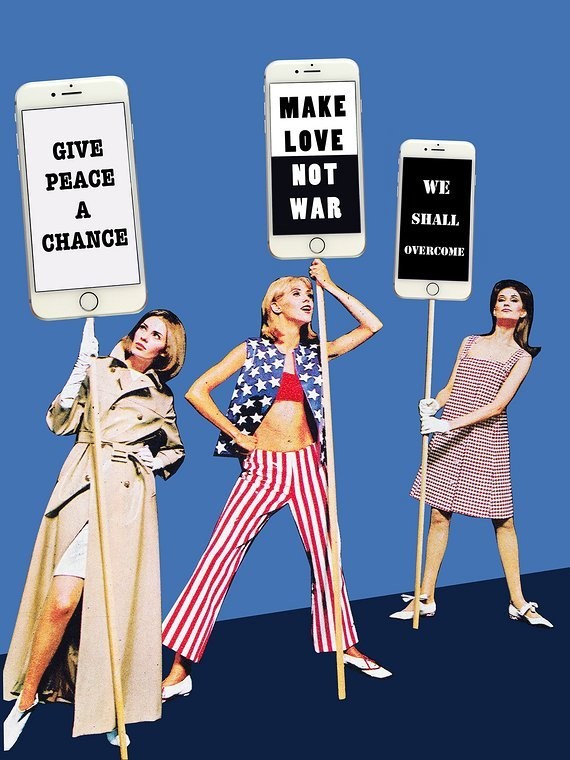 Daily Action Text Message, Everywhere
Following the November presidential election, Vogue lifestyle writer Laura Moser found herself compelled to jump into the political fray. So, along with her husband Arun, who worked on Barack Obama's 2008 campaign, Moser has launched Daily Action with the hope of getting decent American citizens engaged on the regular.
Moser writes for Vogue.com: "You text the word "DAILY" to the number 228466 (or "ACTION"). After entering your ZIP code, you will receive one text message every workday about an issue that we have determined to be urgent, based on where you live. You might be calling to implore your senator or member of Congress to reject an unsavory appointee; you might be contacting Paul Ryan about safeguarding Medicare. We hope that, in time, we will have enough subscribers to target more local actions—getting Texans to call in about the new fetal-burial law, say, or North Carolinians to protest HB2.

If you decide to take action, you'll listen to a short recorded explanation of the issue and from there, you'll be routed to your senator, member of Congress, or other relevant elected official, where you can weigh in on the issue at hand. You don't have to get bogged down in logistics to take a stand. You can make the phone calls when you're walking to the bus stop, or waiting in line for your morning latte. In 90 seconds door to door, you can conscientiously object and be done with it."
// To join the Daily Action group, text the word "DAILY" to the number 228466 (or "ACTION") today. You can also sign up at www.dailyaction.org.
DON'T MISS A BAY AREA BEAT! SUBSCRIBE TO OUR NEWSLETTER.