By
Calling all professional protesters and amateurs alike.
Bay Area progressives have dusted off their marching boots in renewed droves and headed bravely into the fray to stand up for love, equality, human decency, and justice in the aftermath of this year's presidential election. Many of you have asked us how you can stay in the know about the various rallies, peaceful demonstrations, candlelight vigils, and gatherings, so we've put together this calendar of ongoing Bay Area events around the causes we know you care about—equal rights, immigration, the environment and, you know, everything else that fits in the category of basic human decency.
Please consider this list only the start—we will update it as we learn of new happenings and let the old ones roll off. We also really hope you'll contribute your suggestions. If you have a hot tip, please email edit at 7x7 dot com with the subject line DEMOCRACY.
*This article was updated on August 18, 2017.
Faith Vigil: Stand Against White Supremacy

Friday, August 19th
Hosted by Faith in Action Bay Area and St. James Episcopal Church, this is a peaceful way to end what has been a troubling week. Interfaith voices with lead the group in prayer at resistance. // 6-7pm at 16th Street Mission BART Station, facebook.com
Standing Up for Racial Justice in Times of Fear and Hatred, SF

Saturday, August 19th
Most of us know racial profiling and abuse when we see it. Unfortunately, many of us also become shell-shocked into silence. Lee Mun Wah—internationally-renowned documentary filmmaker, author, progressive powerhouse—believes that every time we stay silent in the face of injustice, someone always pays the price. At the First Unitarian Universalist Society of San Francisco, discover ways to more effectively become a true ally to those around during troubled times. // 5:30-9:30pm at 1187 Franklin St. (Laguna Heights); tickets are $25 on Eventbrite; facebook.com.
A Citizen's Guide to Making Change Happen with Eric Liu, SF
Tuesday, August 22nd
Join Eric Liu, author of the book You're More Powerful Than You Think: A Citizen's Guide to Making Change Happen, along with Abdi Soltani, executive director of the ACLU of Northern California, this month at Inforum at the Commonwealth Club of California to learn how every citizen can evoke change. // 6:30-7:30pm at 555 Post St. (Union Square); tickets are $10 at Eventbrite; eventfull.com.
San Francisco Peacefully Unites Against White Nationals, Anywhere but Crissy Field
Saturday, August 26th
Originally titled Unafraid and planned as a face off against an Alt-Right Prayer Rally at Crissy Field, this Facebook group has changed its name and its mission in the face of calls for the San Francisco Bay Area to show that we will not engage in violence. Now, the counter-protest movement—including such groups as Stop the Violence and Sisters of Perpetual Indulgence—is encouraging San Franciscans to rally in their own neighborhoods—or at any place other than Crissy Field. Details are still developing, so check the Facebook group for updates. // 2-5pm (various San Francisco locations), facebook.com/events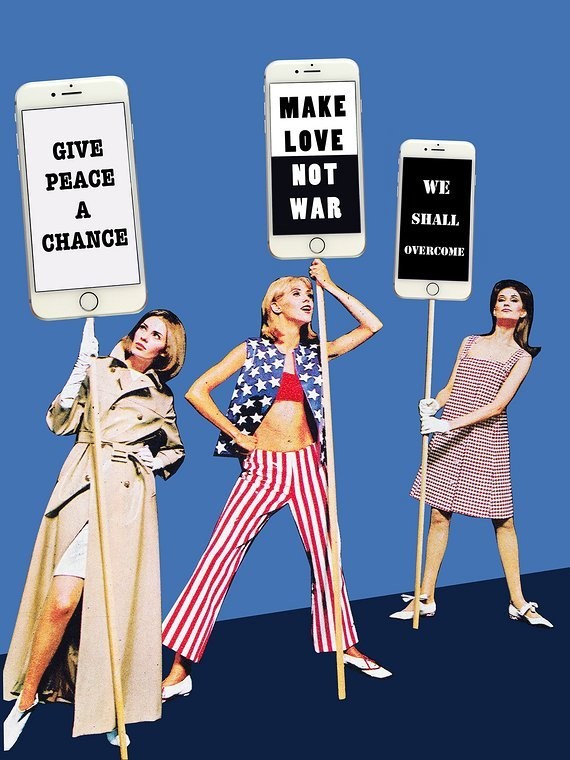 Daily Action Text Message, Everywhere
Following the November presidential election, Vogue lifestyle writer Laura Moser found herself compelled to jump into the political fray. So, along with her husband Arun, who worked on Barack Obama's 2008 campaign, Moser has launched Daily Action with the hope of getting decent American citizens engaged on the regular.
Moser writes for Vogue.com: "You text the word "DAILY" to the number 228466 (or "ACTION"). After entering your ZIP code, you will receive one text message every workday about an issue that we have determined to be urgent, based on where you live. You might be calling to implore your senator or member of Congress to reject an unsavory appointee; you might be contacting Paul Ryan about safeguarding Medicare. We hope that, in time, we will have enough subscribers to target more local actions—getting Texans to call in about the new fetal-burial law, say, or North Carolinians to protest HB2.

If you decide to take action, you'll listen to a short recorded explanation of the issue and from there, you'll be routed to your senator, member of Congress, or other relevant elected official, where you can weigh in on the issue at hand. You don't have to get bogged down in logistics to take a stand. You can make the phone calls when you're walking to the bus stop, or waiting in line for your morning latte. In 90 seconds door to door, you can conscientiously object and be done with it."
// To join the Daily Action group, text the word "DAILY" to the number 228466 (or "ACTION") today. You can also sign up at www.dailyaction.org.
DON'T MISS A BAY AREA BEAT! SUBSCRIBE TO OUR NEWSLETTER.