Mendocino seems plucked out of a storybook, with its magical coastal scenery, picturesque storefronts, and charming inns. It's where New England style meets California living. It's where the redwoods converge with the Pacific. It's where you can't get a bar of cell service, and you're not even mad about it.
Packed with dramatic cliffside hikes and some of California's best farm-to-table restaurants, this is one place that should top your short-term bucket list. The road to Mendocino County is almost as pretty as the region itself; in roughly three hours you will pass by the understated Anderson Valley wine region and head through the soaring redwoods before spilling onto Highway 1 to enter this majestic seaside community.
---
EAT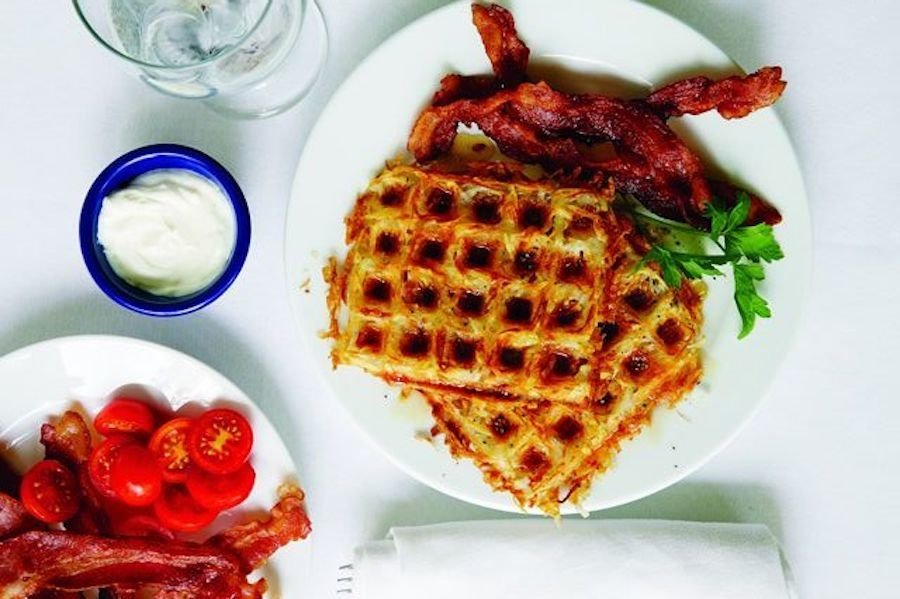 Once you go hash brown waffle, you can never go back.
(Courtesy of Circa 62)
GoodLife Cafe & Bakery
Located in the village, stop here first to kick off your day before exploring nearby shops. Not only does the cafe serve fair trade coffee, it also offers a full menu of made-from-scratch food, from breakfast pastries to burritos to salads. A ton of vegan, vegetarian, and gluten-free options are available. There's often a long line but it moves fast, and you'll have your pick-me-up in no time. // 10483 Lansing St. (Mendocino), goodlifecafemendo.com
Don't leave Mendocino County without eating at this tiny oceanside hideaway attached to a post office and a gas station. Gaze out the window to see waves crashing against the shore and feast on local fish caught just a few hours earlier. Make sure to try the creamy crab bisque and the raw platter stacked with ceviche, mussels and oysters, as well as the fresh catch of the day. // 7750 N. Hwy. 1 (Little River), wild-fish.com
Cafe Beaujolais

Cafe Beaujolais has been a destination for decades, once known for its beloved breakfasts whipped up by the original chef and owner Margaret Fox. New owners, Peter and Melissa Lopez, along with their chef/son Julian, bought the cafe in late 2016. Julian, who has cooked at restaurants in France, Washington, and California, is intent on preserving the classic menu and building on it with bold new flavors, demonstrated in dishes such as the Moroccan-spiced pork tenderloin, served with a carrot-and-cilantro fritter and local cherry tomato-beet gelée. The building itself is an adorable yellow Victorian farmhouse surrounded by a white picket fence and a lush garden filled with antique roses and edible flowers. Inside, the mint-green walls are decorated with photographs that pay homage to local ranchers and farmers. // 61 Ukiah St (Mendocino), cafebeaujolais.com
There's no place like Eggheads. At this quirky, Wizard of Oz–themed restaurant in downtown Fort Bragg, the walls are filled with memorabilia from the classic film, and the focus (surprise) is eggs. With two dozen omelettes, countless takes on eggs Benedict, and any scramble you could dream of, it can be hard to choose. We recommend Dorothy's Revenge: a poached egg with fresh Dungeness crab and bacon smothered in Champagne hollandaise sauce. During busy hours, be prepared to wait—after all, it is the greatest restaurant of Oz. // 326 N Main St. (Fort Bragg), facebook.com/eggheadsrestaurant
Table 128
Located in the Boonville Hotel, Table 128 is a pleasant surprise, pushing the culinary envelope in Mendo, serving a three- or five-course family-style prix-fixe meal Thursdays through Mondays. The dishes change nightly and are inspired by what's in season; recent dishes include summer corn chowder, grilled California swordfish, and a shaved summer squash salad. Things are done a little differently on Sundays (June though mid October), when the restaurant sets out blankets and tables in the courtyard and diners enjoy small plates followed by paella cooked on the fire. // 14050 Hwy. 128 (Boonville), boonvillehotel.com/eat
Circa 62 at the Inn at Schoolhouse Creek

With the motto "If it's weird, it's here," Circa 62's menu is a fun take on the classics, from almond-flour pancakes with sangria syrup to the Slow Death on a Raft, a hash brown waffle with housemade sausage gravy and eggs. Not only will you love it here, so will your pup. Spoil your best friend with a dish off the Stop, Drop & Drool menu—the Rufus includes a flatiron steak with scrambled eggs and a dog cookie for dessert ($8). // 7051 Hwy. 1 (Little River), schoolhousecreek.com
Down Highway 1 a few miles south of Mendocino, in the town of Albion, you'll find the picturesque Ledford House perched on a cliff in the headlands. The elegant dining room serves a French Country–inspired menu grounded in new California style that embraces local ingredients, with dishes such as lamb shank slow cooked in red wine, and peppercorn encrusted filet mignon. The bar may have one of the best views anywhere on the coast. Take it all in as you listen to jazz wafting in the background; live artists play nightly. // 3000 CA-1 (Albion), ledfordhouse.com
Another gem in the heart of Mendocino Village, this restored cottage overlooks Big River Bay and delivers inspired California cuisine. If the weather's nice, snag a table outside on the dog-friendly patio next to the culinary garden filled with flowers and herbs to be used in the kitchen. Menu highlights include the Covelo Ranch braised short ribs, with horseradish crème fraiche, and a grilled organic pork chop with gnocchi and summer squash. Don't skip dessert: Both the decadent chocolate Kahula torte or fresh Meyer lemon napoleon are worth the splurge. // 7051 CA-1 (Little River), trilliummendocino.com
PLAY
Mendocino Headlands State Park
After grabbing your morning coffee, stroll through the streets of the village of Mendocino and continue onto the headlands that surround the downtown area on three sides. The trail runs the length of the park, providing a leisurely walk through the meadows where you can stop at various viewpoints to take in the rugged coastline. Take your time making your way along the cliffs or take the stairs down to Big River Beach.
Russian Gulch State Park
This expansive park is a playground for everyone, offering a range of hikes from a quick one-hour stroll to a full day on the move. If you're looking for a more leisurely hike and Pacific Ocean views, take the one-hour Headlands Trail to the park's famous sinkhole, Devil's Punchbowl. If you're up for even more action, take the Fern Canyon Trail to get an up-close look at the waterfall, about a seven-mile roundtrip journey.
Kayak the Big River
Take to the water on the Big River estuary in the Mendocino Headlands State Park and paddle past redwoods and rugged beaches. Head to the launch point on South Big River Road off Highway 1 and stop by Catch-a-Canoe, which provides both guided tours or kayak and canoe rentals if you want to go it alone. Depending on the time of year you may see some otters or harbor seals.

Mendocino Coast Botanical Gardens

As one of the few public gardens in the country to be directly on the coast, these botanical gardens are next-level. Stretching across 47 acres, you'll meander by manicured gardens, a dense pine forest, streams, and all kinds of plants—colorful rhododendrons, fuchsias, dahlias, magnolias, and succulents. All paths lead to the ocean. End your visit with a snack at the on-site cafe or purchase a plant to bring home from the gift shop and nursery. Another bonus: On-leash dogs are welcome!
Whale Watching
The Mendocino Coast is one of the best places to get a glimpse of California gray whales, from November through February, as they migrate from Alaska to Baja California, and then return north February through April. These gentle giants tend to swim very close to shore. Make sure to book your whale-watching charter well in advance (our recommendations are Telstar Charters or Anchor Charter Boats).
DRINK
Patterson's Pub

This Irish pub opened in the 1980s when husband and wife Tony and Mary Ann moved from Ireland to the California coast. They like to refer to the pub as the "best-stocked bar north of the Golden Gate Bridge." You can't hate that. // 10485 Lansing St. (Mendocino), pattersonspub.com
North Coast Brewing Company
In downtown Fort Bragg, this beloved pit stop serves a wide selection of beers—try the Passion Fruit Peach Berliner Weisse, made with juice from California peaches and passion fruit from Ecuador, or the Old Stock Cellar Reserve, a small batch beer aged in rye whiskey. The brewery also serves a full pub menu of crowd pleasers, including the garlic waffle fries, fish and chips, and Peruvian pork. Don't miss other great breweries in the area: Ukiah Brewing Co. & Restaurant and Anderson Valley Brewing Company are also local favorites. // 444 N. Main St. (Fort Bragg), northcoastbrewing.com
Navarro Vineyards
The area's cool, coastal climate makes it the perfect environment for grapes, in particular for robust and high-end pinot noir. At Navarro Vineyards, post up at the outdoor tasting counter to enjoy a gorgeous view of vines along the rolling hills and a large variety of wine. This winery offers both refreshing whites and award-winning reds, including their Alsatian-style gewürztraminer, old-vine zinfandel, and crisp rosé. We recommend you check out much more than one vineyard, though. Other favorites are Goldeneye Winery, Handley Cellars, and Roederer Estates. // 5601 Hwy.1 (Philo), navarrowine.com
Toulouse Vineyards & Winery
In our humble opinion, Toulouse is one of the best kept secrets not just of Mendocino County but of California Wine Country at large. Consistently turning out beautiful Burgundian-style pinots (as well lovely Alsatian rieslings and summery rosés), Toulouse is a soulful family-owned operation. Take your pup, grab a seat at a picnic table in the front or on the patio out back, and say hello to winemaker/proprietor Vern Boltz. // 8001 Hwy. 128 (Philo), toulousevineyards.com
SHOP
Honey & Ro
Formerly a bank, the space has been converted into an airy and bright store of curated treasures. Robyn Leeds opened this shop in downtown Mendocino in 2015,with the mission of selling an eclectic and thoughtful mix of home goods, clothing and accessories. Keep an eye out for organic cotton and cashmere pieces, subtle handcrafted jewelry by Zoe Chicco, and woven lambswool blankets from Wallace Sewell. // 45062 Ukiah St. (Mendocino), honeyandro.com
Gallery Bookshop
When you enter this charming independent shop, the host cat, Catsby, will likely greet you. And as you're browsing, gaze over the shelves to look directly at the Pacific and take note of what may be the best view at any bookstore ever. // 319 Kasten St. (Mendocino), gallerybookshop.com
Splendiferous
One of the many cute shops in downtown Fort Bragg, this store stocks hand-picked fashion for women, including denim by Joes, Hudson and Genetic, and a variety of children's clothing from companies like Kiwi Industries and Funkie Baby. // 115 E Laurel St (Fort Bragg), splendiferousboutique.com
Dot & Twine
Also on Laurel Street, Dot & Twine offers locally crafted goods, from furniture to decorative housewares to cards. All items are handmade by local artists, including reclaimed wood home decor from Rustic Occasions and a line of nontoxic natural products (think candles, lotions, perfume, and deodorants) from MossnOak. You can also find kids apparel from A Nod to Mod as well as hats from CA Love Designs. // 322 North Franklin (Fort Bragg), facebook.com/dotandtwine

Pippi's Longstockings
Two UC Santa Cruz graduates opened this store in the 2006 to focus on one thing: socks! You'll find any type of fun and crazy sock you can imagine, from bull dog socks to donut socks to artichoke socks. It rocks. // 123 East Laurel Street (Fort Bragg), pippisocks.com
STAY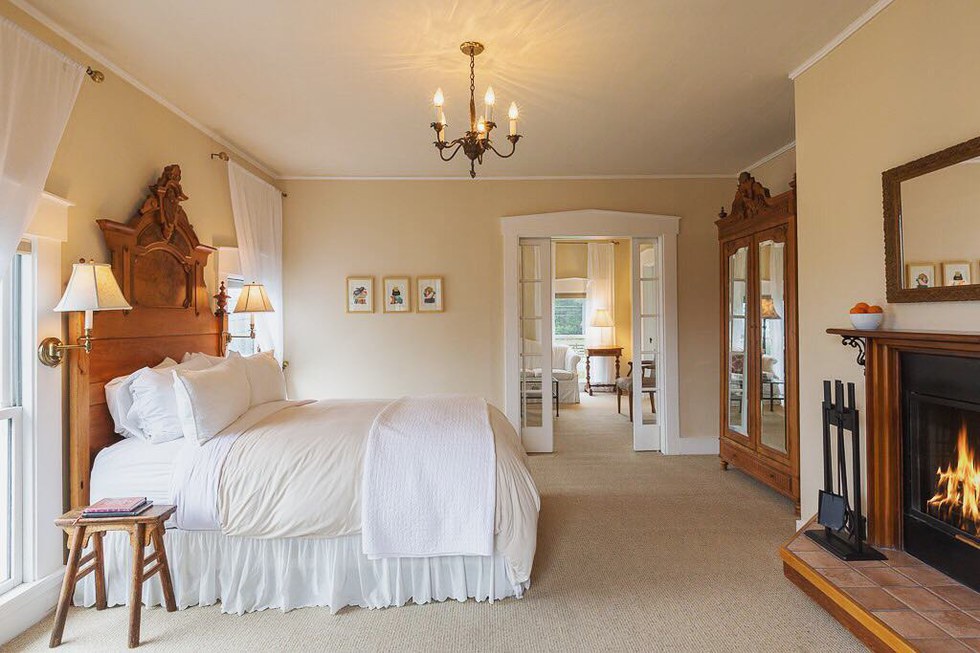 An elegant, hearth-warmed room at Glendeven Inn.
(Courtesy of Glendeven Inn)
Glendeven Inn
Situated on the coast, this cozy 10-room luxury farmstead is celebrating its 150th anniversary this year. The inn oozes romance and relaxation, pulling out all the stops to make guests feel special. Rooms come complete with ocean views, wood burning fireplaces, and a three-course, farm-fresh breakfast delivered to your door each morning. On more than eight acres, the property also has a massage cabin, private trails to the beach, a main barn that hosts complimentary wine hour each evening, and most importantly: a hungry flock of chickens and a group of grazing llamas. // 8205 N. Hwy. 1 (Little River), glendeven.com
MacCallum House Inn
If anyplace encapsulates Mendocino, this is it. The stately boutique hotel represents the best of the New England-style architecture. Back in 1882, William Kelley built the home as a wedding gift to his daughter Daisy MacCallum and the local paper gave it a rave review: "Hot and cold water in three different places (count 'em!)." Today, the property offers stays in the main house, seven cottages, and a pet-friendly barn, as well as breakfast (we still think about the buckwheat pancakes with pecan butter and berries), stocked mini bars, and hot tubs (in select rooms). // 45020 Albion St. (Mendocino), maccallumhouse.com
Brewery Gulch Inn
Take refuge at the well-known inn that sits atop a bluff with dramatic views of Smuggler's Cove. The historic Arts and Crafts–style lodge is built from salvaged virgin redwood timber. Entering the lobby, you're greeted by soaring glass windows and the warmth radiating off the four-sided glass-and-steel fireplace anchoring the room. Cooked to order breakfast and buffet dinners, made with locally sourced ingredients, are included. // 9401 N Highway 1 (Mendocino), brewerygulchinn.com
Philo Apple Farm
For one of the most unique lodging experience in Mendocino, stay—and cook!—at the Philo Apple Farm, which welcomes guests to experience living on a working farm. Its founders Sally and Don Schmitt have a concrete place in the history of California cuisine as the original owners of the iconic Napa restaurant, The French Laundry. Today, their farm has changed with the times, adapting sustainable and organic practices. And it's truly a family affair, with three generations tending the land. As part of the weekend cooking retreats, guests assist with meals throughout their stay, all inspired by the farm's own bounty. Dates book fast, so plan ahead. // 18501 Philo Greenwood Rd. (Philo), philoapplefarm.com