We're longing for a stylish train trip.

Not BART. Nor CalTrain. But the kind of luxurious locomotive that serves the Queen tea as she escapes to Sandringham in The Crown, or the lavish kind you'd get stuck on when you're trying to solve the Murder on the Orient Express.
We are sad to report that we have been unable to find any trains heading to Hogwarts. Instead, we present four trains that will transport you back to the romantic days of railroading through the gorgeous natural expanse of Northern California.
---
Skunk Train, Mendocino County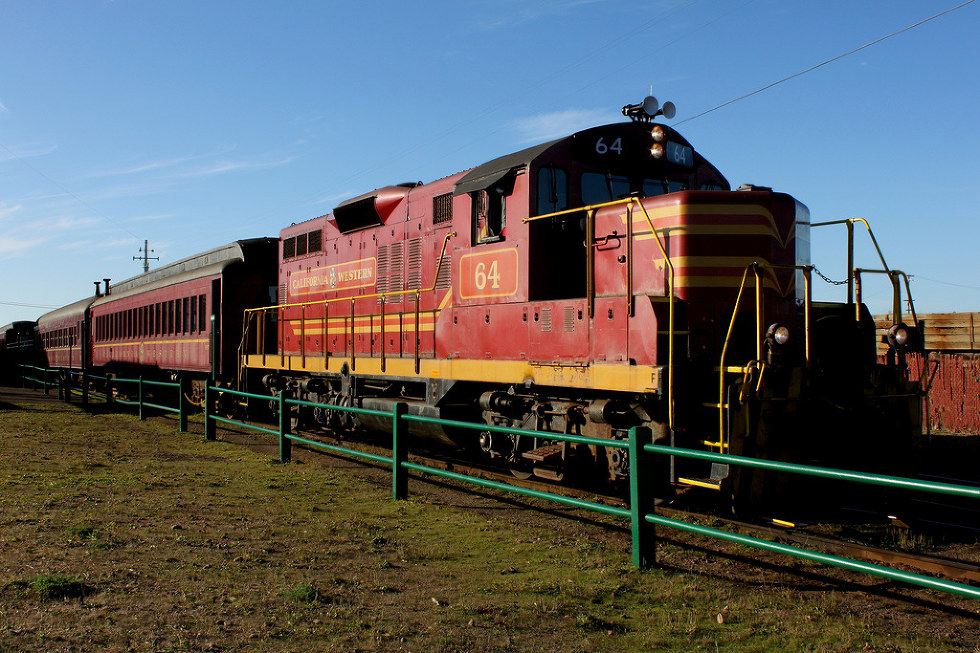 (Courtesy of Prayitno via Flickr (CCO)
This iconic NorCal train has been chugging through Mendocino County for the past 132 years. With a route that spans more than 40 miles through tall California redwoods and crosses a whopping 30 different bridges over mountain streams, the cheekily named Skunk Train is an experience not to be missed.
Knowing what we all know of Mendo, it would be easy to assume that this (non-smelly) train takes its name from the aromatic green plant that scents the air in these parts. But in fact, the Skunk Train got its name from the self-propelled motorcars that burned crude oil back in the 1920s to keep passengers warm. Those fumes, you know.
For a short scenic ride, board the Pudding Creek Express departing from Fort Bragg—you'll see a variety of wildlife during seven-mile roundtrip. Or go all in for a 40-mile trek aboard the Northspur Flyer, departing from Willits, to enjoy a gorgeous four hours through the redwood-thick Noyo River Canyon. You can even opt in for a barbecue dinner. // $25-$84 ($10 for dogs), skunktrain.com
Railtown 1897 State Historic Park, Jamestown
If you think this railroad looks familiar, it's because you've probably seen it before. The Sierra Railway, the third oldest railroad in North America, is aptly known as the Movie Railroad: It has been featured in more than 300 movies, including Back to the Future.
Today, you can visit the national park, walk around the historic railroad town of Jamestown, and take a 45-minute train ride into Gold Country to relive the experience. If you're an especially avid trainspotter looking for deeper knowledge of the railroading industry, be sure to ask about joining the engine crew for the day. // $15 for adults, $10 for youth, free for children (5 and under) and members , railtown1897.org
Railroad Park Resort, Dunsmuir
Back in the 1960s, Bill and Delberta Murphy, who are said to be local descendants of pioneering railroaders, began collecting old cabooses, flat cars and box cars with the idea of refurbishing them as cozy overnight stays. Today, the resort is under new ownership, but you can still step right into the old rail era, and then take a nap.
Whether you spend the night in a beautifully renovated old car or pitch your tent at the campgrounds alongside Little Castle Creek, you'll be able to immerse yourself in an authentic rain fan's experience. After a swim in the pool, whistle for your dinner at the restored 1893 Wells Fargo car or Pullman Club Car, and make sure to explore the historic town of Dunsmuir, where many a locomotive once began the steady push up Mount Shasta just two miles away. // $135-$165, rrpark.com
Sacramento River Train, Sacramento
While the Sacramento River Train would be considered a newcomer in comparison to its OG counterparts—the train started running in 2005—its 14-mile route between Woodland and West Sacramento has a rich history.
An old passenger train operating on the Woodland Branch transported passengers here from 1911 up until World War II; later, the rail was primarily used for freight haulers and was managed by various companies over the years.
Today, the Sacramento River Train is a thoroughly modern adventure, offering an array of themed onboard experiences including wine and beer tastings, murder mystery dinners, and even a Wild West robbery situation. //$55-$75, sacramentorivertrain.com