By
Ask longtime Oakland residents for the geographic constraints that define the city's Uptown's district, and you'll hear everything from the sliver of space between 14th and 17th streets to the blocks that stretch from 12th to 25th. Ask them when it first received the moniker Uptown (despite being located in what other municipalities would consider decidedly downtown), and you'll likely receive just as murky a range of responses, most using the renovation of the Fox Theater or the turn of the new millennium as benchmarks. But ask which area of the city most encapsulates Oakland today, with its juxtaposition of old and new mixed with rapid gentrification, opportunity, and possibility, and there's no ambiguity: It's Uptown Oakland.

A decade ago, before the area was officially dubbed "the Arts and Entertainment" district of the city, Uptown's potential felt largely unfulfilled, with abandoned storefronts and longtime mom-and-pop shops—although beloved by locals—failing to entice visitors from the surrounding communities, especially San Francisco. Now one of Oakland's hippest hoods, Uptown and its robust mix of dining, shopping, and nightlife (more than 125 businesses have opened in the past 10 years) has been luring San Franciscans with (slightly) cheaper rents, a little more space, and the same quality of life and range of options.

Stroll Telegraph Avenue during the district's wildly popular First Friday events, and you'll find twenty-somethings spilling out onto the closed-off streets from galleries and bars while music thumps from the stereos of street performers and food vendors ply much-needed hot dogs on the small batch whiskey–fueled masses. And the buzz around Uptown Oakland will likely only continue to build in the coming months, with the opening of Proof, a woman- and African American–owned craft bottle shop); an Oakland location for Humphry Slocombe in The Hive this summer; and Oakland Rec Club, a planned two-story cocktail bar, kitchen, and pool hall that's currently being crowd-funded.

As tech giants and other companies continue to move into the district (Pandora has called Uptown home since 2000, Uber is migrating a few hundred of its workers to the former Sears Building in 2018 alongside other businesses as part of Uptown Station), some fear the area's affordability may vanish, and with it, much of its diversity and "Oakland soul." But if there's one thing Uptown has proved over the years, it's a district that's always primed for reinvention—and poised to defy definition.

EAT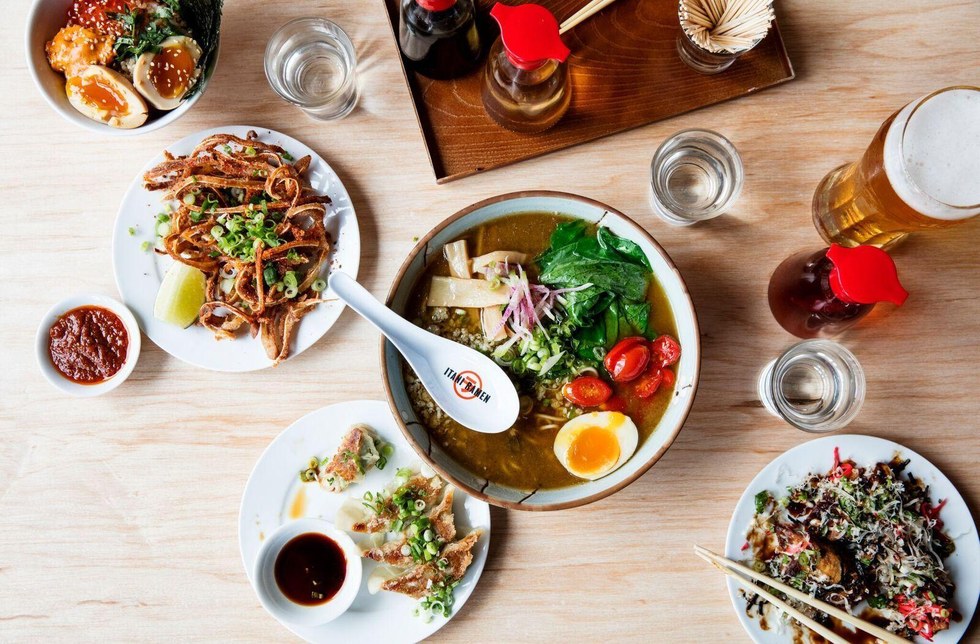 Aubrie Pick
Itani Ramen
After gaining a reputation for innovative fusion fare as co-owner and executive chef of Uptown's Hopscotch (see below), chef Kyle Itani set his sights on a slightly more casual venture, opening the much-anticipated Itani Ramen in 2016. Counter service and slurpable cuisine keep the vibe relaxed, but the seasonally changing menu shows finesse and an intimate familiarity with Japanese food. In addition to multiple varieties of gyoza, starters such as crispy pig ears, and a regular menu of three ramen options, Itani crafts special bowls dedicated to different Japanese prefectures, or provinces, often sourcing esoteric ingredients to ensure authenticity. Daily "genki" happy hour specials from 3–6pm and 10pm to close and a dessert and snack vending machine sweeten the deal. // 1736 Telegraph Ave. (Oakland), itaniramen.com
Calavera
As the unofficial centerpiece of The Hive, the multiuse complex on Broadway that opened in 2015, Calavera immediately beckons with exposed brick, soaring ceilings, an open kitchen, and a meticulously organized wall of spirits. And while it's easy for some places to draw the crowds through aesthetic appeal and falter with the menu, Calavera keeps the taste buds equally as engaged. Adventurous diners will get a kick out of baby pig tacos and guacamole topped with Oaxacan chapulines (grasshoppers), but less esoteric dishes such as the queso flameado made with aged mezcal and the wood-fired flat iron steak served with jalapeño mojo still satisfy. It's hard to go wrong with one of the bar's tequila and mezcal selections, but the salt air margarita—topped with a generous dollop of foam—is a favorite for a reason, and perfectly encapsulates Calavera's ability to successfully combine looks and substance. // 2337 Broadway (Oakland), calaveraoakland.com
LocoL
When Roy Choi and Daniel Patterson set out to revolutionize American fast food, Uptown Oakland—where Patterson already had ties with Plum Bar—was an easy choice for the first Bay Area location and the restaurant's healthy, affordable, community-focused ethos. The black and white graphic interior features oversized blocks for seating, cartoon mascots, and a striking giant black and white photo from San Francisco photographer Travis Jensen, as old school hip-hop frequently blasts from the speakers. The menu is decidedly low brow, but options such as the messy beef chili bowl, crunchy chicken nugs, and bean and cheese foldie satisfy that fast-food craving without questionable ingredients and for a reasonable price tag. // 2214 Broadway (Oakland), welocol.com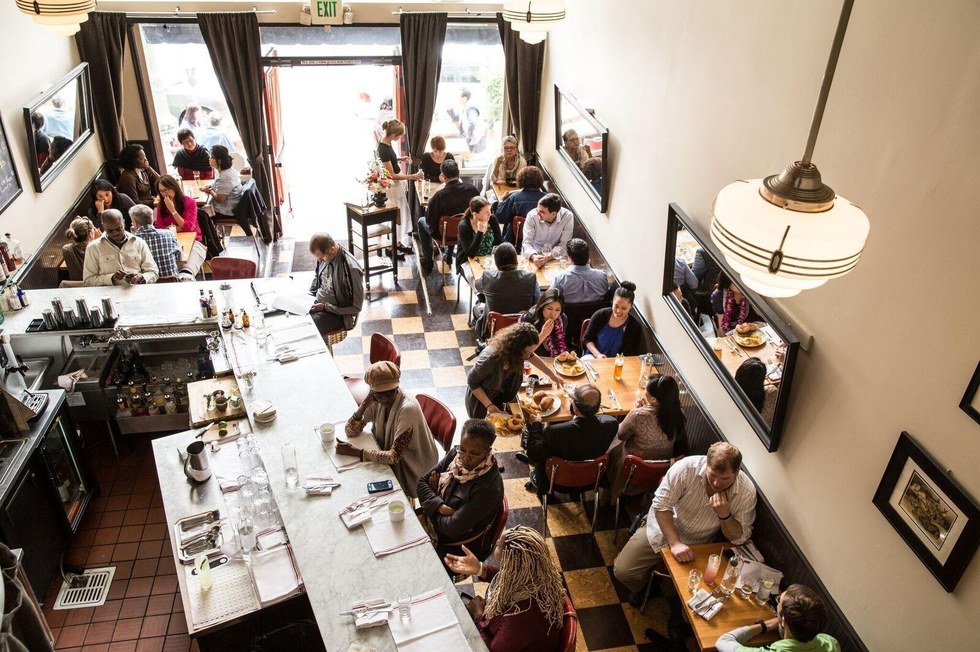 Courtesy of Hopscotch
Hopscotch
This Japanese-inflected diner, which helped solidify Uptown Oakland as a dining destination five years ago this summer, churns out unexpected riffs on more traditional menu items. A sea urchin– and salmon roe–topped oyster and a burger with griddled beef tongue remain among the can't-miss options. Don't sleep on the bar menu, which highlights beer and scotch pairings and an impressive selection of Amari. The restaurant opened an extended dining room called The Annex to help meet the demand and serve as a space for larger groups or private events, but if you want to avoid the crowds, the to-go bucket of fried chicken is one of the tastiest take-out options in the area. // 1915 San Pablo Ave. (Oakland), hopscotchoakland.com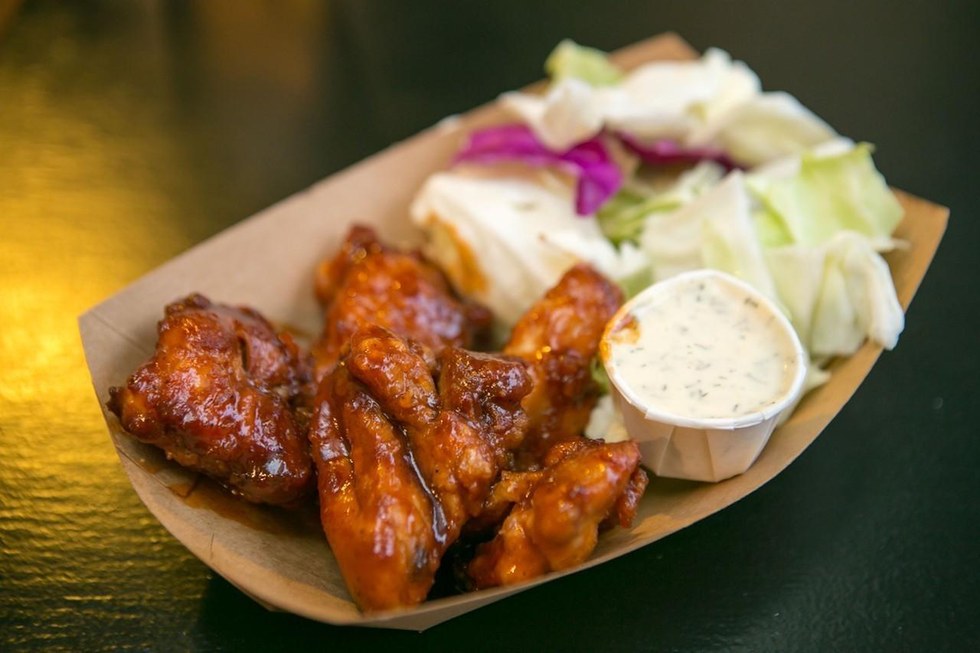 Bert Johnson for East Bay Express
Abura-ya
One part "permanent pop-up" and one part punk rock, this sliver of a restaurant gives Japanese fried chicken and other izakaya-esque fare a California spin by sourcing its produce from local farmers markets and making everything from its signature glazes and rubs to its popular miso ranch dressing from scratch in-house. While the array of options for the four- or eight-piece fried chicken can be daunting, beginners often choose between the Aburaya Japanese BBQ glaze, agave ginger teriyaki glaze, or garlic miso dry rub—but our money is on the tongue-tingling sancho dry rub for adventurous diners. Round out the meal with deviled avocado bites, one of the 7x7 Big Eat Oakland selections for 2017. // 380 15th St. (Oakland), aburayaoakland.com


alaMar Kitchen and Bar
At the end of 2016, alaMar chef-owner Nelson German rejiggered the restaurant's concept, ditching table service for counter ordering but retaining many of the menu's popular seafood dishes. Now, the more casual vibe makes alaMar the perfect place for dollar oysters and drink specials on game day, girls night out, and a relaxed evening over craft-your-own seafood boils or Cajun crawl packs with peel-and-eat shrimp and crab to feed a crowd. // 100 Grand Ave. (Oakland), alamaroakland.com

Bare Knuckle Pizza
Bare Knuckle doesn't mess around with pizza, especially the wood-fired, from-scratch Neapolitan kind. All of the dough is made fresh daily, and owner Viet Nguyen keeps things local by sourcing vegan cheese from the Butcher's Son in Berkeley, flour from Giusto's in South San Francisco, and mushrooms and tomatoes from Northern California. If you have your heart set on a pie, make sure to show up when doors open on Tuesday, Friday, and Saturday nights, when the restaurant has a tendency to sell-out of its limited-run pizzas. And if you like things spicy, keep an eye out in late summer for the TNT pizza, which showcases Thai chilies grown by Nguyen's father-in-law and guaranteed to be "burn your tongue off" hot. // 351 12th St. (Oakland), bareknucklepizza.com


Donut Savant

Expect bite-sized donuts with cheeky names (Sean Pecannery, Hostess with the Mostess) and a varied selection of croissant-donut hybrids called cron'ts in two sizes, but don't leave without picking up a salted maple in any iteration. // 1934 Broadway (Oakland), donutsavant.com
Little Giant Ice Cream

You can watch as the ice cream makers in the back churn out new flavors, ranging from a vegan matcha green tea ice cream to Mexican rocky road made with Tcho chocolate. Have your pooch in tow? They also make ice cream for dogs. // 1951 Telegraph Ave. (Oakland), littlegianticecream.com


Belly
Expect Korean-Mexican fusion influence by Los Angeles street food: kimchi-stuffed tacos, steak and French fry burritos, and tempura-topped burgers, plus house-made lemonades and potent truffle fries. // 1901 San Pablo Ave. (Oakland), bellyuptown.com

Xolo
Bacon-wrapped hot dogs, breakfast burritos, and crispy beef tacos are among the highlights at this Mexican taqueria from the same team behind Tacubaya and Doña Tomas. // 1916 Telegraph Ave (Oakland), xolotaqueria.com


Rudy's Can't Fail Café
Owned by Mike Dirnt of Green Day, this second location of Emeryville's Rudy's combines greasy spoon dining (with plenty of vegetarian options), boozy milkshakes, and a healthy helping of Barbies in restaurant uniforms lining the walls as décor. // 1805 Telegraph Ave. (Oakland), iamrudy.com
Firebrand Artisan Breads
Although founded nearly a decade before it opened in The Hive, Firebrand's flaky, oven-fired pastries didn't have a dedicated brick-and-mortar shop until it opened in Uptown in 2015. Now, you can easily get your hands on toothsome breakfast pastries, buttery sweets, and seasonally changing lunch sandwiches made on slices of crusty-loafed bread. If you're inspired to try your hand at baking after you've dusted yourself with crumbs, Firebrand offers baking classes on bread, cookies, and pretzels. // 2343 Broadway (Oakland), firebrandbread.com


Flora
One of the first restaurants to recognize Uptown's potential, this veteran in the district's dining scene capitalizes on its Art Deco exterior and proximity to the Fox to serve elevated seasonal dishes and cocktails. Stop by for brunch, when a painstakingly crafted milk punch pairs perfectly with the buttermilk Belgian waffle. // 1900 Telegraph Ave. (Oakland), floraoakland.com
Plum Bar
Pick your favorite lines from the wall plastered with pages of poetry, and recite them to your table while chowing down on a happy meal: half a cheeseburger or falafel burger, smoked fries, any draft beer, and a shot of four roses for $25. // 2216 Broadway (Oakland), plumbaroakland.com
The Gastropig
Uptown Oakland faced a severe breakfast sandwich shortage before The Gastropig brought its wildly popular #Baconslut to the bleary-eyed masses in early 2017. The applewood-smoked bacon sandwich—featuring an over-easy egg, cheese, and Aleppo chili oil on a brioche roll—is just one of the early A.M. options, which also include waffle-iron hashbrowns, avocado toast, and a well-executed riff on your traditional PB&J. While the focus is decidedly on breakfast, grab-and-go deli sandwiches (including an ode to longtime Oakland deli Genova) and a Monday-only burger keep the lunch masses well-satiated. // 2123 Franklin St. (Oakland), thegastropig.com
Lady Esther's
Two decades after the first Lady Esther's in East Oakland closed, the original owner's daughter is once again bringing Southern soul food to town with a new Uptown location. Signature dishes—only available during the week—include daily specials such as smothered steak and Louisiana seafood gumbo, and most dishes include three sides, making a filling meal at Lady Esther's one of the best weekday values. // 300 Frank H. Okagawa Plaza (Oakland)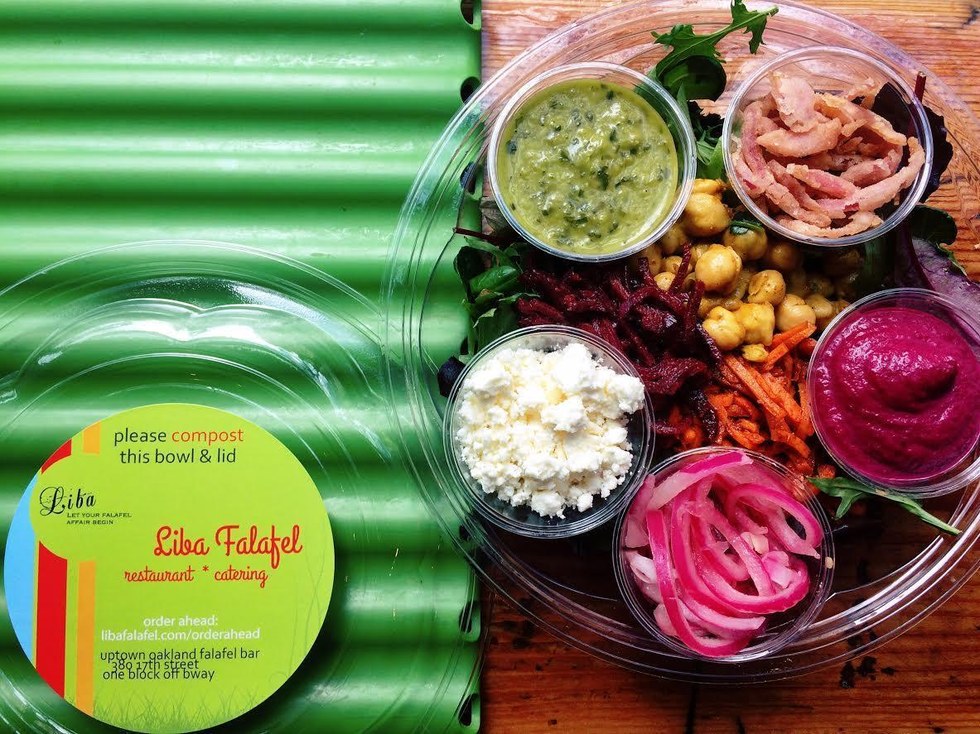 Jenya Chernof
Liba Falafel
A favorite with the lunchtime worker bee crowd, this weekday-only, brick-and-mortar space for the beloved food truck (which retired in 2016) translates the popular falafel sandwiches and salads into a permanent location. Much like the Amsterdam falafel shops it was modeled after, Liba lets you dress your choice of menu item with made-in-house salads, sauces, and pickles from the bar. Pair a leafy falafel salad—the most popular item—with sweet potato fries, soup, or spiced pita chips to help power you through the rest of the workday. // 380 17th St. (Oakland), libafalafel.com

Mua
Art, cocktails, and inventive bar food collide inside this industrial space, rumored to be a postgame favorite of Steve Kerr and Warriors players. Stop by for the daily happy hour, when you'll score the best deals on small bites such as mushroom crostini and fried blue cheese olives, plus seasonal cocktails and wine and beer. // 2442 Webster St. (Oakland), muaoakland.com
Duende/Kured
This Spanish-inspired restaurant offers an array of pintxos and tapas, plus larger dishes meant to be split between two to four diners. Order the patatas bravas and fried fava beans to accompany one of the bar's list of 13 sherries to start, and don't skip a paella de carne and bottle of Spanish wine for the table. During the day, the former bodega space now house Kured, chef Paul Canales' Wed–Sun lunch pop-up focused on house-made sausages and cured meat sandwiches. // 468 19th St. (Oakland), duendeoakland.com; kuredmeat.com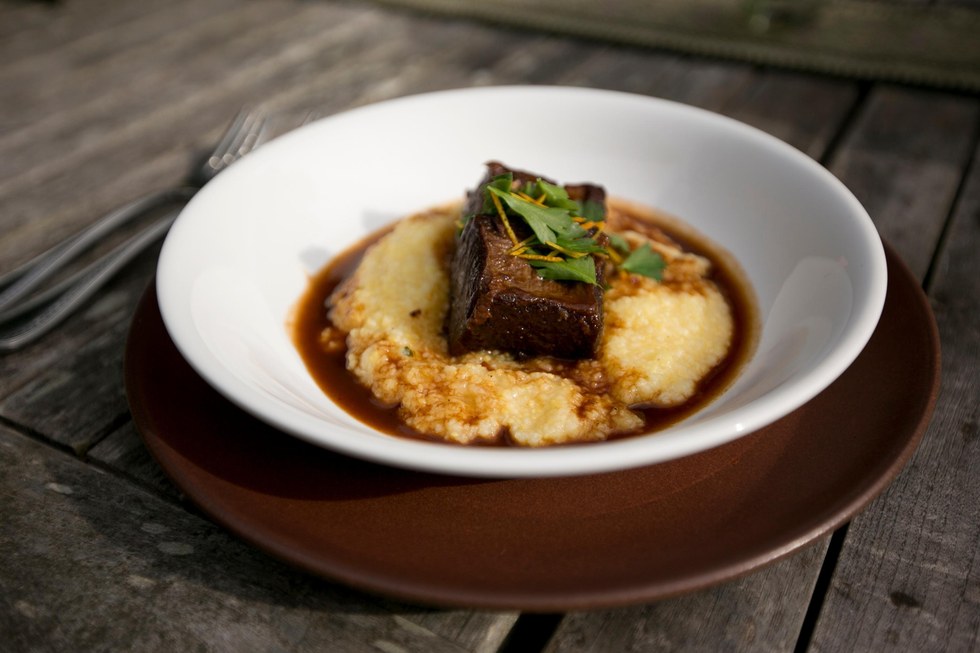 Courtesy of Mockingbird
Mockingbird

After moving from its original location on San Pablo Avenue in search of a bigger space, Mockingbird is slated to reopen in June with weekday lunch, followed by happy hour and dinner shortly after. Meant to serve as an inviting neighborhood destination, the restaurant specializes in sophisticated yet approachable seasonal cuisine, ranging from fried Brussels sprouts served with a lemon garlic confit aioli to a slow-cooked pork sugo plated alongside crispy rosemary polenta. Soon, you'll be able to grab a spot at the roomy 20-seat bar and sip a cocktail made with locally produced spirits, or slip into a cozy booth in the fully renovated 4,200-square-foot space, which also features exposed brick walls, antique Douglas fir floors, and original art panels from artist Rick Oginz. // 416 13th St. (Oakland), mockingbirdoakland.com

Umami Burger
You'll find the beloved burger chain's signature stamped buns, hatch chile–topped burger, truffle fries, and hulking ice cream sandwiches at this Oakland iteration, which features striking wall murals in muted tones. // 2100 Franklin St. (Oakland), umamiburger.com/locations/oakland
Sweet Bar Bakery

Swing in for a breakfast egg bake served with ciabatta toast and lemon mint mate iced tea, or pick up an afternoon treat from the artisanal bakery's display of tender ginger cookies, champagne truffles, and indulgent cupcakes made with organic, local ingredients. // 2355 Broadway (Oakland), sweetbarbakery.com
Pican

Southern cooking gets the upscale treatment at this Broadway mainstay, which draws a bustling brunch crowd for catfish and grits and a fried chicken Benedict on Sundays. Don't miss the bar's selection of more than 100 bourbons and its yearly Kentucky Derby festivities. // 2295 Broadway (Oakland), picanrestaurant.com

Shiba Ramen

The streamlined, ramen-focused menu at Shiba lends itself to a satisfying yet casual experience just steps from the 12th Street BART station. The five menu standbys for ramen vary by broth (clear, spicy, soymilk), and sides include Nagoya-style fried chicken wings, gyoza, and other seasonal specials. For an inside look at what it takes to run a restaurant, check out the Ramen Chemistry blog, where the owners document the building of their slowly growing empire (they also have a location in Emeryville). // 1438 Broadway (Oakland), shibaramen.com


Small Wonder
The dining and drinking experience at Small Wonder is delightfully offbeat, with vintage furniture, plentiful plants, and colorful murals combining to create a cozy if quirky vibe. Ephemera hangs from the ceiling, live jazz music frequently fills the air at night, and both classic and house-invented cocktails clink at tables, making it the perfect spot to score major date night cool points. Linger over fish tacos and artichoke dip, or stop by during the day for coffee and free wi-fi. // 37 Grand Ave. (Oakland)


The Organic Coup
If you're looking for fast food without the guilt, head to this all-organic chain, where the signature breaded Mary's organic air-chilled chicken is cooked in coconut oil, topped with a crispy slaw, and sandwiched in a brioche bun. Other options include a tater tot–stuffed breakfast wrap, bowls, and chocolate-drizzled caramel corn. // 1300 Clay St. #162A (Oakland), theorganiccoup.com
Kingston 11 Restaurant

Caribbean flavors collide in dishes such as salt fish fritters and jerk chicken, which involves marinating and smoking the poultry for hours. Weekends bring a lively crowd for island-inspired libations and classic roots and reggae music. // 2270 Telegraph Ave. (Oakland), kingston11eats.com


Parlour
The same team behind Bar 355 opened this rustic Cal-Italian spot last March with a focus on the open kitchen's wood-fired oven, which churns out roasted chicken, house-made sourdough, and seasonal pizzas with perfectly blistered crusts. // 357 19th St. (Oakland), parlouroakland.com
Agave Uptown
This Oaxacan-infused restaurant, which opened last summer, features a colorful folk art mural, authentic renditions of dishes such as molcajete and prawns Diabla, and an impressive array of mezcals. Many of the farm-raised ingredients are sourced from Mexico several times a year to double down on Agave's emphasis on authentic south-of-the-border cuisine. In line with its location in the Kapor Center for Social Impact, Agave attempts to build on the center's mission to narrow gaps in opportunity and access for underrepresented communities. // 2135 Franklin St. (Oakland), agaveuptown.com


Analog
Night owl vegetarians and vegans will feel right at home with the seven meat-free sandwich options available until at least midnight, paired with a heavy dose of nostalgia courtesy of VHS tapes, an original Nintendo, and a jukebox filled with 45s. // 414 14th St. (Oakland), analogoakland.com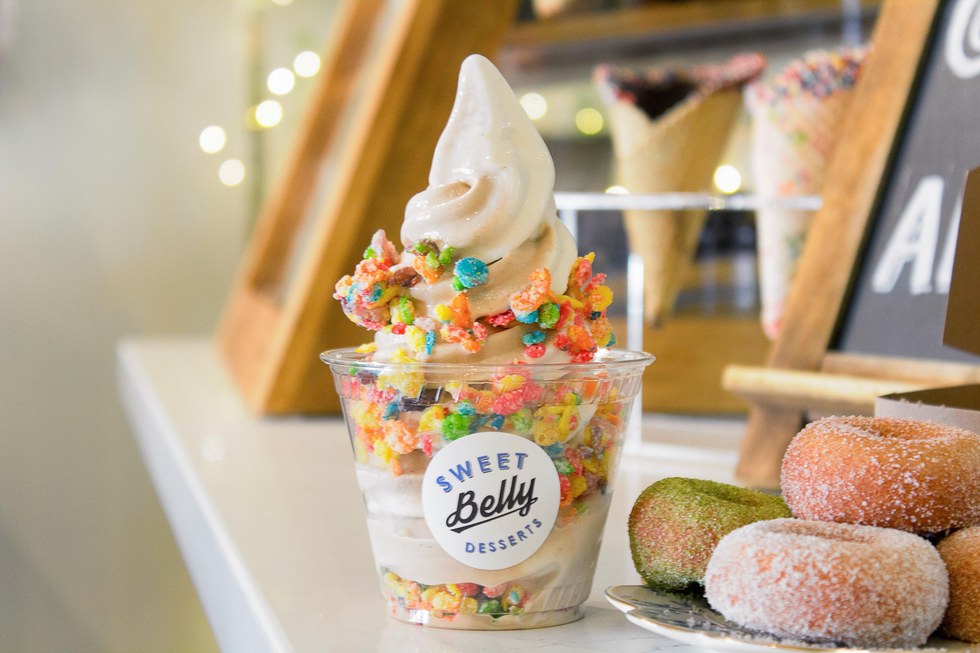 Jenny Diaz

Sweet Belly
Indisputably Instagrammable, Sweet Belly's mix of mini donuts and soft-serve ice cream gets extra credit for a focus on organic, made-in-house ingredients, boundary-pushing combinations, and the same focus on warm hospitality as flagship Belly a few blocks away. Donuts are made to order, the all-natural ice cream is made from scratch in-house using Clover milk, and almost all toppings are house made or tweaked to improve the flavors. While the flavors change monthly, don't sleep on a combo with earl grey ice cream, fruity pebbles, and a matcha donut with honey. // 435 19th St. (Oakland), sweetbellydesserts.com


DRINK
Cafe Van Kleef
Oakland lost an icon last fall with the passing of Peter Van Kleef, who transformed this Telegraph mainstay into a delightfully random watering hole more than a decade ago, way before the area was dubbed Uptown and a flood of restaurants and bars moved in and made the neighborhood hip. Ephemera ranging from musical instruments to taxidermy to boxing gloves covers every inch of spare space on the wall, and it's not uncommon to find yourself leaning against a naked sculpture, sipping a freshly squeezed greyhound while a live band is welcomed with enthusiastic hip shakes and claps on the tiny dance floor. Offbeat, welcoming, and beloved, Café Van Kleef, like its late owner, is an Oakland legend. //1621 Telegraph Ave. (Oakland), cafevankleef.com

Telegraph
Uptown Oakland has no shortage of outdoor spaces to kick back and enjoy a cold one, but nowhere does it quite as successfully as Telegraph. The adventure starts with the outdoor "Beeryland" sign mimicking Fairyland's entrance, and continues inside, where a small counter and register space opens to a picnic-table strewn patio and outdoor bar. There's plentiful shade for cubicle jockeys; open sky for sun worshippers; and a solid lineup of burgers and sandwiches from the grill, including a better-than-it-sounds green bean, pesto, and provolone option. To plan a perfect Sunday, bring your crew, order a round of boozy Greyhound slushies from the outdoor bar, and come to terms with your inevitable sunburn as a quick hangout slowly melts into a day of drinking. // 2318 Telegraph Ave. (Oakland), telegraphoakland.com
Bar Dogwood/Darling's Elixirs
Bar Dogwood first emerged on the Uptown scene all heavy curtains, exposed brick, and other hallmarks of a trendy cocktail joint in 2011, but has since cemented itself as an Uptown must-hit with carefully crafted cocktails and a gooey grilled cheese that always sounds especially appealing after a few whiskeys. Last March, owner Alexis Filipello further tightened her hold on the Oakland mixology game by transforming the Broadway side of the building into Darling's Elixirs, an homage to the space's previous life as a pharmacy. Connected to Bar Dogwood, Darling's utilizes house-made phosphates and lactarts and small-batch spirits in its cocktails. Abbreviated hours make scoring a drink at the offshoot a rare thrill. // 1644 Telegraph Ave., 1635 Broadway (Oakland), bardogwood.com
Fauna
Against a backdrop of taxidermy animals, the bartenders at this Art Deco sister bar to Flora shake and stir up spirit-forward cocktails such as the Fallback, a combination of rye whiskey, Calvados, Amaro Montenegro, sweet vermouth, and bitters, served up. // 1900 Telegraph Ave. (Oakland), faunaoakland.com
The Good Hop Bar & Bottle Shop
While the rotating gallery and impressive, mostly domestic draft brew selection—displayed on an electronic screen, alongside how much of the keg has been consumed—are more than enough to satisfy beer lovers, the real star is the refrigerated section, which takes up an entire back wall and houses roughly 450 canned and bottled beers from around the world. // 2421 Telegraph Ave. (Oakland), thegoodhop.com
The Double Standard
Commune with nature while consuming cocktails: The Double Standard's outdoor patio is shaded by three towering redwoods, a remnant from the space's previous life as Ms. Kim's Backyard. Off-hour bartenders from nearby establishments are a fixture, and testament to the bar's reputation for combining a laidback atmosphere with an impressive spirits selection and drink menu. // 2424 Telegraph Ave. (Oakland), facebook.com/TheDoubleStandardBar
Lost and Found
Grab a group of friends and head to Lost and Found's expansive indoor-outdoor space, where you can sip from a selection of 20 taps, snack on kimchi deviled eggs, and duke it out with a game of corn hole or ping pong in the beer garden. // 2040 Telegraph Ave. (Oakland), lostandfound510.com
Diving Dog Brewhouse
Frequent brewery events and tap takeovers fuel this beer bar's reputation as a haven for hopheads, but the real draw is the brew on premise program. For $350 per group, Diving Dog provides the recipe, ingredients, instruction, and equipment to brew and bottle your own beer, including custom labels. // 1802 Telegraph Ave. (Oakland), divingdogbrew.com
Woods Bar and Brewery
Gather at the long indoor bar or around one of the front patio's fire pits for a relaxed pint of beer brewed on premise upstairs—while drafts rotate, keep an eye out for the brewery's sours and fruit-forward beers—and an empanada from El Poretño. // 1701 Telegraph Ave. (Oakland), woodsbeer.com/uptown
Era Art Bar
Art, music, and cocktail converge at this bi-level space, where you'll also find recurring events such as Oakadelic Wednesdays—which features live funk, soul, and R&B bands—and Dranks and Draws, a bimonthly sketch night with a live model posing to the music. // 19 Grand Ave. (Oakland), oaklandera.com
Make Westing

Cocktails capitalizing on seasonal ingredients—try the garden gimlet, with gin, cucumber, basil, and lime—shareable "things in jars" bites, and two indoor bocce courts make this an ideal stop for low-key date nights during the week, and for scoping out a potential partner on the weekends, when singles spill over from Fox Theater. // 1741 Telegraph Ave. (Oakland), makewesting.com
The Layover Music Bar and Lounge
While most flock to The Layover on the weekends for the solid lineup of DJs and packed dance floor, weekday events such as Tuesday comedy nights and a monthly rotating gallery of work from local artists offer the perfect excuse to snag a seat at one of the inviting couches with a signature organic cocktail. // 1517 Franklin (Oakland), oaklandlayover.com
Drexl
Start downstairs for the selection of eight drafts, a green chartreuse and alcoholic root beer boilermaker, or a dealer's choice cocktail crafted at the whim of the bartender, then head to the mezzanine for a game of skee ball. // 382 19th St. (Oakland), drexl.bar
Bar 355

Seasonal cocktails are crafted with precision at the long polished wood bar, and frequent DJ nights and movie screenings with themed drink specials fit the hip, retro vibe. // 355 19th St. (Oakland), facebook.com/threefiftyfive
Red Bay Coffee Box

Housed in a former shipping container, this new location for the Fruitvale roaster serves up cups with a side of social consciousness and risktaking, with owner Keba Konte focused on promoting fair trade, employing people of color, and exploring profit-sharing to create livable wage jobs. // 2327 Broadway (Oakland), redbaycoffee.com
Bicycle Coffee
Opened in July, this third Oakland location of the bicycle coffee delivery company features a spacious shared patio (dogs welcome) and free pour overs on Fridays. // 1745 San Pablo Ave (Oakland), bicyclecoffeeco.com
Two Mile Wines
Located in a warehouse/artist co-op also occupied by jewelers, artists, and othermakers, this urban winery specializes in food-focused, small production wines and also is the driving force behind Oakland Spirits, a new Uptown distillery focused on brandy and gin, including a sea gin made with foraged nori. // 477 25th St. (Oakland), twomilewines.com


The Miranda
The same team behind Drexl transformed this Broadway space into a sleek cosmopolitan oasis reminiscent of hotel bars, in the best way possible. Split into a front and back bar, The Miranda features a registration desk complete with keys and letters, oversized floral wallpaper, a striking Edison light bulb fixture hanging over the back room, and plenty of cozy nooks for sipping the well-executed cocktails. The drinks manage to keep the vacation vibe going, with names like the Jetsetter, Staycation, and Bell Hop, and many feature unique syrups, Amari, and bitters. // 1739 Broadway (Oakland), themirandaoakland.com

The Port Bar Oakland
Nightly special events make this much-needed gay bar a draw seven days a week. Tuesday trivia night, Friday RuPaul's Drag Race screenings, and cabaret Sundays hosted by drag queen Carne Asada round out weekend DJ nights with shirtless go-go dancers, and drink names aren't shy about the sexual innuendo (Raw Top, Dirty Bottom, Hung Like a Mule). // 2023 Broadway (Oakland), portbaroakland.com


Farley's East

Order a double ristretto espresso and egg sandwich, borrow a magazine from the reading rack, and soak in some rays on Farley's outdoor parklet. // 33 Grand Ave. (Oakland), farleyscoffee.com/farleys-east
Cat Town Café
This nonprofit cat rescue removes the most vulnerable cats from East Bay shelters and socializes the felines, many of whom make it into the Cat Zone, where you can interact with up to 24 free-roaming, adoptable cats. Since January, the café space has been run by Rawr Coffee Bar, with Highwire coffee and espresso drinks, as well as baked goods for the humans and toys and treats for the felines. // 2869 Broadway (Oakland), cattownoakland.org
Drake's Dealership
The longtime San Leandro brewery reimagined a former Dodge dealership in the buzzing Hive complex into an expansive, 350-seat pub and beer garden, where you'll find 32 beers on draft (including a few guest taps), elevated bar grub ranging from poutine to wood-fired pizzas, and plenty of space to stretch out near a fire pit on the dog-friendly patio. // 2325 Broadway Auto Row (Oakland), drinkdrakes.com/visit/dealership
The Punchdown
After a move to a new space in Uptown, this cozy wine bar is once again pouring vino, with a focus on organic, minimal-intervention winemaking. If you're a neophyte in the world of natural wine, flights and helpful staff make deciphering the sometimes daunting list of pours and bottles more approachable. // 1737 Broadway (Oakland), punchdownwine.com
Tertulia/Sanchez Contemporary
Opened in the beginning of July, this café and art gallery hybrid serves Stumptown alongside Firebrand pastries, and showcases local art from artists of color. Don't miss the nitro cold brew on draft. // 1951 Telegraph Ave. (Oakland), tertuliacoffee.com

TO-DO
Fox Theater
Originally opened in 1928, the Fox shuttered in the 1960s and lay dormant for more than 40 years, finally reopening in 2009 after a multimillion-dollar renovation. Now, the popular 2,800-seat concert venue (run by Another Planet Entertainment) draws around-the-block crowds for a mix of mainstream and indie acts ranging from the Naked and Famous to Neko Case, with a smattering of big comedians also gracing the stage. On nonshow nights, The Den at The Fox hosts Trivia Tuesday events with ticket giveaways. // 1807 Telegraph Ave. (Oakland), apeconcerts.com/venues/fox-theater-oakland
Art Murmur/First Friday
Every first Friday of the month, from 5pm–9:30pm, crowds of more than 20,000 people descend on Telegraph Avenue from West Grand to 27th Street to stroll the closed-off streets for First Fridays, an immersive art and community event. The monthly gatherings began with Art Murmur in 2006, but the once-a-month gallery walk has since exploded into an epic street fair, where gourmet food vendors, musicians, artists, and performers come together to celebrate the city and the arts. You can't go wrong gallery hopping to get a feel for the city's diverse arts scene (try Rock Paper Scissors), but be sure to leave time for checking out The Great Wall of Oakland—a 100' x 100' projection installation that's hosted everything from Powerpoint karaoke to suspended dance group Project Bandaloop—which should be returning with earlier sundowns this fall. // Telegraph Ave. from Grand Ave. to 27th St. (Oakland), oaklandfirstfridays.org
Starline Social Club
In addition to Starline's enviable location in a historic former saloon, the two-story restaurant and music venue's main strength is its impressive knack for eclectic programming, which includes pop-up food events; showga (yoga flowed to live music); swing, jazz, and karaoke nights; and frequent DJ and storytelling events. Stop by during the day, when the club transforms into Oakland Tea Parlor, a partnership with Oakland-based Steep Tea Company that involves booth loose teas by the pot and specialty tea beverages alongside light lunch fare and a mid-day matinee of a vintage movie. // 2236 Martin Luther King Jr. Way (Oakland), starlinesocialclub.com
Awaken Café
Awaken first caused a stir with its anti-laptop stance, meant to promote actual conversations between patrons over lattes made with Strauss organic milk and vegan donuts from Pepples. The roomy coffee shop also serves as a gathering place near recently revamped Latham Square, offering frequent live music nights and Story Showdown events the third Thursday of every month alongside draft beer and wine. // 1429 Broadway (Oakland), awakencafe.com
The Octopus Literary Salon
Borrowing from the salon tradition of the French literary movements of the 17th and 18th centuries, Octopus serves as a café, library, and venue for frequent readings, open mic nights, and workshops. // 2101 Webster St. #170 (Oakland), oaklandoctopus.org
The New Parkway
Cinephiles rejoiced when owner J Moses Ceasar opened this movie theater as both a place to catch a flick with seat-side food and drinks and a community gathering spot. Outside of film programming with frequent postmovie discussions, baby-friendly screenings, and throw back nights, the New Parkway invites locals to the mezzanine for poker, drink and draw events, trivia, and bingo. // 474 24th St. (Oakland), thenewparkway.com
The Paramount Theatre
This 3,000-plus seat specimen of Art Deco design and National Historic Landmark, which originally opened in the 1930s, not only draws big name music acts and speakers, but also hosts beloved classic movie nights that include a Mighty Wurlitzer organ serenade before the screenings. // 2025 Broadway (Oakland), paramounttheatre.com
Oakland Ice Center
Glide your way around the ice arena during public skate hours (drop by on Tuesday nights for a discount), join drop-in hockey play, or get a jump start on the Winter Olympics by taking an intro-to-curling clinic held by the San Francisco Bay Area Curling Club. // 519 18th St. (Oakland), oaklandice.com
Pan Theater
In addition to popular Thursday night Improv Dojo drop-in classes for honing your "yes and" skills, you'll find weekend themed shows from trained comedians and the occasional musical. // 2135 Broadway (Oakland), pantheater.com
Great Western Power Co.
If you're new to rock climbing, grab a friend and sign up for the one-hour intro class to learn the ropes, then test out your climbing and belaying skills on more than 11,000 square feet of climbing terrain. // 520 20th St. (Oakland), touchstoneclimbing.com/gwpower-co
Nerd Nite East Bay
A monthly meeting of the minds held at Club 21, Nerd Nite combines drinks and rotating food pop-ups with discussions on an eclectic array of academic topics, ranging from fighting cholera with engineering, to the history of adoption, to (ahem) the art of the breast massage. // 2111 Franklin St. (Oakland), eastbay.nerdnite.com

SHOP
Feelmore Adult Gallery
It's a rare day when shopping for adult toys feels as high brow as selecting a piece of art, but Feelmore owner Nenna Joiner aims to remove the stigma and embarrassment that often comes from a visit to the sex shop by re-envisioning how the experience should feel. At the sex-positive space, toys are stylishly displayed on well-lit shelves, paintings celebrating the female form dot the walls, and stacks of vintage Playboys are available for purchase. Added bonuses: monthly comedy shows and delivery by bike. // 1703 Telegraph Ave. (Oakland), feelmore510.com

Oaklandish
You'll likely recognize Oaklandish's signature tree symbol from its popular line of t-shirts and other branded goods, but the shop also celebrates its city pride with apparel in Oakland sports teams' colors, a selection of made-in-Oakland goods, and its Innovator grants, which give much-deserved funds to community organizations. Stop by on First Fridays for a monthly party, and leave with colorful artwork or a supersoft hoodie in a complimentary tote with a free sticker. // 1444 Broadway (Oakland), oaklandish.com
Viscera
Minimalist dressers will love this locally owned boutique's selection of gray-scale clothing for both men and women from small, independent designers, plus 3-D printed jewelry customized and crafted in house. // 1542 Broadway (Oakland), shopviscera.com
SoleSpace
One of the best places in the East Bay to find coveted sneakers, with limited-edition Pumas and throwback Adidas sharing the brick-walled space with some dressier kicks and a small selection of apparel, SoleSpace also doubles as an art gallery and events space, especially during First Friday events. // 1714 Telegraph Ave. (Oakland), solespace.com
Peoples Barber & Shop

Well-groomed gents flock to the Oakland location of this barbershop (which also has shops on Polk and Valencia streets in San Francisco) in the Hive for straight-razor shaves that include an old-school hot towel treatment, hip haircuts, and "testosterone-charged gossip." // 2337 Broadway #101 (Oakland), peoplesbarber.com
Cape and Cowl Comics
A comic book club, figurines and collectibles, and knowledgeable staff are just a few of the highlights at this well-curated comic and graphic novel shop. // 1601 Clay St. (Oakland), capeandcowlcomics.com
Two Jacks Denim
Raw denim fanatics flock to this menswear shop for selvedge jeans from designers such as Taylor Stitch and Detroit Denim, plus other U.S.–made men's clothing and accessories. // 2355 Broadway (Oakland), twojacksdenim.com
Show and Tell/Betti Ono
You'll find one-of-a-kind jewelry, hip greeting cards, and locally made apparel on the Show and Tell side, and art exploring topics such as feminism, race, and social justice in the artist-run Betti Ono gallery. // 1427 Broadway (Oakland), showandtelloakland.com, bettiono.com
DON'T MISS A BAY AREA BEAT! SUBSCRIBE TO OUR NEWSLETTER.