What better way to spend a long holiday weekend than surrounded by all the twinkling lights in the winter wonderland of Lake Tahoe?
Tahoe has a fresh dusting of snow and the ski resorts have opened most of their runs—whether you're a skier or boarder, or if you prefer to sled, snowshoe or zipline, there are tons of ways to play in the powder. The local restaurants are serving up special entrees and cocktails for the holidays, and many of the hotels are offering luxe new amenities. Before you go, bookmark our guide to all the best spots to stay, eat, and hang out in Tahoe this holiday season.
---
But first, you'll need a set of wheels that can tackle the snowy drive to the mountains. 7x7 readers can score a festive deal with 30 percent off from our friends at Audi on Demand. Skip to the end for details, and consider it our gift to you!
Play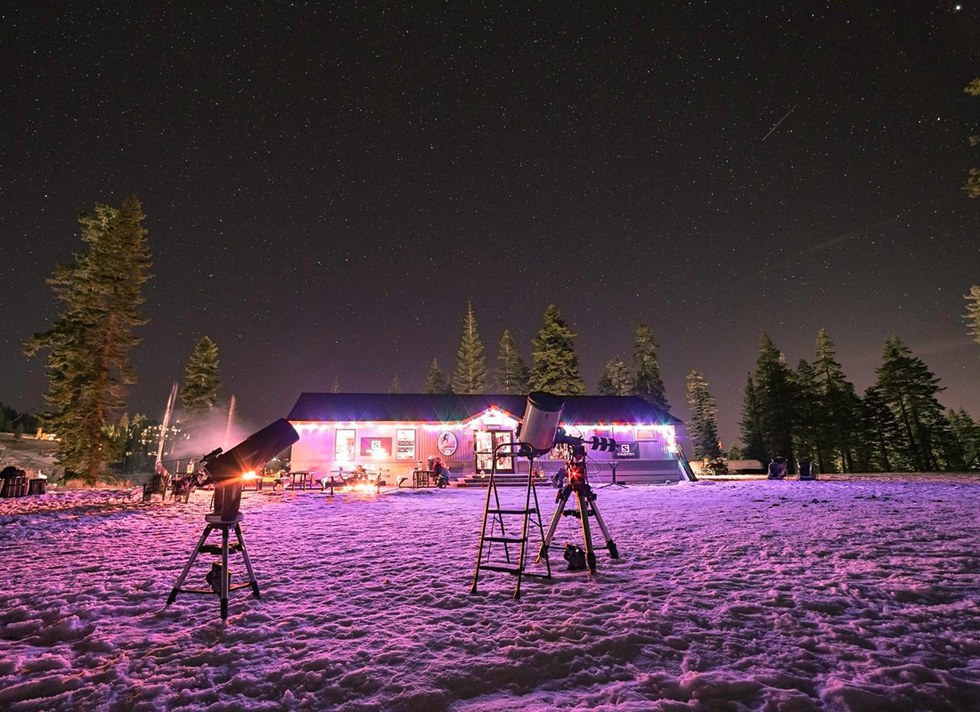 Go snowshoeing and stargazing with Tahoe Star Tours.
(Courtesy of Tahoe Star Tours)
Holiday fun at the lake usually starts in the snow. This year, let it begin up in the air.
North Tahoe Adventures' zipline parks at Tahoe Vista and Tahoe City will be open for Christmas and New Year's. // If you prefer to stay on terra firma, Adventure Mountain Lake Tahoe (South Lake Tahoe) offers groomed sledding runs and tube rentals (you can also BYO). // Snowshoe under the stars and learn about extraterrestrials with Tahoe Adventure Company or Tahoe Star Tours. // For an after-hours snowshoe tour with a discussion on the lake's plants, animals and history, try Diamond Peak (1210 Ski Way, Incline Village). The tours include s'mores and hot cocoa at the Snowflake Lodge. // Skate under fairy lights on the rinks at Heavenly Village and Northstar Village. Northstar's rink is free if you bring your own skates. // More intrepid adventurers will go for backcountry tours with celebrity athletes or avalanche safety courses at Alpenglow Expeditions (Olympic Valley). // For the ultimate in wintertime luxe, team your heli-skiing adventure with private jet service, fine dining and all the Champagne with the Aprés Adventurist package at The Ritz-Carlton, Lake Tahoe (13031 Ritz Carlton Highlands Ct, Truckee). // If you just want to chill, the Loft Live Theater and Lounge (1001 Heavenly Village Way, South Lake Tahoe) has ambient and jazz music, magic shows and trivia nights.
Eat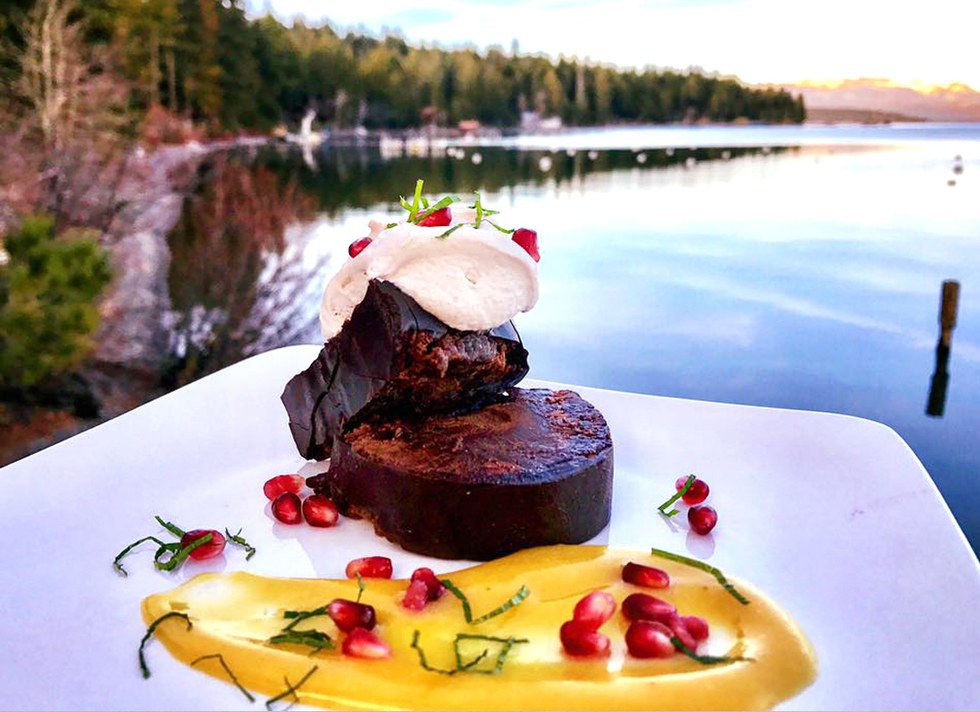 Ganache cake with chocolate mousse and passion fruit custard.
(Courtesy of Sunnyside Restaurant and Lodge)
Tahoe's newest crop of restaurants is serving everything from wild game to even wilder donuts.
Kick-start a snowy day with a nitro coffee or a latte spiced with maple-sage syrup at Revive Coffee & Wine Bar (3135 Harrison Ave., South Lake Tahoe). // If you can't have coffee without donuts, Glazed and Confused (3411 Lake Tahoe Blvd., South Lake Tahoe) echoes a certain Portland favorite with suchcreative flavors as the marshmallowy S'Mortal Combat or the Pop-a-Rockzzi. // Cut the sweetness with some healthful picks—try the vegan ginger broccoli or curried butternut squash soup—at Mountain High Sandwich Co. (120 Country Club Dr., Ste. 28, Incline Village). // For something heartier, grab a burrito stuffed with tri-tip or roasted sweet potatoes at Verde Mexican Rotisserie (2012 Lake Tahoe Blvd, South Lake Tahoe). // Dinner should come with a view, so start with crispy ricotta gnocchi or seared Hokkaido scallops with chorizo and cilantro at Sunnyside Restaurant & Lodge (1850 West Lake Blvd., Tahoe City). Their elk strip loin with sour cherry compote and Sonoma goat cheese is a great holiday choice. // Truckee Tavern and Grill (10118 Donner Pass Rd. Truckee) offers grilled farm-raised meats, locally grown produce and views of the twinkling lights of Truckee. // One of the newest restaurants in the area, Bistro Edgewood (100 Lake Parkway, Stateline), is making a splash with its stylish nautical decor and floor-to-ceiling views of the lake. You can't go wrong with a brick oven pizza and a slice of pumpkin cake with cinnamon cream cheese frosting.
Drink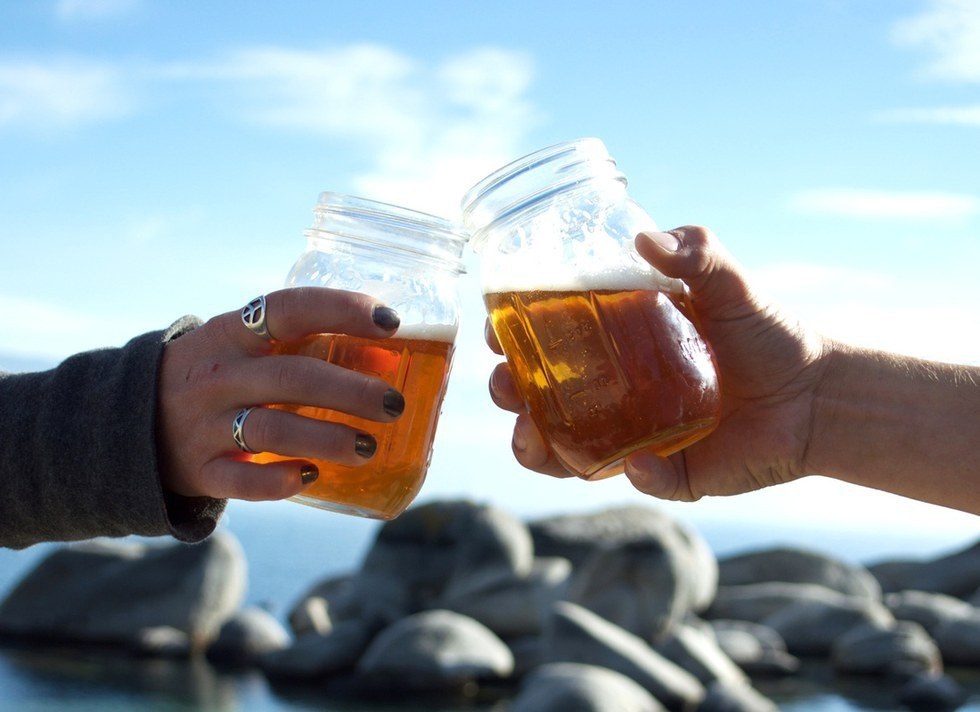 Take a tour of Tahoe's fermented goods.
(Courtesy of Tahoe Brew Tours)
Make merry with local suds, bubbly and even mezcal!
Fancy a good sour weisse? Try the Berliner? I Hardly Knew Her at South Lake Brewing Co. (1920 Lake Tahoe Blvd., South Lake Tahoe). // Or, if a New England-style Fog Nozzle IPA is more your speed, take a seat at nearby Lake Tahoe AleWorx (2050 Lake Tahoe Blvd., South Lake Tahoe). // Can't decide? Book a trip with Tahoe Brew Tours (775-386-2739); a local guide will take you around to their favorite breweries and bars. // Tahoe's hotel bars and restaurants are also developing some fiery cocktails for cold nights. At mainstay Moody's Bistro Bar & Beats (10007 Bridge St., Truckee), warm up with the Fairy's Wear Boots (rye whiskey, absinthe and firewater bitters). // If you're staying at Incline Village, order Where There's Smoke There's Fire (green chile vodka, mezcal, pineapple juice and passion fruit syrup) at Lone Eagle Grille (111 Country Club Dr.). // Last one to the bloody mary bar at Resort at Squaw Creek (400 Squaw Creek Rd., Squaw Valley) is a rotten egg! // For a take on the old classic, enjoy Champagne brunch, as well as a mimosa and bellini bar, at Manzanita's (13031 Ritz-Carlton Highlands Ct., Truckee).
Feeling a little too merry? Make good with some kombucha brewed with crystal Lake Tahoe water at Folk Brewing (170 Shady Ln., Stateline). Original flavors include Original Jedi Oolong, Chamomile Cardamom and Evil Jungle Prince with lemongrass and serrano chilies. //
Stay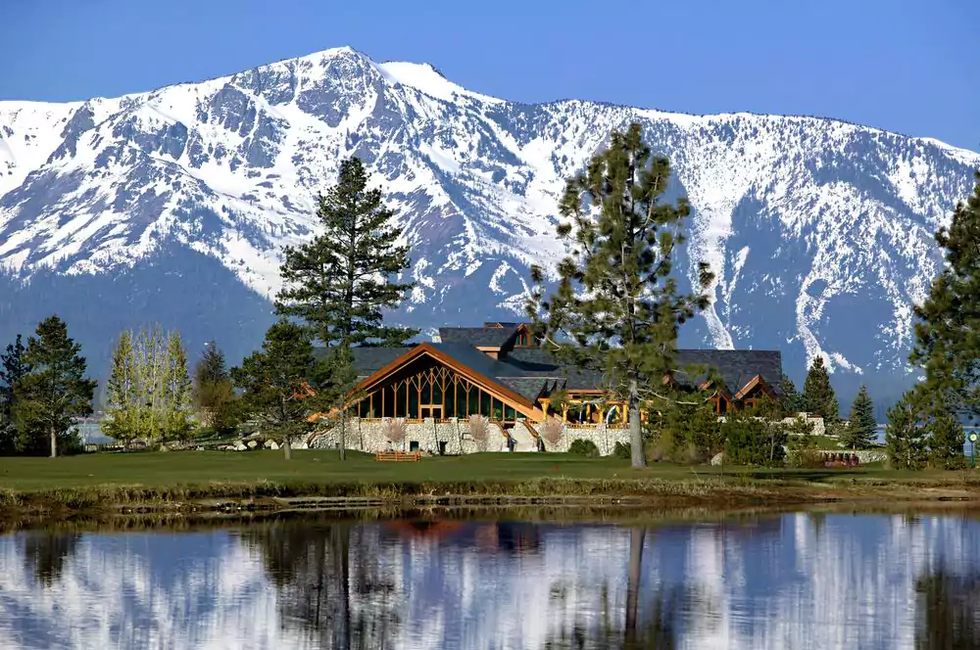 Baby it's cold outside--jump in the heated pool!
(Courtesy of Lodge at Edgewood)
Wake up to Christmas by a roaring fireplace with wintry views.
Architectural Digest named the sustainably built Lodge at Edgewood Tahoe (100 Lake Parkway, Stateline) the most beautiful hotel in Nevada. Curl up in your downy feather comforter, sip a latte on your private deck, or take a dip in the heated pool. // Other lovely waterside accommodations include The Landing Resort & Spa (4104 Lakeshore Blvd., South Lake Tahoe), where heated bathroom floors are a nice touch in winter, and the Red Wolf Lakeside Lodge (7630 North Lake Blvd, Tahoe Vista) which scores points for its private pier and outdoor fireplace. // Want to be close to the slopes? The pet-friendly Hotel Becket (4003 Lake Tahoe Blvd., South Lake Tahoe) is steps away from Heavenly Mountain Resort. // The West Shore Café and Inn (5160 W Lake Blvd., Homewood) is across the street from Homewood Mountain Resort and has lakefront villas with fireplaces and beds for the entire family. // For that quintessential Tahoe cabin in the woods, visit Kristen & Jon's Airbnb, Beautiful Mountain Cabin (Tahoe Donner), rent an upscale yet cozy cottage from Cedar Crest Cottages (4815 West Lake Blvd., Homewood) or a tiny log cabin at Sorensen's Resort (14255 Highway 88, Hope Valley).
Ride to the Snow in Style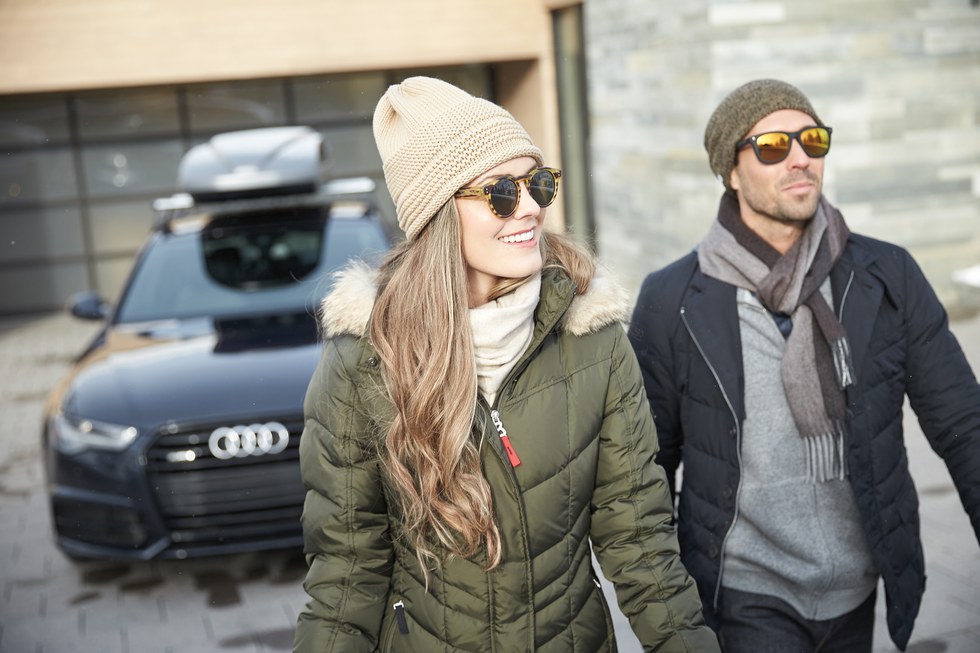 Let's face it, traffic on this trip is bound to be a doozy – you're going to be in the car for a while. To travel in comfort and style, splurge a bit for Audi on Demand, and reserve a 2018 Audi Q5 ($190*/day)—a dreamy SUV with plenty of room for your kids and fur babies. With Quattro all-wheel drive, it's as utilitarian as it is sporty, so put the pedal to the metal and experience those mountain roads the way they were meant to be. If the roaring engine and Audi's signature amenities like complimentary ski racks, in-car WiFi and SiriusXM radio don't do it for you, you'll dig the convenience factor. With Audi on Demand, you don't even have to pick up your wheels—they'll bring the car to you anywhere in San Francisco. Oh, and did we mention it comes with a complimentary FasTrak pass? 7x7 readers get 30% off* with code 7X7HOLIDAY. Grab your winter gear, and head for the snow in style. // Unlimited mileage is included on the Q5 and most other models, audiondemand.com
*Code will expire 2/28/2018. Valid only for Audi on Demand customers age 25 or older with a valid driver's license. One driver per reservation. Excludes taxes, fuel, parking, mileage overage charges, and damages not covered by insurance. Customer is responsible for insurance, which may be purchased through Audi on Demand. Not valid for cash; no cash back. Vehicle reservation may be made up to six months in advance. Other restrictions apply. See Membership and Rental Agreements for details.
Thanks to our friends at Audi on Demand.